Flow Division Dynamics in the Mekong Delta: Application of a 1D-2D Coupled Model
1
Department Physical Geography, Faculty of Geoscience, Utrecht University, 3584 CB Utrecht, The Netherlands
2
Software Department, Deltares, 2629 HV Delft, The Netherlands
3
Southern Institute for Water Resources Planning, Ho Chi Minh City Ward 3 72710, Vietnam
4
Department of Physics, Institute for Marine and Atmospheric research Utrecht (IMAU), Faculty of Science, Utrecht University, 3508 TA Utrecht, The Netherlands
*
Author to whom correspondence should be addressed.
Received: 19 February 2019 / Revised: 15 April 2019 / Accepted: 16 April 2019 / Published: 20 April 2019
Abstract
The Mekong Delta constitutes a complicated multi-channel estuarine system, exchanging water with a delta-wide irrigation system. A 1D–2DH coupled numerical domain is calibrated and validated for water level and discharge during the dry season. This approach benefits from the simplicity of a 1D network within the estuarine and irrigation systems, while maintaining the interaction with the spatial tidal dynamics of the 2DH coastal domain. First, the role of the irrigation system on tidal dynamics is quantified; then, tidal propagation, freshwater budget, and the effect of offshore subtidal water level on discharge division are investigated. The results show that the complex irrigation system, in a friction-like manner, reduces the tidal amplitude up to 25%. The channels aggregate to 1% of the total water volume in the delta, while accommodating up to 10% of the tidal prism. Tidal amplitude reduces upstream, while subtidal water level is highly sensitive to upstream discharge, spring–neap cycles, and wind-generated offshore surge. Although cumulative discharge division within the estuarine network is consistent, temporal discharge division can be significantly sensitive to offshore wind-surge. During the dry season, it can reverse the expected subtidal discharge division within the time-scale of a few days and potentially influence salt intrusion.
View Full-Text
►

▼

Figures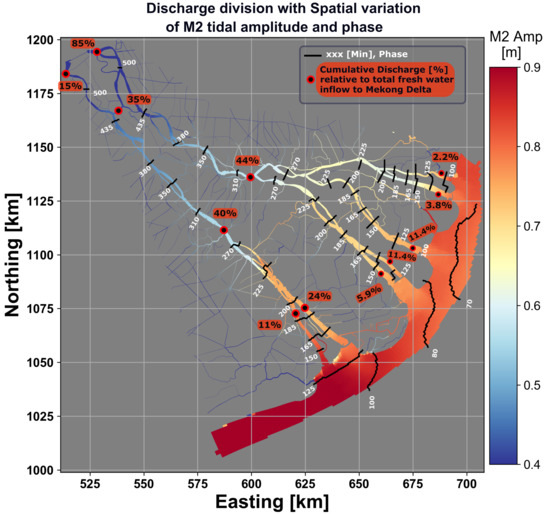 Graphical abstract
This is an open access article distributed under the
Creative Commons Attribution License
which permits unrestricted use, distribution, and reproduction in any medium, provided the original work is properly cited (CC BY 4.0).
Supplementary material
Externally hosted supplementary file 1
Doi: 10.5281/zenodo.1478608
Link: https://doi.org/10.5281/zenodo.1478608
Description: The gauge data is available to the reviewers and external parties upon request.

Share & Cite This Article
MDPI and ACS Style
Eslami, S.; Hoekstra, P.; Kernkamp, H.; Nguyen Trung, N.; Do Duc, D.; Tran Quang, T.; Februarianto, M.; Van Dam, A.; van der Vegt, M. Flow Division Dynamics in the Mekong Delta: Application of a 1D-2D Coupled Model. Water 2019, 11, 837.
Note that from the first issue of 2016, MDPI journals use article numbers instead of page numbers. See further details here.
Related Articles
Comments
[Return to top]