Effects of Sediment Released from a Check Dam on Sediment Deposits and Fish and Macroinvertebrate Communities in a Small Stream
1
Department of Decision Science for sustainable society, Kyushu University, 744 Motooka, Nishi-ku, Fukuoka 819-0395, Japan
2
Department of Transdisciplinary Science and Engineering, Tokyo Institute of Technology, 4259 G5-4 Nagatsuta-cho, Midori-ku, Yokohama 226-8502, Japan
3
Aqua restoration Research Center, Public Works Research Institute, Kawashima Kasada-machi Kakamigahara 501-6021, Japan
4
Disaster Risk Reduction Research Center, Graduate School of Engineering, Kyushu University, 744 Motooka, Nishi-ku, Fukuoka 819-0395, Japan
5
Department of Urban and Environmental Engineering, Graduate School of Engineering, Kyushu University, 744 Motooka, Nishi-ku, Fukuoka 819-0395, Japan
6
CTI Engineering Co., Ltd., 2-4-12, Daimyo, Chuo-ku, Fukuoka 810-0041, Japan
*
Author to whom correspondence should be addressed.
Received: 7 March 2019 / Revised: 2 April 2019 / Accepted: 3 April 2019 / Published: 6 April 2019
Abstract
Dam removal is typically intended for river restoration or as a countermeasure for aging dams. The influence of dam removal has mainly been studied in large rivers. This study is intended to investigate the influence of the sediment supplied after opening a check dam drain in a small steep stream to contribute to the establishment of sediment release technology form check dam by accumulating the basic knowledge about the influence of sediment release. Deposited sediment in the impoundment was rapidly discharged immediately after opening the drain outlet, and a moderate sediment discharge followed. The water course of the sediments deposited by repeated channel widening and riverbed degradation tended to stop longitudinal topographic changes from downstream. In addition, the turbidity during a flood was high in the first year and tended to decrease in the second year. As for the ecosystem response, changes in the benthic macroinvertebrate community were confirmed in downstream sites, and net-spinning species especially deceased immediately after the sediment supply began. Our monitoring results suggest that the increasing turbidity was suppressed during the flood because sediment release was conducted from the small-scale facility. As a result, a negative impact on the aquatic ecosystem seemed to be reduced.
View Full-Text
►

▼

Figures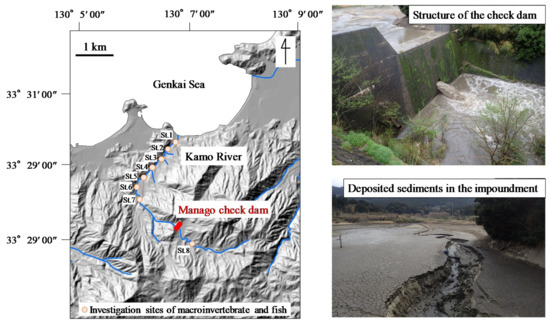 Figure 1
This is an open access article distributed under the
Creative Commons Attribution License
which permits unrestricted use, distribution, and reproduction in any medium, provided the original work is properly cited (CC BY 4.0).

Share & Cite This Article
MDPI and ACS Style
Itsukushima, R.; Ohtsuki, K.; Sato, T.; Kano, Y.; Takata, H.; Yoshikawa, H. Effects of Sediment Released from a Check Dam on Sediment Deposits and Fish and Macroinvertebrate Communities in a Small Stream. Water 2019, 11, 716.
Note that from the first issue of 2016, MDPI journals use article numbers instead of page numbers. See further details here.
Related Articles
Comments
[Return to top]