Spatial and Temporal Long-Term Patterns of Phyto and Zooplankton in the W-Mediterranean: RADMED Project
1
Instituto Español de Oceanografía, C.O. Málaga., Puerto Pesquero s/n, Fuengirola, 29640 Málaga, Spain
2
Instituto Español de Oceanografía, C.O. Baleares, Muelle de Poniente s/n, 07015 Palma de Mallorca, Spain
3
Andalucía Tech, Departamento de Ecología y Geología, Universidad de Málaga, Campus de Teatinos s/n, 29071 Málaga, Spain
*
Author to whom correspondence should be addressed.
Received: 21 December 2018 / Revised: 19 February 2019 / Accepted: 11 March 2019 / Published: 14 March 2019
Abstract
It is widely accepted that the Mediterranean is an oligotrophic sea where winter mixing favors the proliferation of diatoms and high values of zooplanktonic biomass, mainly associated with the growth of copepods. Stratified conditions from mid-spring to late autumn are dominated by the picophytoplanktonic groups and the increment of cladoceran abundances. This general picture has important exceptions. A regionalization of the Mediterranean Sea can be established, distinguishing oligotrophic and mesotrophic areas and different blooming periods. The RADMED monitoring program covers a large area from the southwestern limit of the Mediterranean to the Catalan Sea. The analysis of phyto and zooplankton time series extending from 1992 to 2016 in some cases, and from 2007 to 2016 in others, have shown that the Spanish Mediterranean waters have differentiated areas and trophic regimes as a result of the existence of several fertilizing mechanisms which include winter mixing, tidal mixing in the Strait of Gibraltar, cyclonic circulation cells and frontal systems. The present work describes these different mechanisms acting on the Spanish Mediterranean waters, and also the potentiality of monitoring programs for providing statistics suitable for operational activities or the initialization/validation of ecological models.
View Full-Text
►

▼

Figures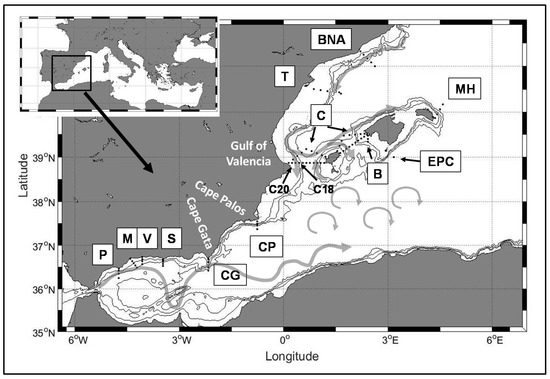 Figure 1
This is an open access article distributed under the
Creative Commons Attribution License
which permits unrestricted use, distribution, and reproduction in any medium, provided the original work is properly cited (CC BY 4.0).

Share & Cite This Article
MDPI and ACS Style
García-Martínez, M.C.; Vargas-Yáñez, M.; Moya, F.; Santiago, R.; Reul, A.; Muñoz, M.; López-Jurado, J.L.; Balbín, R. Spatial and Temporal Long-Term Patterns of Phyto and Zooplankton in the W-Mediterranean: RADMED Project. Water 2019, 11, 534.
Note that from the first issue of 2016, MDPI journals use article numbers instead of page numbers. See further details here.
Related Articles
Comments
[Return to top]