Natural Attenuation of Mn(II) in Metal Refinery Wastewater: Microbial Community Structure Analysis and Isolation of a New Mn(II)-Oxidizing Bacterium
Pseudomonas

sp. SK3

Department of Earth Resource Engineering, Faculty of Engineering, Kyushu University, 744 Motooka, Nishi-ku, Fukuoka 819-0395, Japan

*

Author to whom correspondence should be addressed.

Received: 7 February 2019 / Revised: 5 March 2019 / Accepted: 5 March 2019 / Published: 11 March 2019
Abstract
Natural attenuation of Mn(II) was observed inside the metal refinery wastewater pipeline, accompanying dark brown-colored mineralization (mostly Mn
IV
O
2
with some Mn
III
2
O
3
and Fe
2
O
3
) on the inner pipe surface. The Mn-deposit hosted the bacterial community comprised of
Hyphomicrobium
sp. (22.1%),
Magnetospirillum
sp. (3.2%),
Geobacter
sp. (0.3%),
Bacillus
sp. (0.18%),
Pseudomonas
sp. (0.03%), and non-metal-metabolizing bacteria (74.2%). Culture enrichment of the Mn-deposit led to the isolation of a new heterotrophic Mn(II)-oxidizer
Pseudomonas
sp. SK3, with its closest relative
Ps. resinovorans
(with 98.4% 16S rRNA gene sequence identity), which was previously unknown as an Mn(II)-oxidizer. Oxidation of up to 100 mg/L Mn(II) was readily initiated and completed by isolate SK3, even in the presence of high contents of MgSO
4
(a typical solute in metal refinery wastewaters). Additional Cu(II) facilitated Mn(II) oxidation by isolate SK3 (implying the involvement of multicopper oxidase enzyme), allowing a 2-fold greater Mn removal rate, compared to the well-studied Mn(II)-oxidizer
Ps. putida
MnB1. Poorly crystalline biogenic birnessite was formed by isolate SK3 via one-electron transfer oxidation, gradually raising the Mn AOS (average oxidation state) to 3.80 in 72 h. Together with its efficient in vitro Mn(II) oxidation behavior, a high Mn AOS level of 3.75 was observed with the pipeline Mn-deposit sample collected in situ. The overall results, including the microbial community structure analysis of the pipeline sample, suggest that the natural Mn(II) attenuation phenomenon was characterized by robust in situ activity of Mn(II) oxidizers (including strain SK3) for continuous generation of Mn(IV). This likely synergistically facilitated chemical Mn(II)/Mn(IV) synproportionation for effective Mn removal in the complex ecosystem established in this artificial pipeline structure. The potential utility of isolate SK3 is illustrated for further industrial application in metal refinery wastewater treatment processes.
View Full-Text
►

▼

Figures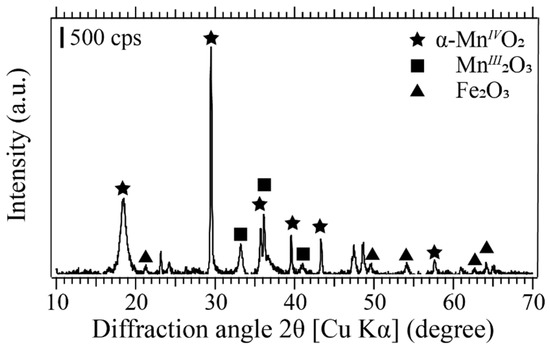 Figure 1
This is an open access article distributed under the
Creative Commons Attribution License
which permits unrestricted use, distribution, and reproduction in any medium, provided the original work is properly cited (CC BY 4.0).

Share & Cite This Article
MDPI and ACS Style
Kitjanukit, S.; Takamatsu, K.; Okibe, N. Natural Attenuation of Mn(II) in Metal Refinery Wastewater: Microbial Community Structure Analysis and Isolation of a New Mn(II)-Oxidizing Bacterium Pseudomonas sp. SK3. Water 2019, 11, 507.
Note that from the first issue of 2016, MDPI journals use article numbers instead of page numbers. See further details here.
Related Articles
Comments
[Return to top]