Quantification of Stream Drying Phenomena Using Grid-Based Hydrological Modeling via Long-Term Data Mining throughout South Korea including Ungauged Areas
1
Agricultural and Water Resources Engineering, Texas A&M AgriLife Research Center at El Paso, 1380 A&M Circle, El Paso, TX 79927-5020, USA
2
School of Civil and Environmental Engineering, College of Engineering, Konkuk University, 120 Neungdong-ro, Gwangjin-gu, Seoul 05029, Korea
*
Author to whom correspondence should be addressed.
Received: 28 January 2019 / Revised: 28 February 2019 / Accepted: 3 March 2019 / Published: 7 March 2019
Abstract
The Drying Stream Assessment Tool and Water Flow Tracking (DrySAT-WFT) were modified to simulate the hydrological components of water loss databases (DBs) affecting stream drying phenomena. In this study, the phenomenon is defined based on a method using the 10-day minimum flow (reference Q355). Prior to identifying the method using reference Q355, the DrySAT-WFT model was calibrated and verified for its performance with the total runoff (TQ), evapotranspiration (ET), and soil moisture (SM) at 12 streamflow locations, 3 ET locations, and 58 SM locations. The average R
2
for TQ in 2005 to 2015 were 0.66 to 0.84, which demonstrates good performance. Moreover, Nash Sutcliffe model efficiency (NSE) values were 0.52 to 0.72, which are also good. After verifying the DrySAT-WFT model for hydrologic components, in order to apply the method, this study defined the drying progress which was analyzed by the stream drying index (SDI) as decision criteria. In this study, the criteria for the estimation of SDI were calculated as reference Q355 coming from the 10-day minimum flow considering only weather changes from 1976 to 2015. Then, SDI grades were determined by counting the number of days below a reference Q355 from TQ considering all water loss databases (DBs) such as weather changes, groundwater uses, forest heights, soil depths, land use, and road network. On the other hand, SDI represents how many days below the reference Q355 increased when all water loss DBs were applied, in comparison to when only weather changes were applied. The DrySAT-WFT model simulated the hydrological components of the water balance based on each water loss DB, including the application of all DBs. As a result, the change ratios for TQ were measured: −4.8% for groundwater use (GWU), −1.3% for forest height (FH), −0.3% for road network (RN), −0.1% for land use (LU) and −0.1% for soil depth (SD). Overall, TQ values decreased by -8.4%. The change ratios for ET were measured: −2.0% for GWU, +10.5% for FH, +5.6% for RN, −1.8% for LU and +0.3% for SD. Overall, the ET values increased by +14.7%. In addition, based on all water loss DBs, the SDI was evaluated for all watersheds, which intensified recently (2006–2015). Under weather DB conditions, the average SDI was measured as 2.0 for all watersheds. Stream drying processes remained limited, requiring only monitoring. Given baseline conditions, stream drying intensified to grades of 3.1 (1976–1985), 3.2 (1986–1995), 3.3 (1996–2005) and 3.5 (2006–2015) by all water loss DBs.
View Full-Text
►

▼

Figures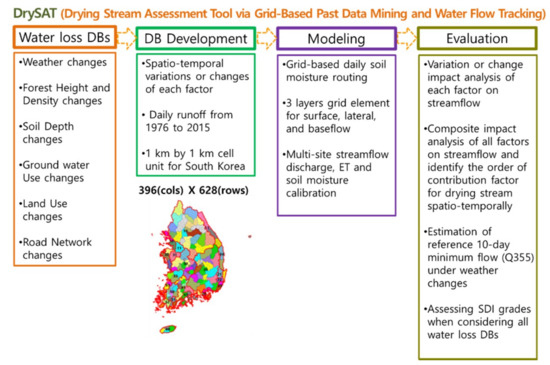 Figure 1
This is an open access article distributed under the
Creative Commons Attribution License
which permits unrestricted use, distribution, and reproduction in any medium, provided the original work is properly cited (CC BY 4.0).

Share & Cite This Article
MDPI and ACS Style
Jung, C.; Lee, J.; Lee, Y.; Kim, S. Quantification of Stream Drying Phenomena Using Grid-Based Hydrological Modeling via Long-Term Data Mining throughout South Korea including Ungauged Areas. Water 2019, 11, 477.
Note that from the first issue of 2016, MDPI journals use article numbers instead of page numbers. See further details here.
Related Articles
Comments
[Return to top]