Evaluation and Hydrological Application of CMADS against TRMM 3B42V7, PERSIANN-CDR, NCEP-CFSR, and Gauge-Based Datasets in Xiang River Basin of China
1
China Institute of Water Resources and Hydropower Research, Beijing 100038, China
2
State Key Laboratory of Simulation and Regulation of Water Cycle in River Basin, Beijing 100038, China
3
School of Civil Engineering, Southeast University, Nanjing 211189, China
*
Author to whom correspondence should be addressed.
Received: 14 June 2018 / Revised: 5 September 2018 / Accepted: 8 September 2018 / Published: 11 September 2018
Abstract
Satellite-based and reanalysis precipitation products provide a practical way to overcome the shortage of gauge precipitation data because of their high spatial and temporal resolution. This study compared two reanalysis precipitation datasets (the China Meteorological Assimilation Driving Datasets for the Soil and Water Assessment Tool (SWAT) model (CMADS), the National Centers for Environment Prediction Climate Forecast System Reanalysis (NCEP-CFSR)) and two satellite-based datasets (the Tropical Rainfall Measuring Mission 3B42 Version 7 (3B42V7) and the Precipitation Estimation from Remotely Sensed Information using Artificial Neural Networks–Climate Data Record (PERSIANN-CDR)) with observed precipitation in the Xiang River basin in China at two spatial (grids and the whole basin) and two temporal (daily and monthly) scales. These datasets were then used as inputs to a SWAT model to evaluate their usefulness in hydrological prediction. Bayesian model averaging was used to discriminate dataset performance. The results show that: (1) for daily timesteps, correlations between reanalysis datasets and gauge observations are >0.55, better than satellite-based datasets; The bias values of satellite-based datasets are <10% at most evaluated grid locations and for the whole baseline. PERSIANN-CDR cannot detect the spatial distribution of rainfall events; the probability of detection (POD) of PERSIANN-CDR at most evaluated grids is <0.50; (2) CMADS and 3B42V7 are better than PERSIANN-CDR and NCEP-CFSR in most situations in terms of correlation with gauge observations; satellite-based datasets are better than reanalysis datasets in terms of bias; and (3) CMADS and 3B42V7 simulate streamflow well for both daily (The Nash-Sutcliffe coefficient (NS) > 0.70) and monthly (NS > 0.80) timesteps; NCEP-CFSR is worst because it substantially overestimates streamflow; PERSIANN-CDR is not good because of its low NS (0.40) during the validation period.
View Full-Text
►

▼

Figures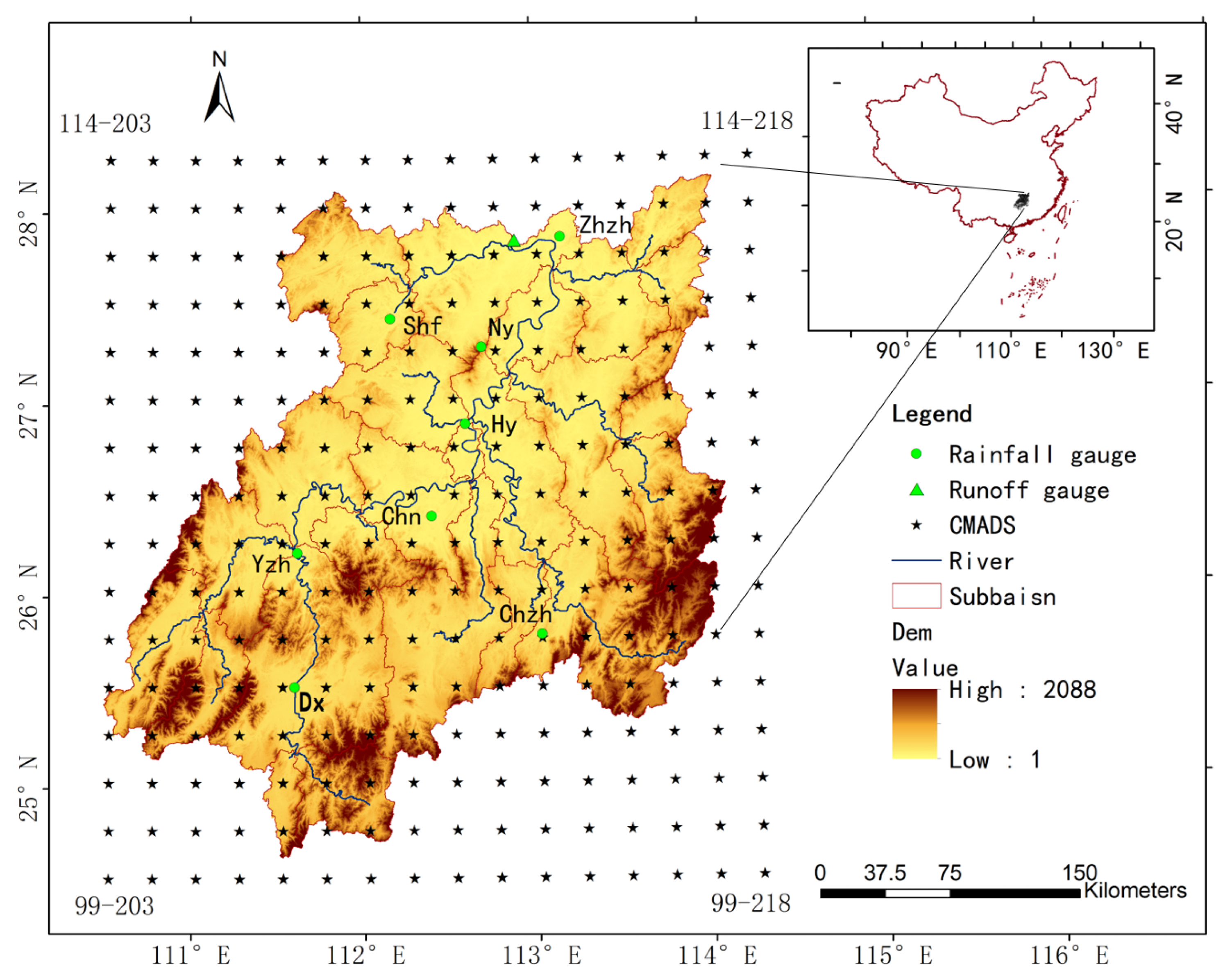 Figure 1
This is an open access article distributed under the
Creative Commons Attribution License
which permits unrestricted use, distribution, and reproduction in any medium, provided the original work is properly cited (CC BY 4.0).

Share & Cite This Article
MDPI and ACS Style
Gao, X.; Zhu, Q.; Yang, Z.; Wang, H. Evaluation and Hydrological Application of CMADS against TRMM 3B42V7, PERSIANN-CDR, NCEP-CFSR, and Gauge-Based Datasets in Xiang River Basin of China. Water 2018, 10, 1225.
Note that from the first issue of 2016, MDPI journals use article numbers instead of page numbers. See further details here.
Related Articles
Comments
[Return to top]