Performance of National Maps of Watershed Integrity at Watershed Scales
1
U.S. Environmental Protection Agency, National Health and Environmental Effects Research Laboratory, Atlantic Ecology Division, Narragansett, RI 02882, USA
2
U.S. Environmental Protection Agency, National Health and Environmental Effects Research Laboratory,Western Ecology Division, Corvallis, OR 97333, USA
3
U.S. Environmental Protection Agency, Oak Ridge Institute for Science and Education (ORISE), National Health and Environmental Effects Research Laboratory, Western Ecology Division, 200 SW 35th St., Corvallis, OR 97333, USA
4
School of Environmental and Forest Sciences, University ofWashington, Seattle, WA 98195, USA
5
National Research Council Post-Doctoral Fellow, National Academy of Sciences, Washington, DC 20001, USA
6
Department of Earth & Environment, Florida International University, Miami, FL 33199, USA
7
U.S. Environmental Protection Agency, National Center for Environmental Assessment, Washington, DC 20001, USA
8
U.S. Environmental Protection Agency, National Risk Management Research Laboratory, Cincinnati, OH 45268, USA
9
U.S. Environmental Protection Agency, National Exposure Research Laboratory, Cincinnati, OH 45268, USA
*
Author to whom correspondence should be addressed.
Received: 20 April 2018 / Revised: 20 April 2018 / Accepted: 1 May 2018 / Published: 5 May 2018
Abstract
Watershed integrity, the capacity of a watershed to support and maintain ecological processes essential to the sustainability of services provided to society, can be influenced by a range of landscape and in-stream factors. Ecological response data from four intensively monitored case study watersheds exhibiting a range of environmental conditions and landscape characteristics across the United States were used to evaluate the performance of a national level Index of Watershed Integrity (IWI) at regional and local watershed scales. Using Pearson's correlation coefficient (
r
), and Spearman's rank correlation coefficient (
rs
), response variables displayed highly significant relationships and were significantly correlated with IWI and ICI (Index of Catchment Integrity) values at all watersheds. Nitrogen concentration and flux-related watershed response metrics exhibited significantly strong negative correlations across case study watersheds, with absolute correlations (|
r
|) ranging from 0.48 to 0.97 for IWI values, and 0.31 to 0.96 for ICI values. Nitrogen-stable isotope ratios measured in chironomids and periphyton from streams and benthic organic matter from lake sediments also demonstrated strong negative correlations with IWI values, with |
r
| ranging from 0.47 to 0.92, and 0.35 to 0.89 for correlations with ICI values. This evaluation of the performance of national watershed and catchment integrity metrics and their strong relationship with site level responses provides weight-of-evidence support for their use in state, local and regionally focused applications.
View Full-Text
►

▼

Figures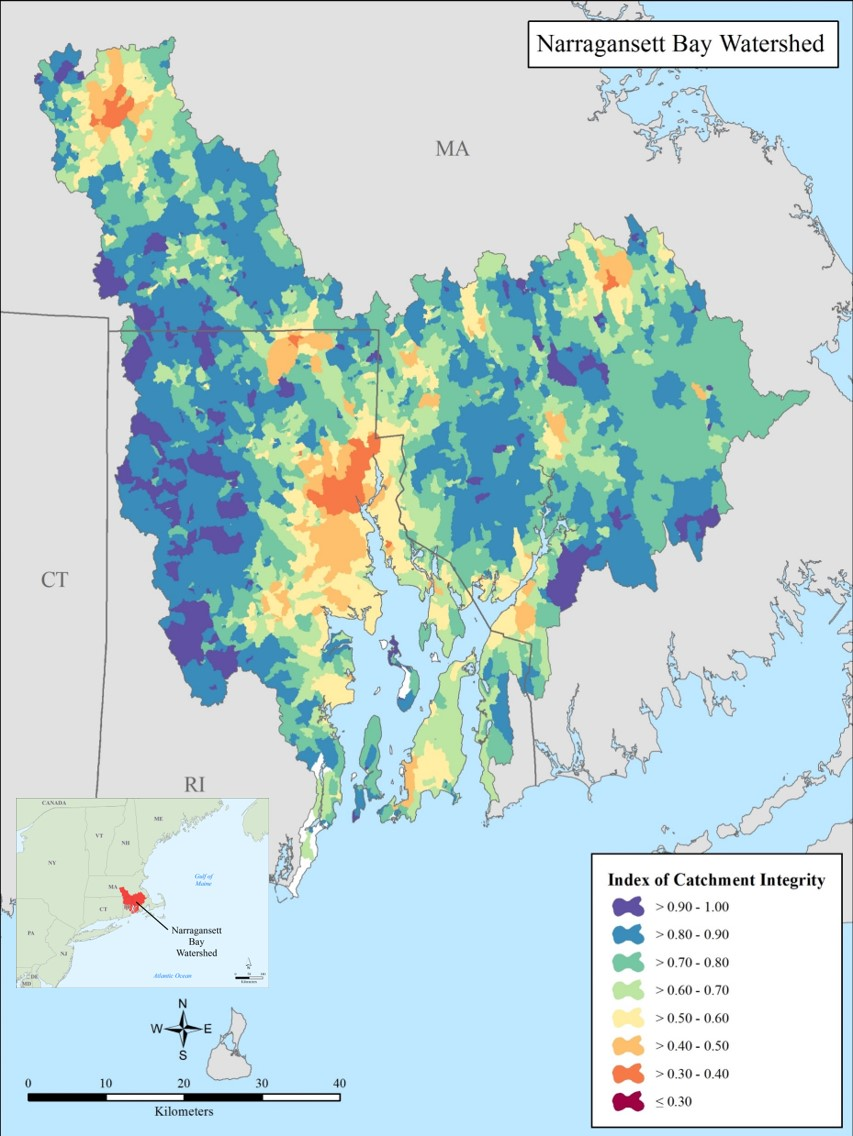 Graphical abstract
This is an open access article distributed under the
Creative Commons Attribution License
which permits unrestricted use, distribution, and reproduction in any medium, provided the original work is properly cited (CC BY 4.0).

Share & Cite This Article
MDPI and ACS Style
Kuhn, A.; Leibowitz, S.G.; Johnson, Z.C.; Lin, J.; Massie, J.A.; Hollister, J.W.; Ebersole, J.L.; Lake, J.L.; Serbst, J.R.; James, J.; Bennett, M.G.; Brooks, J.R.; Nietch, C.T.; Smucker, N.J.; Flotemersch, J.E.; Alexander, L.C.; Compton, J.E. Performance of National Maps of Watershed Integrity at Watershed Scales. Water 2018, 10, 604.
Note that from the first issue of 2016, MDPI journals use article numbers instead of page numbers. See further details here.
Related Articles
Comments
[Return to top]