Open Access This article is
freely available
re-usable
Article
Locating Spatial Opportunities for Nature-Based Solutions: A River Landscape Application
1
Institute of Environmental Planning, Leibniz Universität Hannover, Herrenhäuser Str. 2, 30419 Hannover, Germany
2
Department of Geography, Humboldt University of Berlin, Rudower Chausee 16, 10099 Berlin, Germany
3
Department of Computational Landscape Ecology, Helmholtz Centre for Environmental Research—UFZ, Permoser Str. 15, 04318 Leipzig, Germany
*
Author to whom correspondence should be addressed.
Received: 30 August 2018 / Accepted: 7 December 2018 / Published: 17 December 2018
Abstract
:
Compared to technical infrastructure, nature-based solutions (NBS) strive to work with nature and to move beyond business-as-usual practices. Despite decades of research from various academia fields and a commencing mainstreaming of the term, a lack of cohesiveness and pertinent methods regarding the subject matter hinders further implementation. Using a functional landscape approach, this paper aims to identify the spatial extent of existing and potential NBS locations and applies it across a case study in Germany. Inspired by hydrological models, which work with delineated hydrological response units, this research instead defines hydromorphological landscape units (HLU) based on biophysical spatial criteria to identify the potential areas that could function as NBS. This approach was tested for floodplain-based NBS. The identified HLU were then compared with historical floodplain and land-use data to differentiate between active or potential NBS. The spatial delineation identified 3.6 million hectares of already active floodplains areas, for which we recommend continued or modified protection measures, and 0.4 million ha where the hydromorphological conditions are apt to support floodplains, yet are cut-off from the flooding regime and require rehabilitation measures. The identification of NBS through explicitly defined HLU serves as a spatial approach to support NBS implementation. Taken together, our research can provide an essential contribution to systemize the emerging scholarship on NBS in river landscapes and to help in selecting and planning appropriate NBS in practice.
Keywords:
river restoration; nature-based solutions; spatial analysis; floodplains
1. Introduction
Thus, taking these considerations into account, this paper focuses on NBS for river landscapes, which include concepts, such as floodplain protection, wetland creation, and the preservation of upstream forests, among others. The aim of this paper is to spatially identify existing and potential locations for NBS using a hydrological landscape units (HLU) approach applied to a river basin in Central Germany. More specifically, the objectives of this research are (i) to present a spatial methodology that supports the initial phases of planning, and (ii) to differentiate between the actual and potential locations of floodplain-based NBS. Our intention to find locations for NBS by using the proxy of the HLU approach is not to estimate the amount of ecosystem functions or services provided in those locations, which would require a much more complex analysis, considering the greater number of relevant biophysical factors. Instead, we want to identify spaces (how many?) and places (where?), which are most likely to fulfil essential ecosystem functions and to serve as NBS. We expect our results to help concretize the current debate around NBS by expanding upon existing conceptual approaches and spatially identifying locations of existing and opportunity spaces for NBS.
2. Method
The research design of this study consists of a natural-functional reference of units based on biophysically defined spatial criteria for the NBS in question. These units are explored in a mapping exercise for the case study region of Hesse, Germany, in order to identify the extent of a sample NBS and possible, suitable areas of opportunity.
While NBS are indeed often interpreted as an umbrella term capturing many different solutions, particular NBS types and NBS actions are "determined by the natural function of ecosystems." Based on those conditions, science can identify spatial requirements that need to be fulfilled for a particular NBS action to be in place, or to be successfully implemented in the future [
26
]. Along this line, we suggest that the NBS type, 'working floodplain', requires the protection, enhancement, or restoration and revitalization of river floodplains [
8
,
25
,
26
]. Morphological floodplains can be regarded as a good proxy indicator for the opportunity space where the NBS 'working floodplain' currently is or could potentially be located. However, it depends on the degree to which the particular area is still fulfilling the ecological functions of floodplains to determine whether a site presents an area with a working NBS, with potential for future establishment of an NBS, or if the establishment of such an NBS is impossible at this place.
2.1. Use of the Hydrological Response Unit Method to Develop Spatial Units for NBS
For our methodology, we utilized the hydrologic response unit, HRU, delineation approach and adapted it to locate floodplain-based NBS in our case study. The HRU concept stems from hydrological models, such as Soil and Water Assessment Tool (SWAT, United States Department of Agriculture, Temple, TX, USA) and Precipitation Runoff Modeling System (PRMS, U.S. Geological Survey, Reston, VA, USA), which work with hydrological response units [
27
,
28
]. HRU are homogenous units containing the same soil, land use, and slope characteristics [
15
,
28
]. These HRU indicate the conditions for water processes and consequently aid in modeling the water balance for watersheds [
28
,
29
]. In other words, the HRU delineation method serves to represent similar hydrologic behavior in each land unit.
Inspired by this methodology, we defined biophysical criteria in order to obtain spatial units of homogenous constitution relating to the NBS encompassing floodplains, including the protection and enhancement of these areas. Specifically, we looked to identify areas in the river landscape containing uniform criteria capable of supporting floodplains. We consider these units: Hydromorphological landscape units, or HLU. Thus, HLU are akin to what hydrologist and soil scientist consider HRU. The HLU development process to define floodplain-related NBS, and other possible features and NBS, are shown below, see
Figure 3
.
2.2. Application of the HLU Approach to the NBS Relating to Floodplains
2.3. Distinction Between Potential and Active HLU
A further spatial analysis was carried out in order to differentiate between the potential and active floodplain HLU. Active floodplains were defined as those areas under a permeable land use and located in the recent floodplain; see
Table S1 in the Supplementary Material
for land use permeability classification:
F_HLUA = F_HLU − (LUp + FPr)
where LU
p
are permeable land use areas and FP
r
are the recent, or current, floodplains areas.
Potential floodplain areas are those HLU which are presently located under a sealed land use and found in the historical floodplain stretch:
F_HLUP = F_HLU − (LUs + FPh)
where LU
s
are the sealed land use areas and FP
h
are the historical floodplains areas.
As per the data used, a recent floodplain is defined as areas that can currently be flooded, while the historical floodplain is defined as the area that is cut off from the natural flooding regime due to infrastructure, such as levees, and is no longer able to flood, i.e., a non-functioning remnant of the floodplain [
37
].
Figure 4
displays a scheme of data and model integration for the HLU floodplains; this expands steps 1–4 of
Figure 3
.
The visualized distinction between the permeable and sealed land use employed, as well as the above—described differentiation of recent and historical delineation of floodplains can be found in the
Figure S1 in Supplementary Materials
.
3. Results
Modelling the Extent of Floodplains through HLUs
4. Discussion
While in this paper the methodology is not tested in other rivers or for other mentioned NBS, such as wetland enhancement, the fundamental and general scope of the criteria and methodology, i.e., homogenous units based on key biophysical criteria, is feasible and realistic for application. The criteria, as mentioned, was selected based on vast research specifying the three key characteristics of the natural feature, and these characteristics and methodology due to their fulfilment of spatial and scientific qualities have the potential to be applied to other river systems.
The aim of the spatial analysis was to identify NBS locations. Therefore, this did not include further analysis focused on the feasibility of each HLU, nor was the flooding capacity of these areas under examination. The floodplains' performance, in respect to flooding effectiveness, is not assessed. While the flooding effectiveness and flooding risk of these HLU is outside the scope of this research, future research is recommended to expand upon this concept.
5. Conclusions
This study adapted the HRU delineation method of water models unto HLU to spatially identify the extent of active and potential locations for floodplain-based NBS and shows promising results for support of decision-making, both in the case study area [
48
]) and landscape planning in general. Additionally, this research serves to provide tangibility to the term, NBS, by defining specific spatially-linked hydromorphological characteristics to an NBS. This transferable and straightforward method can be used by planners and decision-makers as a starting point for NBS discussion and selection. Various groundwater and watershed water balance models and soil erosion models use the HRU concept; our HLU approach is, therefore, complementary and applicable in planning. We combined the use of landscape units with the hydrological unit approach and integrated biophysical characteristics, making this method a triangulation of concepts which follow scientific laws.
We recommend further research that includes social and economic criteria in order to more comprehensively asses the NBS and provide a more robust evidence-base and support NBS implementation in practice.
Supplementary Materials
The following are available online at
https://www.mdpi.com/2073-4441/10/12/1869/s1
, Table S1: Land Use permeability distinction, Table S2: Comparison of HLU criteria with other referenced classifications and methods [
14
,
30
,
34
], Figure S1: Differentiation of land use and historical floodplain status visualized.
Author Contributions
Conceptualization, P.G., D.H. and C.A.; Methodology, P.G. and D.H.; Software, P.G.; Validation, D.H.; Formal Analysis, P.G.; Investigation, P.G.; Resources, P.G. and C.A.; Data Curation, P.G.; Writing-Original Draft Preparation, P.G.; Writing-Review & Editing, P.G., D.H. and C.A.; Visualization, P.G.; Supervision, D.H. and C.A.; Funding Acquisition, C.A.
Funding
The authors are grateful for the funding support from the German Federal Ministry of Education and Research (BMBF) through the Junior Research Group PlanSmart (funding code: 01UU1601A), the BiodivERsA project ENABLE (COFUND 2015-16), and the Horizon 2020 innovation action CONNECTING (COproductioN with NaturE for City Transitioning, Innovation and Governance; No 730222-2) for fruitful discussions and comments about NBS in wetlands. The publication of this article was funded by the Open Access Fund of the Leibniz Universität Hannover.
Acknowledgments
We would like to thank the four anonymous reviewers for their critical review and insightful suggestions which helped to improve the quality of the manuscript.
Conflicts of Interest
The authors declare no conflict of interest.
References
Millennium Ecosystem Assessment (MEA).

Ecosystems and Human Well-Being: Current State and Trends

; Island Press: Washington, DC, USA, 2005. [Google Scholar]
Tockner, K.; Bunn, S.E.; Gordon, C.; Naiman, R.J.; Quinn, G.P.; Stanford, J.A. Flood Plains: Critically Threatened Ecosystems.

Aquat. Ecosyst.

2005, 45–62. [Google Scholar] [CrossRef]
Vörösmarty, C.J.; McIntyre, P.B.; Gessner, M.O.; Dudgeon, D.; Prusevich, A.; Green, P.; Glidden, S.; Bunnro, S.E.; Sullivan, C.A.; Liermann, C.R.; et al. Global Threats to Human Water Security and River Biodiversity.

Nature

2010,

467

, 555–561. [Google Scholar] [CrossRef] [PubMed]
International Union for Conservation of Nature (IUCN). Nature-Based Solutions. 2016. Available online: http://www.iucn.org/regions/europe/our-work/nature-based-solutions (accessed on 18 September 2016).

Towards An EU Research and Innovation Policy Agenda for Nature-Based Solutions & Re-Naturing Cities

; European Commission: Luxembourg City, Luxembourg, 2015. [CrossRef]
Potschin, M.; Kretsch, C.; Haines-Young, R.; Furman, E.; Berry, P.; Baró, F. Nature-Based-Solutions. 2015. Available online: http://www.openness-project.eu/library/reference-book (accessed on 22 October 2016).
Eggermont, H.; Balian, E.; Azevedo, J.M.N.; Beumer, V.; Brodin, T.; Claudet, J.; Fady, B. Nature-Based Solutions: New Influence for Environmental Management and Research in Europe.

GAIA Ecol. Perspect. Sci. Soc.

2015,

24

, 243–248. [Google Scholar] [CrossRef]
World Water Assessment Programme (WWAP).

The United Nations World Water Development Report 2018: Nature-Based Solutions for Water

; WWAP: Paris, France, 2018. [Google Scholar]
Aylward, B.; Bandyopadhyay, J.; Belausteguigotia, J.-C.; Börkey, P.; Cassar, A.; Meadors, L.; Saade, L. Freshwater ecosystem services. In

Millenium Ecosystem Assessment: Ecosystems and Human Well-Being: Current State and Trends

; Island Press: Washington, DC, USA, 2005. [Google Scholar]
Travers, A.; Elrick, C.; Kay, R.; Vestergaard, O.

Ecosystem-Based Adaptation Guidance

; UN Environment Programme, Division of Environment Policy Implementation: Nairobi, Kenya, 2012. [Google Scholar]
Maes, J.; Jacobs, S. Nature-Based Solutions for Europe's Sustainable Development.

Conserv. Lett.

2015. [Google Scholar] [CrossRef]
Krysanova, V.; Buiteveld, H.; Haase, D.; Hattermann, F.F.; van Niekerk, K. Practices and Lessons Learned in Coping with Climatic Hazards at the River-Basin Scale: Floods and Droughts.

Ecol. Soc.

2008,

13

, 32. [Google Scholar] [CrossRef]
Kabisch, N.; Frantzeskaki, N.; Pauleit, S.; Naumann, S.; Davis, M.; Artmann, M.; Haase, D. Nature-Based Solutions to Climate Change Mitigation and Adaptation in Urban Areas—Perspectives on Indicators, Knowledge Gaps, Barriers and Opportunities for Action.

Ecol. Soc.

2016,

21

. [Google Scholar] [CrossRef]
Haase, D.; Gläser, J. Determinants of Floodplain Forest Development Illustrated by the Example of the Floodplain Forest in the District of Leipzig.

For. Ecol. Manag.

2009,

258

. [Google Scholar] [CrossRef]
Kalcic, M.; Chaubey, I.; Frankenberger, J. Defining Soil and Water Assessment Tool (SWAT) Hydrologic Response Units (HRUs) by Field Boundaries.

Int. J. Agric. Biol. Eng.

2015,

8

, 69–80. [Google Scholar] [CrossRef]
Syrbe, R.U.; Walz, U. Spatial Indicators for the Assessment of Ecosystem Services: Providing, Benefiting and Connecting Areas and Landscape Metrics.

Ecol. Indic.

2012,

21

, 80–88. [Google Scholar] [CrossRef]
EU LIFE. LIFE Integrated Projects. 2014. Available online: www.lila-livinglahn.de/.../files/.../LIFE_I_Summary_Website.pdf (accessed on 12 August 2016).
OpenStreetMap. 2018. Available online: https://www.openstreetmap.org/copyright (accessed on 11 February 2018).
Martin, C.W. Heavy Metal Storage in near Channel Sediments of the Lahn River, Germany.

Geomorphology

2004,

61

, 275–285. [Google Scholar] [CrossRef]
Bundesamt Für Kartographie Und Geodäsie (BKG). 2017. Available online: https://www.bkg.bund.de/EN/Home/home.html (accessed on 14 March 2017).
Pottgiesser, T.; Sommerhäuser, M. Profiles of German Stream Types. Available online: http://reform.gisinternet.nl/images/2/2b/Pottgiesser_Sommerhaueser_2004.pdf (accessed on 13 December 2018).
Von Keitz, S. Living River Lahn. EU Europa, 2015. Available online: http://ec.europa.eu/environment/life/project/Projects/index.cfm?fuseaction=search.dspPage&n_proj_id=5438 (accessed on 21 August 2016).
Hahn, J.; Opp, C.; Zitzer, N.; Laufenberg, G. Impacts of River Impoundment on Dissolved Heavy Metals in Floodplain Soils of the Lahn River (Germany).

Environ. Earth Sci.

2016,

75

, 1141. [Google Scholar] [CrossRef]
Bundesministerium für Verkehr und digitale Infrastruktur (BMVI). Bundesprogramm Blaues Band Deutschland. 2017. Available online: http://www.blaues-band.bund.de/Projektseiten/Blaues_Band/DE/00_Home/home_node.html (accessed on 24 August 2016).
European Commission.

In-Depth Report: E-Consultation on Nature-Based Solutions

; European Commission: Brussels, Belgium, 2014. [Google Scholar]
Thorslund, J.; Jarsjö, J.; Jaramillo, F.; Jawitz, J.W.; Manzoni, S.; Basu, N.B.; Chalov, S.R. Wetlands as Large-Scale Nature-Based Solutions: Status and Challenges for Research, Engineering and Management.

Ecol. Eng.

2017,

9

. [Google Scholar] [CrossRef]
Markstrom, J.; Regan, S.; Hay, L.; Viger, R.; Webb, R.; Payn, R.; LaFontaine, J.

PRMS-IV, the Precipitation-Runoff Modeling System

; U.S. Geological Survey: Reston, VA, USA, 2015.
University of Texas A&M. SWAT Input/Ouput File Documentation. 2012. Available online: http://swat.tamu.edu/documentation/2012-io/ (accessed on 22 February 2017).
Schmalz, B.; Kruse, M.; Kiesel, J.; Müller, F.; Fohrer, N. Water-Related Ecosystem Services in Western Siberian Lowland Basins—Analysing and Mapping Spatial and Seasonal Effects on Regulating Services Based on Ecohydrological Modelling Results.

Ecol. Indic.

2015,

71

, 55–65. [Google Scholar] [CrossRef]
Ward, A.D.; Trimble, S.W.; Burckhard, S.R.; Lyon, J.G.

Environmental Hydrology

; CRC Press: Boca Raton, FL, USA, 2016. [Google Scholar]
Haase, D. Holocene Floodplains and Their Distribution in Urban Areas—Functionality Indicators for Their Retention Potentials.

Landsc. Urban Plan.

2003,

66

, 5–18. [Google Scholar] [CrossRef]
Fick, S.E.; Hijimans, R.J. Worldclim 2: New 1-Km Spatial Resolution Climate Surfaces for Global Land Areas. 2017. Available online: http://worldclim.org/version2 (accessed on 2 October 2017).
Hessisches Landesamt Für Naturschutz, Umwelt Und Geologie (HLNUG). 2018. Available online: https://www.hlnug.de/themen/geografische-informationssysteme/geodienste/wasser.html (accessed on 17 January 2018).
Goudie, A.S.

Encyclopedia of Geomorphology

, 1st ed.; Routledge: Abingdon, UK, 2014. [Google Scholar]
Environmental Systems Research Institute (ESRI).

ArcGIS

; ESRI: Redlands, CA, USA, 2018. [Google Scholar]
QGIS Development Team.

QGIS Geographic Information System

; Open Source Geospatial Foundation Project: Las Palmas, Spain, 2018. [Google Scholar]
Dister, E.; Fünther-Diringer, D.

GIS-Gestützte Bewertung von Flüssen Und Strömen in Mitteleuropa Untersuchte Flüsse

; Bundesamt für Naturschutz: Bonn, Germany, 2004. [Google Scholar]
Palmer, M.A.; Bernhardt, E.S. Hydroecology and River Restoration: Ripe for Research and Synthesis.

Water Resour. Res.

2006,

42

, 2–5. [Google Scholar] [CrossRef]
Babbar-Sebens, M.; Barr, R.C.; Tedesco, L.P.; Anderson, M. Spatial Identification and Optimization of Upland Wetlands in Agricultural Watersheds.

Ecol. Eng.

2013,

52

, 130–142. [Google Scholar] [CrossRef]
Feagin, R.A.; Mukherjee, N.; Shanker, K.; Baird, A.H.; Cinner, J.; Kerr, A.M.; Koedam, N. Shelter from the Storm? Use and Misuse of Coastal Vegetation Bioshields for Managing Natural Disasters.

Conserv. Lett.

2010,

3

, 1–11. [Google Scholar] [CrossRef]
Van Vuren, S.; Paarlberg, A.; Havinga, H. The Aftermath of 'Room for the River' and Restoration Works: Coping with Excessive Maintenance Dredging.

J. Hydro-Environ. Res.

2014,

9

, 172–186. [Google Scholar] [CrossRef]
Alcamo, J.

Millennium Ecosystem Assessment-Ecosystems and Human Well-Being

; Island Press: Washington, DC, USA, 2003. [Google Scholar]
Hanna, D.E.L.; Bennett, E.M.; Tomscha, S.A.; Dallaire, C.O. A Review of Riverine Ecosystem Service Quantification: Research Gaps and Recommendations.

J. Appl. Ecol.

2018,

55

, 1299–1311. [Google Scholar] [CrossRef]
Nesshöver, C.; Assmuth, T.; Irvine, K.N.; Rusch, G.M.; Waylen, K.A.; Delbaere, B.; Haase, D. The Science, Policy and Practice of Nature-Based Solutions: An Interdisciplinary Perspective.

Sci. Total Environ.

2016. [Google Scholar] [CrossRef]
Westermann, F.; Rischer, J.; Ehlscheid, T.; Wanner, S.; Prawitt, O.; Loch, P.; Wendling, K.

Gewässerzustandsbericht 2010

; Landesamt für Umwelt, Wasserwirtschaft und Gewerbeaufsicht Rheinland-Pfalz: Mainz, Germany, 2011. [Google Scholar]
Grabs, W. Benchmarking Flood Risk Reduction in the Elbe River.

J. Flood Risk Manag.

2016,

9

, 335–342. [Google Scholar] [CrossRef]
Moss, T.; Monstadt, J.

Restoring Floodplains in Europe

; IWA Publishing: London, UK, 2008. [Google Scholar]
Albert, C.; Schröter, B.; Haase, D.; Brillinger, M.; Henze, J.; Herrmann, S.; Gottwald, S.; Guerrero, P.; Nicolas, C.; Matzdorf, B. Addressing Societal Challenges through Nature-Based Solutions: How Can Landscape Planning and Governance Research Contribute?

Landsc. Urban Plan.

2019,

182

, 12–21. [Google Scholar] [CrossRef]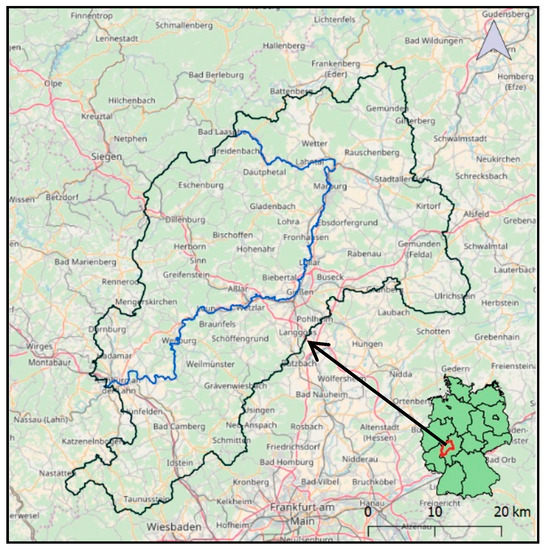 Figure 1.
Map of the Lahn River in Germany [
18
].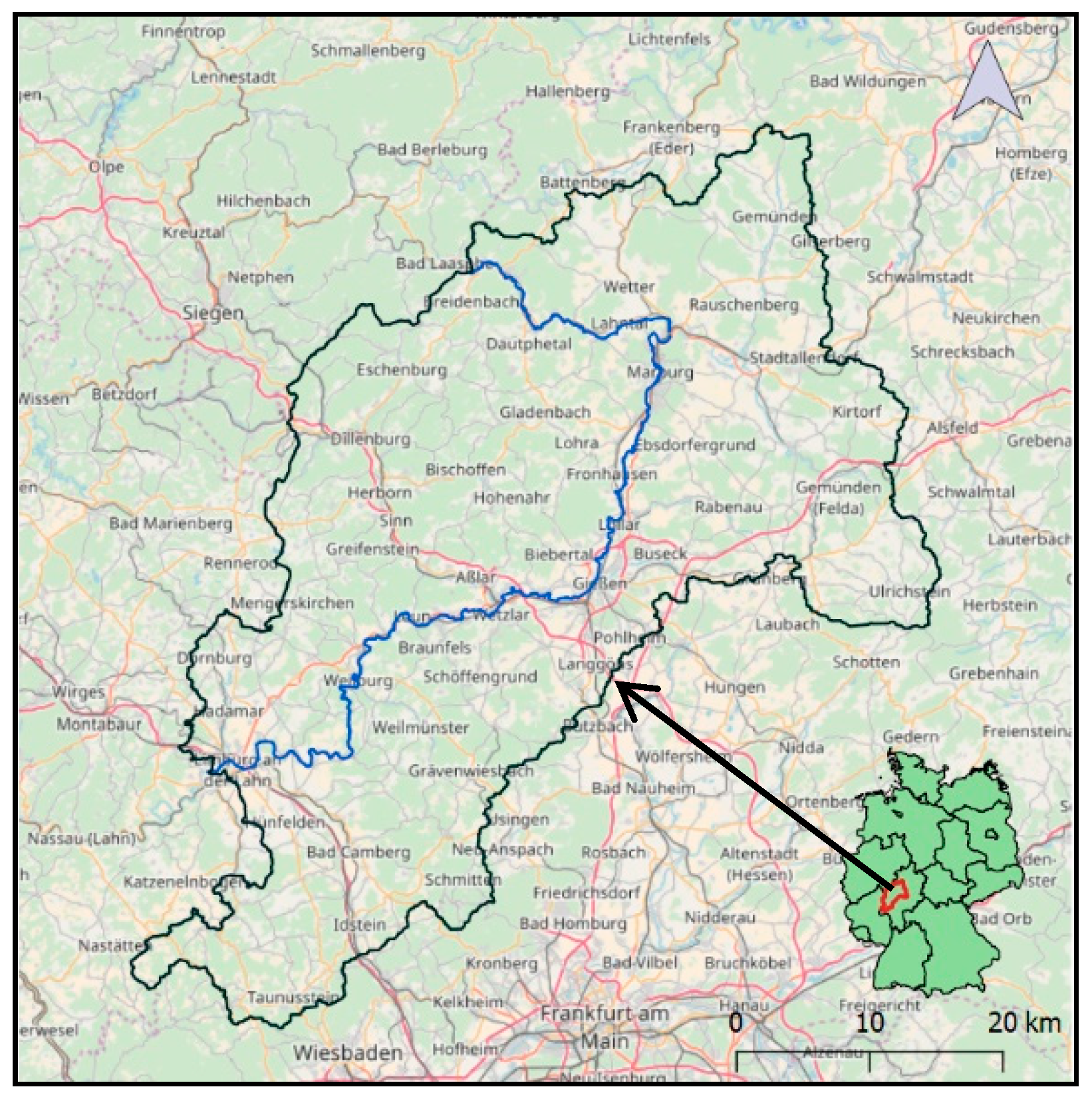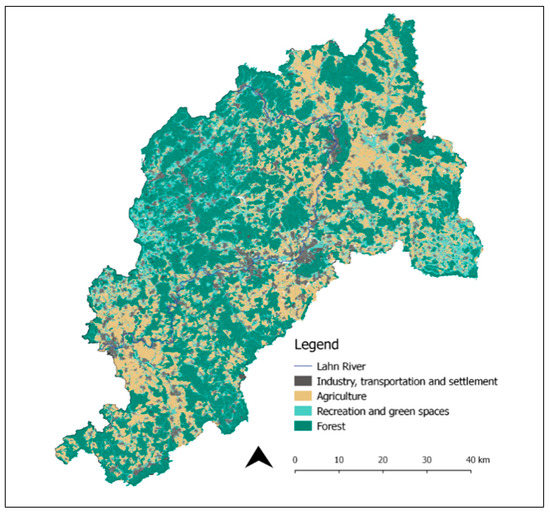 Figure 2.
Map of general land uses in the Lahn River in Hesse [
20
].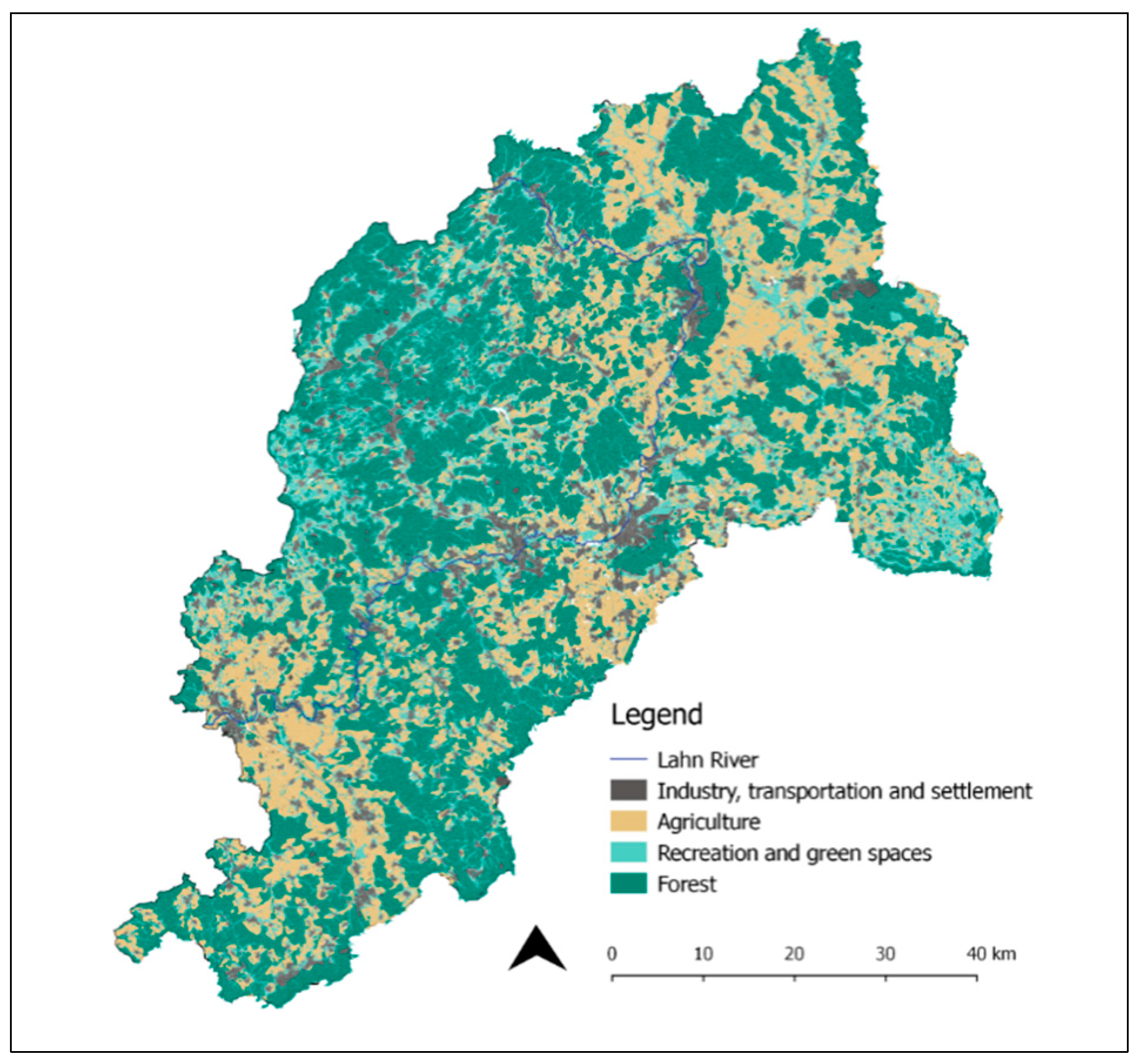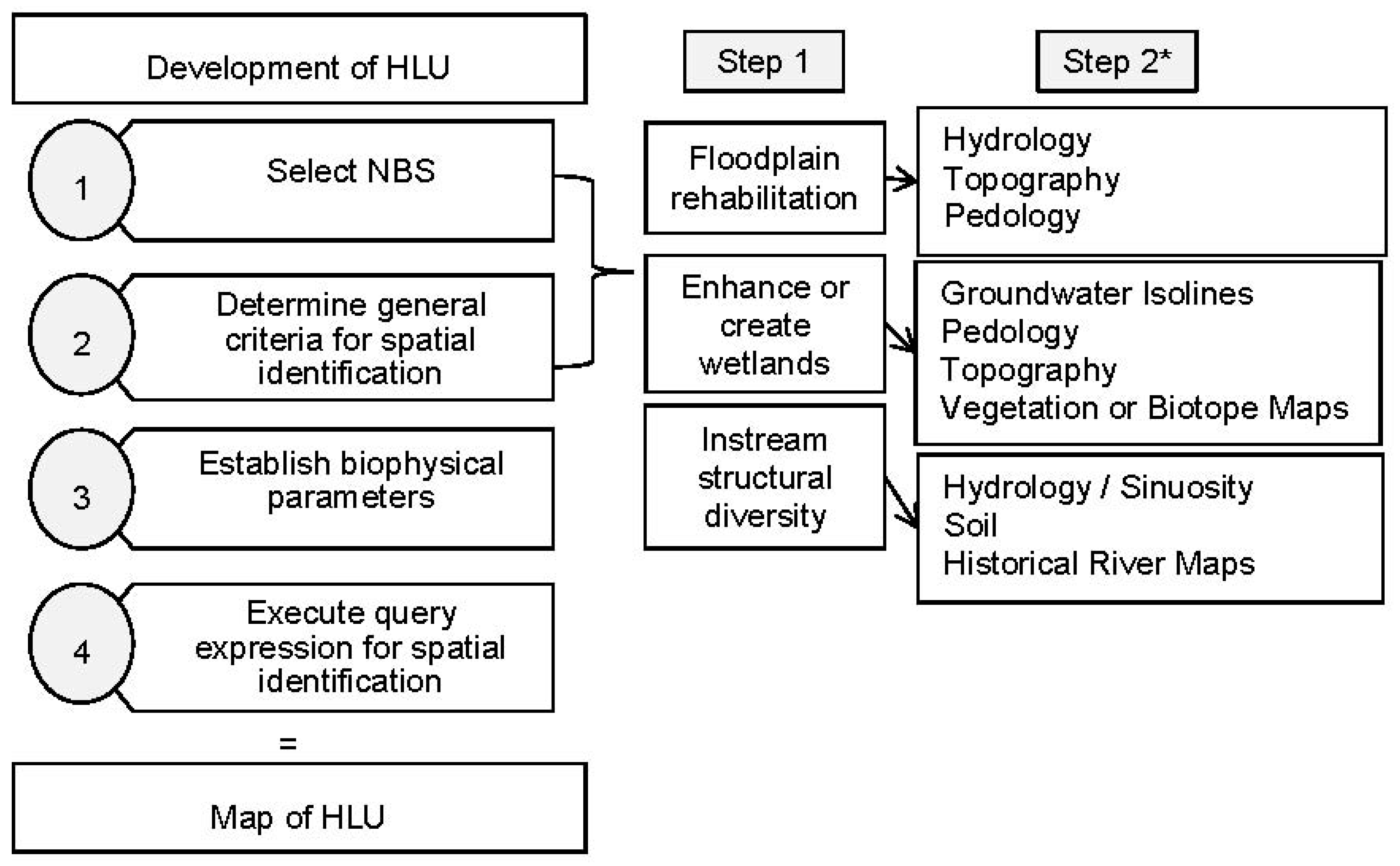 Figure 4. Scheme of data and model integration for the HLU assessment regarding floodplain-based NBS.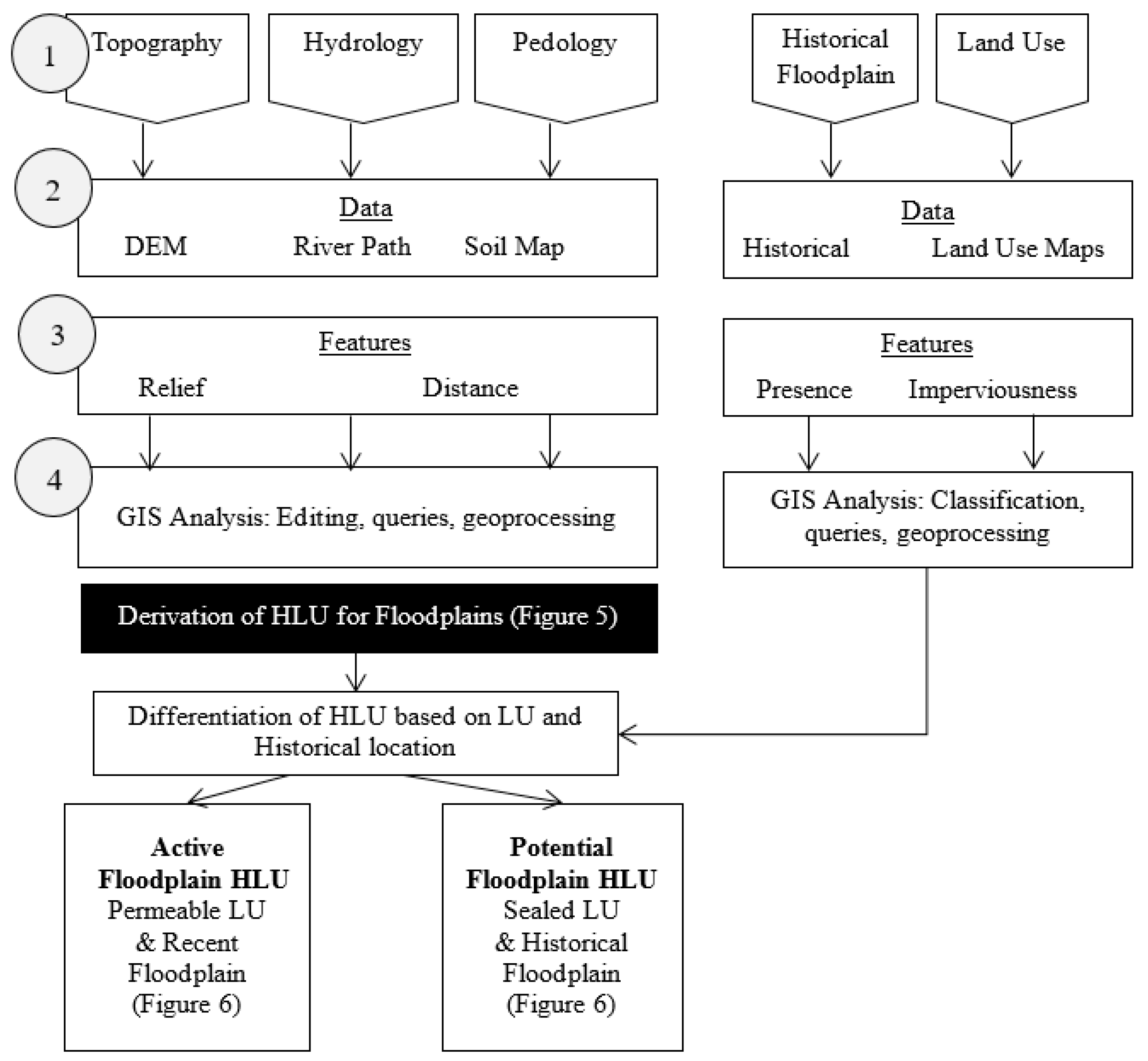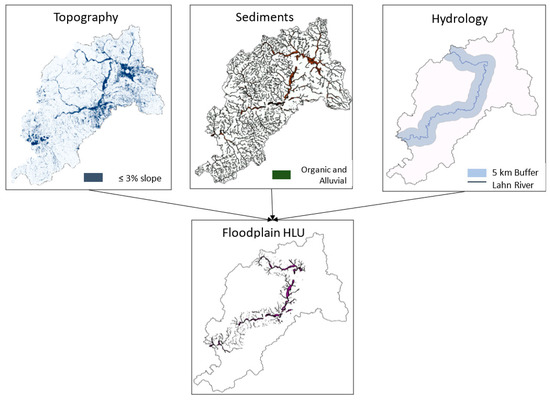 Figure 5.
Visualized parameters and the resulting spatial extent of the hydromorphological land units, HLU, for floodplains in Hesse. Further results show a marked distinction between the active floodplain HLU extent, i.e., those HLU currently under permeable land use and located in the recent area of the floodplain, versus the potential floodplain HLU, i.e., areas located under a sealed land use and in the historical floodplain, see
Figure 6
and
Table 3
.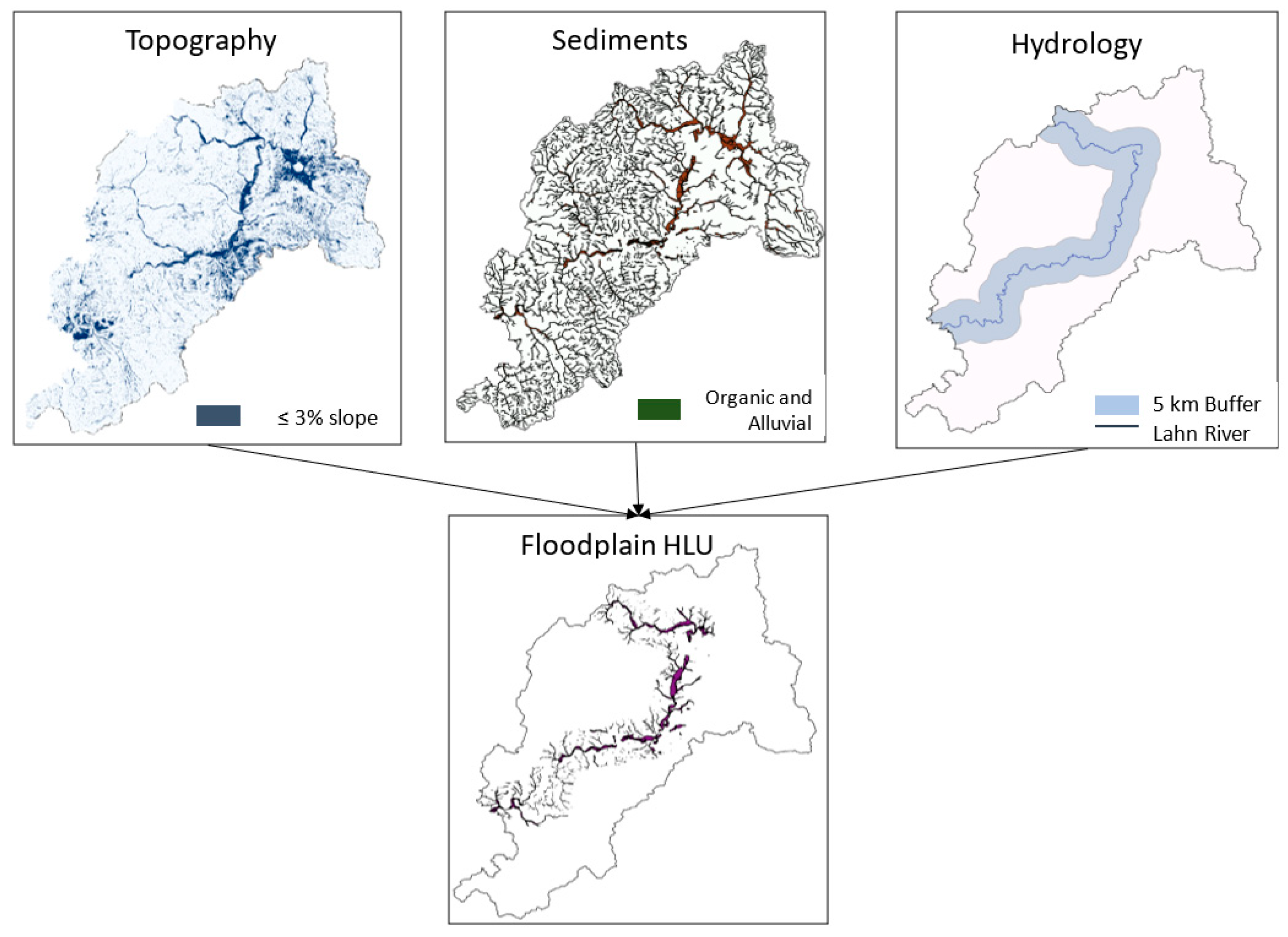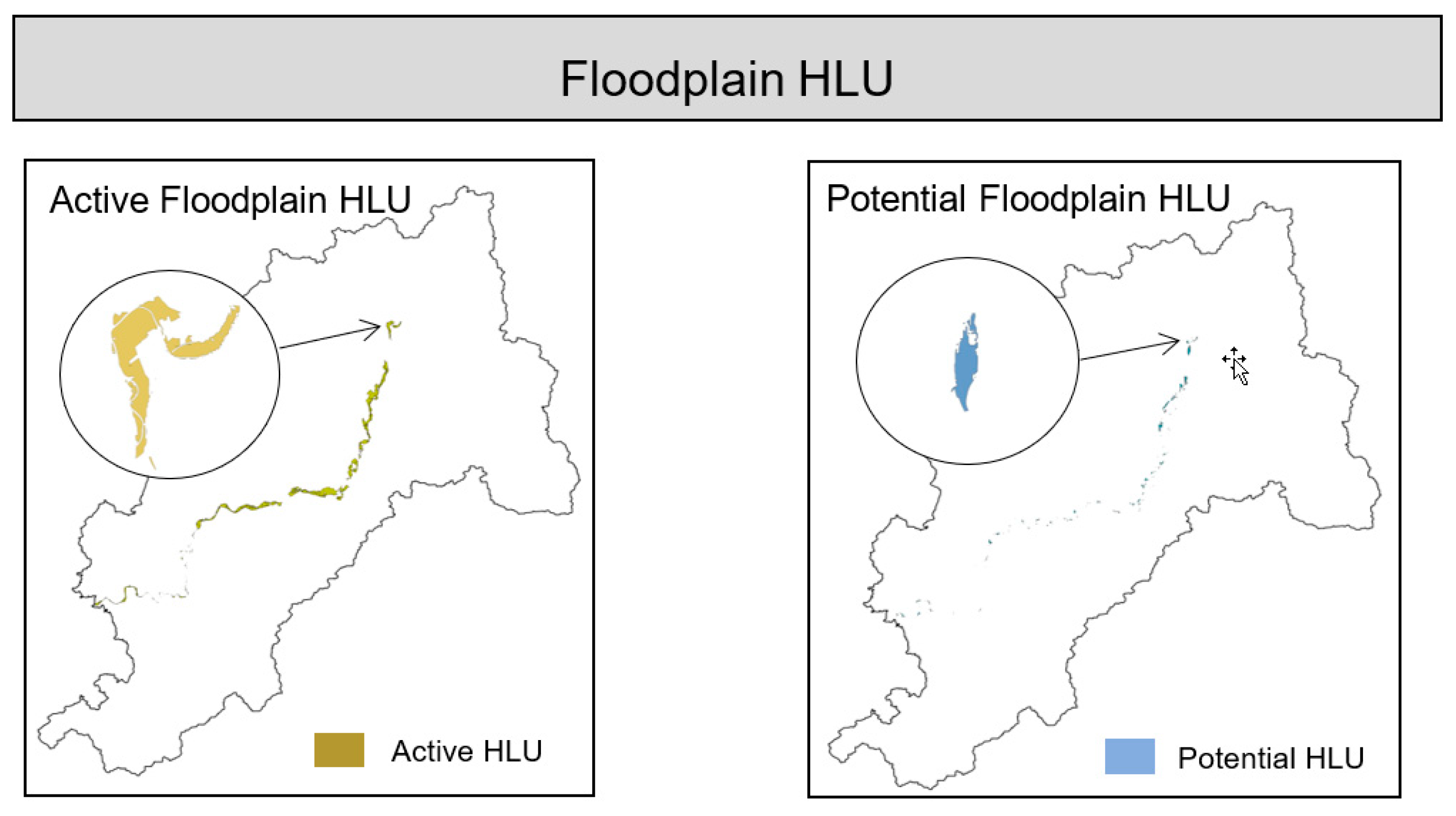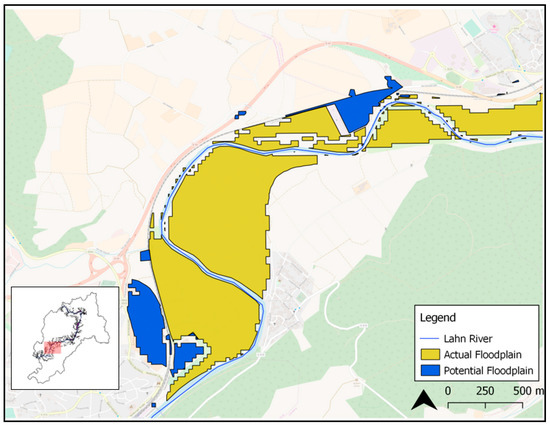 Figure 7.
Detailed area with both actual and potential floodplain HLU identified [
18
].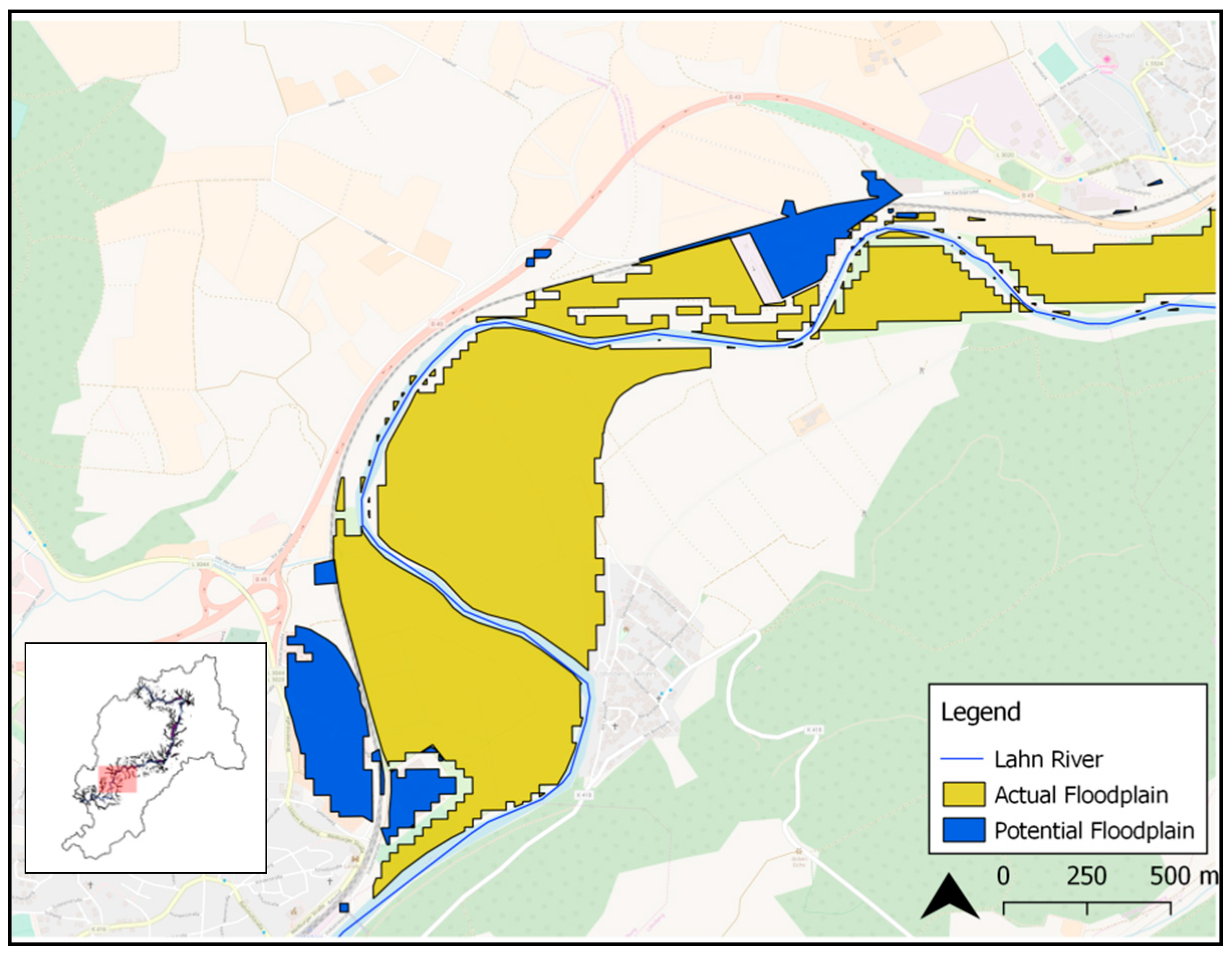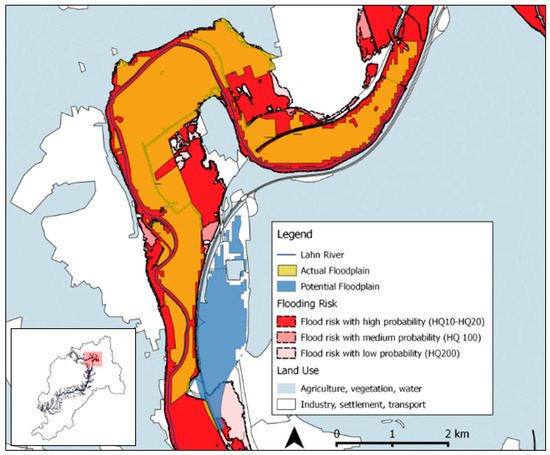 Figure 8.
Potential and actual HLU locations in comparison to flood risk areas. Source for flood risk data: [
33
].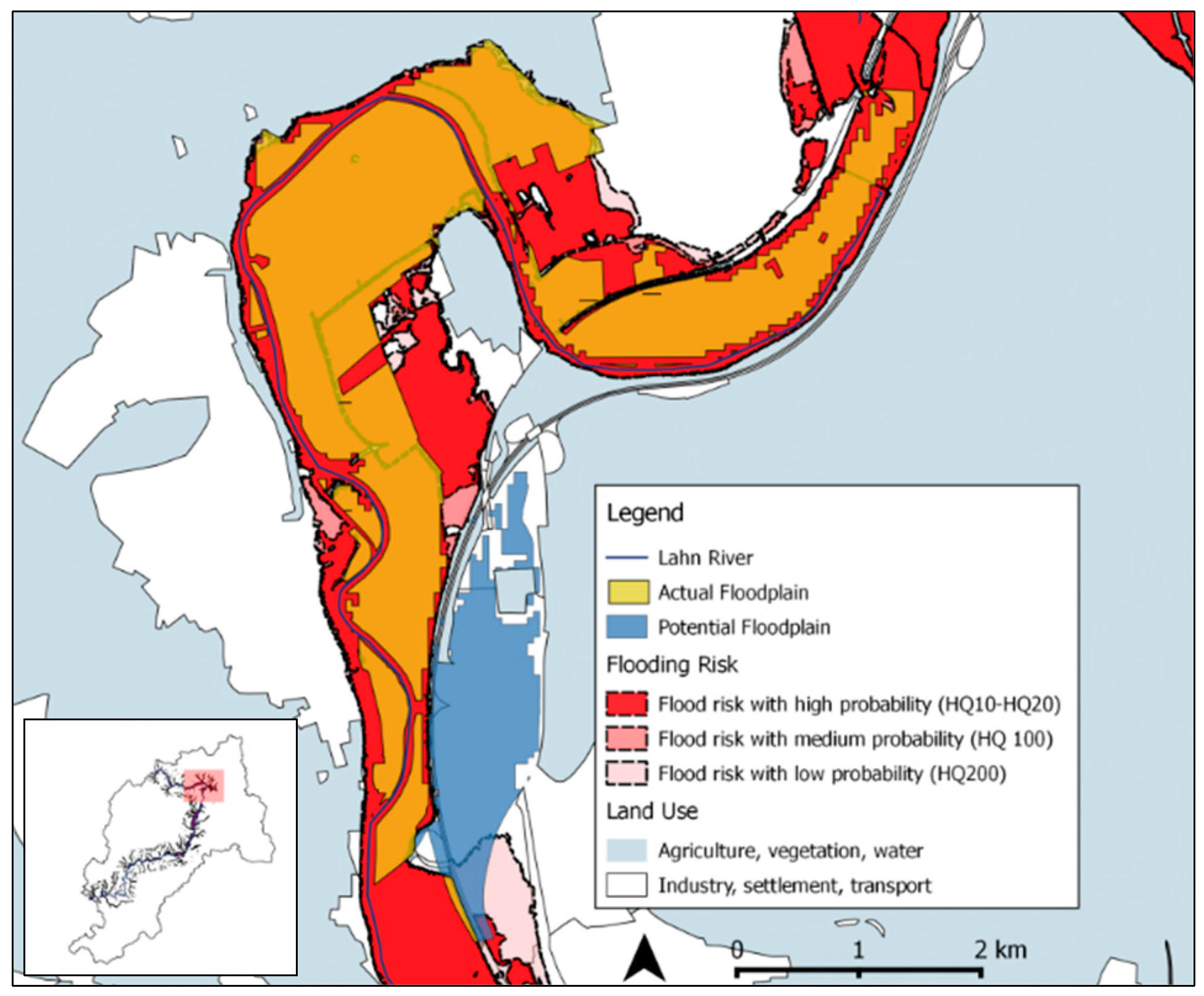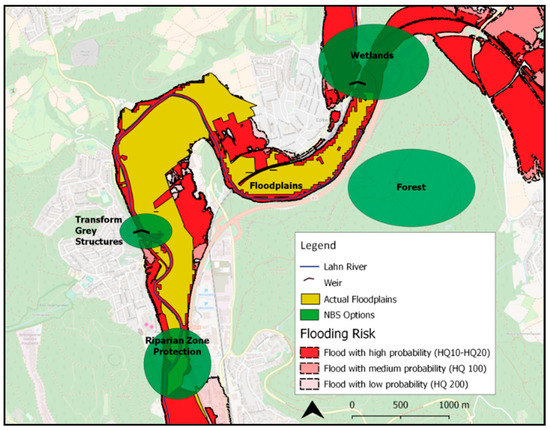 Figure 9. Overlay map exemplifying possible locations for a variety of NBS in an actual area of the Lahn River where spatial synergies and trade-offs are visualized.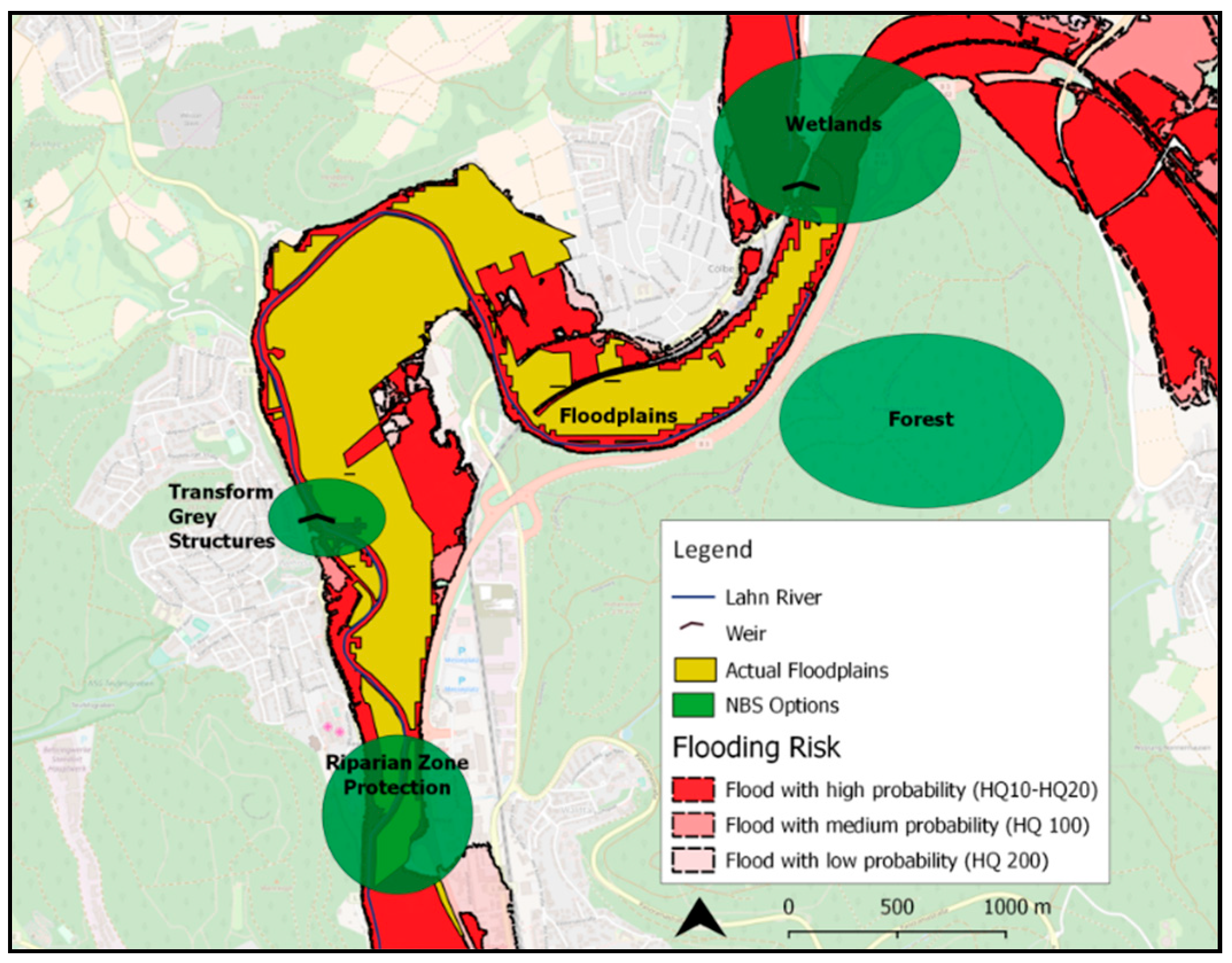 | Data | File Type | Source | Scale |
| --- | --- | --- | --- |
| Digital Elevation Model | Raster | WorldClim | 30 m × 30 m |
| Soil Map | Shape | Office for Nature, Environment and Geology of the state of Hesse (HLNUG) | 1:50,000 |
| Watercourse | Shape | Federal Agency for Cartography and Geodesy (BKG) | 1:50,000 |
| Land Cover Germany (2013) | Shape | Federal Agency for Cartography and Geodesy (BKG) | 1:50,000 |
| Floodplain State | Shape | German Federal Institute of Hydrology (BfG) | 1:50,000 |
| Criteria | Parameter for Inclusion |
| --- | --- |
| Pedology (sediments) | Organic and alluvial sediments |
| Topography | Relief energy (slope) ≤ 0.03 |
| Hydrology | Distance to river ≤ 5 km |
| | Active Floodplains | Potential Floodplains |
| --- | --- | --- |
| Total Area (ha) | 3082.78 | 343.89 |
| Largest (Max) Area (ha) | 364.79 | 39.81 |
| Average Area (ha) | 2.94 | 0.93 |
| No. of Areas ≥ 50 ha | 18 | 0 |
| No. of Areas ≥ 20 ha | 40 | 4 |
| No. of Areas ≥ 10 ha | 51 | 6 |
| No. of Areas ≥ 5 ha | 69 | 17 |

© 2018 by the authors. Licensee MDPI, Basel, Switzerland. This article is an open access article distributed under the terms and conditions of the Creative Commons Attribution (CC BY) license (http://creativecommons.org/licenses/by/4.0/).