Assessing Fish Species Tolerance in the Huntai River Basin, China: Biological Traits versus Weighted Averaging Approaches
1
College of Fisheries, Huazhong Agriculture University, Wuhan 430079, China
2
Department of Ecology and Ecosystem Management, Technische Universitaet Muenchen, Freising-Weihenstephan 85354, Germany
3
State key Laboratory of Environmental Criteria and Risk Assessment, Chinese Research Academy of Environment Sciences, Beijing 100012, China
*
Author to whom correspondence should be addressed.
Received: 2 November 2018 / Revised: 5 December 2018 / Accepted: 12 December 2018 / Published: 13 December 2018
Abstract
Fish species tolerance used as a component of fish-index of biological integrity (F-IBI) can be problematic as it is usually classified using the historical data, data from literature or expert judgments. In this study, fish assemblages, water quality parameters and physical habitat factors from 206 sampling sites in the Huntai River Basin were analyzed to develop tolerance indicator values (TIVs) of fish based on a (F
b
-TIVs) and the weighted averaging (WA) method (F
W
-TIVs). The two quantitative methods for fish tolerance were then compared. The F
W
-TIVs and F
b
-TIVs of fish species were calculated separately using a WA inference model based on ten water quality parameters (WT, pH, DO, SC, TDS, NH
3
, NO
2
−
, NO
3
−
, TP, Cl
−
, and SO
4
2−
), and six biological traits (lithophilic spawning, benthic invertivores, cold water species, equilibrium or periodic life history strategies, families of Cottidae, and species distribution range). Fish species were then classified into biological traits approach three categories (tolerant species, moderately tolerant species, and sensitive species). The results indicated that only 30.3% fish species have the same classification based on F
W
-TIVs and F
b
-TIVs. However, the proportion of tolerant species based on two methods had a similar response to environmental stress, and these tolerant species were correlated with PCA axes 1 site scores obtained by (F
W
-TIVs, p < 0.05, R
2
= 0.434; F
b
-TIVs, p < 0.05, R
2
= 0.334) and not correlated with PCA axis 2 site scores (F
W
-TIVs, p > 0.05, R
2
= 0.001; F
b
-TIVs, p > 0.05, R
2
= 0.012) and PCA axis 3 site scores (F
W
-TIVs, p > 0.05, R
2
= 0.000; F
b
-TIVs, p > 0.05, R
2
= 0.013). The results of linear regression analyses indicated that F
b
-TIVs can be used for the study of fish tolerance. Fish tolerance assessments based on F
W
-TIVs requires long-term monitoring of fish assemblages and water quality parameters to provide sufficient data for quantitative studies. The F
b
-TIV method relies on the accurate identification of fish traits by an ichthyologist. The two methods used in this study can provide methodological references for quantitative studies of fish tolerance in other regions, and are of great significance for the development of biological assessment tools.
View Full-Text
►

▼

Figures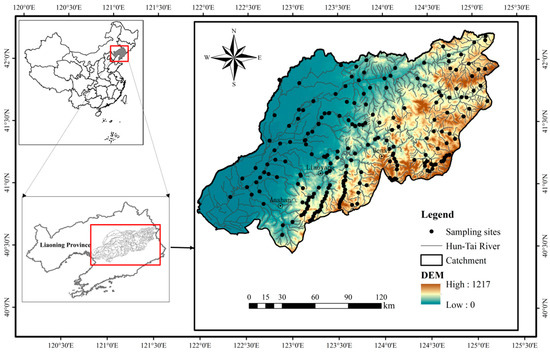 Figure 1
This is an open access article distributed under the
Creative Commons Attribution License
which permits unrestricted use, distribution, and reproduction in any medium, provided the original work is properly cited (CC BY 4.0).

Share & Cite This Article
MDPI and ACS Style
Wang, X.-N.; Ding, H.-Y.; He, X.-G.; Dai, Y.; Zhang, Y.; Ding, S. Assessing Fish Species Tolerance in the Huntai River Basin, China: Biological Traits versus Weighted Averaging Approaches. Water 2018, 10, 1843.
Note that from the first issue of 2016, MDPI journals use article numbers instead of page numbers. See further details here.
Related Articles
Comments
[Return to top]