Treatment of Eutrophic Water and Wastewater from Valsequillo Reservoir, Puebla, Mexico by Means of Ozonation: A Multiparameter Approach
1
Centro Interdisciplinario de Investigaciones y Estudios sobre Medio Ambiente y Desarrollo (CIIEMAD), Instituto Politécnico Nacional (IPN), Calle 30 de junio de 1520, Barrio de la Laguna Ticomán, Del. Gustavo A Madero C.P. 07340, Mexico
2
Escuela Nacional de Ciencias Biológicas (ENCB) del Instituto Politécnico Nacional (IPN), Av. Wilfrido Massieu SN, San Bartolo Atepehuacan, U.P. Adolfo López Mateos, Gustavo A. Madero C.P. 07738, Mexico
3
Faculty of Bioenvironmental Sciences, Universidad Popular Autónoma del Estado de Puebla (UPAEP), 17 Sur No. 901 Barrio de Santiago, Puebla, Puebla, México C.P. 72410, Mexico
*
Author to whom correspondence should be addressed.
Received: 15 November 2018 / Revised: 3 December 2018 / Accepted: 3 December 2018 / Published: 6 December 2018
Abstract
The present work aims to elucidate the possibility of injecting ozone into surface waters combined with urban wastewaters in order to improve the water quality of the High Atoyac Sub-basin (HAS) in Central Mexico. For this purpose, twenty physicochemical parameters, eight heavy metals, seven organic compounds, and one biological indicator were assessed in water from different sites of the studied area (the Alseseca River, the Atoyac River and the Valsequillo Reservoir). Results demonstrated that O
3
injection led to the decrease of the aromatic fraction of organic molecules since the Spectral Absorption Coefficient at 254 nanometers (SAC
254
) reduction was found to be 31.7% in the Valsequillo Reservoir water samples. Maximum Chemical Oxygen Demand (COD) removal was observed to be 60.2% from the Alseseca River with a 0.26 mg O
3
/mg initial COD dose. Among all the phthalates studied in the present work, Di(2-ethylhexyl) phthalate (DEHP) exhibited the highest concentration (5.8 μg/L in the Atoyac River). Treatment with O
3
was not effective in eliminating fecal coliforms (FC) in waters that host high organic matter (OM) loads as opposed to waters with low OM. After the injection of 4.7 mg O
3
/mg COD in the VO
3
-AT water sample, a 90% removal of Iron (Fe) and Aluminum (Al) was registered; while Manganese (Mn), Nickel (Ni), Zinc (Zn), and Cooper (Cu) showed a 73%, 67%, 81%, and 80% removal, respectively; Chromium (Cr) registered the highest removal (~100%). The present work demonstrated that while finding a suitable O
3
dose to improve the quality of water in the HAS, the 5-days Biochemical Oxygen Demand (BOD
5
)/COD ratio (i.e., biodegradability) is more important than the overall OM removal percentage proving that O
3
injection is a feasible process for the treatment of eutrophic waters from HAS.
View Full-Text
►

▼

Figures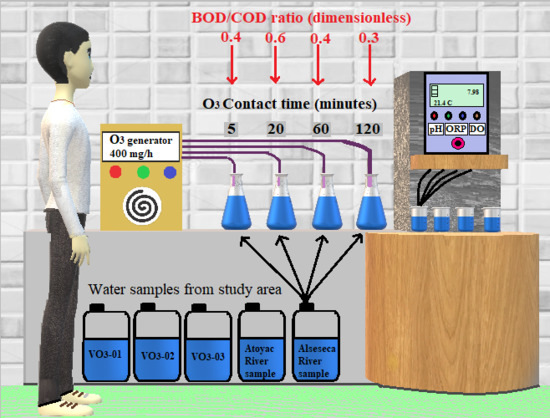 Graphical abstract
This is an open access article distributed under the
Creative Commons Attribution License
which permits unrestricted use, distribution, and reproduction in any medium, provided the original work is properly cited (CC BY 4.0).

Share & Cite This Article
MDPI and ACS Style
Tabla-Hernández, J.; Rodríguez-Espinosa, P.F.; Hernandez-Ramirez, A.G.; Mendoza-Pérez, J.A.; Cano-Aznar, E.R.; Martínez-Tavera, E. Treatment of Eutrophic Water and Wastewater from Valsequillo Reservoir, Puebla, Mexico by Means of Ozonation: A Multiparameter Approach. Water 2018, 10, 1790.
Note that from the first issue of 2016, MDPI journals use article numbers instead of page numbers. See further details here.
Related Articles
Comments
[Return to top]