Estimation of the Impact of Ozone on Four Economically Important Crops in the City Belt of Central Mexico
1
Centro de Ciencias de la Atmósfera, Universidad Nacional Autónoma de México, Circuito de la Investigación Científica s/n, Ciudad Universitaria, Ciudad de México 04510, Mexico
2
Programa de Posgrado en Ciencias de la Tierra. Unidad de Posgrado, edificio D, 1er piso. Circuito de Posgrados, Ciudad Universitaria. Delegación Coyoacán, Ciudad de México C.P. 04510, Mexico
3
Instituto Nacional de Ecología y Cambio Climático (INECC), Blvd. Adolfo Ruíz Cortines 4209, Jardines en la Montaña, Delegación Tlalpan, Ciudad de México C.P. 14210, Mexico
*
Author to whom correspondence should be addressed.
Received: 18 January 2018 / Revised: 15 April 2018 / Accepted: 20 April 2018 / Published: 11 June 2018
Abstract
In this work, we report the economic impact of exposure to high ozone concentrations on four important crops in the area of influence of the Mexico City Megalopolis. Estimated yield losses were as follows: maize: 3%; oats: 26%; beans: 14%; sorghum: 15%. The information needed to estimate the impact of air pollution in Mexico is decidedly deficient. Regarding ozone, the coverage provided by the monitoring networks is strongly focused on urban monitoring and its consistency over time is highly irregular. Apart from the Mexico City Metropolitan Area (MCMA) and less than a handful of other cities, the quality of the data is poor. Ozone in rural areas can be estimated with air quality models. However, these models depend on a high-resolution emissions inventory, which has only been done through validation processes in the MCMA. With these limitations, we set out to estimate the economic impact of exposure to ozone in these crops with a varying degree of sensitivity to ozone in the city belt of Central Mexico. To this end, we developed a procedure that makes optimal use of the sparse information available for construction of AOT40 (accumulated exposure over the threshold of 40 ppb) exceedance maps for the 2011 growing season. We believe that, due to the way in which we dealt with the sparse information and the uncertainty regarding the available data, our findings lie on the safe side of having little knowledge such that they may be useful to decision-makers. We believe that this procedure can be extended to the rest of the country, and that it may be useful to developing countries with similar monitoring and modeling capacities. In addition, these impacts are not evenly distributed in the region and sometimes they were greater in municipalities that have a higher index of poverty. Air pollution arriving from urban areas increases the social inequalities to which these already vulnerable populations are exposed.
View Full-Text
►

▼

Figures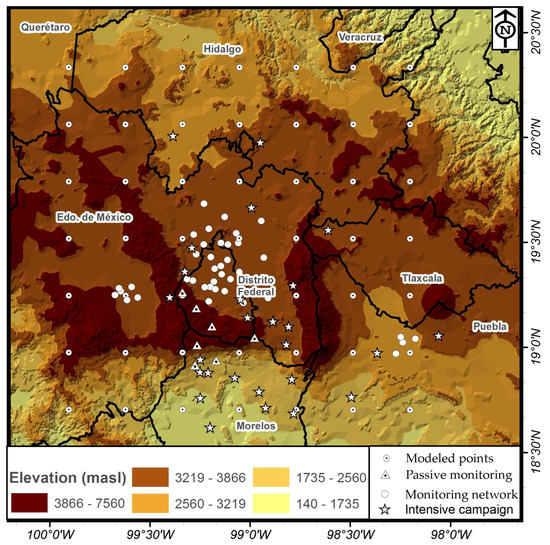 Figure 1
This is an open access article distributed under the
Creative Commons Attribution License
which permits unrestricted use, distribution, and reproduction in any medium, provided the original work is properly cited (CC BY 4.0).

Share & Cite This Article
MDPI and ACS Style
Ruiz-Suárez, L.G.; Mar-Morales, B.E.; García-Reynoso, J.A.; Andraca-Ayala, G.L.; Torres-Jardón, R.; García-Yee, J.S.; Barrera-Huertas, H.A.; Gavilán-García, A.; Basaldud Cruz, R. Estimation of the Impact of Ozone on Four Economically Important Crops in the City Belt of Central Mexico. Atmosphere 2018, 9, 223.
Note that from the first issue of 2016, MDPI journals use article numbers instead of page numbers. See further details here.
Related Articles
Comments
[Return to top]