Open Access This article is
freely available
re-usable
Article
Morphology, Composition, and Mixing State of Individual Aerosol Particles in Northeast China during Wintertime
1
Environment Research Institute, Shandong University, Jinan 250100, China
2
Key Laboratory for Semi-Arid Climate Change of the Ministry of Education, College of Atmospheric Sciences, Lanzhou University, Lanzhou 730000, China
*
Author to whom correspondence should be addressed.
Academic Editors: Swarup China and Claudio Mazzoleni
Received: 23 January 2017 / Accepted: 20 February 2017 / Published: 24 February 2017
Abstract
:
Northeast China is located in a high latitude area of the world and undergoes a cold season that lasts six months each year. Recently, regional haze episodes with high concentrations of fine particles (PM2.5) have frequently been occurring in Northeast China during the heating period, but little information has been available. Aerosol particles were collected in winter at a site in a suburban county town (T1) and a site in a background rural area (T2). Morphology, size, elemental composition, and mixing state of individual aerosol particles were characterized by transmission electron microscopy (TEM). Aerosol particles were mainly composed of organic matter (OM) and S-rich and certain amounts of soot and K-rich. OM represented the most abundant particles, accounting for 60.7% and 53.5% at the T1 and T2 sites, respectively. Abundant spherical OM particles were likely emitted directly from coal-burning stoves. Soot decreased from 16.9% at the T1 site to 4.6% at the T2 site and sulfate particles decrease from 35.9% at the T2 site to 15.7% at the T1 site, suggesting that long-range transport air masses experienced more aging processes and produced more secondary particles. Based on our investigations, we proposed that emissions from coal-burning stoves in most rural areas of the west part of Northeast China can induce regional haze episodes.
Keywords:
Northeast China; wintertime; individual aerosol particles; morphology; composition; mixing state
Supplementary Materials
The following are available online at
www.mdpi.com/2073-4433/8/3/47/s1
. Figure S1: Forty-eight hour air mass backward trajectory for the T1 site and T2 site during our sampling period; Figure S2: China Meteorological Administration haze forecast map at 3 February 2015; Figure S3: Particulate matter (PM) concentration for Baicheng (a) and Tongliao (b), two cities which were close to our sampling sites.
Acknowledgments
This work was funded by grants from the National Natural Science Foundation of China (41575116 and 41622504), Shandong Provincial Science Fund for Distinguished Young Scholars, China (JQ201413), and Programs of Shandong University (2015WLJH37).
Author Contributions
Weijun Li and Liang Xu conceived and designed the experiments; Yong Ren, Xin Wang did the samples collection; Jian Zhang carried out TEM measurements; Lei Liu, Jian Zhang and Yinxiao Zhang carried out data analysis; Liang Xu and Weijun Li wrote the paper.
Conflicts of Interest
The authors declare no conflict of interest.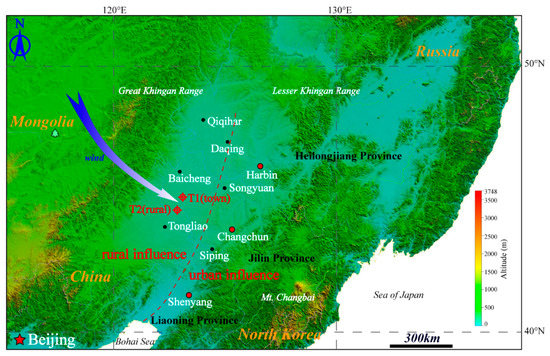 Figure 1. Locations of the two sampling sites and topography of the Northeast China area. The red line from the south to the north indicates rural and urban influence of air quality in Northeast China based on the distribution of population and cites. The blue arrow shows the main wind from northwest China and Mongolia during the sampling period. The T1 and T2 sites are located in a rural influence area.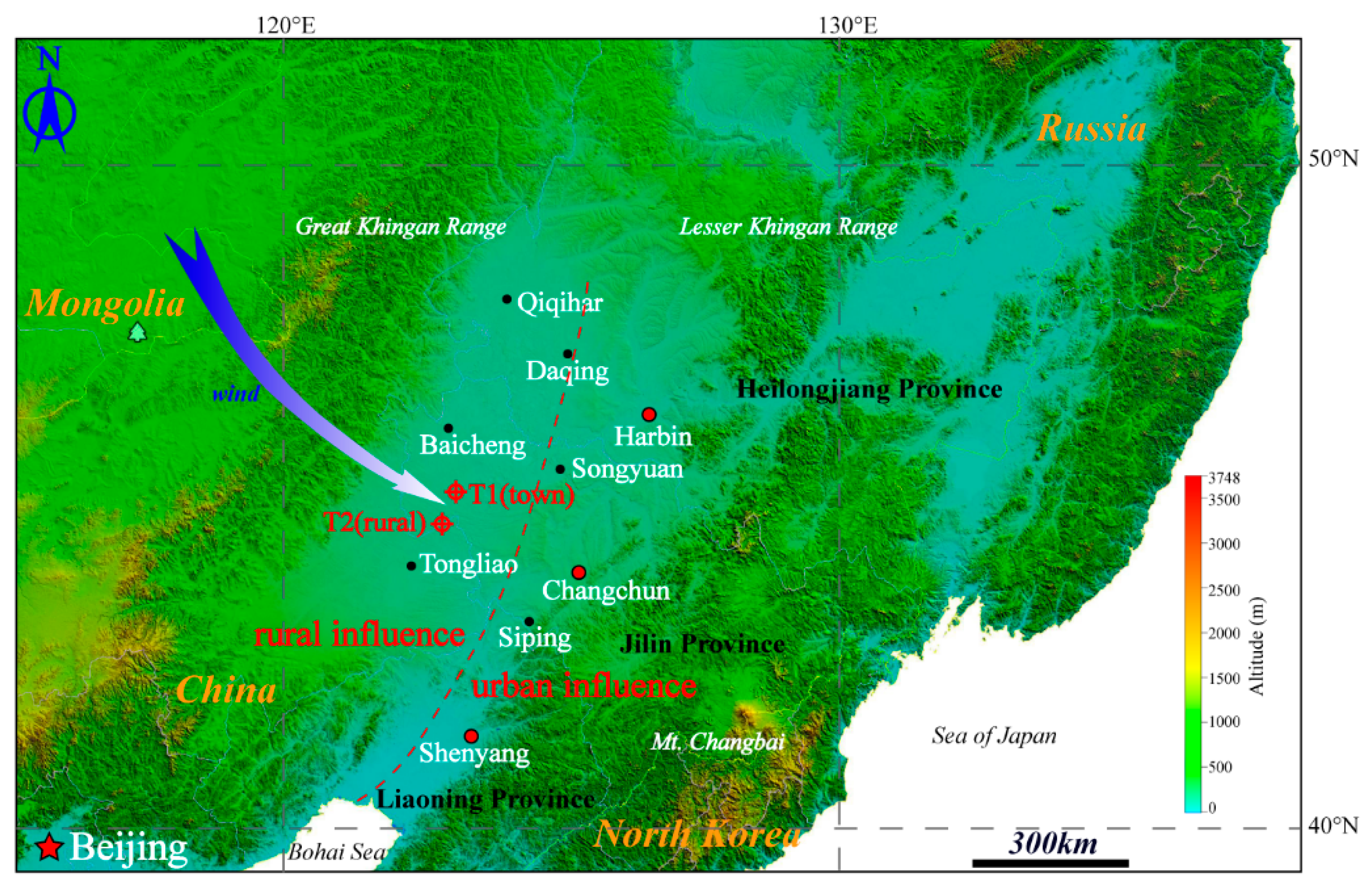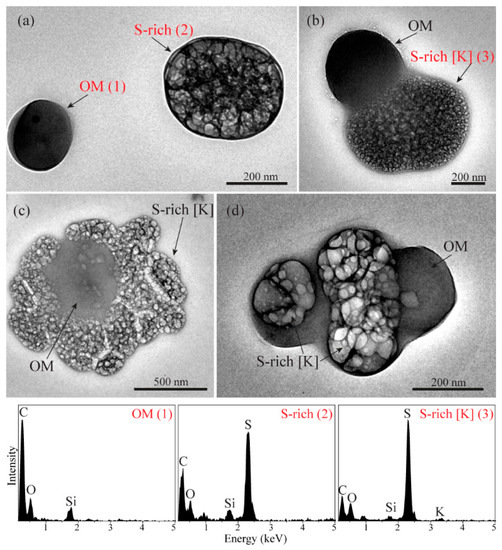 Figure 2. Transmission electron microscopy (TEM) images of organic matter (OM) and S-rich particles. (a) Externally mixed S-rich and OM particle; (b) dumbbell mixing structure between S-rich and OM particles; (c) OM particles surrounded by S-rich; (d) S-rich particle coated by OM. Energy-dispersive X-ray spectrometer (EDS) spectra show elemental composition of individual particles in red font in TEM images.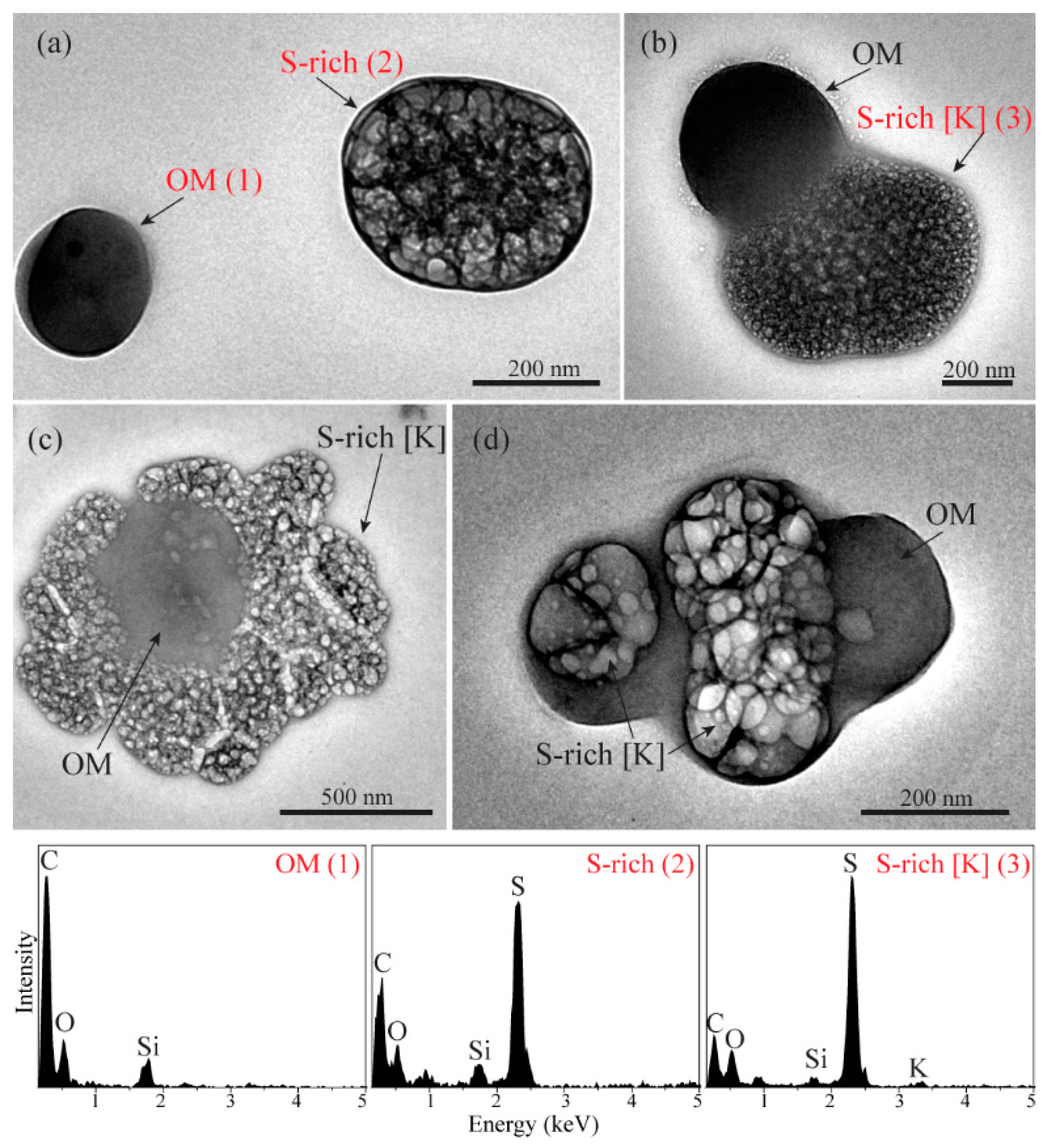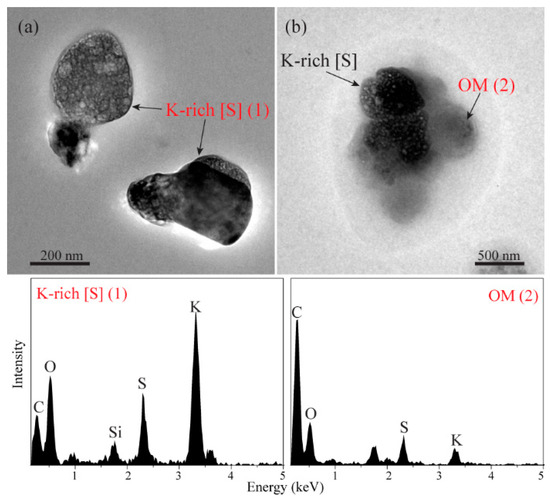 Figure 3. TEM images of K-rich particles. (a) K-rich particles; (b) K-rich particle internally mixed with OM particle. EDS spectra shows the elemental composition of individual particles in red font in TEM images.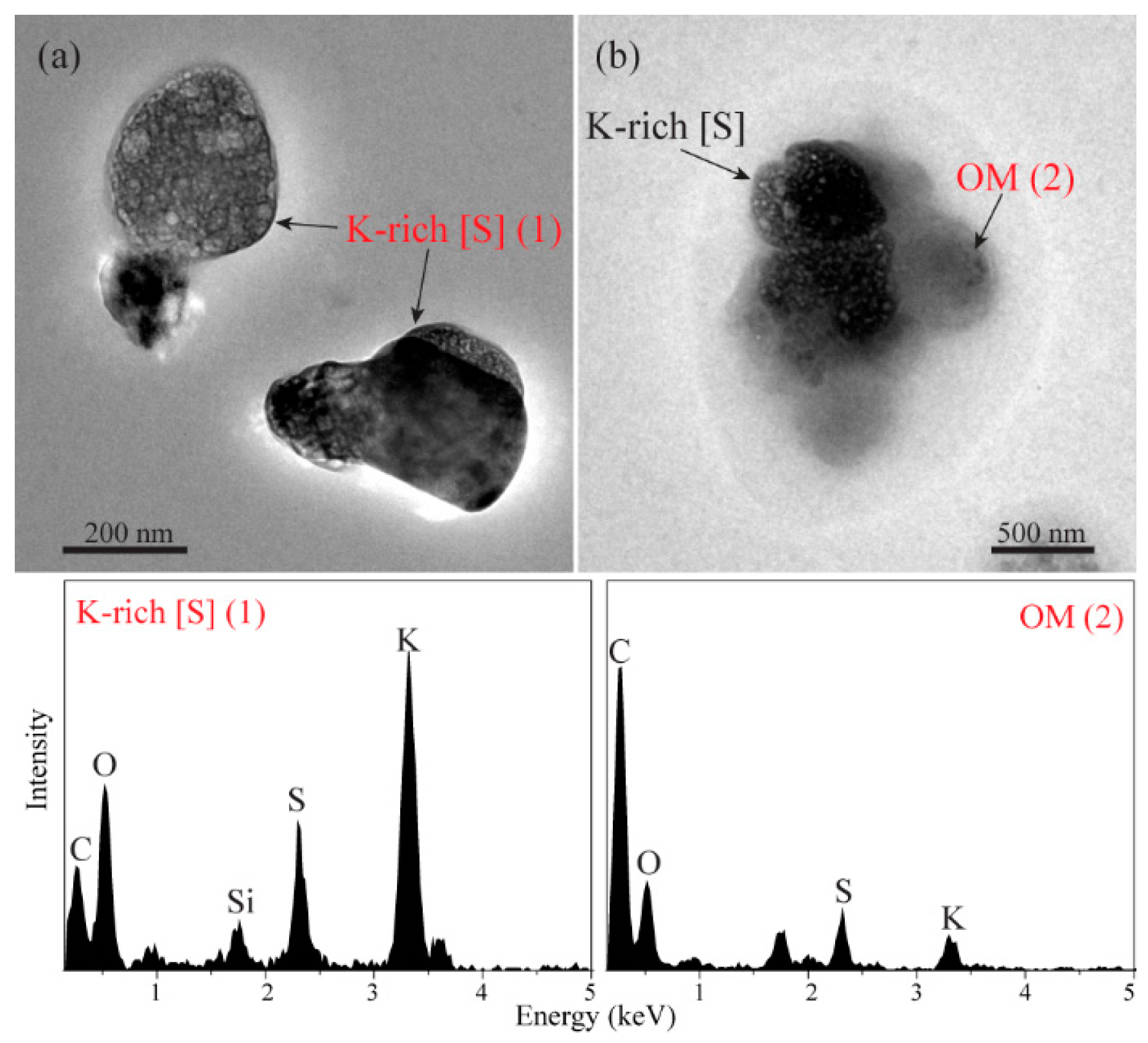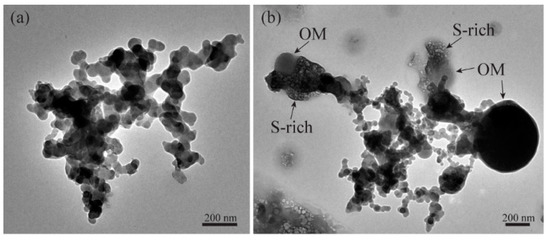 Figure 4. TEM images of soot particles. (a) Bare soot particle; (b) soot internally mixed with S-rich and OM particle.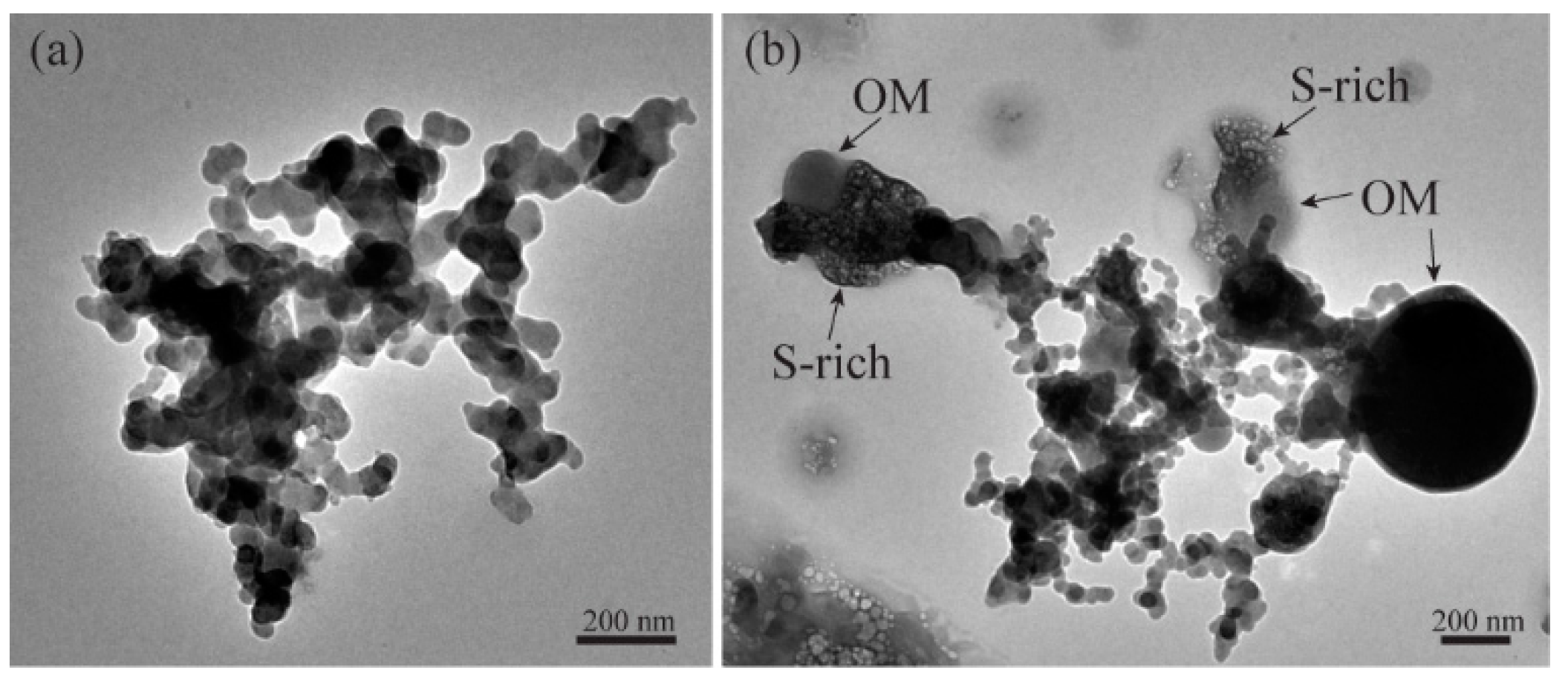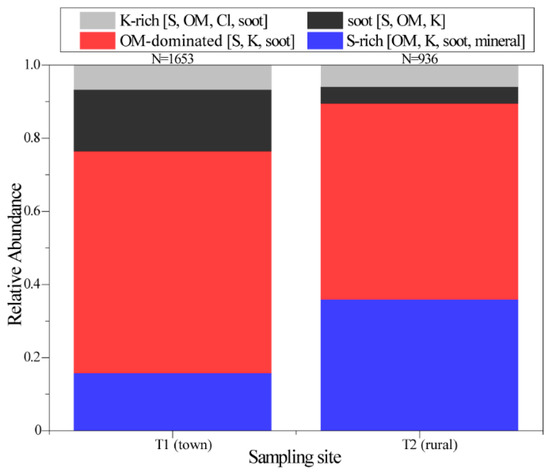 Figure 5. Relative abundance of aerosol particles at the T1 site and T2 site. Number (N) of the analyzed aerosol particles is shown above each column. The bracket indicates that individual particle possibly contained other particle components.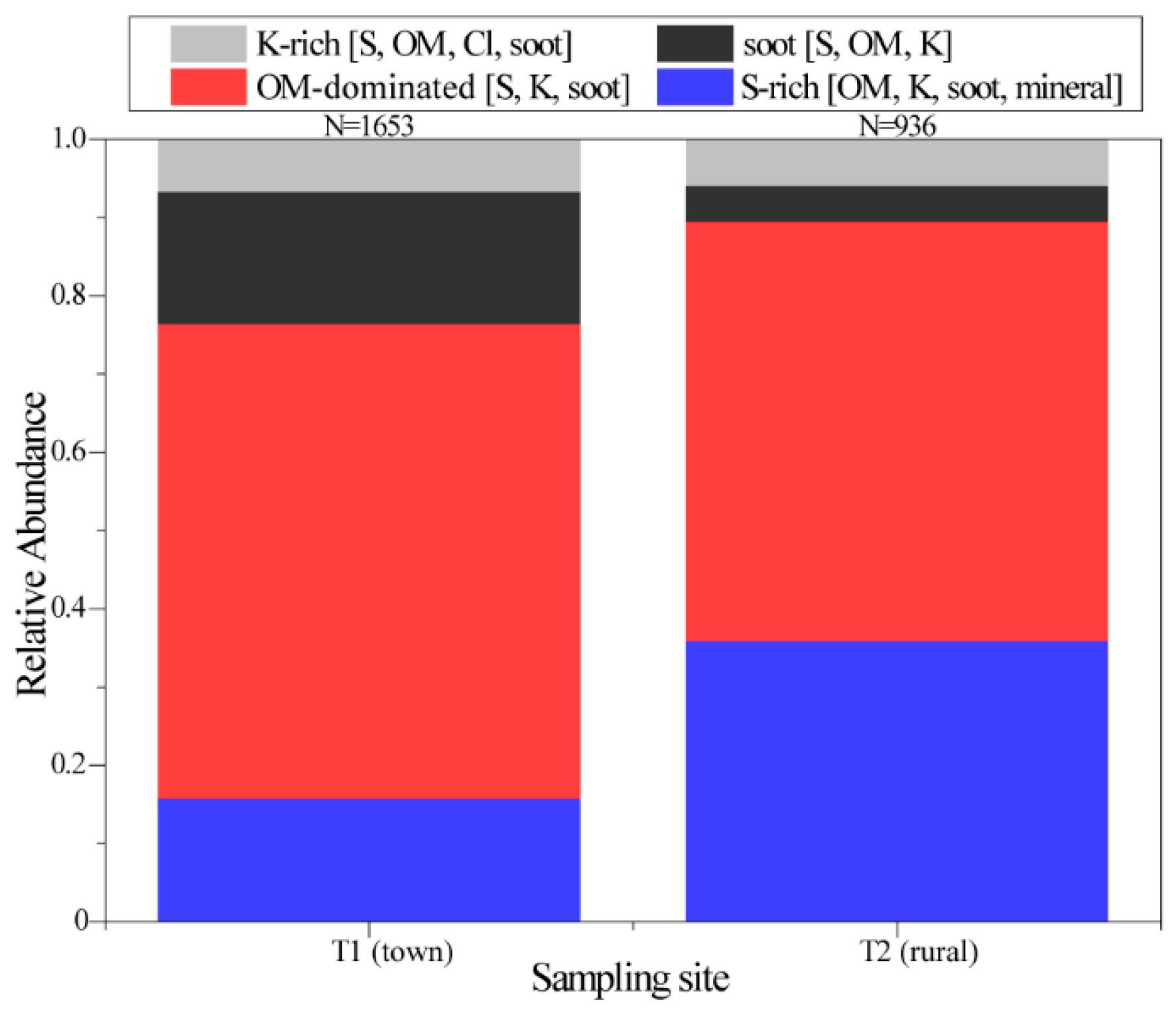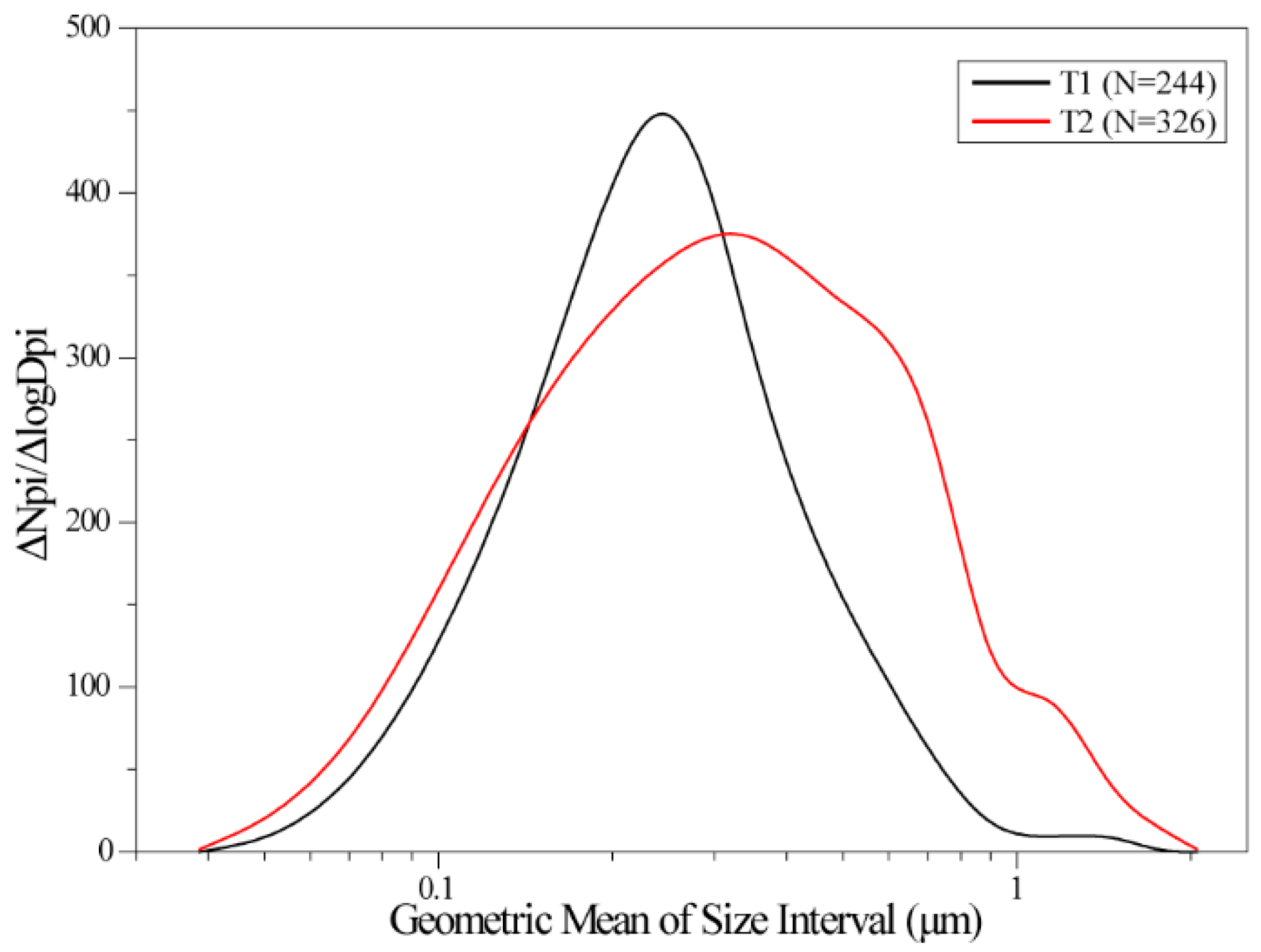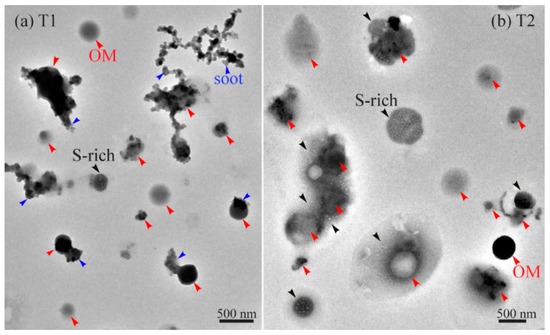 Figure 7. TEM images of aerosol particles at the T1 site (a) and the T2 site (b). The arrows in red, black, and blue indicate OM, S-rich, and soot particles, respectively.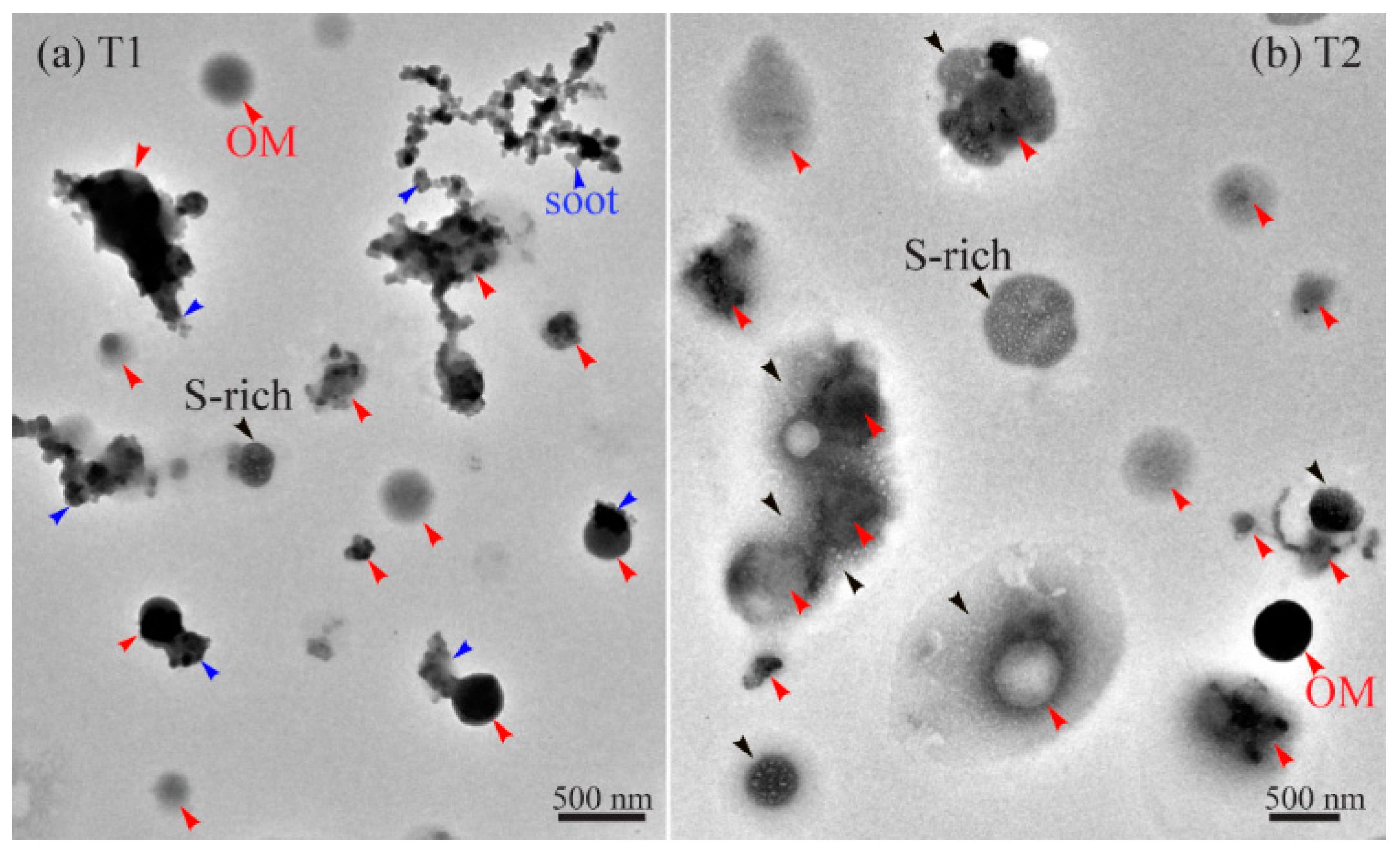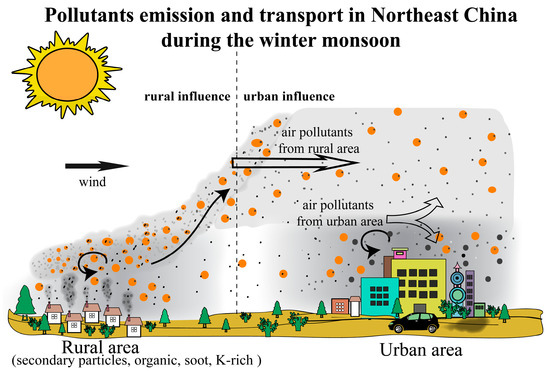 Figure 8. The conceptual graph of the emission and transport of pollutants in Northeast China during the winter monsoon. The direct emissions from rural area can influence the air quality of downwind urban areas.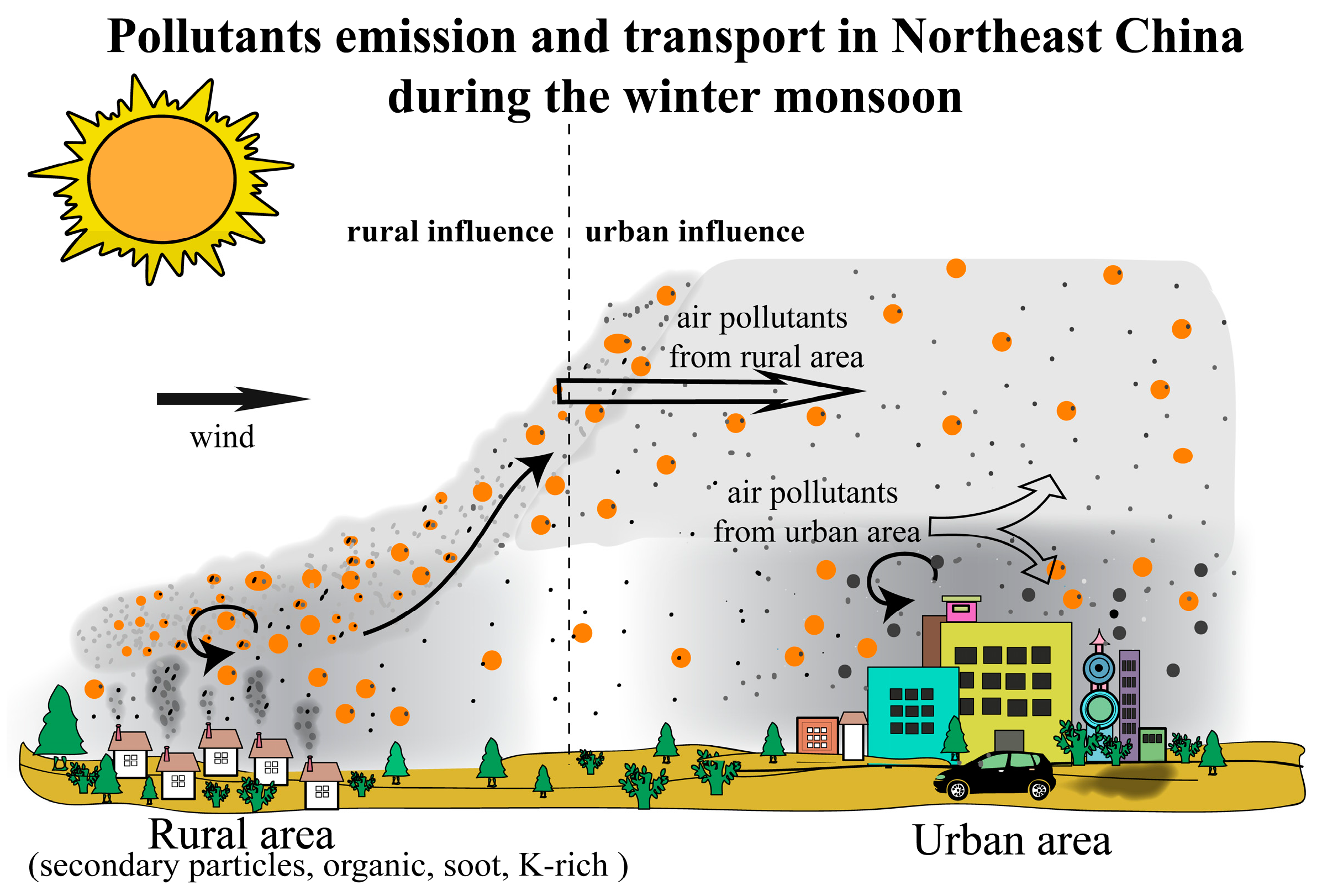 © 2017 by the authors. Licensee MDPI, Basel, Switzerland. This article is an open access article distributed under the terms and conditions of the Creative Commons Attribution (CC BY) license ( http://creativecommons.org/licenses/by/4.0/).