Evaluation of the Aqua-MODIS C6 and C6.1 Aerosol Optical Depth Products in the Yellow River Basin, China
1
School of Environmental Science and Tourism, Nanyang Normal University, Wolong Road No.1638, Nanyang 473061, China
2
Lingnan College, Sun Yat-sen University, Guangzhou 510275, China
3
School of Marine Sciences, Nanjing University of Information Science & Technology, Nanjing 2100444, China
4
College of Computer and Information Engineering, Nanyang Institute of Technology, Nanyang 473004, China
5
Department of Civil Engineering, College of Engineering, King Khalid University, Abha 61421, Saudi Arabia
6
Department of Civil Engineering, Institut Superieur des Etudes Technologiques, Campus Universitaire Mrezgua, Nabeul 8000, Tunisia
*
Authors to whom correspondence should be addressed.
Received: 19 May 2019 / Revised: 19 July 2019 / Accepted: 20 July 2019 / Published: 24 July 2019
Abstract
In this study, Aqua-Moderate Resolution Imaging Spectroradiometer (MODIS) Collection (C6) and C6.1 Dark Target aerosol optical depth (AOD) retrievals at 3 km (DT3K) and 10 km (DT10K), Deep Blue AOD retrievals at 10 km (DB10K), and combined DT and DB (DTB) AOD retrievals at 10 km resolutions were validated from 2002 to 2014 against ground-based sunphotometer AOD measurements obtained from the Chinese aerosol remote sensing network (CARSNET). The CARSNET AOD data were obtained for sites at Mt. Waliguan (MW), Lanzhou (LZ), Ulate (UL), and Zhengzhou (ZZ) located in the Yellow River basin (YERB) region, China. Errors and agreement between satellite and ground data were reported using Pearson's correlation (R) and relative mean bias (RMB). Results showed that the DT3K C6.1 highest quality flag (QF = 3) AOD retrievals were well correlated with the sunphotometer AOD data, with an R of 0.82 and an RMB of 1.01. Overestimation and underestimation in DT AOD retrievals were observed for AOD > 1.1 and AOD < 1.1, respectively. A significant underestimation of 37% in DB10K AOD retrievals was observed across all the sites except ZZ, which was indicated by a low-value RMB (0.63). Spatial distribution maps showed high AOD values (>0.8) over the lower part of the YERB and low AOD values (<0.4) across the upstream part of the YERB. This might be due to a large number of aerosol emissions over the lower developed areas and a scarcity of aerosols over the upstream mountain areas. Overall, this study supports the use of DT10K C6.1 AOD retrievals over the western semi-arid and arid regions of the YERB and DTB10K AOD retrievals over the north-central water system and eastern plain regions of the YERB.
View Full-Text
►

▼

Figures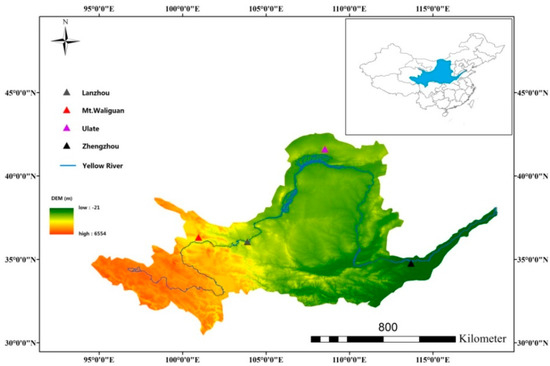 Figure 1
This is an open access article distributed under the
Creative Commons Attribution License
which permits unrestricted use, distribution, and reproduction in any medium, provided the original work is properly cited (CC BY 4.0).

Share & Cite This Article
MDPI and ACS Style
Zhang, M.; Liu, J.; Li, W.; Bilal, M.; Zhao, F.; Zhang, C.; Yuan, B.; Khedher, K.M. Evaluation of the Aqua-MODIS C6 and C6.1 Aerosol Optical Depth Products in the Yellow River Basin, China. Atmosphere 2019, 10, 426.
Note that from the first issue of 2016, MDPI journals use article numbers instead of page numbers. See further details here.
Related Articles
Comments
[Return to top]