A Geostationary Instrument Simulator for Aerosol Observing System Simulation Experiments
1
NASA Goddard Space Flight Center, 8800 Greenbelt Rd., Greenbelt, MD 20771, USA
2
Universities Space Research Association, 10211 Wincopin Circle #500, Columbia, MD 21044, USA
3
SSAI, Inc., 10210 Greenbelt Road, Suite 600, Lanham, MD 20706, USA
4
I.M. Systems Group Inc., 3206 Tower Oaks Blvd #300, Rockville, MD 20852, USA
5
NOAA/NESDIS Center for Satellite Applications and Research, 5825 University Research Court, College Park, MD 20740, USA
*
Author to whom correspondence should be addressed.
Received: 5 November 2018 / Revised: 18 December 2018 / Accepted: 18 December 2018 / Published: 21 December 2018
Abstract
In the near future, there will be several new instruments measuring atmospheric composition from geostationary orbit over North America, East Asia, and Europe. This constellation of satellites will provide high resolution, time resolved measurements of trace gases and aerosols for monitoring air quality and tracking pollution sources. This paper describes a detailed, fast, and accurate (less than 1.0% uncertainty) method for calculating synthetic top of the atmosphere (TOA) radiances from a global simulation with a mesoscale free running model, the GEOS-5 Nature Run, for remote sensing instruments in geostationary orbit that measure in the ultraviolet-visible spectral range (UV-Vis). Generating these synthetic observations is the first step of an Observing System Simulation Experiment (OSSE), a framework for evaluating the impact of a new observation or algorithm. This paper provides details of the model sampling, aerosol and cloud optical properties, surface reflectance modeling, Rayleigh scattering calculations, and a discussion of the uncertainties of the simulated TOA radiance. An application for the simulated TOA radiance observations is demonstrated in the manuscript. Simulated TEMPO (Tropospheric Emissions: Monitoring of Pollution) and GOES-R (Geostationary Operational Environmental Satellites) observations were used to show how observations from the two instruments could be combined to facilitate aerosol type discrimination. The results demonstrate the viability of a detailed instrument simulator for radiance measurements in the UV-Vis that is capable of accurately simulating high resolution, time-resolved measurements with reasonable computational efficiency.
View Full-Text
►

▼

Figures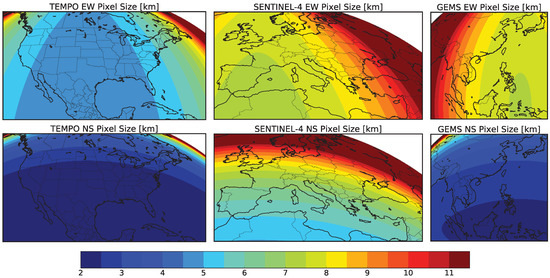 Figure 1
This is an open access article distributed under the
Creative Commons Attribution License
which permits unrestricted use, distribution, and reproduction in any medium, provided the original work is properly cited (CC BY 4.0).

Share & Cite This Article
MDPI and ACS Style
Castellanos, P.; Da Silva, A.M.; Darmenov, A.S.; Buchard, V.; Govindaraju, R.C.; Ciren, P.; Kondragunta, S. A Geostationary Instrument Simulator for Aerosol Observing System Simulation Experiments. Atmosphere 2019, 10, 2.
Note that from the first issue of 2016, MDPI journals use article numbers instead of page numbers. See further details here.
Related Articles
Comments
[Return to top]