Seasonal and Sexual Differences in the Microbiota of the Hoopoe Uropygial Secretion
1
Departamento de Microbiología, Universidad de Granada, E-18071 Granada, Spain
2
Faculty of Science, University of South Bohemia, CZ-370 05 Ceske Budejovice, Czechia
3
Departamento de Zoología, Universidad de Granada, E-18071 Granada, Spain
4
Unidad Asociada Coevolución: Cucos, Hospedadores y Bacterias Simbiontes, Universidad de Granada, E-18071 Granada, Spain
5
Estación Experimental de Zonas Áridas (Consejo Superior de Investigaciones Científicas, CSIC), E-04120 Almeria, Spain
6
Instituto de Biotecnología, Universidad de Granada, E-18071 Granada, Spain
*
Author to whom correspondence should be addressed.
Received: 30 May 2018 / Revised: 23 July 2018 / Accepted: 3 August 2018 / Published: 11 August 2018
Abstract
The uropygial gland of hoopoe nestlings and nesting females hosts bacterial symbionts that cause changes in the characteristics of its secretion, including an increase of its antimicrobial activity. These changes occur only in nesting individuals during the breeding season, possibly associated with the high infection risk experienced during the stay in the hole-nests. However, the knowledge on hoopoes uropygial gland microbial community dynamics is quite limited and based so far on culture-dependent and molecular fingerprinting studies. In this work, we sampled wild and captive hoopoes of different sex, age, and reproductive status, and studied their microbiota using quantitative polymerase chain reaction (qPCR), fluorescence in situ hybridization (FISH) and pyrosequencing. Surprisingly, we found a complex bacterial community in all individuals (including non-nesting ones) during the breeding season. Nevertheless, dark secretions from nesting hoopoes harbored significantly higher bacterial density than white secretions from breeding males and both sexes in winter. We hypothesize that bacterial proliferation may be host-regulated in phases of high infection risk (i.e., nesting). We also highlight the importance of specific antimicrobial-producing bacteria present only in dark secretions that may be key in this defensive symbiosis. Finally, we discuss the possible role of environmental conditions in shaping the uropygial microbiota, based on differences found between wild and captive hoopoes.
View Full-Text
►

▼

Figures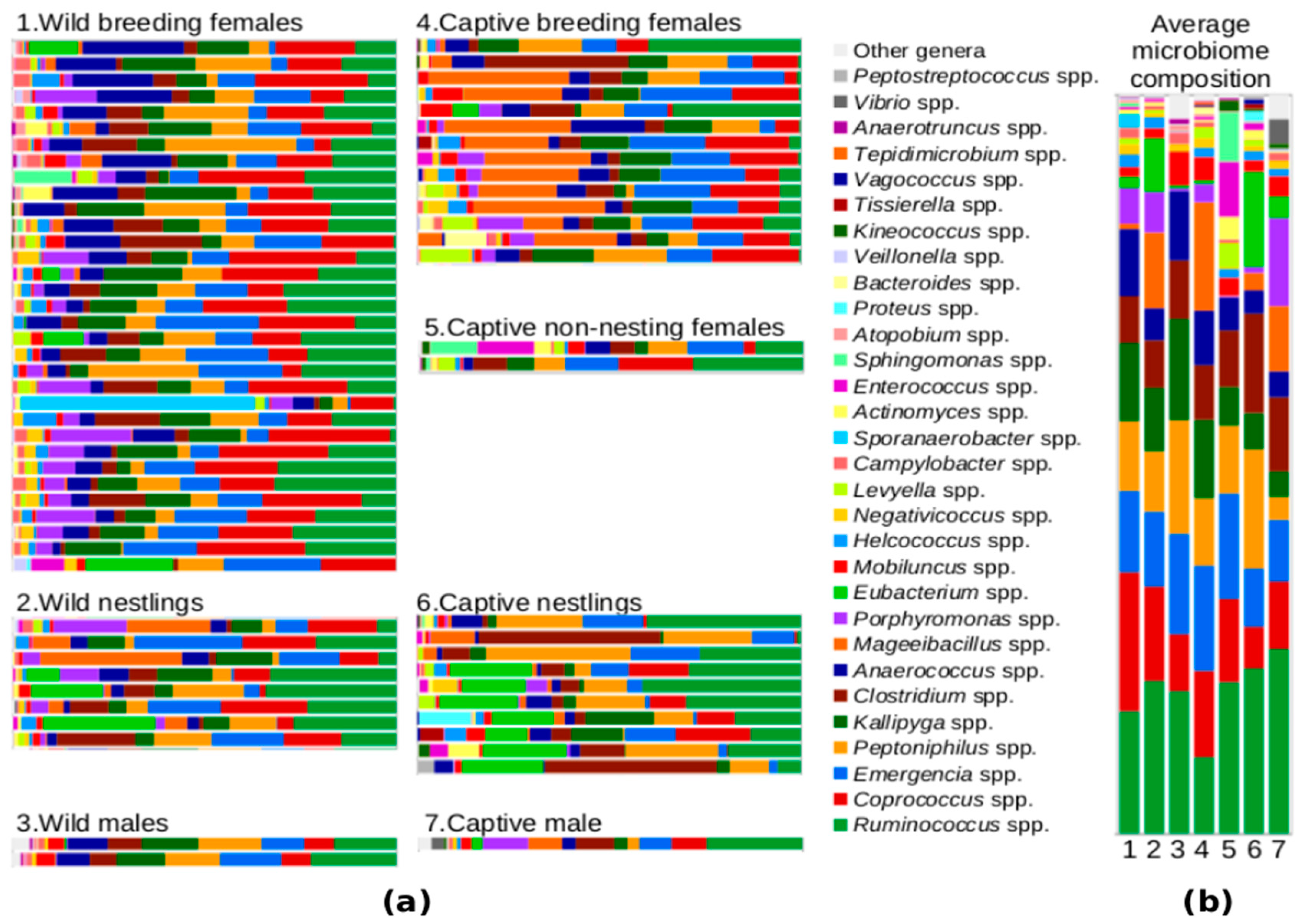 Figure 1
This is an open access article distributed under the
Creative Commons Attribution License
which permits unrestricted use, distribution, and reproduction in any medium, provided the original work is properly cited (CC BY 4.0).

Share & Cite This Article
MDPI and ACS Style
Rodríguez-Ruano, S.M.; Martín-Vivaldi, M.; Peralta-Sánchez, J.M.; García-Martín, A.B.; Martínez-García, Á.; Soler, J.J.; Valdivia, E.; Martínez-Bueno, M. Seasonal and Sexual Differences in the Microbiota of the Hoopoe Uropygial Secretion. Genes 2018, 9, 407.
Note that from the first issue of 2016, MDPI journals use article numbers instead of page numbers. See further details here.
Related Articles
Comments
[Return to top]