Female Choice Undermines the Emergence of Strong Sexual Isolation between Locally Adapted Populations of Atlantic Mollies (
Poecilia mexicana

)

1

College of Animal Science & Technology, Northwest A&F University, Yangling 712100, China

2

Department of Ecology and Evolution, Goethe University of Frankfurt, Max-von-Laue-Straße 13, D-60438 Frankfurt am Main, Germany

3

Centre for Ecology, Evolution and Behaviour, School of Biological Sciences, Royal Holloway University of London, Egham, Surrey TW20 0EX, UK

4

Department of River Ecology and Conservation, Senckenberg Research Institute and Natural History Museum Frankfurt, D-63571 Gelnhausen, Germany

5

Department of Biology and Ecology of Fishes, Leibniz-Institute of Freshwater Ecology and Inland Fisheries, Müggelseedamm 310, D-12587 Berlin, Germany

6

División Académica de Ciencias Biológicas, Universidad Juárez Autónoma de Tabasco (UJAT), 86150 Villahermosa, Tabasco, Mexico

7

Shaanxi Key Laboratory of Molecular Biology for Agriculture, Northwest A&F University, Yangling 712100, China

*

Author to whom correspondence should be addressed.

Received: 24 January 2018 / Revised: 23 April 2018 / Accepted: 25 April 2018 / Published: 2 May 2018
Abstract
Divergent selection between ecologically dissimilar habitats promotes local adaptation, which can lead to reproductive isolation (RI). Populations in the
Poecilia mexicana
species complex have independently adapted to toxic hydrogen sulfide and show varying degrees of RI. Here, we examined the variation in the mate choice component of prezygotic RI. Mate choice tests across drainages (with stimulus males from another drainage) suggest that specific features of the males coupled with a general female preference for yellow color patterns explain the observed variation. Analyses of male body coloration identified the intensity of yellow fin coloration as a strong candidate to explain this pattern, and common-garden rearing suggested heritable population differences. Male sexual ornamentation apparently evolved differently across sulfide-adapted populations, for example because of differences in natural counterselection via predation. The ubiquitous preference for yellow color ornaments in poeciliid females likely undermines the emergence of strong RI, as female discrimination in favor of own males becomes weaker when yellow fin coloration in the respective sulfide ecotype increases. Our study illustrates the complexity of the (partly non-parallel) pathways to divergence among replicated ecological gradients. We suggest that future work should identify the genomic loci involved in the pattern reported here, making use of the increasing genomic and transcriptomic datasets available for our study system.
View Full-Text
►

▼

Figures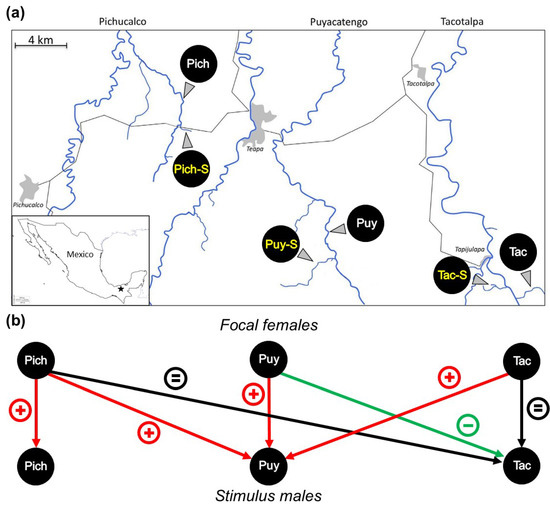 Figure 1
This is an open access article distributed under the
Creative Commons Attribution License
which permits unrestricted use, distribution, and reproduction in any medium, provided the original work is properly cited (CC BY 4.0).

Share & Cite This Article
MDPI and ACS Style
Zimmer, C.; Riesch, R.; Jourdan, J.; Bierbach, D.; Arias-Rodriguez, L.; Plath, M. Female Choice Undermines the Emergence of Strong Sexual Isolation between Locally Adapted Populations of Atlantic Mollies (Poecilia mexicana). Genes 2018, 9, 232.
Note that from the first issue of 2016, MDPI journals use article numbers instead of page numbers. See further details here.
Related Articles
Comments
[Return to top]