Chromosome Synapsis and Recombination in Male-Sterile and Female-Fertile Interspecies Hybrids of the Dwarf Hamsters (
Phodopus

, Cricetidae)

1

Institute of Cytology and Genetics, Russian Academy of Sciences, Siberian Department, Novosibirsk 630090, Russia

2

Novosibirsk State University, Novosibirsk 630090, Russia

3

Institute of Molecular and Cellular Biology, Russian Academy of Sciences, Siberian Department, Novosibirsk 630090, Russia

*

Author to whom correspondence should be addressed.

Received: 27 February 2018 / Revised: 9 April 2018 / Accepted: 18 April 2018 / Published: 25 April 2018
Abstract
Hybrid sterility is an important step in the speciation process. Hybrids between dwarf hamsters
Phodopus sungorus
and
P.
campbelli
provide a good model for studies in cytological and genetic mechanisms of hybrid sterility. Previous studies in hybrids detected multiple abnormalities of spermatogenesis and a high frequency of dissociation between the X and Y chromosomes at the meiotic prophase. In this study, we found that the autosomes of the hybrid males and females underwent paring and recombination as normally as their parental forms did. The male hybrids showed a significantly higher frequency of asynapsis and recombination failure between the heterochromatic arms of the X and Y chromosomes than the males of the parental species. Female hybrids as well as the females of the parental species demonstrated a high incidence of centromere misalignment at the XX bivalent and partial asynapsis of the ends of its heterochromatic arms. In all three karyotypes, recombination was completely suppressed in the heterochromatic arm of the X chromosome, where the pseudoautosomal region is located. We propose that this recombination pattern speeds up divergence of the X- and Y-linked pseudoautosomal regions between the parental species and results in their incompatibility in the male hybrids.
View Full-Text
►

▼

Figures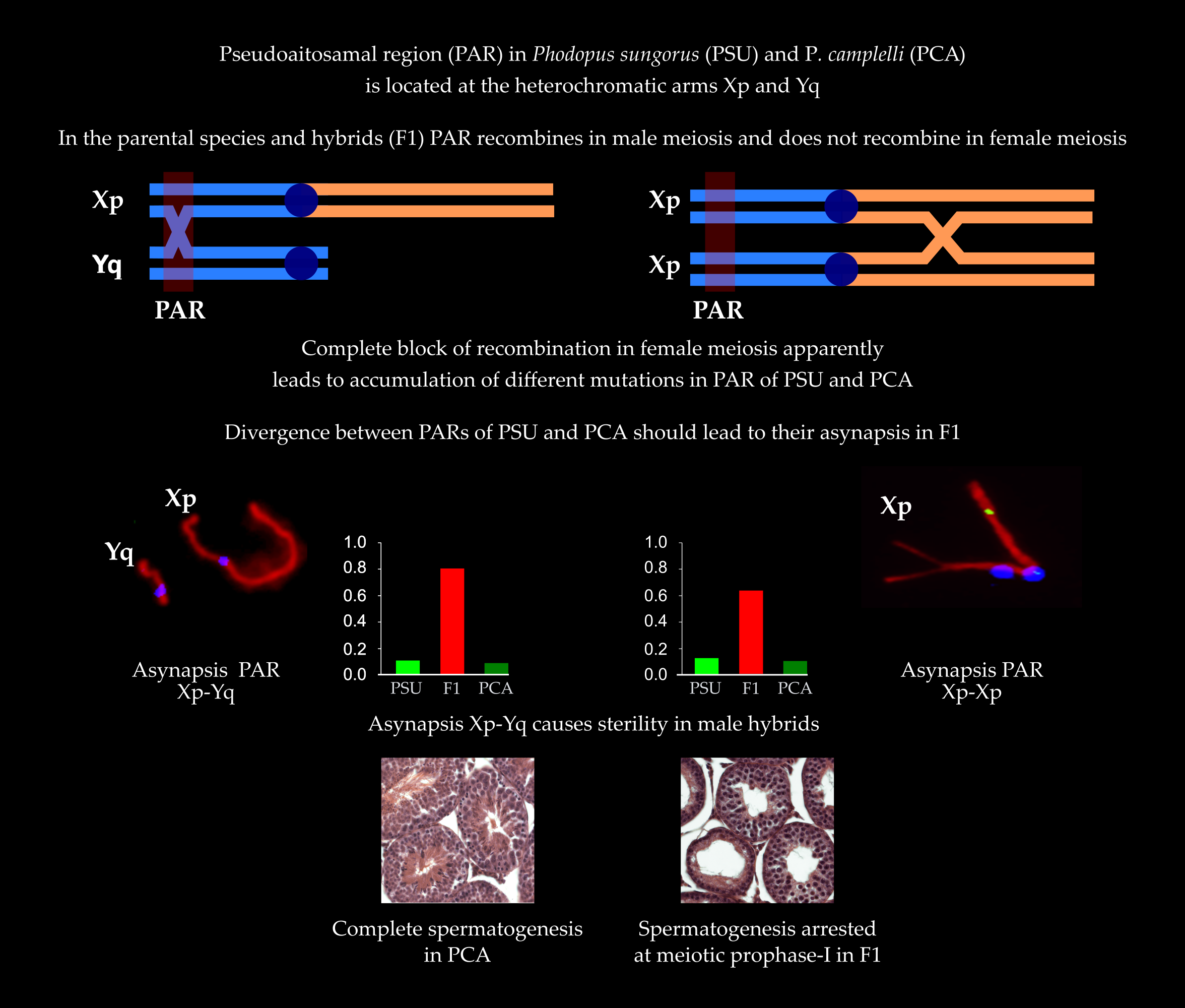 Graphical abstract
This is an open access article distributed under the
Creative Commons Attribution License
which permits unrestricted use, distribution, and reproduction in any medium, provided the original work is properly cited (CC BY 4.0).

Share & Cite This Article
MDPI and ACS Style
Bikchurina, T.I.; Tishakova, K.V.; Kizilova, E.A.; Romanenko, S.A.; Serdyukova, N.A.; Torgasheva, A.A.; Borodin, P.M. Chromosome Synapsis and Recombination in Male-Sterile and Female-Fertile Interspecies Hybrids of the Dwarf Hamsters (Phodopus, Cricetidae). Genes 2018, 9, 227.
Note that from the first issue of 2016, MDPI journals use article numbers instead of page numbers. See further details here.
Related Articles
Comments
[Return to top]