Identification of Major Rhizobacterial Taxa Affected by a Glyphosate-Tolerant Soybean Line via Shotgun Metagenomic Approach
1
Institute for Plant Molecular Biology, State Key Laboratory of Pharmaceutical Biotechnology, School of Life Sciences, Nanjing University, Nanjing 210023, China
2
Jiangsu Collaborative Innovation Center for Modern Crop Production, Nanjing Agricultural University, Nanjing 210095, China
3
State Environmental Protection Key Laboratory of Soil Environmental Management and Pollution Control, Nanjing Institute of Environmental Sciences, MEP, Nanjing 210042, China
4
Jilin Academy of Agricultural Sciences, Changchun 130033, China
*
Authors to whom correspondence should be addressed.
†
These authors contributed equally to this work.
Received: 22 January 2018 / Revised: 19 March 2018 / Accepted: 13 April 2018 / Published: 16 April 2018
Abstract
The worldwide commercial cultivation of transgenic crops, including glyphosate-tolerant (GT) soybeans, has increased widely during the past 20 years. However, it is accompanied with a growing concern about potential effects of transgenic crops on the soil microbial communities, especially on rhizosphere bacterial communities. Our previous study found that the GT soybean line NZL06-698 (N698) significantly affected rhizosphere bacteria, including some unidentified taxa, through 16S rRNA gene (16S rDNA) V4 region amplicon deep sequencing via Illumina MiSeq. In this study, we performed 16S rDNA V5–V7 region amplicon deep sequencing via Illumina MiSeq and shotgun metagenomic approaches to identify those major taxa. Results of these processes revealed that the species richness and evenness increased in the rhizosphere bacterial communities of N698, the beta diversity of the rhizosphere bacterial communities of N698 was affected, and that certain dominant bacterial phyla and genera were related to N698 compared with its control cultivar Mengdou12. Consistent with our previous findings, this study showed that N698 affects the rhizosphere bacterial communities. In specific, N698 negatively affects
Rahnella
,
Janthinobacterium
,
Stenotrophomonas
,
Sphingomonas
and
Luteibacter
while positively affecting
Arthrobacter
,
Bradyrhizobium
,
Ramlibacter
and
Nitrospira
.
View Full-Text
►

▼

Figures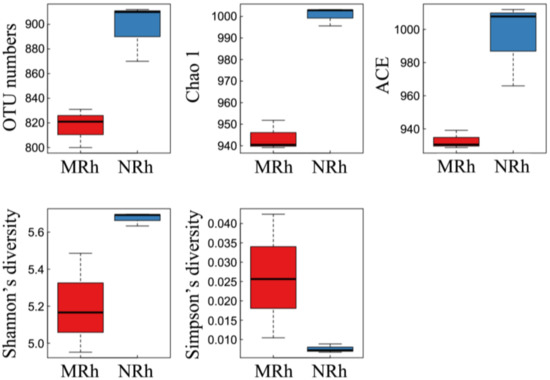 Figure 1
This is an open access article distributed under the
Creative Commons Attribution License
which permits unrestricted use, distribution, and reproduction in any medium, provided the original work is properly cited (CC BY 4.0).

Share & Cite This Article
MDPI and ACS Style
Lu, G.-H.; Hua, X.-M.; Liang, L.; Wen, Z.-L.; Du, M.-H.; Meng, F.-F.; Pang, Y.-J.; Qi, J.-L.; Tang, C.-Y.; Yang, Y.-H. Identification of Major Rhizobacterial Taxa Affected by a Glyphosate-Tolerant Soybean Line via Shotgun Metagenomic Approach. Genes 2018, 9, 214.
Note that from the first issue of 2016, MDPI journals use article numbers instead of page numbers. See further details here.
Related Articles
Comments
[Return to top]