Systems Analysis of Transcriptomic and Proteomic Profiles Identifies Novel Regulation of Fibrotic Programs by miRNAs in Pulmonary Fibrosis Fibroblasts
1
Biogen, Cambridge, MA 02142, USA
2
Division of Rheumatology and Immunology, Department of Medicine, The Medical University of South Carolina, Charleston, SC 29425, USA
†
Current address: Cell Signaling Technology, Danvers, MA 01923, USA.
‡
Current address: Admirx Inc., Cambridge, MA 02139, USA.
§
Current address: Boehringer Ingelheim Pharmaceuticals, Inc., Ridgefield, CT 06877, USA.
*
Author to whom correspondence should be addressed.
Received: 13 October 2018 / Revised: 23 November 2018 / Accepted: 23 November 2018 / Published: 29 November 2018
Abstract
Fibroblasts/myofibroblasts are the key effector cells responsible for excessive extracellular matrix (ECM) deposition and fibrosis progression in both idiopathic pulmonary fibrosis (IPF) and systemic sclerosis (SSc) patient lungs, thus it is critical to understand the transcriptomic and proteomic programs underlying their fibrogenic activity. We conducted the first integrative analysis of the fibrotic programming in these cells at the levels of gene and microRNA (miRNA) expression, as well as deposited ECM protein to gain insights into how fibrotic transcriptional programs culminate in aberrant ECM protein production/deposition. We identified messenger RNA (mRNA), miRNA, and deposited matrisome protein signatures for IPF and SSc fibroblasts obtained from lung transplants using next-generation sequencing and mass spectrometry. SSc and IPF fibroblast transcriptional signatures were remarkably similar, with enrichment of WNT, TGF-β, and ECM genes. miRNA-seq identified differentially regulated miRNAs, including downregulation of miR-29b-3p, miR-138-5p and miR-146b-5p in disease fibroblasts and transfection of their mimics decreased expression of distinct sets of fibrotic signature genes as assessed using a Nanostring fibrosis panel. Finally, proteomic analyses uncovered a distinct "fibrotic" matrisome profile deposited by IPF and SSc fibroblasts compared to controls that highlights the dysregulated ECM production underlying their fibrogenic activities. Our comprehensive analyses of mRNA, miRNA, and matrisome proteomic profiles in IPF and SSc lung fibroblasts revealed robust fibrotic signatures at both the gene and protein expression levels and identified novel fibrogenesis-associated miRNAs whose aberrant downregulation in disease fibroblasts likely contributes to their fibrotic and ECM gene expression.
View Full-Text
►

▼

Figures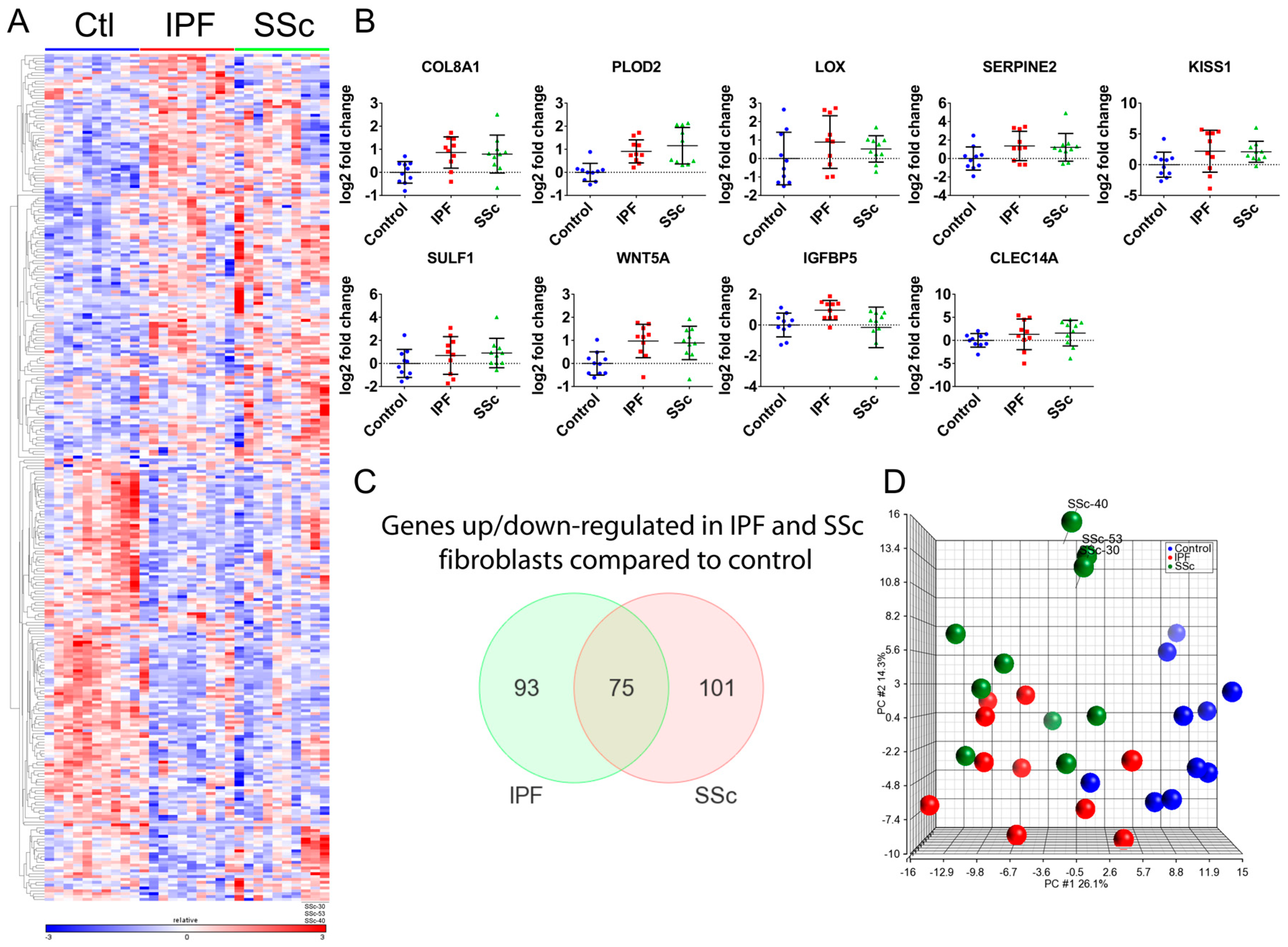 Figure 1
This is an open access article distributed under the
Creative Commons Attribution License
which permits unrestricted use, distribution, and reproduction in any medium, provided the original work is properly cited (CC BY 4.0).

Share & Cite This Article
MDPI and ACS Style
Mullenbrock, S.; Liu, F.; Szak, S.; Hronowski, X.; Gao, B.; Juhasz, P.; Sun, C.; Liu, M.; McLaughlin, H.; Xiao, Q.; Feghali-Bostwick, C.; Zheng, T.S. Systems Analysis of Transcriptomic and Proteomic Profiles Identifies Novel Regulation of Fibrotic Programs by miRNAs in Pulmonary Fibrosis Fibroblasts. Genes 2018, 9, 588.
Note that from the first issue of 2016, MDPI journals use article numbers instead of page numbers. See further details here.
Related Articles
Comments
[Return to top]