Open Access This article is
freely available
re-usable
Review
Terpenoid Metabolic Engineering in Photosynthetic Microorganisms
1
Australian Institute of Bioengineering and Nanotechnology, The University of Queensland, Brisbane, QLD 4072, Australia
2
Climate Change Cluster, University of Technology Sydney, 15 Broadway, Ultimo, NSW 2007, Australia
3
CSIRO Synthetic Biology Future Science Platform, GPO Box 2583, Brisbane, QLD 4001, Australia
*
Authors to whom correspondence should be addressed.
Received: 20 September 2018 / Accepted: 17 October 2018 / Published: 23 October 2018
Abstract
:
Terpenoids are a group of natural products that have a variety of essential and non-essential roles in metabolism, in biotic and abiotic interactions, as well as commercial applications such as pharmaceuticals, food additives, and chemical feedstocks. Economic viability for commercial applications is commonly not achievable by using natural source organisms or chemical synthesis. Engineered bio-production in suitable heterologous hosts is often required to achieve commercial viability. However, our poor understanding of regulatory mechanisms and other biochemical processes makes obtaining efficient conversion yields from feedstocks challenging. Moreover, production from carbon dioxide via photosynthesis would significantly increase the environmental and potentially the economic credentials of these processes by disintermediating biomass feedstocks. In this paper, we briefly review terpenoid metabolism, outline some recent advances in terpenoid metabolic engineering, and discuss why photosynthetic unicellular organisms—such as algae and cyanobacteria—might be preferred production platforms for the expression of some of the more challenging terpenoid pathways.
Keywords:
terpenoids; metabolic engineering; photosynthetic microorganisms; cyanobacteria; diatoms
Author Contributions
All authors wrote the manuscript. All authors have read and approved the final version of the manuscript.
Funding
K.V. is supported by a CSIRO Synthetic Biology Future Science Fellowship co-funded by CSIRO and the University of Queensland, MF is supported by a CSIRO Synthetic Biology Future Science Fellowship co-funded by CSIRO and the University of Technology Sydney. This work is supported under the CSIRO-UQ Synthetic Biology Alliance.
Conflicts of Interest
The authors declare no conflict of interest.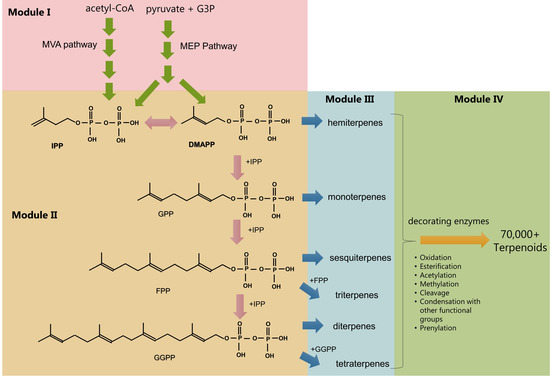 Figure 1. Biosynthesis of terpenoids. The pathways have been conceptually separated into four modules, which is representative of the modularized method many metabolic engineers use to approach isoprenoid pathway engineering. Mevalonate (MVA) and methyl-D-erythritol phosphate (MEP) pathways lead to IPP (isopentenyl pyrophosphate) and DMAPP (dimethylallyl pyrophosphate) (module I). Additions of IPP produce higher-order prenyl phosphates (module II), dephosphorylation (often coincident with or followed by bond rearrangement and/or cyclisation) to form specialized terpenoid backbones (module III), chemical decorations, and other modifications to yield end products. Note that not all end products undergo decorations of the carbon skeleton.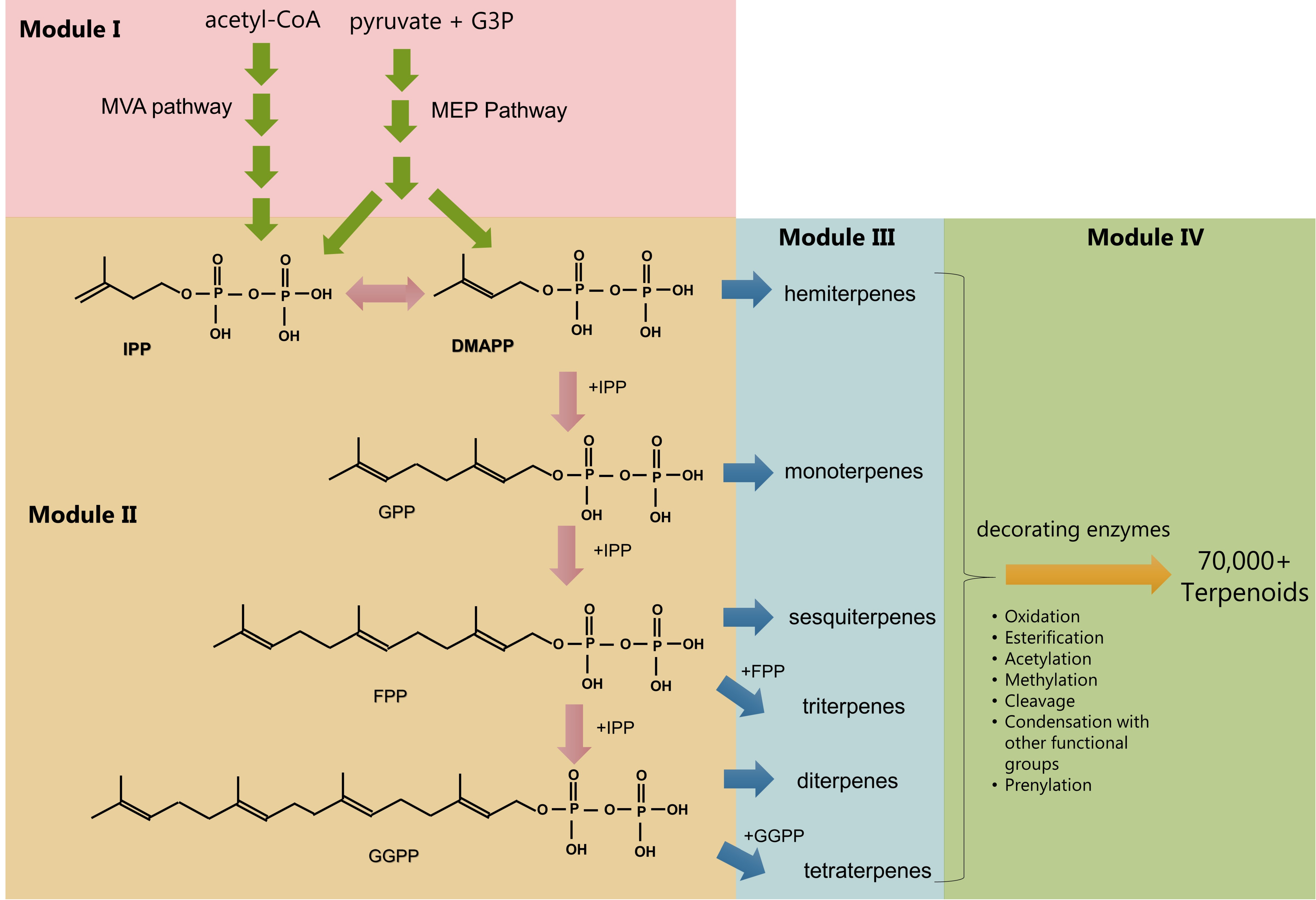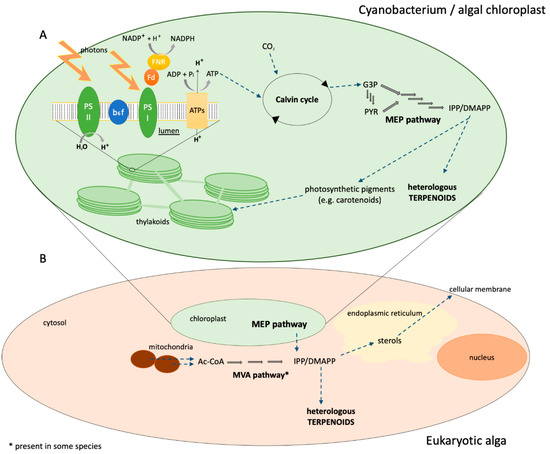 Figure 2. Schematic representation of photosynthetic organisms as heterologous terpenoid biofactories. (A) In cyanobacteria and in algal chloroplasts, photosynthesis provides ATP and NADPH, which are, in turn, used to fix carbon dioxide. Glyceraldehyde 3-phosphate (G3P) links carbon fixation with the rest of metabolism. Pyruvate (PYR) is produced from G3P via glycolysis and these two metabolites are the precursors for the MEP pathway. (B) In eukaryotic algae, mitochondria produce acetyl-CoA (Ac-CoA) from which the MVA pathway is initiated and IPP/DMAPP are produced. Chloroplasts also contribute to the terpenoid precursor pool. Metabolite exchange between cellular compartments, which is not yet fully elucidated, makes terpenoid metabolism more complex.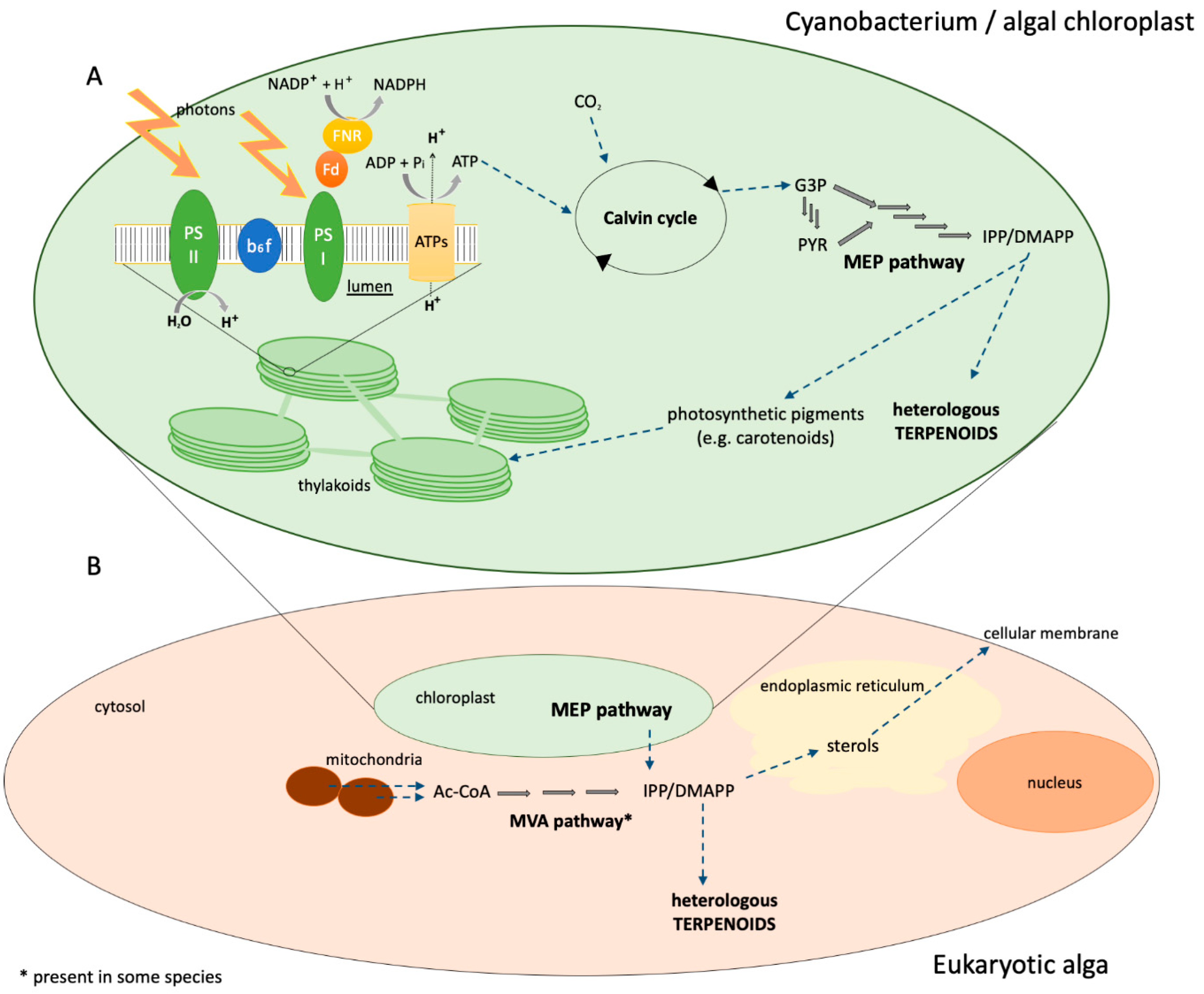 Terpenoid
Production Organism
Titer
Reference
isoprene

Synechocystis

sp. PCC 6803
12.30 mg g−1
[72]
isoprene

Synechococcus elongatus

PCC 7942
1.26 g L−1
[73]
beta-phellandrene

Synechocystis

sp. PCC 6803
3.20 mg g−1
[74]
limonene

Synechococcus

sp. PCC 7002
4 mg L−1
[75]
limonene

Synechocystis

sp. PCC 6803
6.70 mg L−1
[76]
bisabolene

Synechococcus

sp. PCC 7002
0.60 mg L−1
[75]
farnesene

Anabaena

sp. PCC 7120
0.08 mg g−1
[77]
amorphadiene

Synechococcus elongatus

PCC 7942
19.80 mg L−1
[78]
squalene

Synechocystis

sp. PCC 6803
1.20 mg g−1
[79]
farnesene

Synechococcus elongatus

PCC 7942
4.60 mg L−1
[80]
geranyllinalool

Synechocystis

sp. PCC 6803
0.36 mg g−1
[81]
manoyl oxide

Synechocystis

sp. PCC 6803
2 mg L−1
[82]
(E)-alpha-bisabolene

Chlamydomonas reinhardtii

11 mg L−1
[48]
patchoulol

Chlamydomonas reinhardtii

0.47 mg L−1
[83]
manoyl oxide

Chlamydomonas reinhardtii

50 mg L−1
[84]
lupeol

Phaeodactylum tricornutum

0.1 mg L−1
[85]

© 2018 by the authors. Licensee MDPI, Basel, Switzerland. This article is an open access article distributed under the terms and conditions of the Creative Commons Attribution (CC BY) license (http://creativecommons.org/licenses/by/4.0/).