Open Access This article is
freely available
re-usable
Review
Unraveling the Roles of Regulatory Genes during Domestication of Cultivated
Camellia
: Evidence and Insights from Comparative and Evolutionary Genomics
1
State Key Laboratory of Tree Genetics and Breeding, Research Institute of Subtropical Forestry, Chinese Academy of Forestry, Hangzhou 311400, Zhejiang, China
2
Key Laboratory of Forest Genetics and Breeding, Research Institute of Subtropical Forestry, Chinese Academy of Forestry, Hangzhou 311400, Zhejiang, China
3
Experimental Center for Subtropical Forestry, Chinese Academy of Forestry, Fenyi 336600, Jiangxi, China
4
College of Marine Sciences, Ningbo University, Ningbo 315211, Zhejiang, China
†
These authors have contributed equally to this work.

Received: 26 August 2018 / Accepted: 5 October 2018 / Published: 10 October 2018
Abstract
:
With the increasing power of DNA sequencing, the genomics-based approach is becoming a promising resolution to dissect the molecular mechanism of domestication of complex traits in trees. Genus
Camellia
possesses rich resources with a substantial value for producing beverage, ornaments, edible oil and more. Currently, a vast number of genetic and genomic research studies in
Camellia
plants have emerged and provided an unprecedented opportunity to expedite the molecular breeding program. In this paper, we summarize the recent advances of gene expression and genomic resources in
Camellia
species and focus on identifying genes related to key economic traits such as flower and fruit development and stress tolerances. We investigate the genetic alterations and genomic impacts under different selection programs in closely related species. We discuss future directions of integrating large-scale population and quantitative genetics and multiple omics to identify key candidates to accelerate the breeding process. We propose that future work of exploiting the genomic data can provide insights related to the targets of domestication during breeding and the evolution of natural trait adaptations in genus
Camellia
.
Keywords:
domestication; genomics;
Camellia
; transcription factors; quantitative trait locus; genome-wide association study; fruit development
2. Genetics and Genomic Resources in Genus
Camellia

Empowered by High-Throughput Sequencing

Genus

Camellia

displays an extraordinary natural diversity in morphology, metabolites, habitats, etc. The artificial breeding of

Camellia

species results in excellent cultivars for producing beverages, ornamental flowers, and edible oil (

Figure 1

). These are the main purposes of breeding and cultivation of

Camellia

varieties and the related research is also carried out around these breeding targets.

Camellia sinensis

var.

assamica

was the first species in

Camellia

with a high-quality genome reference in which 3.02-Gb base pairs DNA sequences were assembled [

14

]. In 2018, the genomic sequence of

C. sinensis

var.

sinensis

was reported [

13

]. Through the study of two

C. sinensis

genomes, the researchers found that whole-genome duplication events and subsequent paralogous duplications had major impacts on the gene family members related to the biosynthesis of secondary metabolites such as catechins, theanine, and caffeine [

13

,

14

]. The high-quality genomes in

Camellia

will greatly facilitate fundamental research relevant to trait variations through the analyses of comparative and functional genomics.

Transcriptomics studies in various

Camellia

plants were performed extensively in both wild and cultivated plants. The first comprehensive transcriptome analysis in

C. sinensis

by the

second generation sequencing

was reported in 2011 using an Illumina GA II sequencing platform [

15

]. This work sequenced a mixed sample containing seven tissue types and yielded 127,094 uni-genes, which provided a dataset for gene discovery not only for tea plants but also other

Camellia

species [

15

]. Along with the rapid development of sequencing technology, the RNA-seq studies of

Camellia

were applied dramatically to enhance our understanding of how genes are expressed under various conditions. In this case, we focus on transcriptomics studies in

Camellia

plants under a variety of experimental designs (

Table 1

).
3. GWAS and QTL Mapping of Key Traits in
Camellia

Plants

Quantitative trait locus mapping is a powerful method for identifying the key genome regions related to the traits of interest [

61

]. Previously, QTL analyses were performed in many major crops through the marker-assisted breeding methods [

62

,

63

,

64

,

65

,

66

]. Genetic linkage maps constructed with various molecular markers are particularly useful for mapping of QTLs. To date, over 10 genetic maps were constructed in tea plants based on different types of markers such as Random Amplification of Polymorphic DNA (RAPD), the Inter-Simple Sequence Repeat (ISSR), Amplified Fragment Length Polymorphism (AFLP), SSR, SNP, and more [

51

,

67

,

68

,

69

,

70

,

71

,

72

,

73

,

74

,

75

,

76

,

77

]. In addition, QTLs for tea plant yield [

73

], timing of spring bud flush, young shoot color [

77

], catechins content [

75

], drought tolerance [

67

], etc., were mapped. However, these previously mentioned genetic maps were constructed with a low resolution due to the limits in genotyping methods and the size of segregating populations. The research of QTL mapping in tea plants is at a preliminary stage and needs more in-depth developments of molecular markers and linkage maps.

To our knowledge, the genetic map construction and QTL mapping in other

Camellia

species are not reported. There are two potential reasons limiting the study in

Camellia

plants. First, it requires a large population to achieve sufficient segregations of allelic variations [

78

], which causes vast efforts for data collecting. Second, the commonly appearing polyploidization of

Camellia

cultivars increases the difficulty of fine QTL mapping. In recent years, the high-throughput sequencing technology allows genome-wide genetic variation discovery and genotyping in a highly efficient way [

79

]. It can greatly increase the resolution of QTL mapping and reduce laborious works [

80

,

81

]. Genome-wide association study based on high-throughput sequencing technologies is considered a favorable resolution to explore the allelic variation in a broader scope for extensive phenotypic diversity and as a complementary and powerful tool for connecting the genotype-phenotype map as well. GWAS overcomes the cross-population limitation of QTL mapping and evaluates the association between genotypes and phenotypes of interest based on the natural population with a large number of unrelated individuals. This approach was pioneered in human genetics more than 10 years ago [

82

] and were now routinely applied in plants including

Arabidopsis

[

83

] and crops [

84

,

85

,

86

,

87

,

88

,

89

,

90

,

91

]. In tree plants, the genome re-sequencing of 544

Populus trichocarpa

trees and GWAS analysis identified extensive genomic regions related to adaptive trait variation [

92

]. Due to the abundant genetic diversity and rapid Linkage Disequilibrium (LD) decay, the out-crossing species are suitable for GWAS such as

Camellia

species. However, up to now, GWAS analysis in

Camellia

plants was not reported yet. Due to the complexity of the

Camellia

genome, the genome-wide analysis of

Camellia

population genetics is unfinished and the extensive heterozygosity in the

Camellia

genome makes the polymorphism calling technically challenging. The further efforts of GWAS in cultivated

Camellia

plants are needed. There are some precautions in cultivated

Camellia

GWAS work when the reference genome is available. First, the population size and sequencing coverage are fundamental in an experimental design. Large samples and high coverage will increase GWAS power generally and also enable most allelic variants to be identified. However, it is not always more or better in sampling (especially in plant samples) because the diversity and the individual relationship can greatly affect the effect of GWAS [

79

]. To achieve cost optimizations, a balance between sequencing depth and sample size should be made. Phenotyping is the most laborious and important work in

Camellia

GWAS. A well-defined trait will increase GWAS power. To ensure the quality of phenotype data, it would be much better to generate phenotype data in several successive years with replications and careful field designs. When a trait is strongly confounded by genetic backgrounds, the power of GWAS will be greatly reduced [

79

]. An appropriate statistical model can reduce spurious genotype–phenotype associations and increase GWAS power. Computational models including mixed linear, multi-locus mixed, and multi-trait mixed models, which integrate the population structure matrix and pairwise relatedness kinship within populations, have been developed, improved, and optimized to control the rate of spurious genotype–phenotype associations [

93

,

94

,

95

,

96

,

97

]. Lastly, in the light of a high-quality reference genome of

Camellia

species, the integration of GWAS and QTL would provide more accurate information of regulatory genes underlying the complex traits. It is expected that, with the support of population, association, and designated omics datasets, the casual loci could be identified.
4. Functional Characterization of Genes Related to Key Pathways of
Camellia

Plants
5. Future Perspectives: A Roadmap for
Camellia
As the demand for
Camellia
products continues to increase, the current breeding work is facing a challenge of obtaining cultivars with enhanced environmental resilience and productivity. To meet the challenges, the large-scale gene expression analysis is becoming a prevalent methodology in the field of
Camellia
research, which greatly facilitates the molecular characterization of important gene families. With the support from large natural or hybridized populations, it is expected that more and more genetic factors or loci will be available for improving the efficiency of breeding new varieties (
Figure 1
). However, a deep understanding of the molecular mechanism of trait evolution and domestication relies on the capability of functional tools. The facile genetic transformation or transient assay systems in
Camellia
plants are essential to test the hypothesis relevant to candidate gene functions. Lastly, the genome editing technology together with other molecular breeding technologies will enable a precise and targeted innovation of new traits and genetic variations.
We propose a practical roadmap for
Camellia
research including four key steps. (1) A large-scale collection of germplasms of native and hybrid populations is necessary to advance
Camellia
research. (2) Database initiatives and analyzing platforms for genomics, metabolites, and phenotypes. An international cooperation platform will facilitate the storage, sharing and analysis of high-throughput data, and provide opportunities for generating standardized pipelines for various
Camellia
breeding programs. (3) With the support of reference genomes in
Camellia
plants, the application of genomics tools through whole-genome level analyses (such as QTL mapping, GWAS, and genome re-sequencing) will allow an efficient identification of molecular markers or gene alleles associated with trait variations. (4) Take advantage of the molecular information. The maker assisted selection can help locate important genomic fragments underlying key economic traits. At the same time, the genome selection method is a promising approach to shorten the breeding cycle and integrate elite traits efficiently based on models from whole-genome analyses of molecular makers. Presently, a large number of wild
Camellia
resources are still underutilized and it is expected that, with the support of genomic technologies, the domestication of
Camellia
plants can promote the breeding of elite varieties with enhanced resistances and economic values in the near future.
Author Contributions
H.Y., X.Y., and J.L provided ideas and supervised the writing of manuscript. C.Y. and P.L. performed the reference analysis and drafted the manuscript. T.L., Z.H., X.L., and Z.F participated in writing and editing of the manuscript. All authors contributed to the writing of the paper.
Funding
This work was supported by Nonprofit Research Projects (CAFYBB2016SZ001) of Chinese Academy of Forestry and the National Science Foundation of China (NSFC) Grant 31470697. We also acknowledge the support from the Forestry Industry Research Special Funds for Public Welfare Projects (201504707) and International Sci. & Tech. Cooperation Program of China (2016YFE0126100).
Acknowledgments
We thank Haobo Guo from the University of Tennessee Chattanooga for discussing some ideas of the manuscript. We are grateful to anonymous reviewers for valuable suggestions to improve the manuscript.
Conflicts of Interest
The authors declare no conflict of interest. The funders had no role in the design of the study, in the collection, analyses, or interpretation of data, in the writing of the manuscript, or in the decision to publish the results.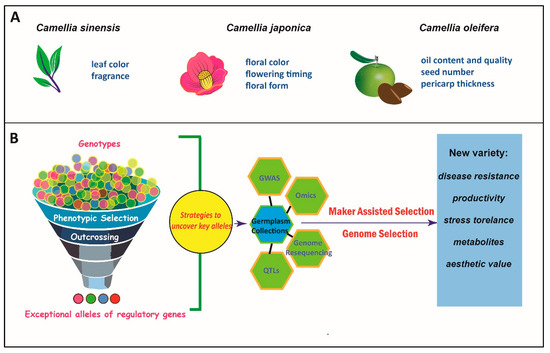 Figure 1.
An illustrated cartoon summarizing the domestication in
Camellia
species. (
A
) The leaves, flowers, and fruits (seeds) of
Camellia
plants are useful organs to produce economic products for human living. Major domestication targets of each organ and representative species are listed. (
B
) The domestication process yields some valuable alleles contributing to trait variations in cultivars. To identify underlying genes or associated molecular makers, strategies based on germplasm collection (natural or forced hybridization populations) are subjected to various types of analyses such as genome-wide association study (GWAS), multiple omics tools, genome re-sequencing, and quantitative trait locus (QTL) mapping. The uncovered markers and genes associated with key traits are pivotal for understanding the mechanism of domestication and improving new varieties in
Camellia
. With the support of maker assisted selection and genome selection approaches, the domestication program of
Camellia
plants can be more efficiently and precise for breeding cultivars of economic values.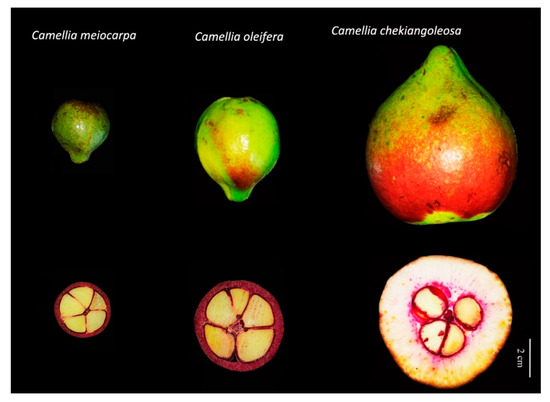 Figure 2.
A comparison of oil-
Camellia
fruits and their lignification patterns. The fruits at the stage of rapid enlargement (from left to right,
C. meiocarpa
,
C. oleifera
, and
C. chekiangoleosa
) are presented on the upper panel. The lignification pattern of fruits is revealed by a red color of phloroglucinol-HCl staining on the lower panel.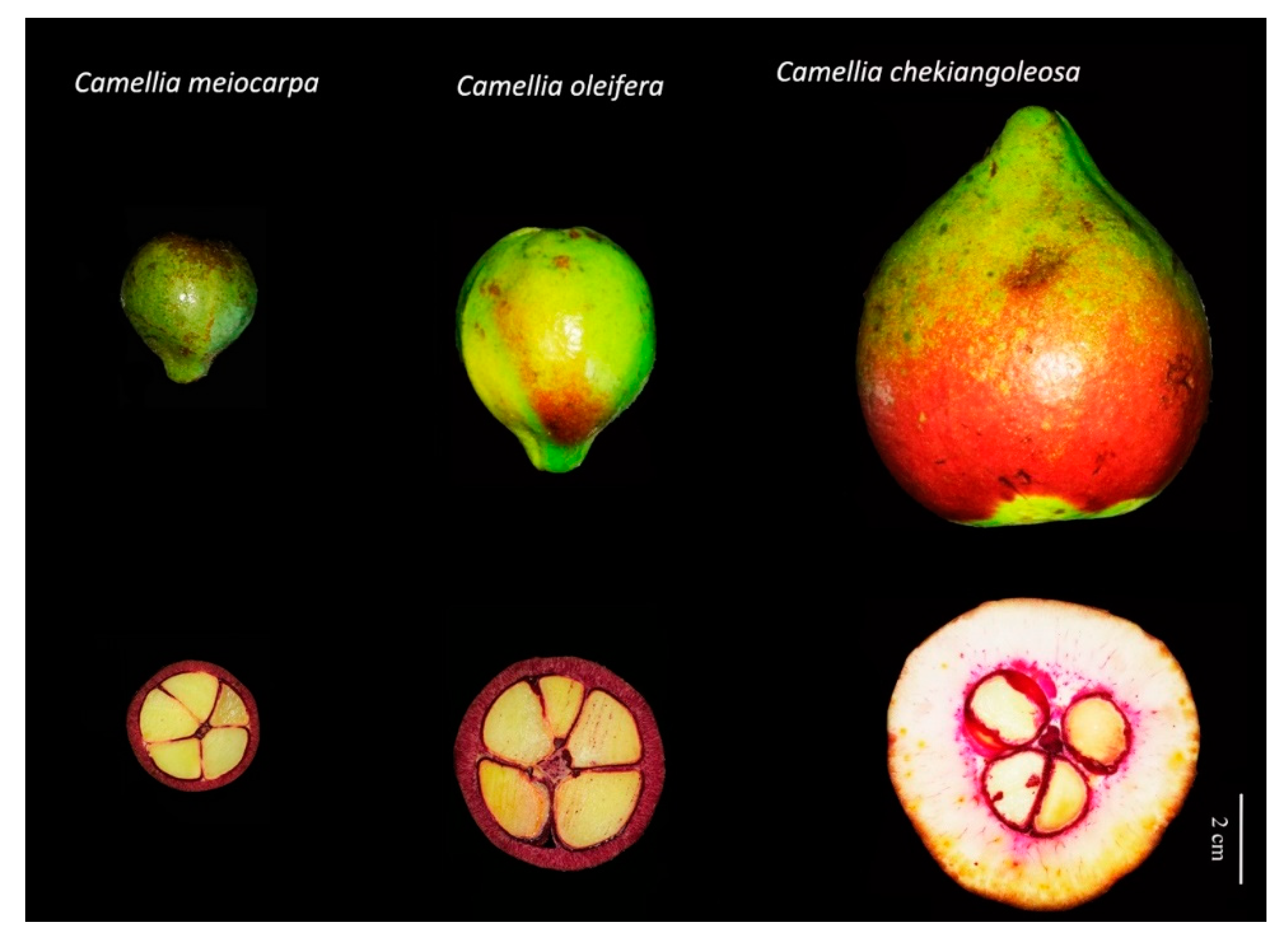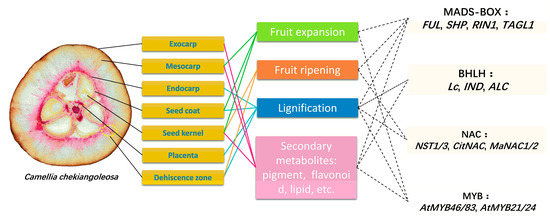 Figure 3.
A proposed diagram of transcription factors in the control of fruit development in
C. chekiangoleosa
. A typical fruit of
C. chekiangoleosa
consists of a variety of tissue types that are labeled by yellow boxes. During the development of fruit, some processes including fruit expansion, fruit ripening, lignification, and biosynthesis of secondary metabolites are found to be controlled by several types of transcription factors, according to the studies from diverse plant species. The yellow ellipse indicates the dehiscence zone.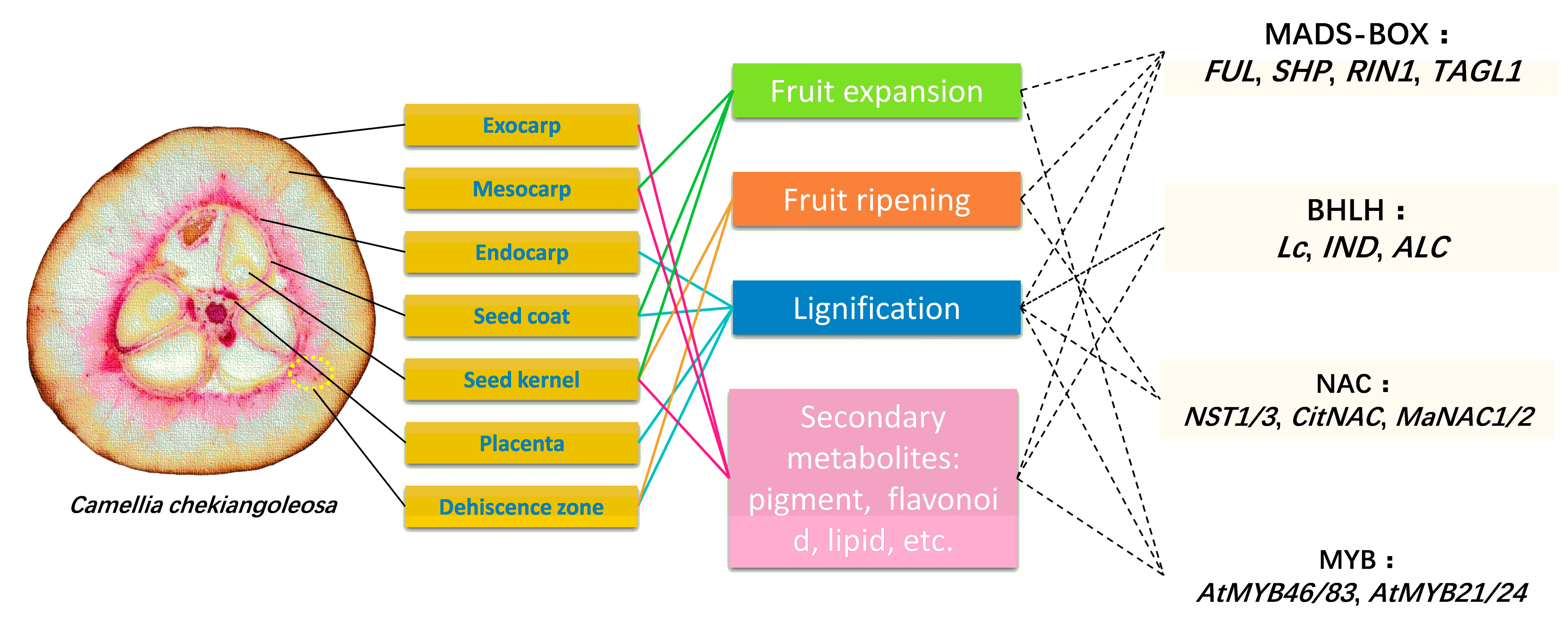 Table 1.
A list of recent transcriptomics studies in
Camellia
species related to trait variations and domestication.
Species
Traits
Methods
Key Pathways & Genes
Reference
Database Accessment (from NCBI)

C. sinensis

seven tissue types
Transcriptome/Illumina
flavonoid, theanine, and caffeine biosynthesis pathways
[15]
SRX020193, HP701085-HP777243
Responses of Biotic and Abiotic Stress in

Camellia

Plants

C. sinensis

Cold acclimation
454 GS-FLX
Cold-related genes
[16]
SRA061043, SRX020193

C. sinensis

Same as above
Illumina
AP2/ERF family TFs
[17]
Not found

C. sinensis

Leaves with different treatment time of 4 or 38 °C temperature stress
Illumina
WRKY gen family
[18]
Not found

C. japonica

mature leaves after 40 d natural low temperature
Illumina
α-linolenic acid and jasmonic acid biosynthesis pathways respond to cold acclimation
[19]
SRP076436

C. sinensis

Drought stress and salt stress young leaves
Illumina
Response to drought stress and salt stress
[20]
PRJEB11522

C. sinensis

Germination seed of different dehydrate treatment
Illumina
Mechanism of seed dehydration sensitivity
[21]
SRP096975

C. sinensis

(NH4)2SO4 treatment buds, leaves and root
Illumina
Nitrogen utilization genes
[22]
SRP077092

C. sinensis

Pollen tubes at 25 °C and 4 °C or with NO treatment
Illumina
Potential mechanisms of the participation of NO in pollen tube responses to low temperature
[23]
SRR3270364, SRR3270376, SRR3270829, SRR3270928, SRR3270974, SRR3270993, SRR3270997, SRR3271001, SRR3271002

C. sinensis

Leaf tissues of blister blight transition
Illumina
Blister Blight defense
[24]
SRP067826, PRJNA306068

C. sinensis

Insect feeding treatment
Illumina
Defense response to insect (

Ectropis. oblique

)
[25]
SRX998353, SRX1543038
Transcriptomic Analyses in the Control of Secondary Metabolism in

Camellia

C. sinensis

13 different tissue samples from various organs and developmental stage
Illumina
Secondary metabolite biosynthesis pathways
[26]
SRR1053623, SRR1051214, SRR1054007, SRR1055110, SRR1055182, SRR1054086, SRR1054152, SRR1055108, SRR1055109, SRR1055932, SRR1055933, SRR1055934, SRR1055944

C. taliensis

Tender shoots, young leaves, flower buds, and flowers
Illumina
Secondary metabolic biosynthesis pathways
[27]
PRJNA274899

C. sinensis

Buds, 2nd leaves, mature leaves and young roots
Illumina
Catechins metabolic pathways
[28]
Not found

C. sinensis

Leaf tissues of four tea plant cultivars
Illumina
Catechins biosynthesis pathways
[29]
Not found

C. asssamica

Leaf at the purple and green stages
Illumina
Anthocyanin biosynthesis pathway
[30]
Not found

C. nitidissima

Floral buds at five different developmental stages
Illumina
Carotenoids and flavonols glucosides biosynthesis pathways
[31]
SRP112181

C.nitidissima, C. chuongtsoensis

Young shoot tip or leaves
Illumina
Floral pigmentation and flowering timing
[32]
PRJNA389977, PRJNA400646
Transcriptomics Studies Related to Floral Patterning, Flowering Timing and Bud Dormancy

C. japonica

Double flower development
Illumina
ABCE genes, miR156, and targeted squamosa promoter binding protein-likes (SPLs)
[33]

C. azalea

Floral buds
Illumina
Conserved and lineage-specific miRNA
[34]
PRJNA257896, SRP045386

C. sinensis

Axillary buds
Illumina
Bud dormancy regulation mechanism
[35]
SRR5040773, SRR5040784

C. sinensis

Bud tissues of different developmental stages
ABI PRISM 3730
Dormancy-related genes
[36]
HM003230–HM003378, GW690681–GW691037

C. azalea

Three stages of floral bud development:
Illumina
Floral dormancy-associated MADS-box genes
[37]
PRJNA257896, SRP045386

C. sinensis

Three opening stages of flowers
Illumina
WRKY, ERF, bHLH, MYB and MADS-box family relate to flower development
[38]
SRR5487532, SRR5487531, SRR5487530, SRR5487529, SRR5487528, SRR5487527,

C. sinensis

Two and a buds in July and December
Illumina
Regulatory mechanism of non-deciduous habit in winter
[39]
Not found

C. sinensis

Shading leaves (yellow leaf phenotype)
Illumina
Chloroplast development, chlorophyll biosynthesis pathway
[40]
SRX1078570

C. sinensis

Adventitious roots from IBA treatment cuttings
Illumina
Potential mechanisms involved in adventitious root formation
[41,42]
PRJNA240661, JK990996-991074
Transcriptomics in oil

Camellia

Plants

C. oleifera

Four tissues
454 GS-FLX
Lipid metabolism
[43]
SRR1472854, SRR1472847, SRR1472843, SRR1472842, GBHI00000000

C. oleifera

Drought treatment leaves
Illumina
Drought stress genes
[44]
SRP094080

C. oleifera

Seed
Illumina
Oil content and fatty acid composition
[45]
SRP111395

C. oleifera

Leaves at different elevations of Lu Mountain and Jinggang Mountain
Illumina
Cold acclimation genes
[46]
SRR2146977, SRR2146978, SRR2146979, SRR2146980, SRR2146973, SRR2146974, SRR2146975, SRR2146976

C. chekiangoleosai

Seeds, flowers and leaves
454 GS FLX
Anthocyanin biosynthesis pathway genes
[47]
Not found

C. oleifera, C. meiocarpa

Mature seed of different moisture content
Illumina
Fatty acid biosynthesis and accumulation pathway
[48]
Not found

C. oleifera, C. chekiangoleosa, C. brevistyla

Flower buds
454 GS FLX
Secondary metabolites pathway,

CHS

gene,

FAD2

gene
[49]
HQ704701.1
Markers Development Based on RNA-sequencing (RNA-seq)

C. sinensis

Three developmental growth stages leaves
454 GS FLX
Plant growth, development, secondary metabolite, and (expressed sequence tag–simple sequence repeats (EST-SSR) markers
[50]
SRA052793, KA279444–KA304315, HP701085–HP777243

C. sinensis

Different flower organizations at the big bud stage
Illumina
SSR Markers, SSR-based linkage map
[51]
SRA053025, GAAC01000001–GAAC01052919

C. flavida, C. achrysantha

Flower buds
Illumina
SSR markers
[52]
Not found

C. oleifera

Lipid synthesis phase seed
Illumina
SSR markers
[53]
Not found

© 2018 by the authors. Licensee MDPI, Basel, Switzerland. This article is an open access article distributed under the terms and conditions of the Creative Commons Attribution (CC BY) license (http://creativecommons.org/licenses/by/4.0/).