Genome-Wide Identification and Characterization of Salinity Stress-Responsive miRNAs in Wild Emmer Wheat (
Triticum turgidum

ssp.

dicoccoides

)

1

State Key Laboratory of Crop Stress Biology in Arid Areas, College of Agronomy and Yangling Branch of China Wheat Improvement Center, Northwest A&F University, Yangling 712100, Shaanxi, China

2

Australia-China Joint Research Centre for Abiotic and Biotic Stress Management in Agriculture, Horticulture and Forestry, Yangling 712100, Shaanxi, China

†

These authors contributed equally to this work.

*

Authors to whom correspondence should be addressed.

Academic Editor: Bin Yu

Received: 21 April 2017 / Revised: 26 May 2017 / Accepted: 26 May 2017 / Published: 6 June 2017
Abstract
MicroRNAs (miRNAs) are a class of endogenous small noncoding RNAs which regulate diverse molecular and biochemical processes at a post-transcriptional level in plants. As the ancestor of domesticated wheat, wild emmer wheat (
Triticum turgidum
ssp.
dicoccoides
) has great genetic potential for wheat improvement. However, little is known about miRNAs and their functions on salinity stress in wild emmer. To obtain more information on miRNAs in wild emmer, we systematically investigated and characterized the salinity-responsive miRNAs using deep sequencing technology. A total of 88 conserved and 124 novel miRNAs were identified, of which 50 were proven to be salinity-responsive miRNAs, with 32 significantly up-regulated and 18 down-regulated. miR172b and miR1120a, as well as mi393a, were the most significantly differently expressed. Targets of these miRNAs were computationally predicted, then Gene Ontology (GO) and Kyoto Encyclopedia of Genes and Genomes (KEGG) analysis found that the targets of salinity-responsive miRNAs were enriched in transcription factors and stress-related proteins. Finally, we investigated the expression profiles of seven miRNAs ranging between salt-tolerant and sensitive genotypes, and found that they played critical roles in salinity tolerance in wild emmer. Our results systematically identified the salinity-responsive miRNAs in wild emmer, not only enriching the miRNA resource but also laying the foundation for further study on the biological functions and evolution of miRNAs in wild wheat and beyond.
View Full-Text
►

▼

Figures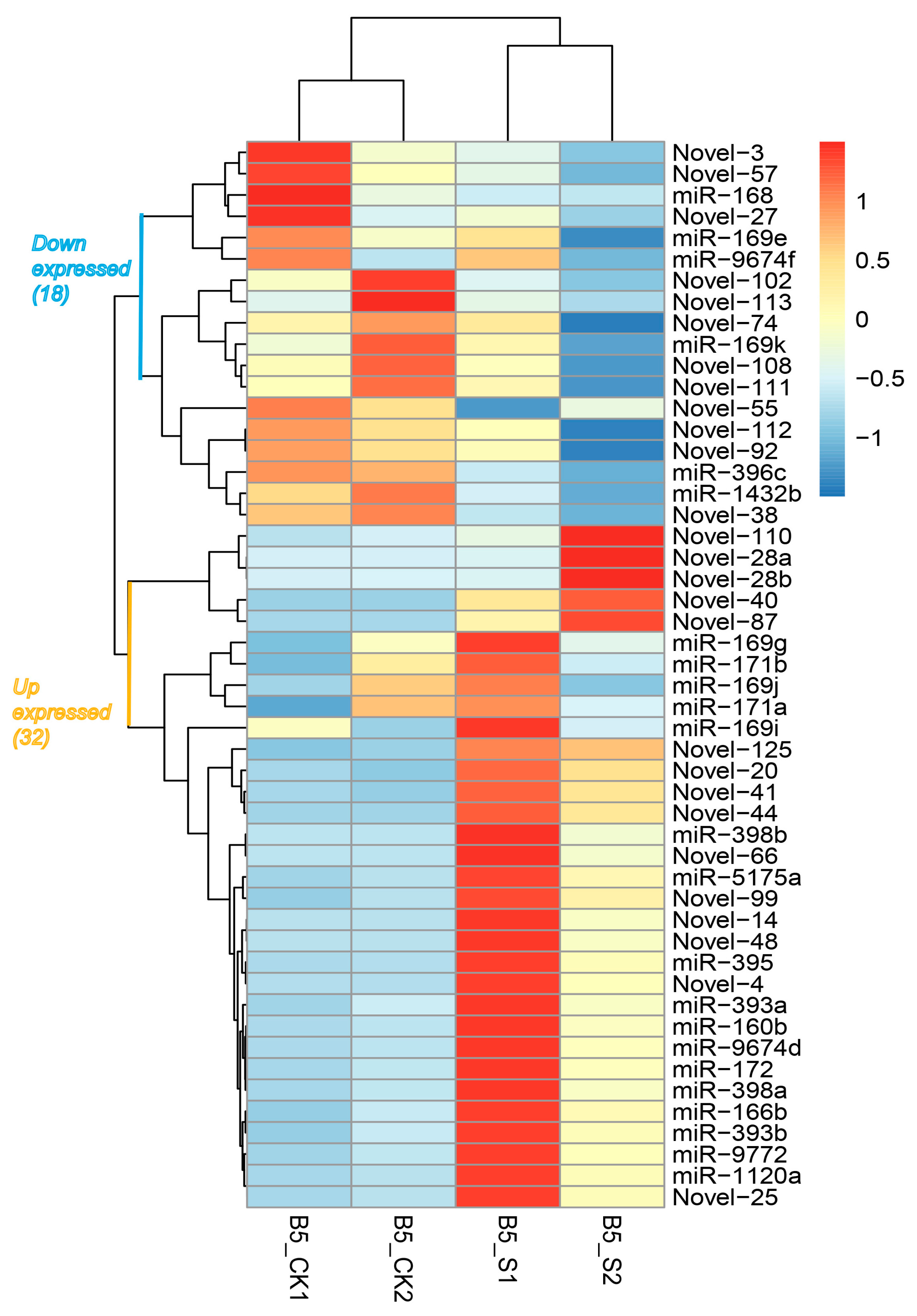 Figure 1
This is an open access article distributed under the
Creative Commons Attribution License
which permits unrestricted use, distribution, and reproduction in any medium, provided the original work is properly cited (CC BY 4.0).

Share & Cite This Article
MDPI and ACS Style
Feng, K.; Nie, X.; Cui, L.; Deng, P.; Wang, M.; Song, W. Genome-Wide Identification and Characterization of Salinity Stress-Responsive miRNAs in Wild Emmer Wheat (Triticum turgidum ssp. dicoccoides). Genes 2017, 8, 156.
Note that from the first issue of 2016, MDPI journals use article numbers instead of page numbers. See further details here.
Related Articles
Comments
[Return to top]