Genome-Wide Analysis of the
Sucrose Synthase

Gene Family in Grape (

Vitis vinifera

): Structure, Evolution, and Expression Profiles

Nanjing Agricultural University, Weigang 1 hao, 210095 Nanjing, China

*

Author to whom correspondence should be addressed.

Academic Editor: Charles Bell

Received: 23 January 2017 / Revised: 16 March 2017 / Accepted: 20 March 2017 / Published: 28 March 2017
Abstract
Sucrose synthase (SS) is widely considered as the key enzyme involved in the plant sugar metabolism that is critical to plant growth and development, especially quality of the fruit. The members of SS gene family have been identified and characterized in multiple plant genomes. However, detailed information about this gene family is lacking in grapevine (
Vitis vinifera
L.). In this study, we performed a systematic analysis of the grape (
V. vinifera
) genome and reported that there are five
S
S genes (VvSS
1–
5) in the grape genome. Comparison of the structures of grape SS genes showed high structural conservation of grape
S
S genes, resulting from the selection pressures during the evolutionary process. The segmental duplication of grape SS genes contributed to this gene family expansion. The syntenic analyses between grape and soybean (
Glycine max
) demonstrated that these genes located in corresponding syntenic blocks arose before the divergence of grape and soybean. Phylogenetic analysis revealed distinct evolutionary paths for the grape
S
S genes. VvSS1/VvSS5, VvSS2/VvSS3 and VvSS4 originated from three ancient
S
S genes, which were generated by duplication events before the split of monocots and eudicots. Bioinformatics analysis of publicly available microarray data, which was validated by quantitative real-time reverse transcription PCR (qRT-PCR), revealed distinct temporal and spatial expression patterns of
Vv
SS genes in various tissues, organs and developmental stages, as well as in response to biotic and abiotic stresses. Taken together, our results will be beneficial for further investigations into the functions
of
S
S gene in the processes of grape resistance to environmental stresses.
View Full-Text
►

▼

Figures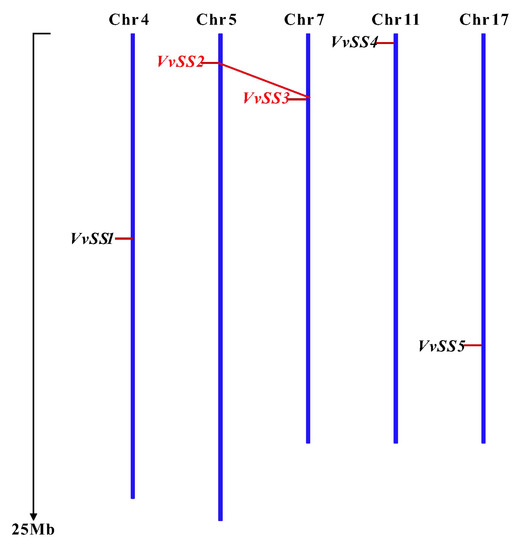 Figure 1
This is an open access article distributed under the
Creative Commons Attribution License
which permits unrestricted use, distribution, and reproduction in any medium, provided the original work is properly cited (CC BY 4.0).

Share & Cite This Article
MDPI and ACS Style
Zhu, X.; Wang, M.; Li, X.; Jiu, S.; Wang, C.; Fang, J. Genome-Wide Analysis of the Sucrose Synthase Gene Family in Grape (Vitis vinifera): Structure, Evolution, and Expression Profiles. Genes 2017, 8, 111.
Note that from the first issue of 2016, MDPI journals use article numbers instead of page numbers. See further details here.
Related Articles
Comments
[Return to top]