miR-203 and miR-320 Regulate Bone Morphogenetic Protein-2-Induced Osteoblast Differentiation by Targeting Distal-Less Homeobox 5 (
Dlx5

)

1

Department of Medical Sciences, Uppsala University, Uppsala 75185, Sweden

2

Science for Life Laboratory, Department of Medical Sciences, Uppsala University Hospital, Uppsala 75185, Sweden

3

Science for Life Laboratory, Department of Biochemistry and Biophysics, Stockholm University, Stockholm 17121, Sweden

4

Department of Surgical Sciences, Uppsala University, Uppsala 75185, Sweden

*

Author to whom correspondence should be addressed.

Academic Editor: George A. Calin

Received: 31 October 2016 / Revised: 24 November 2016 / Accepted: 15 December 2016 / Published: 23 December 2016
Abstract
MicroRNAs (miRNAs) are a family of small, non-coding RNAs (17–24 nucleotides), which regulate gene expression either by the degradation of the target mRNAs or inhibiting the translation of genes. Recent studies have indicated that miRNA plays an important role in regulating osteoblast differentiation. In this study, we identified miR-203 and miR-320b as important miRNAs modulating osteoblast differentiation. We identified
Dlx5
as potential common target by prediction algorithms and confirmed this by knock-down and over expression of the miRNAs and assessing
Dlx5
at mRNA and protein levels and specificity was verified by luciferase reporter assays. We examined the effect of miR-203 and miR-320b on osteoblast differentiation by transfecting with pre- and anti-miRs. Over-expression of miR-203 and miR-320b inhibited osteoblast differentiation, whereas inhibition of miR-203 and miR-320b stimulated alkaline phosphatase activity and matrix mineralization. We show that miR-203 and miR-320b negatively regulate BMP-2-induced osteoblast differentiation by suppressing
Dlx5
, which in turn suppresses the downstream osteogenic master transcription factor
Runx2
and
Osx
and together they suppress osteoblast differentiation. Taken together, we propose a role for miR-203 and miR-320b in modulating bone metabolism.
View Full-Text
►

▼

Figures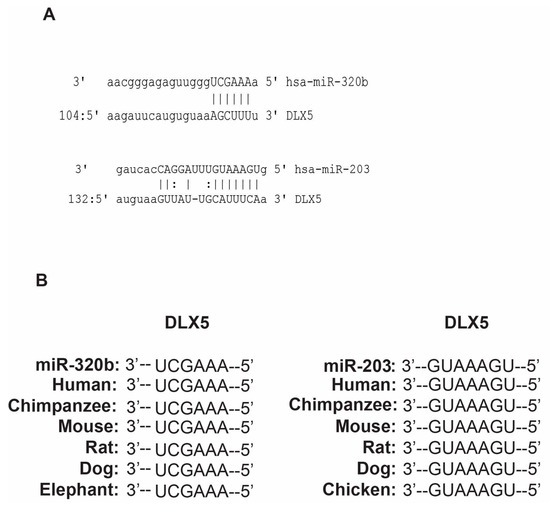 Figure 1
This is an open access article distributed under the
Creative Commons Attribution License
which permits unrestricted use, distribution, and reproduction in any medium, provided the original work is properly cited (CC BY 4.0).

Share & Cite This Article
MDPI and ACS Style
Laxman, N.; Mallmin, H.; Nilsson, O.; Kindmark, A. miR-203 and miR-320 Regulate Bone Morphogenetic Protein-2-Induced Osteoblast Differentiation by Targeting Distal-Less Homeobox 5 (Dlx5). Genes 2017, 8, 4.
Note that from the first issue of 2016, MDPI journals use article numbers instead of page numbers. See further details here.
Related Articles
Comments
[Return to top]