Open Access This article is
freely available
re-usable
Review
Molecular Correlates and Recent Advancements in the Diagnosis and Screening of
FMR1
-Related Disorders
1
Department of Pediatrics, Yong Loo Lin School of Medicine, National University of Singapore, Singapore 119074, Singapore
2
Khoo Teck Puat—National University Children's Medical Institute, National University Health System, Singapore 119228, Singapore
3
Department of Laboratory Medicine, National University Hospital, Singapore 119074, Singapore
*
Author to whom correspondence should be addressed.
Academic Editor: Mark Hirst
Received: 18 August 2016 / Accepted: 8 October 2016 / Published: 14 October 2016
Abstract
:
Fragile X syndrome (FXS) is the most common monogenic cause of intellectual disability and autism. Molecular diagnostic testing of FXS and related disorders (fragile X-associated primary ovarian insufficiency (FXPOI) and fragile X-associated tremor/ataxia syndrome (FXTAS)) relies on a combination of polymerase chain reaction (PCR) and Southern blot (SB) for the fragile X mental retardation 1 (
FMR1
) CGG-repeat expansion and methylation analyses. Recent advancements in PCR-based technologies have enabled the characterization of the complete spectrum of CGG-repeat mutation, with or without methylation assessment, and, as a result, have reduced our reliance on the labor- and time-intensive SB, which is the gold standard FXS diagnostic test. The newer and more robust triplet-primed PCR or TP-PCR assays allow the mapping of AGG interruptions and enable the predictive analysis of the risks of unstable CGG expansion during mother-to-child transmission. In this review, we have summarized the correlation between several molecular elements, including CGG-repeat size, methylation, mosaicism and skewed X-chromosome inactivation, and the extent of clinical involvement in patients with
FMR1
-related disorders, and reviewed key developments in PCR-based methodologies for the molecular diagnosis of FXS, FXTAS and FXPOI, and large-scale (CGG)
n
expansion screening in newborns, women of reproductive age and high-risk populations.
Keywords:
fragile X syndrome; FXPOI; FXTAS;
FMR1
; AGG interruption; triplet-primed PCR; screening; CGG repeat; melting curve analysis; methylation
Acknowledgments
Supported by a grant NUHSRO/2015/056/STB/BBP FY15/01 NUHS awarded to Samuel S. Chong. Indhu-Shree Rajan-Babu is a recipient of a Research Scholarship from the National University of Singapore.
Conflicts of Interest
Samuel S. Chong is an inventor of the dTP-PCR and msTP-PCR CE and MCA assays. Indhu-Shree Rajan-Babu declares no conflict of interest.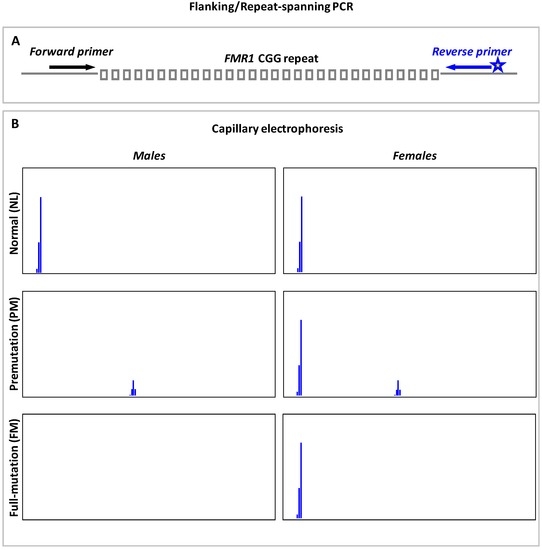 Figure 1. Flanking or repeat-spanning PCR: (A) Schematic depicting the flanking PCR primer design; and (B) expected capillary electrophoresis profiles of normal, premutation and full-mutation males and females.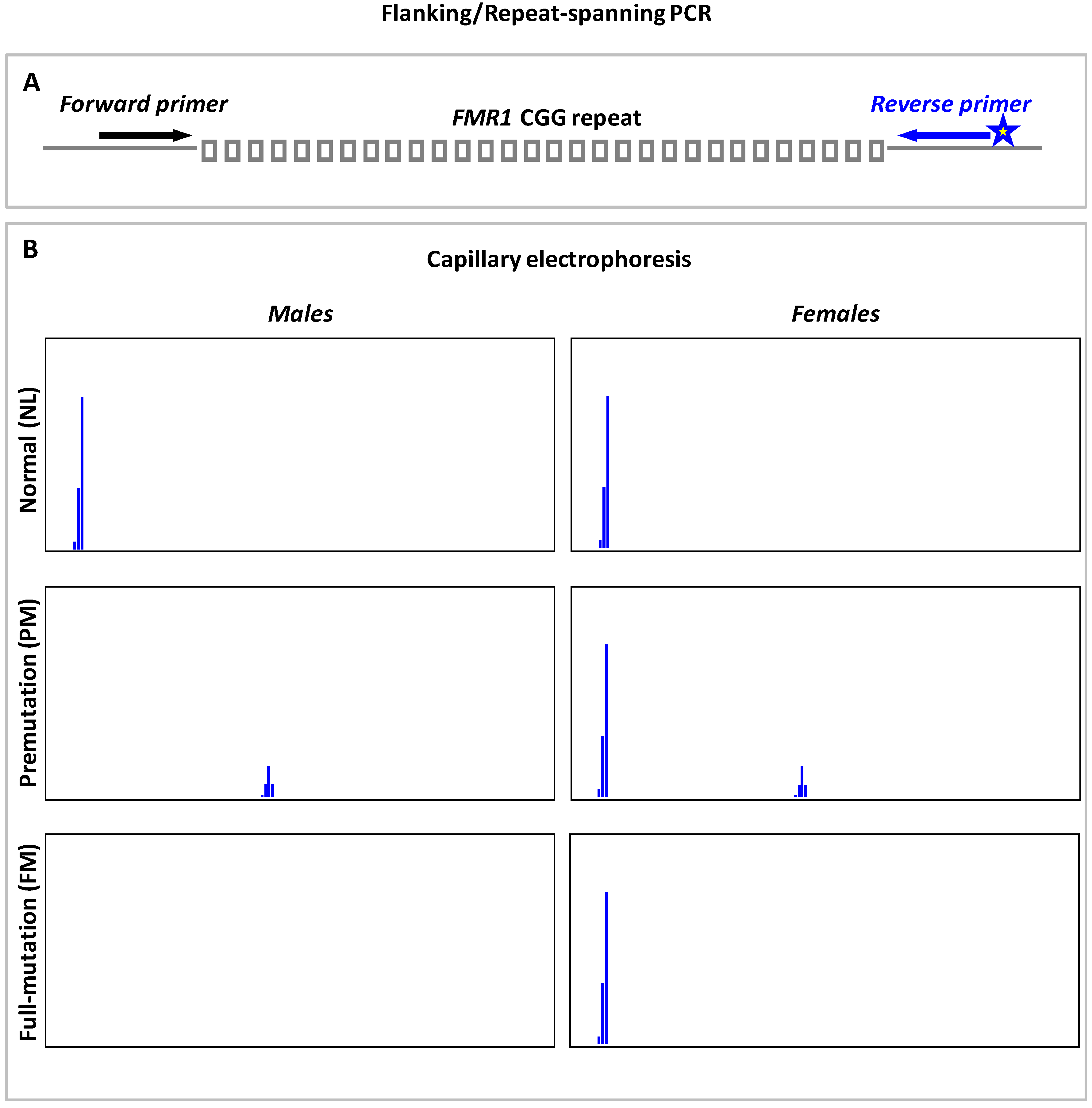 Figure 2. Triplet-Primed PCR or TP-PCR: (A) Schematic depicting the TP-PCR primer design; and (B) expected capillary electrophoresis profiles of normal, premutation and full-mutation males and females. For simplification, the Tail primer is not shown.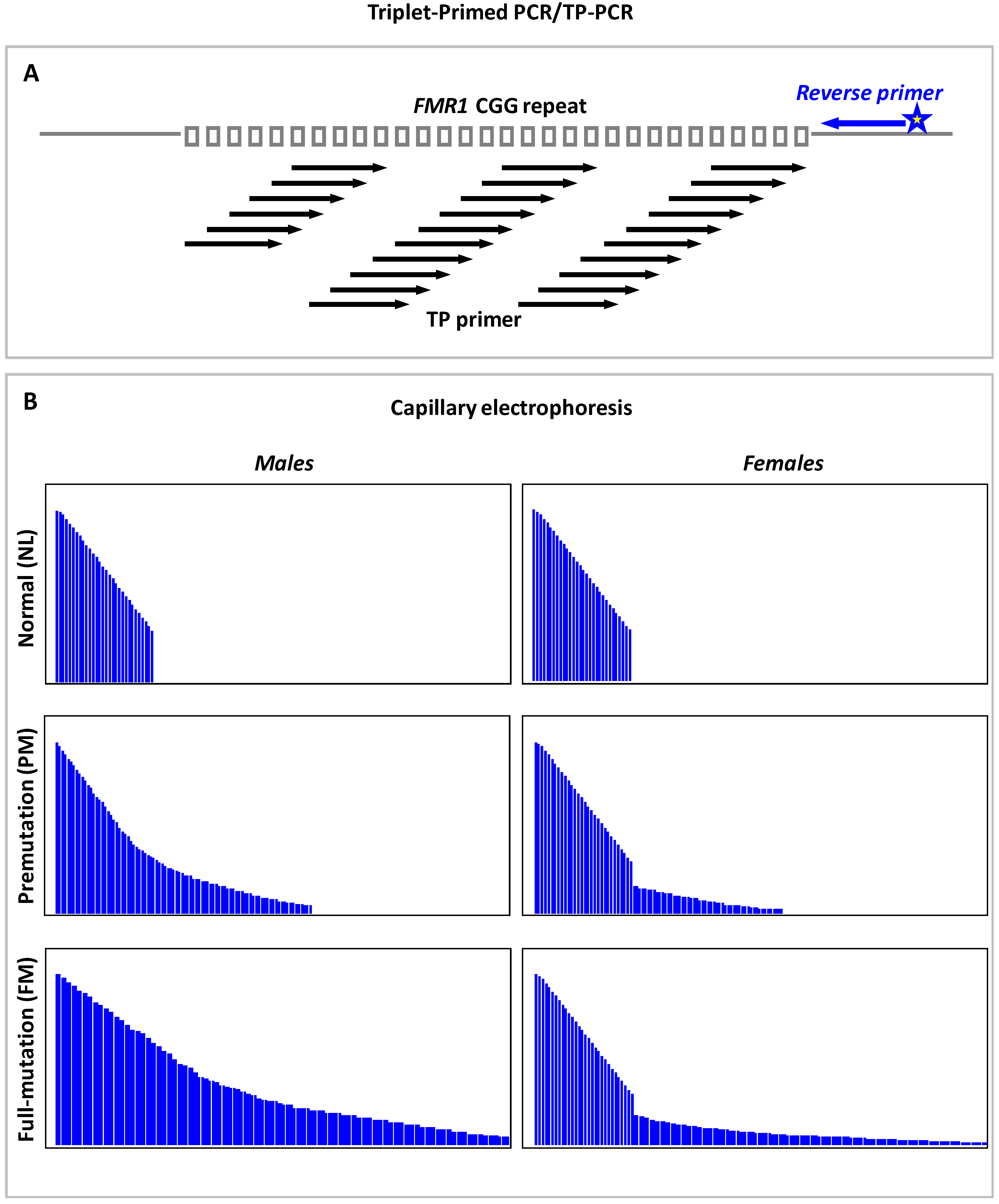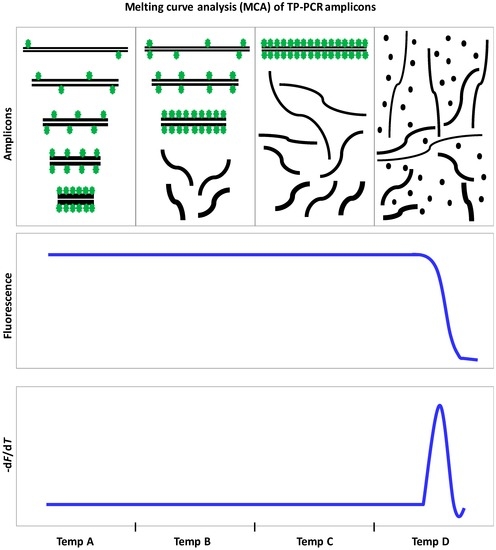 Figure 3.
Melting curve analysis (MCA) of TP-PCR amplicons. Schematic illustrating how MCA of heterogeneous TP-PCR amplicons results in the generation of a single melt peak. Dissociation of double-stranded PCR products and re-distribution of SYBR Green I Dye from the shorter to larger fragments with gradually increasing temperature (Temp A to Temp C) is shown. At Temp D, when the largest amplicon strands dissociate, SYBR Green I is completely released and remains unbound to DNA, resulting in a sharp decrease in fluorescence. −d
F
/d
T
, first negative derivative of fluorescence versus temperature.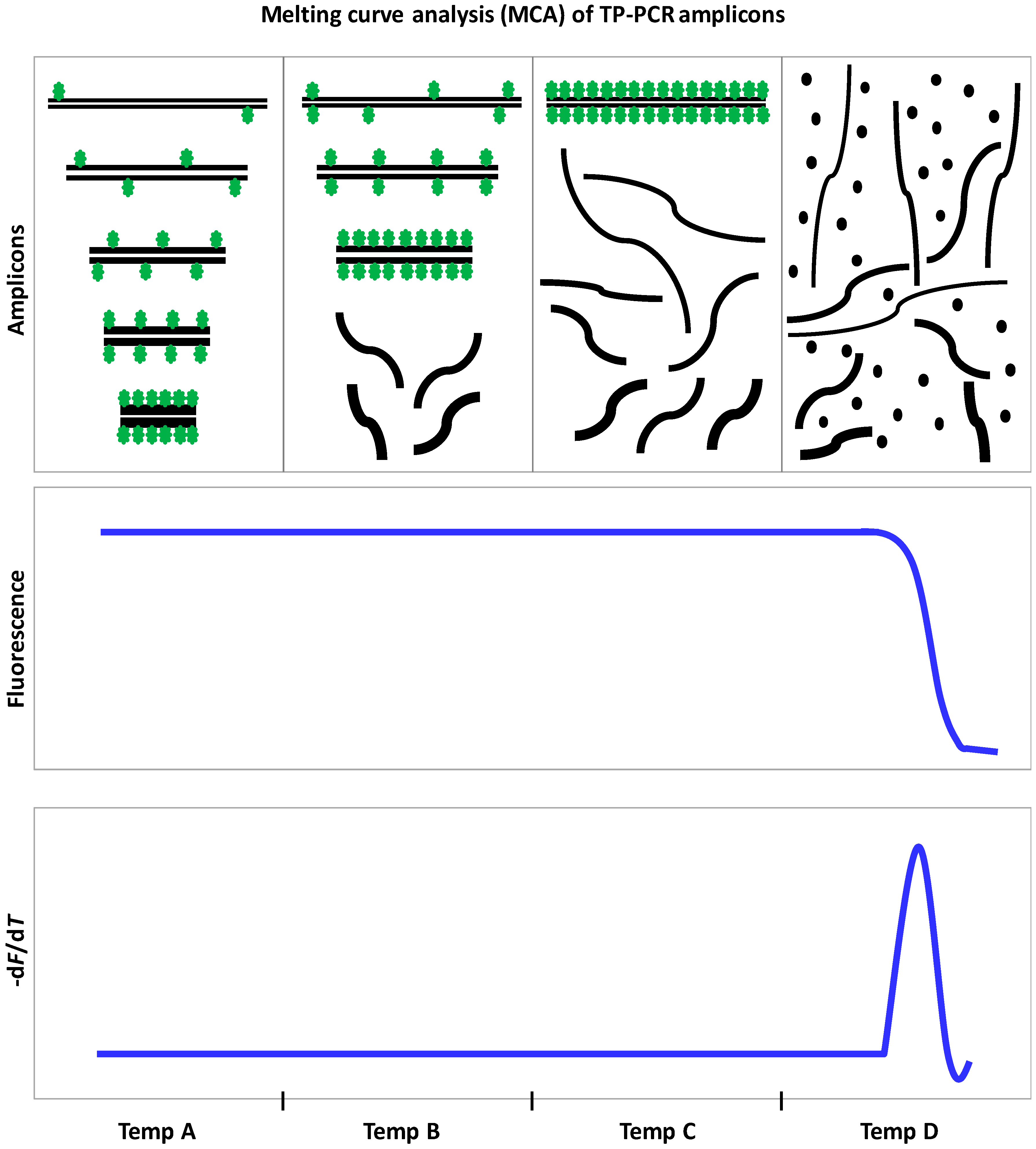 © 2016 by the authors; licensee MDPI, Basel, Switzerland. This article is an open access article distributed under the terms and conditions of the Creative Commons Attribution (CC-BY) license (http://creativecommons.org/licenses/by/4.0/).