Open Access This article is
freely available
re-usable
Review
Transmission of Functional, Wild-Type Mitochondria and the Fittest mtDNA to the Next Generation: Bottleneck Phenomenon, Balbiani Body, and Mitophagy
Department of Developmental Biology and Invertebrate Morphology, Institute of Zoology and Biomedical Research, Faculty of Biology, Jagiellonian University in Krakow, Gronostajowa 9, 30-387 Krakow, Poland
*
Author to whom correspondence should be addressed.
Received: 9 December 2019 / Accepted: 13 January 2020 / Published: 16 January 2020
Abstract
:
The most important role of mitochondria is to supply cells with metabolic energy in the form of adenosine triphosphate (ATP). As synthesis of ATP molecules is accompanied by the generation of reactive oxygen species (ROS), mitochondrial DNA (mtDNA) is highly vulnerable to impairment and, consequently, accumulation of deleterious mutations. In most animals, mitochondria are transmitted to the next generation maternally, i.e., exclusively from female germline cells (oocytes and eggs). It has been suggested, in this context, that a specialized mechanism must operate in the developing oocytes enabling escape from the impairment and subsequent transmission of accurate (devoid of mutations) mtDNA from one generation to the next. Literature survey suggest that two distinct and irreplaceable pathways of mitochondria transmission may be operational in various animal lineages. In some taxa, the mitochondria are apparently selected: functional mitochondria with high inner membrane potential are transferred to the cells of the embryo, whereas those with low membrane potential (overloaded with mutations in mtDNA) are eliminated by mitophagy. In other species, the respiratory activity of germline mitochondria is suppressed and ROS production alleviated leading to the same final effect, i.e., transmission of undamaged mitochondria to offspring, via an entirely different route.
Keywords:
Balbiani body; oogenesis; oocyte; mitochondria selection; mitophagy
Author Contributions
S.M.B. conceptualized the review, designed the study, and wrote the first draft of the manuscript. W.T., M.S., and S.M.B. performed the research and analyzed the data. W.T. and S.M.B. took part in editing and artwork preparation. All authors read and approved final version of the manuscript.
Funding
This research was funded by a subvention N18/DBS/000013 from the Polish Ministry of Science and Higher Education.
Acknowledgments
We are grateful to Wladyslawa Jankowska for excellent technical support. The Jeol JEM 2100 transmission electron microscope was available at the Laboratory of Microscopy, Department of Cell Biology and Imaging, Institute of Zoology and Biomedical Research, Jagiellonian University.
Conflicts of Interest
All authors declare no conflict of interests.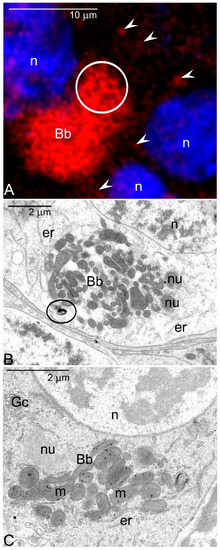 Figure 1.
Balbiani body (Bb) of
Thermobia domestica
. (
A
) Meiotic oocyte incubated with MitoTracker
®
Deep Red FM, counterstained with Hoechst 33342. Bb mitochondria are highly active, whereas those present outside this organelle assemblage exhibit lower activity (arrowheads). Note that that Bb mitochondria are elongated and ramified (encircled). Confocal microscope. (
B
) Medial section trough the Bb in developing oocyte. Note numerous mitochondria (m), accumulations of nuage material (nu), endoplasmic reticulum cisternae (er) and degenerating mitochondria outside the Bb (encircled). Transmission electron microscope (TEM). (
C
) Medial section through the Bb in apoptotic oocyte. Note nuage accumulation (nu), endoplasmic reticulum cisternae (er), Golgi complex (Gc), and swollen/enlarged mitochondria. TEM. Oocyte nucleus (n).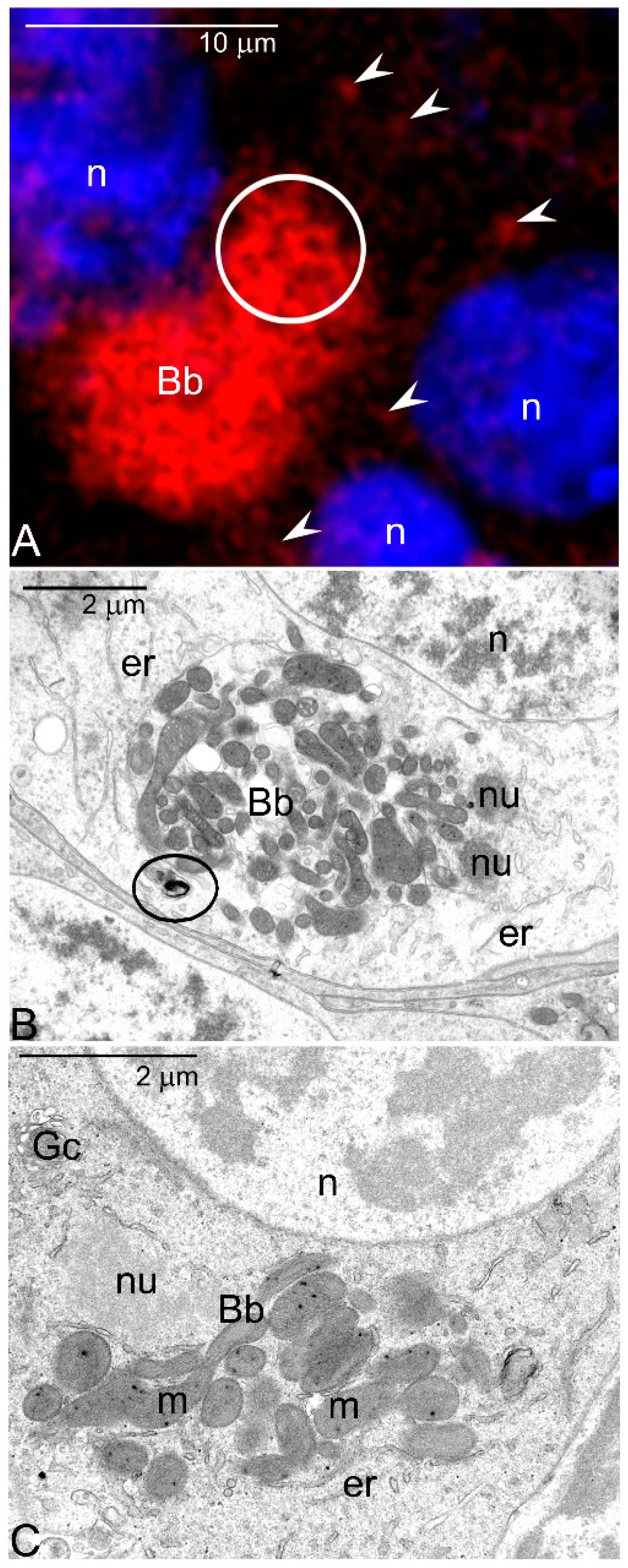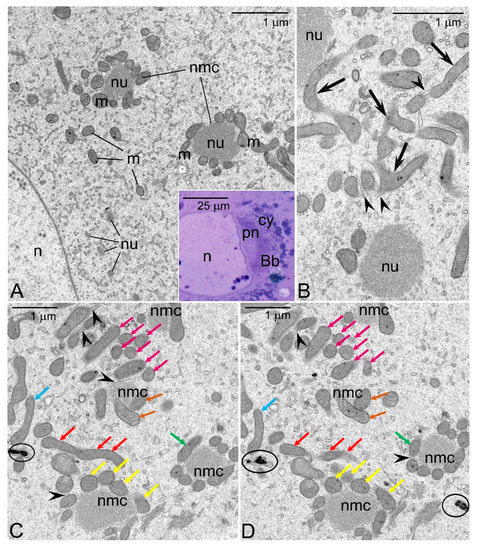 Figure 2.
Balbiani body (Bb) of
Metrioptera brachyptera
. (
A
) and (
insert
) The Bb consists of two zones: perinuclear (pn) and cytoplasmic (cy). Note mitochondria (m), nuage accumulations (nu) and nuage/mitochondria complexes (nmc). Oocyte nucleus (n). TEM; (
insert
) semi-thin section stained with methylene blue. (
B
) Elongated and bifurcated mitochondria (arrows) in contact with nuage accumulations (nu) and nuage filaments (arrowheads). TEM. (
C
,
D
) Serial sections through four closely positioned nuage/mitochondria complexes (nmc). Small arrows (in various colors) indicate corresponding mitochondrial profiles, arrowheads point to nuage filaments, mitochondria displaying signs of degeneration are encircled. TEM.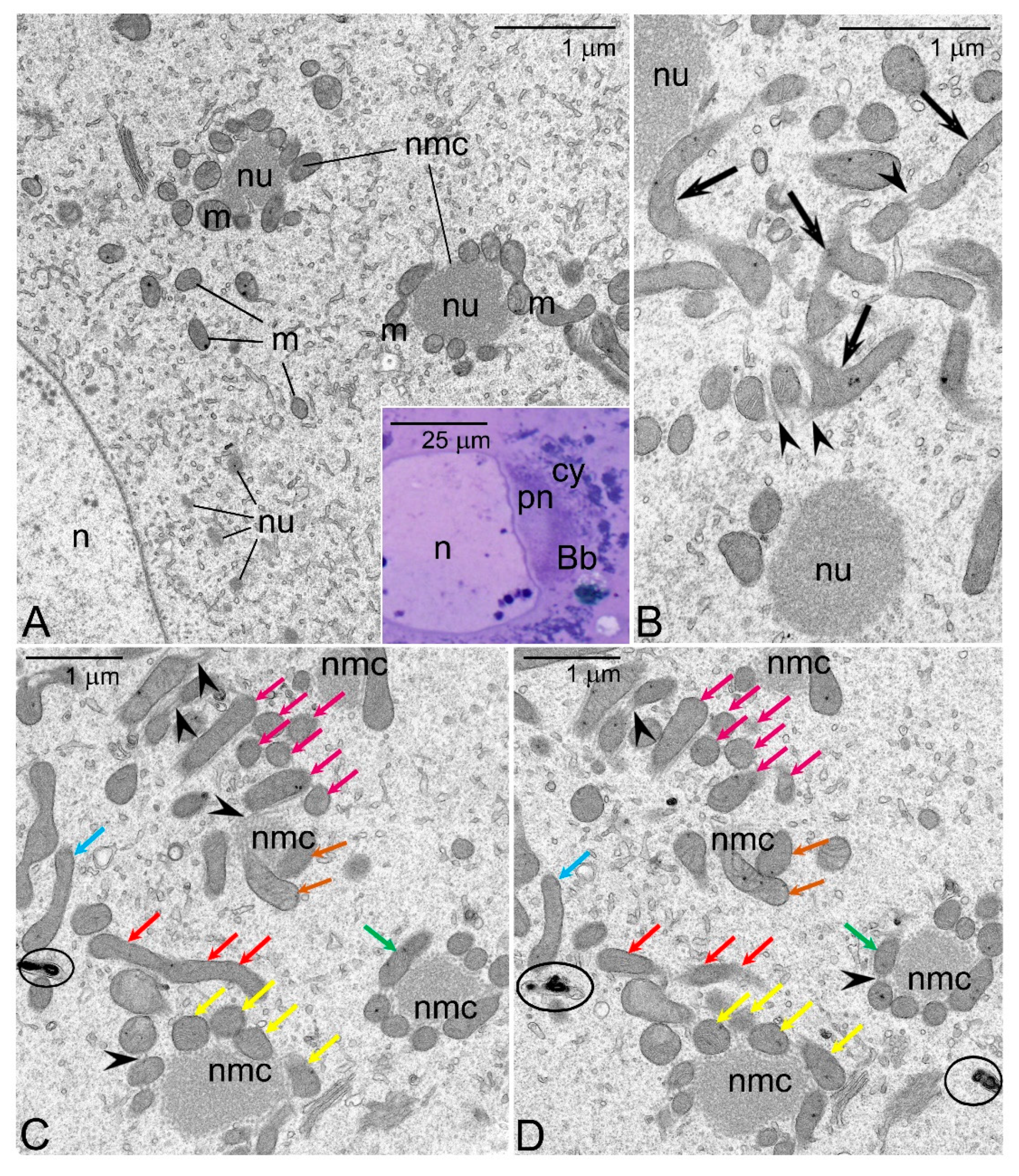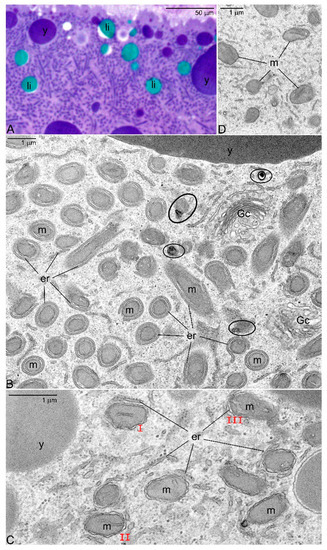 Figure 3.
Elimination of mitochondria in vitellogenic oocytes of dermapteran,
Hamaxas nigrorufus
. (
A
) Semithin section through the subcortical ooplasm. Note numerous profiles of mitochondria. Methylene blue. (
B
) Ultrathin section of the same ooplasm region. Note that nearly all mitochondria (m) are tightly surrounded by endoplasmic reticulum cisternae and are devoid of cristae. Mitochondria displaying signs of degeneration are encircled. TEM. (
C
) The onset of mitophagy: mitochondria exhibit more or less classic morphology and still comprise cristae; the endoplasmic reticulum cisternae (er) start to associate with mitochondria surface; subsequent stages of this association (I–III). TEM. (
D
) Mitochondria in the nurse cell cytoplasm. TEM. Endoplasmic reticulum cisternae (er), Golgi complexes (Gc), lipid droplets (li), mitochondria (m), yolk granules (y).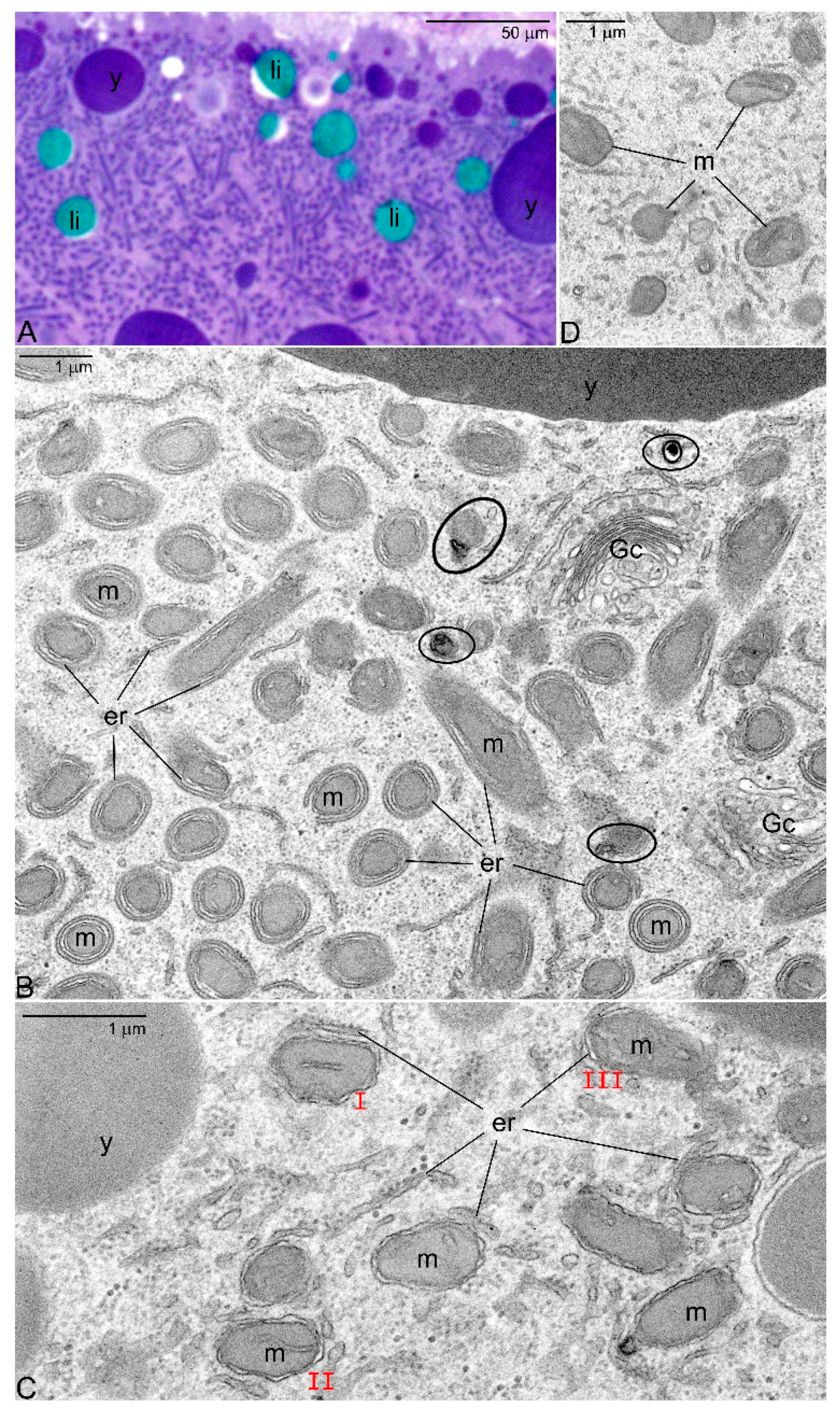 © 2020 by the authors. Licensee MDPI, Basel, Switzerland. This article is an open access article distributed under the terms and conditions of the Creative Commons Attribution (CC BY) license (http://creativecommons.org/licenses/by/4.0/).