Open Access This article is
freely available
re-usable
Article
Genome-Wide Analysis of Long Non-Coding RNA Profiles in Canine Oral Melanomas
1
University of Rennes, CNRS, IGDR—UMR 6290, F-35000 Rennes, France
2
Centre for Genomic Regulation (CRG), The Barcelona Institute of Science and Technology, Dr. Aiguader 88, 08003 Barcelona, Spain
3
Broad Institute of MIT and Harvard, Cambridge, MA 02142, USA
4
Science for Life Laboratory, Department of Medical Biochemistry and Microbiology, Uppsala University, Box 582, SE-751 24 Uppsala, Sweden
*
Authors to whom correspondence should be addressed.
Received: 29 April 2019 / Accepted: 19 June 2019 / Published: 23 June 2019
Abstract
:
Mucosal melanomas (MM) are rare aggressive cancers in humans, and one of the most common forms of oral cancers in dogs. Similar biological and histological features are shared between MM in both species, making dogs a powerful model for comparative oncology studies of melanomas. Although exome sequencing recently identified recurrent coding mutations in canine MM, little is known about changes in non-coding gene expression, and more particularly, in canine long non-coding RNAs (lncRNAs), which are commonly dysregulated in human cancers. Here, we sampled a large cohort (
n
= 52) of canine normal/tumor oral MM from three predisposed breeds (poodles, Labrador retrievers, and golden retrievers), and used deep transcriptome sequencing to identify more than 400 differentially expressed (DE) lncRNAs. We further prioritized candidate lncRNAs by comparative genomic analysis to pinpoint 26 dog–human conserved DE lncRNAs, including
SOX21-AS
,
ZEB2-AS
, and
CASC15
lncRNAs. Using unsupervised co-expression network analysis with coding genes, we inferred the potential functions of the DE lncRNAs, suggesting associations with cancer-related genes, cell cycle, and carbohydrate metabolism Gene Ontology (GO) terms. Finally, we exploited our multi-breed design to identify DE lncRNAs within breeds. This study provides a unique transcriptomic resource for studying oral melanoma in dogs, and highlights lncRNAs that may potentially be diagnostic or therapeutic targets for human and veterinary medicine.
Keywords:
mucosal melanoma; dogs; transcriptome sequencing; long non-coding RNAs (lncRNAs)
1. Introduction
Mucosal melanomas (MM) are the most frequent form of melanomas in dogs, and they display more aggressive behavior in comparison to cutaneous melanomas. Dogs are spontaneously affected, with specific breeds developing MM with clinical features that are similar to human melanomas [
1
]. Dog breeds with high melanoma risk have been proposed as relevant natural models for the comparative oncology of melanomas, especially for deciphering their non-UV-dependent pathways, and for developing clinical trials that are based on homologous melanoma subtypes [
1
,
2
].
Recently, genomic studies have been conducted, to identify driver genomic alterations that are involved in canine MM [
3
,
4
], using exome sequencing to focus on the genetic landscape of somatic mutations in protein-coding genes (messenger RNAs; mRNAs). A consequence of cumulative genetic and epigenetic alterations in coding and non-coding genes is reflected by the study of gene expression, which has not yet been investigated in detail in canine model cancers. Despite the recent identification of thousands of canine long non-coding RNAs (lncRNA) [
5
,
6
], little is known about their impact in dog cancers, although they constitute an extensive component of dog genomes [
7
,
8
,
9
]. In humans, lncRNA expression is recurrently altered in many types of cancers [
10
,
11
,
12
], including melanomas [
13
]. From the first annotation of the melanoma-associated lncRNA
SPRY4-IT1
[
14
] to the recent identification of recurrent amplifications of
SAMMSON
, a dozen of lncRNAs have been functionally validated in cutaneous melanomas [
15
]. Because lncRNAs are expressed in a tissue-specific manner in both humans [
8
,
16
] and dogs [
6
], they represent a vast and still unexplored repertoire of potential targets and/or biomarkers for comparative oncology approaches.
Here, we analyzed a large cohort of canine MM transcriptomes from three breeds, sampled from the oral cavity (
n
= 52). We quantified differential gene expression by controlling for cell heterogeneity, using a signature-based method, and we assessed transcriptional networks by using co-expression analysis. We showed that lncRNA expression profiles discriminate between normal and tumor samples, and identified a significant amount of deregulation for 400 lncRNAs. Gene-set enrichment analyses were performed using co-expression networks of lncRNA:mRNA, to acquire associated GO enrichments for all-breed and breed-specific DE lncRNAs. Furthermore, we conducted dog-human orthologous relationship analyses to identify conserved lncRNAs, with potential interest in human melanomas. Altogether, this study provides an in-depth characterization of lncRNAs that are dysregulated in canine oral melanomas, and prioritizes potential biomarker lncRNAs by investigating their conservation and co-expression networks. Our findings provide a novel transcriptomic resource with detailed sample characterization for the comparative oncology of melanomas in dogs and humans.
4. Discussion and Conclusions
Identifying the dysregulation of lncRNA expression in mucosal melanomas provides novel tools and resource that can serve as diagnostic and therapeutic targets. Here, we show by the identification of conserved dog–human lncRNAs, that they can also provide key markers in human mucosal melanomas.
Supplementary Materials
The following are available online at
https://www.mdpi.com/2073-4425/10/6/477/s1
, Figure S1: Heatmap of xCell enrichment in 64 cell types with respect to the 52 control and tumor canine samples, Figure S2: Principal Component Analysis (PCA) of the 52 samples, Figure S3: Module-trait associations for poodle samples, Figure S4: Gene Set Enrichment Analysis, Figure S5: Breed-specific differential expression of lncRNA
COLCA1
, Table S1: Diagnostic, locations, sex, biobank_Id accessions of the 52 samples, Table S2: Summary statistics for the RNA-Seq mapping process for the 52 samples, Table S3: Characterization of the 140 DE canine lncRNAs mapped to the human genome, Table S4: Number of lncRNAs per WGCNA module, Table S5: Breed-specific DE lncRNAs. LncRNAs in poodle DE data also found in WGCNA poodle modules.
Author Contributions
Conceptualization, T.D. and C.H.; methodology, C.L.B., V.W., C.H. and T.D.; software, C.L.B., V.W., C.H., T.D.; validation, C.L.B., V.W., A.P. (Aline Primot), E.C., A.P. (Anaïs Prouteau), N.B., B.H.; investigation, C.L.B., V.W., A.P. (Aline Primot), E.C., A.P. (Anaïs Prouteau), N.B., B.H.; resources, N.B., E.C. and C.A.; data curation, C.L.B., V.W., A.P. (Aline Primot), E.C., A.P. (Anaïs Prouteau), N.B., B.H.; writing—original draft preparation, T.D., C.H.; writing—review and editing, C.H., C.L.B., V.W., B.H., K.L.-T., C.A., T.D.; supervision, T.D., C.H.; funding acquisition, C.A., K.L.-T.
Funding
This research was funded by CNRS and UR1, AVIESAN INSERM/INCa AAP tumeurs spontanées 2012-08-Mélanomes (2012–2015) in the framework of Plan Cancer 2013–2017, by the CGO, mission 8, comparative oncology (2015–2016) (salary VW), La Ligue Régionale contre le cancer (2016–2017), as well as NHGRI to the Broad Institute. Samples were collected and managed through the Cani-DNA BRC, funded by the Agence Nationale de la recherche (ANR), grant number ANR-11-INBS-0003 for the CRB-Anim infrastructure, in the framework of the 'Investing for the Future' National program (PIA). The Région Bretagne funded CLB's PhD.
Acknowledgments
The authors are grateful to the referring veterinarians, and to all dog owners and breeders who donated samples, pedigree data, and follow-up information of their dogs, especially J. Abadie (LHA, Oniris, Ecole Nationale Vétérinaire de Nantes, France), and P. Devauchelle, P. de Fornel (MICEN VET, Creteil, France) for providing us with clinical data and samples. We also thank Laurent Griscom for English correction. We thank the BROAD Institute for sequencing work, and the GenOuest Bioinformatic core facility (
www.genouest.org
) for storing sequencing data, for hosting the Cani-DNA website, and for the use of the bioinformatic cluster to analyze the data.
Conflicts of Interest
The authors declare no conflicts of interest. The funders had no role in the design of the study; in the collection, analyses, or interpretation of data, in the writing of the manuscript, or in the decision to publish the results.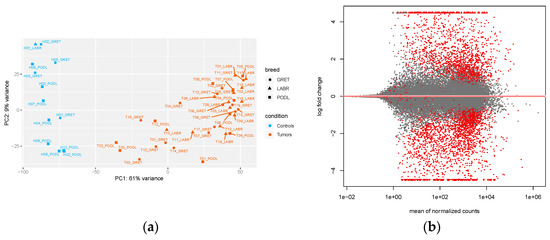 Figure 1.
Expression analysis of the 52 oral melanoma samples. (
a
) Principal component analysis (PCA) of the 52 samples, based on gene-normalized counts, with control and tumor samples in blue and orange, respectively; (
b
) M-A plot representing log2-fold gene changes between tumors and controls over the mean of the normalized counts, with red points corresponding to significantly DE genes, with an adjusted
p
-value < 0.05, and without a log-fold change threshold; genes falling outside of the window are plotted as open triangles.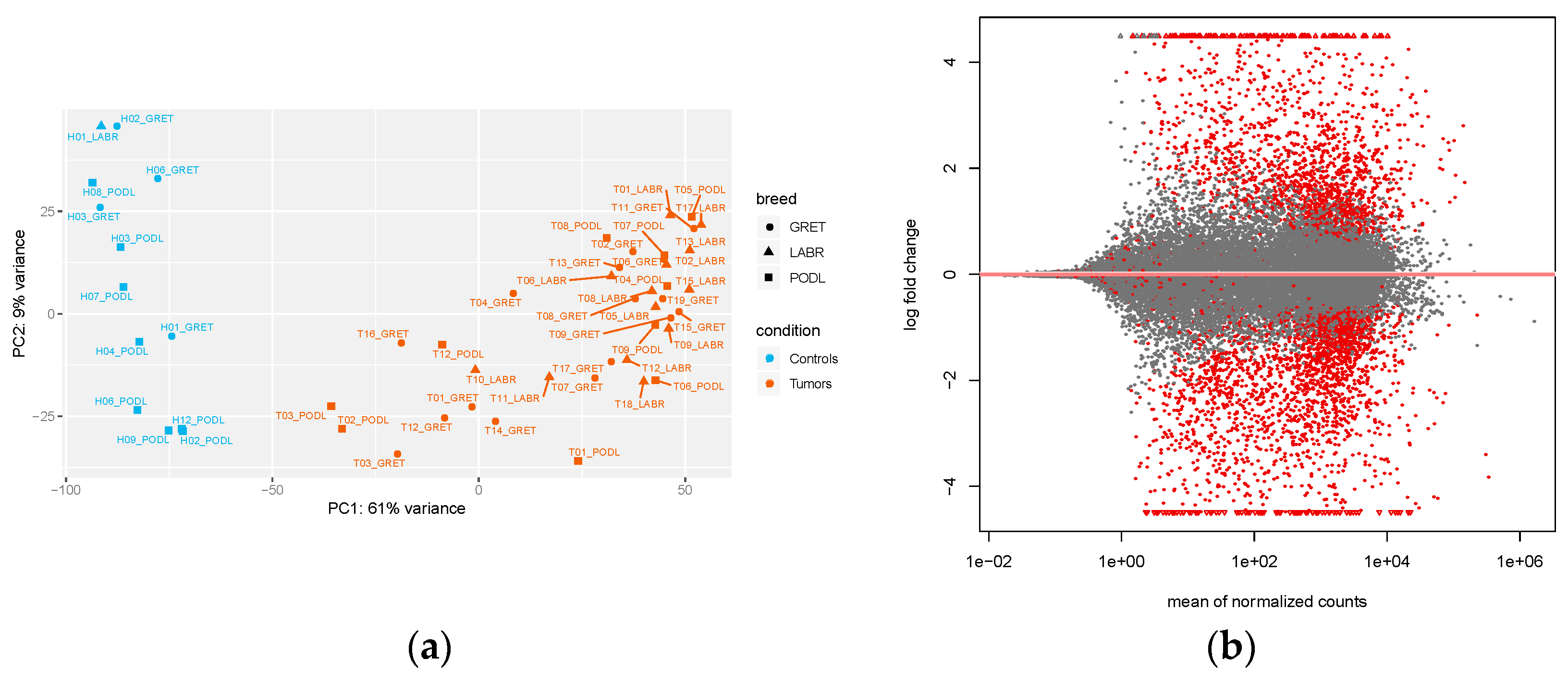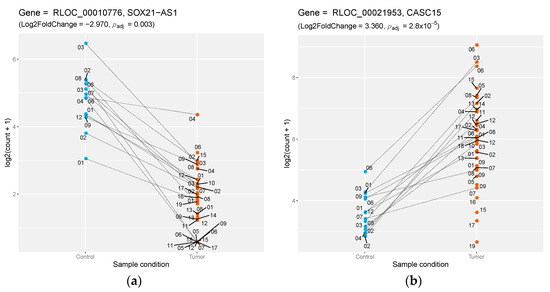 Figure 2.
Differential expression of dog–human-conserved lncRNAs. (
a
) Down-regulation of the
SOX21-AS1
lncRNA between control samples (blue) versus tumor samples (orange), with the log2 of normalized counts on the
y
-axis; lines connect matched samples from the same individuals. (
b
) Same representation for the up-regulation of the lncRNA
CASC15
.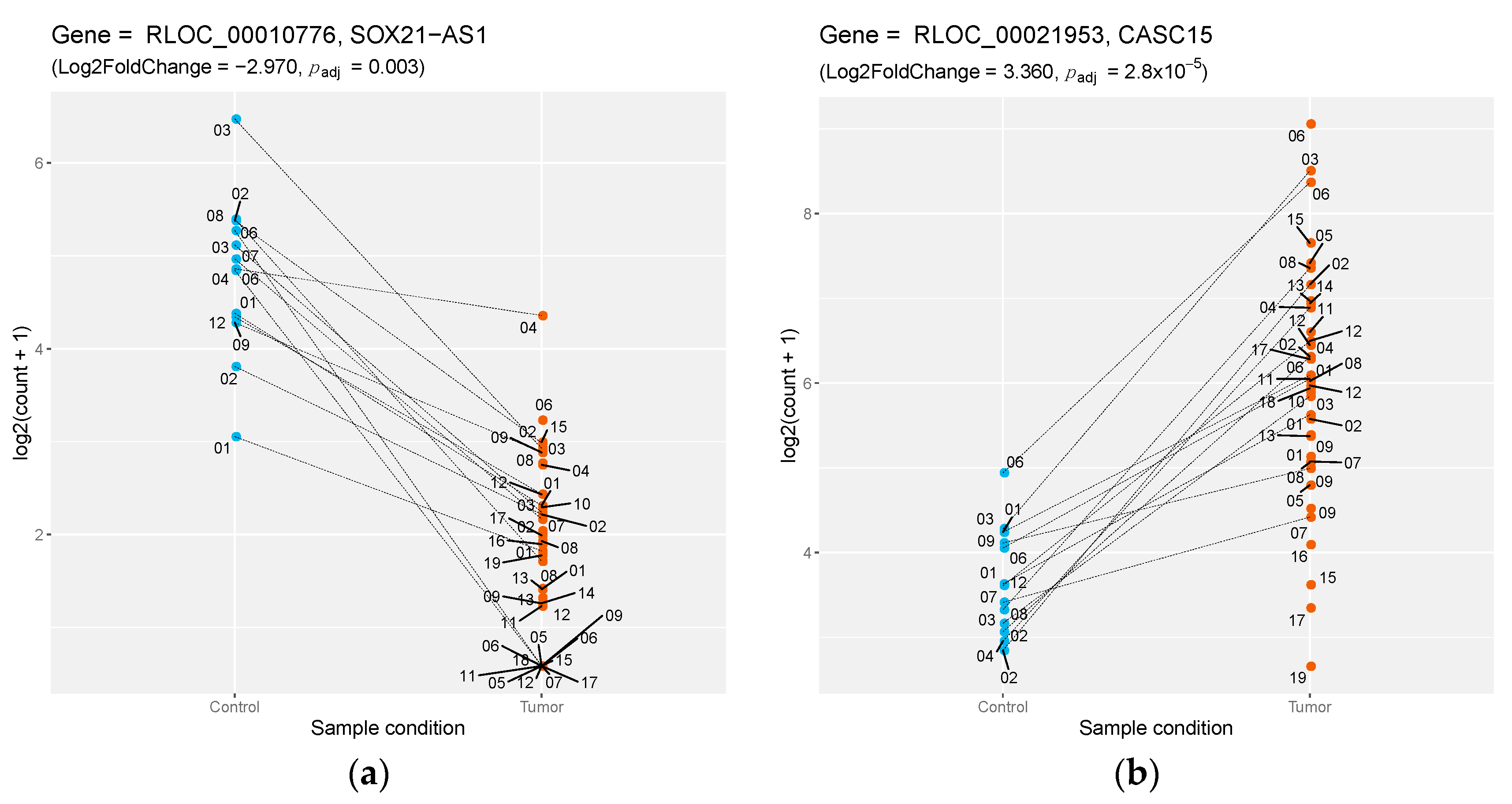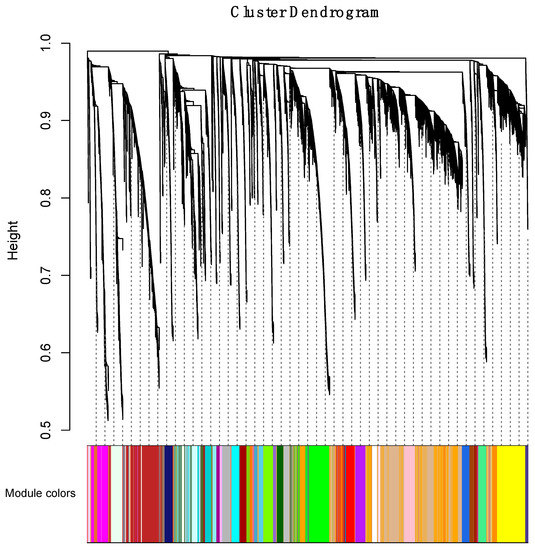 Figure 3.
Clustering dendrogram. A total of 59 coexpression modules were constructed with assigned module colors at the bottom. The number of lncRNAs in the 59 modules is listed in
Supplementary Materials Table S4
.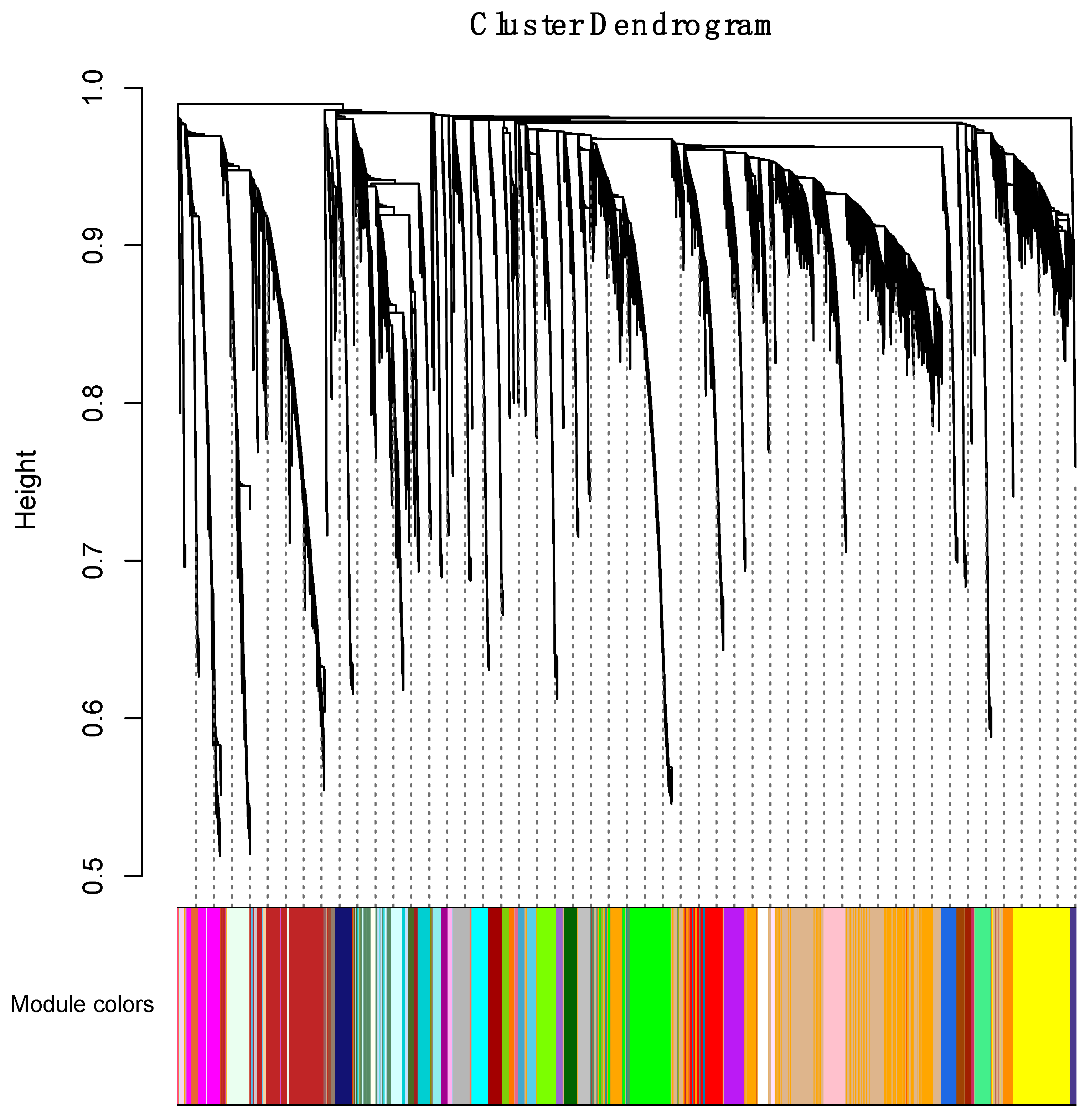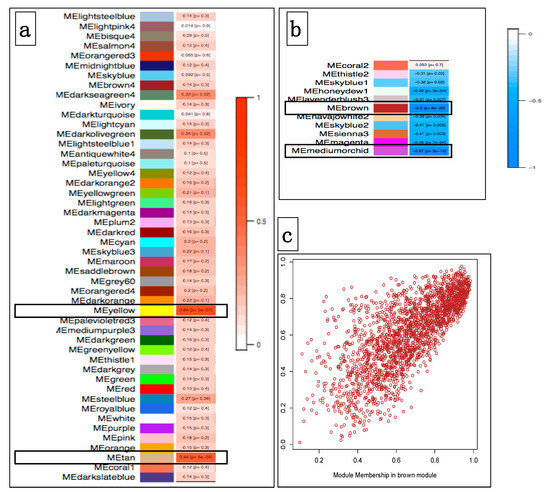 Figure 4.
Module–trait associations. (
a
) Each row corresponds to a ME (module eigengene), and the column to the mucosal melanoma trait. Each cell contains the corresponding correlation and
p
-value with melanoma. Each correlation is color-coded according to the strength of the correlation, with a red gradient for positive correlations (red bar in 4.a). Modules Yellow and Tan are positively correlated (
p
< 5 × 10
−5
). (
b
) Modules with negative correlations according to the strength of the correlation; (blue bar in 4.b). Module Brown and Medium-orchid are the most significantly negatively correlated (
p
< 1 × 10
−16
). (
c
) Scatterplot of gene significance for mucosal melanoma status vs module membership for the Brown module. It shows a highly significant correlation between gene significance and Module membership in this module.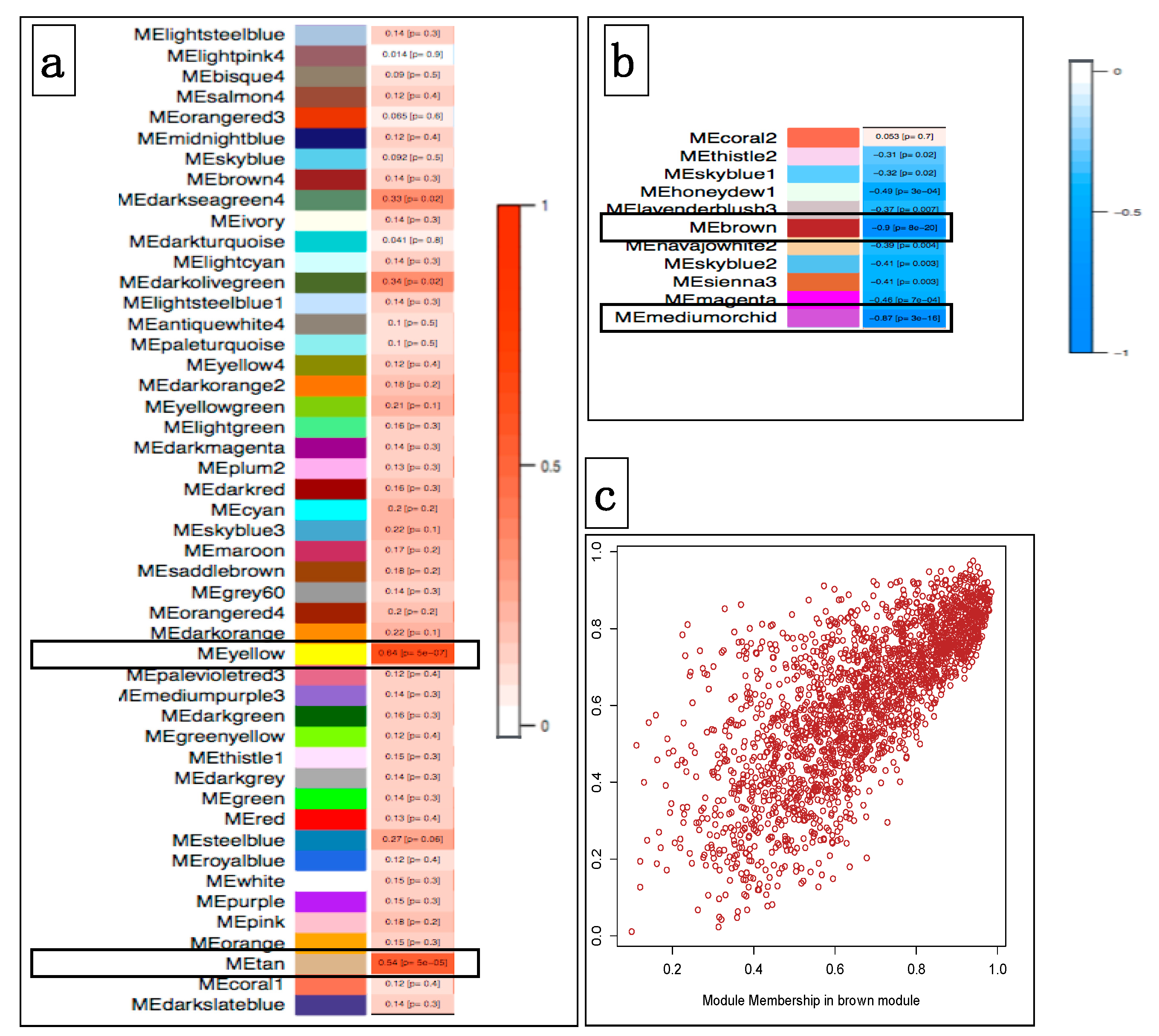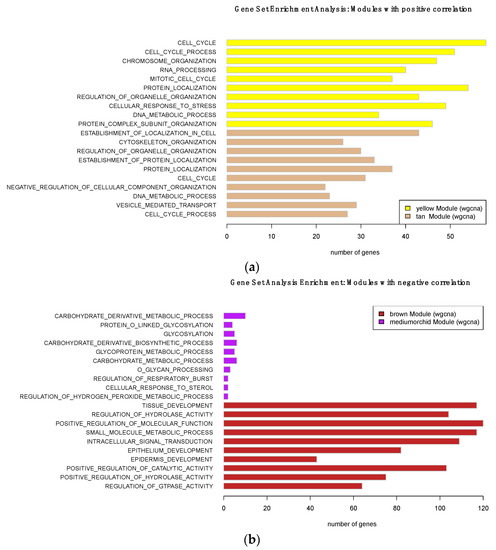 Figure 5. GO terms (Biological Process) enriched for (a) positively correlated and (b) negatively correlated modules with oral melanoma: the top ten enriched GO items are represented.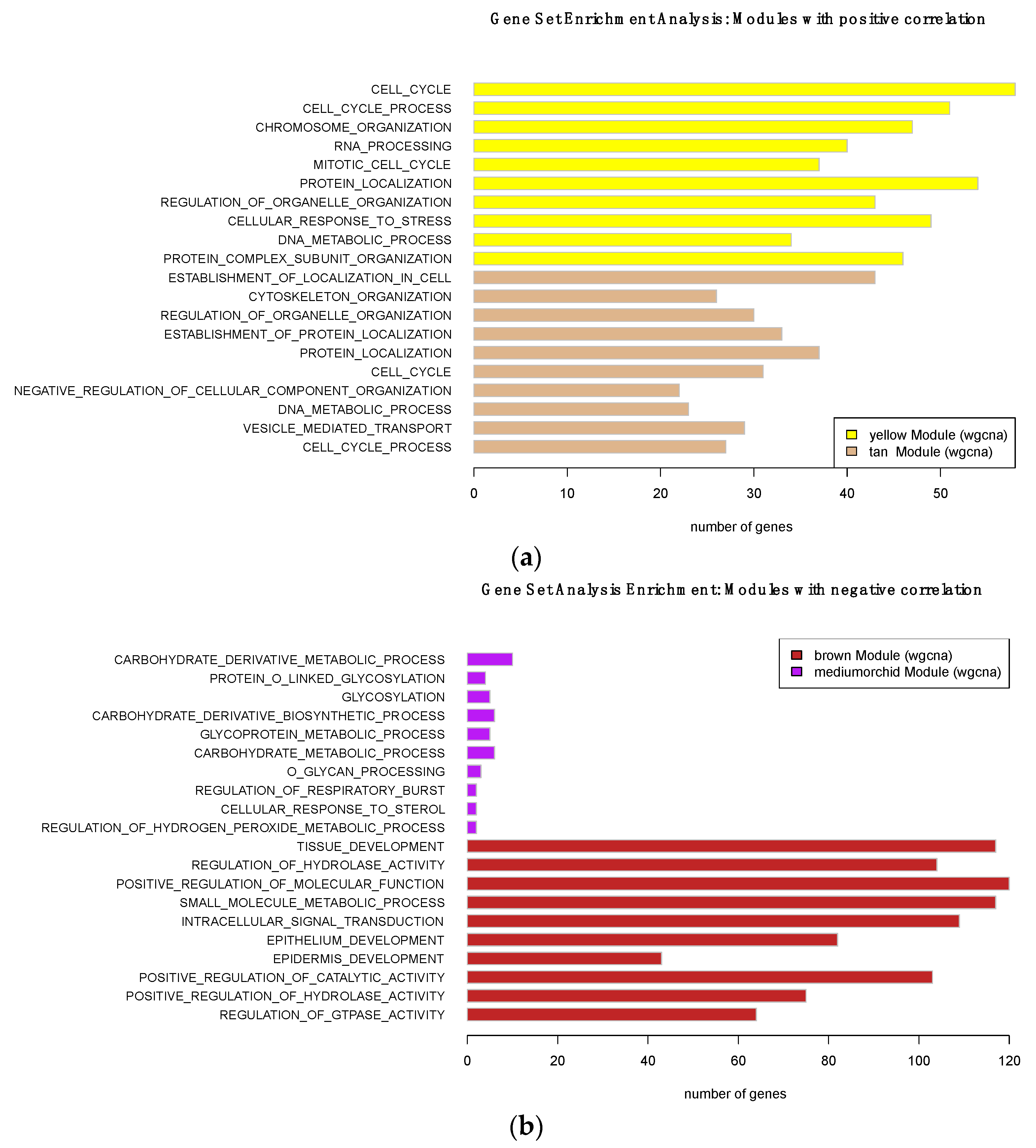 Table 1. List of DE lncRNAs conserved with human GENCODE non-coding genes. Genes are ordered by ascending log2-fold change (lFC).
| canfam3.1+_id | Dog EnsEMBL ID | Dog Gene Biotype | lFC | Human Gene Name | Dog/Human Identity |
| --- | --- | --- | --- | --- | --- |
| RLOC_00034858 | NA | lincRNA | −3.693 | AC016903.1 | 0.770 |
| RLOC_00028807 | NA | antisense | −3.409 | AC010503.4 | 0.740 |
| RLOC_00001518 | NA | lincRNA | −3.055 | EPHA1-AS1 | 0.717 |
| RLOC_00010776 | NA | lincRNA | −2.974 | SOX21-AS1 | 0.732 |
| RLOC_00026330 | NA | lincRNA | −2.669 | MIR29B2CHG | 0.804 |
| RLOC_00030709 | NA | antisense | −2.659 | LINC02586 | 0.709 |
| RLOC_00012258 | NA | lincRNA | −2.258 | TOB1-AS1 | 0.717 |
| RLOC_00019548 | NA | lincRNA | −2.214 | AL049536.1 | 0.768 |
| RLOC_00015465 | NA | lincRNA | −2.201 | LINC01588 | 0.794 |
| RLOC_00011768 | NA | antisense | −2.050 | AC005821.1 | 0.714 |
| RLOC_00011720 | NA | antisense | −1.597 | LINC02079 | 0.969 |
| RLOC_00014809 | NA | lincRNA | 1.698 | AC062015.1 | 0.923 |
| RLOC_00002398 | NA | antisense | 1.782 | NR2F1-AS1 | 0.820 |
| RLOC_00032616 | NA | lincRNA | 1.868 | HOXD-AS2 | 0.754 |
| RLOC_00023326 | NA | antisense | 1.989 | RASSF8-AS1 | 0.713 |
| RLOC_00032620 | NA | antisense | 2.030 | HAGLR | 0.786 |
| RLOC_00020381 | NA | lincRNA | 2.188 | TRAM2-AS1 | 0.745 |
| RLOC_00024264 | NA | lincRNA | 2.634 | AC133644.3 | 0.979 |
| RLOC_00021953 | NA | lincRNA | 3.359 | CASC15 | 0.942 |
| RLOC_00011077 | NA | lincRNA | 3.673 | LINC01301 | 0.780 |
| RLOC_00008433 | ENSCAFG00000028700 (ZEB2-AS1) | lincRNA | 3.796 | ZEB2-AS1 | 0.839 |
| RLOC_00013073 | NA | lincRNA | 3.797 | AC006450.3 | 0.746 |
| RLOC_00018365 | NA | lincRNA | 4.403 | AC090692.1 | 0.755 |
| RLOC_00022953 | NA | antisense | 4.910 | HOXC-AS3 | 0.757 |
| RLOC_00002254 | NA | antisense | 4.958 | STARD4-AS1 | 0.903 |
| RLOC_00025419 | NA | lincRNA | 5.758 | SNAP25-AS1 | 0.987 |

© 2019 by the authors. Licensee MDPI, Basel, Switzerland. This article is an open access article distributed under the terms and conditions of the Creative Commons Attribution (CC BY) license (http://creativecommons.org/licenses/by/4.0/).