Open Access This article is
freely available
re-usable
Review
Modulation and Evolution of Animal Development through microRNA Regulation of Gene Expression
1
Sir William Dunn School of Pathology, University of Oxford, South Parks Road, Oxford, OX1 3RE, UK
2
Department of Biological and Medical Sciences, Oxford Brookes University, Gipsy Lane, Oxford, OX3 0BP, UK
*
Author to whom correspondence should be addressed.
Received: 5 March 2019 / Accepted: 23 April 2019 / Published: 25 April 2019
Abstract
:
microRNAs regulate gene expression by blocking the translation of mRNAs and/or promoting their degradation. They, therefore, play important roles in gene regulatory networks (GRNs) by modulating the expression levels of specific genes and can tune GRN outputs more broadly as part of feedback loops. These roles for microRNAs provide developmental buffering on one hand but can facilitate evolution of development on the other. Here we review how microRNAs can modulate GRNs during animal development as part of feedback loops and through their individual or combinatorial targeting of multiple different genes in the same network. We then explore how changes in the expression of microRNAs and consequently targets can facilitate changes in GRNs that alter development and lead to phenotypic evolution. The reviewed studies exemplify the key roles played by microRNAs in the regulation and evolution of gene expression during developmental processes in animals.
Keywords:
microRNA; development; evolution; gene regulation
1. Introduction
microRNAs are short (19–25 nucleotides) non-coding transcripts that reduce the expression levels of protein-coding genes post-transcriptionally. They act by binding to complementary seed sequences in the mRNAs of target genes in a ribonucleoprotein complex to block translation of the target mRNA and/or promote its degradation (for a recent review see [
1
]). The hardwiring of microRNAs into GRNs can help to directly regulate particular switches and, consequentially, developmental decisions, and/or to provide more global robustness to the outputs of GRNs in the face of environmental or genetic perturbation [
1
,
2
,
3
].
In animals, microRNAs are thought to target the transcripts of thousands of genes and they have even been predicted to target the majority of mRNAs in humans [
1
,
4
,
5
,
6
]. This means that microRNAs are likely involved in the regulation of most developmental processes in animals [
1
]. The importance of microRNAs is demonstrated by the fact that the removal of most conserved microRNA families in animals like
Drosophila melanogaster
and
Mus musculus
produces strong phenotypes, often affecting a range of traits, although the loss of others, particularly newer or lineage-specific microRNAs has more subtle or no detectable phenotypes [
1
,
7
]. It is clear, therefore, that the fine-tuning of gene expression by microRNAs is not only very important for the regulation of specific individual target genes but also the interactions within and outputs of developmental GRNs more generally.
It follows that changes in microRNA expression or function can lead to phenotypic evolution [
8
,
9
]. The expression, processing and functionality of microRNAs, and the evolution and roles of microRNA families in metazoans have been comprehensively covered in many excellent reviews (e.g., [
1
,
3
,
8
,
9
,
10
,
11
,
12
]). Here instead we focus on how microRNAs can function in feedback loops and act as switches to target key nodes or multiple components in GRNs to help regulate developmental processes. We also review how changes in microRNAs have facilitated phenotypic evolution and provide a perspective on the roles microRNAs may have played in the evolution of development and the diversification of animals.
2. microRNAs in Regulatory Loops
3. microRNA Targets in GRNs
4. Evolution of microRNAs and Targets Leading to Phenotypic Change
Acknowledgments
We thank other members of the McGregor lab and Saad Arif for discussion and comments on the manuscript.
Conflicts of Interest
The authors declare no conflict of interest.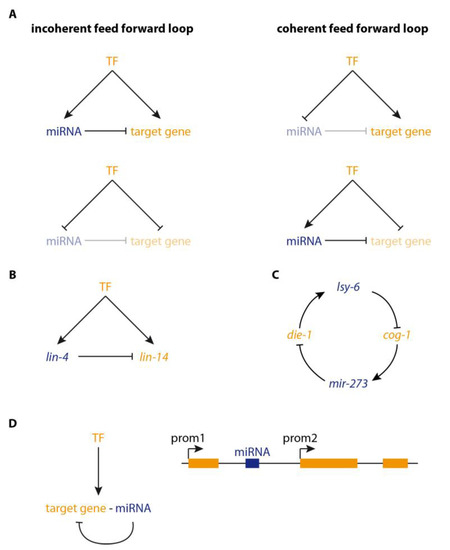 Figure 1.
Gene regulatory network (
GRN) sub-circuits involving microRNAs.
Protein-coding genes are coloured orange, microRNAs are blue, with dark and light colouring of the text indicating whether the gene is expressed or not, respectively. (
A
) Feed-forward loops (FFLs) are over-represented within GRNs. In these circuits, expression of a microRNA and its target are regulated by the same upstream transcription factors (TF). In incoherent FFLs, the TF has the same effect on microRNA and target gene resulting in activation or repression of both. In this case, repression by the microRNA leads to the buffering of target expression levels. In coherent FFLs, the TF has opposite effects on microRNA and target gene which leads to mutually exclusive expression. Such FFLs have been implicated in expression switches where, e.g., transcriptional repression of a target gene is reinforced by the activation of a microRNA and, thus, removal of persisting transcripts. (
B
) Repression of
lin-14
by the microRNA
lin-4
is an example for an incoherent FFL. The expression of both genes is temporally coordinated, but no transcriptional activators have to our knowledge been identified. Buffering of the
lin-14
expression level by
lin-4
results in the transition from a cycling expression pattern to a stable temporal expression gradient. For further examples of FFLs see [
31
]. (
C
) A double negative feedback loop involving microRNAs controls the developmental switch from an equipotent state to the bistable expression of specific genes in the two
C. elegans
taste receptor neurons. (
D
) Intragenic microRNAs are usually co-regulated with their host gene, which is often also a target gene. Expression of the microRNA can be avoided if the host gene has different promoters (prom1, prom2) that can be regulated individually and lead to the expression of different host gene isoforms.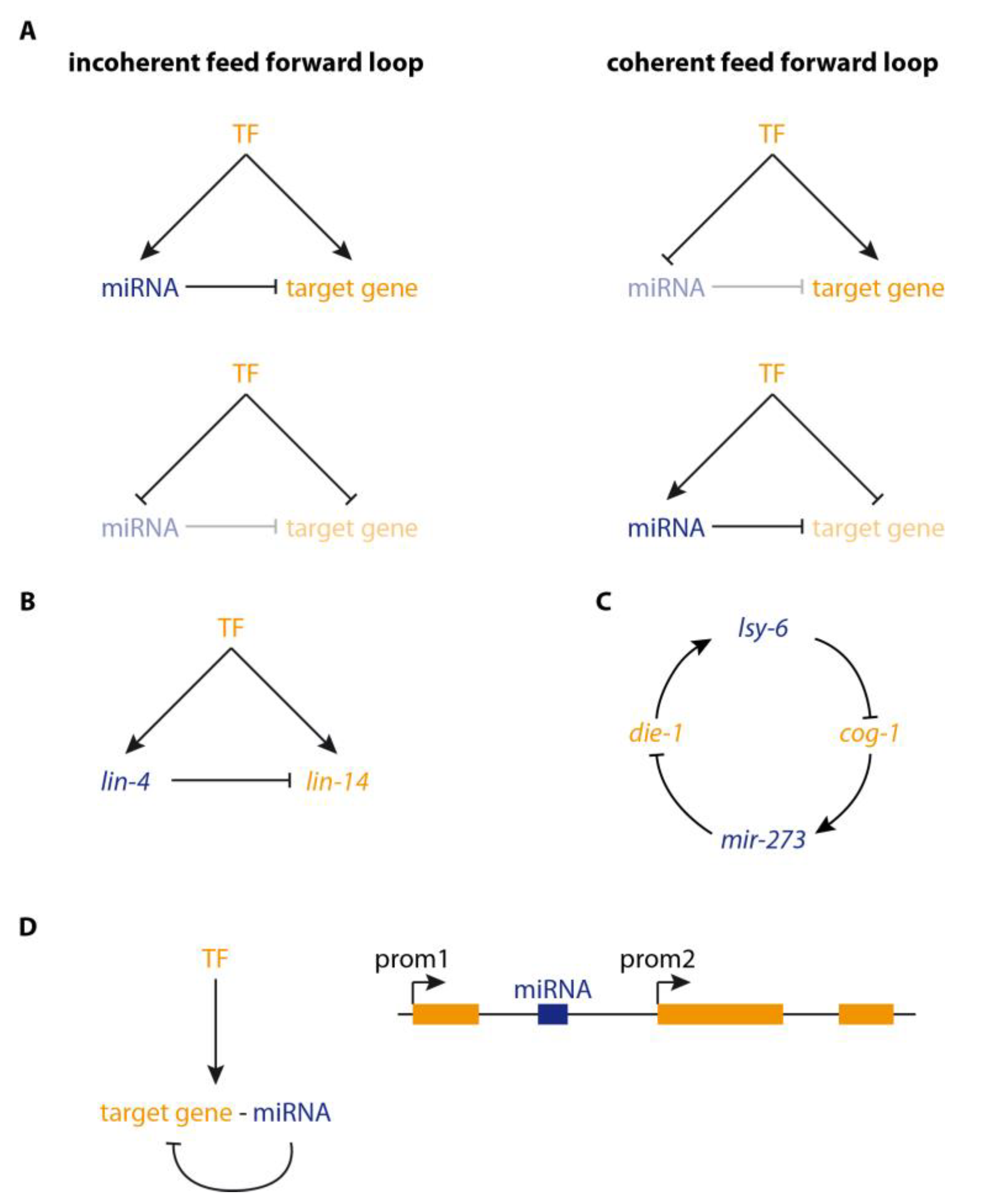 Figure 2. Trichome formation on

Drosophila

legs is repressed by

miR-92a

.

The TF Shavenbaby (Svb) controls the expression of multiple genes whose products lead to the formation of trichomes (grey) via promotion of actin condensation and changes in the extracellular matrix. Some of these genes (

sha

and

CG14395

) have been shown to be repressed by

miR-92a

, and others are likely targets. The targeting of these genes by

miR-92a

results in a robust suppression of trichome development in the proximal region of the second leg femur where

miR-92a

is expressed (the naked valley; white).

miR-92a

expression is possibly activated by Ubx.


© 2019 by the authors. Licensee MDPI, Basel, Switzerland. This article is an open access article distributed under the terms and conditions of the Creative Commons Attribution (CC BY) license (http://creativecommons.org/licenses/by/4.0/).