An Integrated Analysis of Cashmere Fineness lncRNAs in Cashmere Goats
1
College of Animal Science & Veterinary Medicine, Shenyang Agricultural University, Shenyang 110866, China
2
Animal Genetic Breeding, Academy of Animal Husbandry Science of Liaoning Province, Liaoyang 130062, China
3
Prosperous Community, Changshun Town, Huade 013350, China
*
Authors to whom correspondence should be addressed.
Received: 29 January 2019 / Revised: 23 March 2019 / Accepted: 28 March 2019 / Published: 2 April 2019
Abstract
Animal growth and development are regulated by long non-coding RNAs (lncRNAs). However, the functions of lncRNAs in regulating cashmere fineness are poorly understood. To identify the key lncRNAs that are related to cashmere fineness in skin, we have collected skin samples of Liaoning cashmere goats (LCG) and Inner Mongolia cashmere goats (MCG) in the anagen phase, and have performed RNA sequencing (RNA-seq) approach on these samples. The high-throughput sequencing and bioinformatics analyses identified 437 novel lncRNAs, including 93 differentially expressed lncRNAs. We also identified 3084 differentially expressed messenger RNAs (mRNAs) out of 27,947 mRNAs. Gene ontology (GO) analyses of lncRNAs and target genes in cis show a predominant enrichment of targets that are related to intermediate filament and intermediate filament cytoskeleton. According to the Kyoto Encyclopedia of Genes and Genomes (KEGG) analysis, sphingolipid metabolism is a significant pathway for lncRNA targets. In addition, this is the first report to reveal the possible lncRNA–mRNA regulatory network for cashmere fineness in cashmere goats. We also found that lncRNA XLOC_008679 and its target gene, KRT35, may be related to cashmere fineness in the anagen phase. The characterization and expression analyses of lncRNAs will facilitate future studies on the potential value of fiber development in LCG.
View Full-Text
►

▼

Figures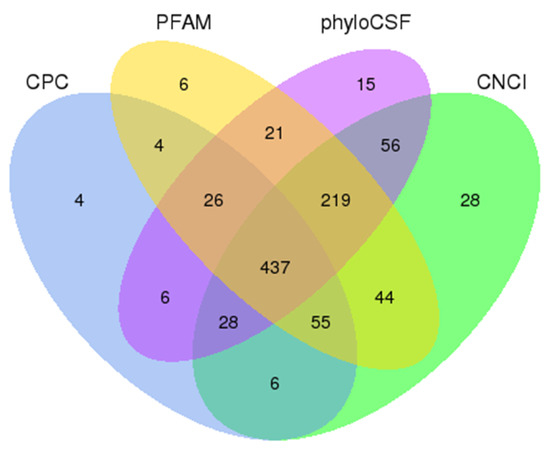 Figure 1
This is an open access article distributed under the
Creative Commons Attribution License
which permits unrestricted use, distribution, and reproduction in any medium, provided the original work is properly cited (CC BY 4.0).

Share & Cite This Article
MDPI and ACS Style
Zheng, Y.Y.; Sheng, S.D.; Hui, T.Y.; Yue, C.; Sun, J.M.; Guo, D.; Guo, S.L.; Li, B.J.; Xue, H.L.; Wang, Z.Y.; Bai, W.L. An Integrated Analysis of Cashmere Fineness lncRNAs in Cashmere Goats. Genes 2019, 10, 266.
Note that from the first issue of 2016, MDPI journals use article numbers instead of page numbers. See further details here.
Related Articles
Comments
[Return to top]