Open Access This article is
freely available
re-usable
Review
Gut Microbiota Influences Experimental Outcomes in Mouse Models of Colorectal Cancer
Cancer Prevention and Control Program, Fox Chase Cancer Center, Philadelphia, PA 19111, USA
*
Author to whom correspondence should be addressed.
Received: 13 September 2019 / Accepted: 5 November 2019 / Published: 7 November 2019
Abstract
:
Colorectal cancer (CRC) is a leading cause of cancer-related deaths worldwide. Mouse models are a valuable resource for use throughout the development and testing of new therapeutic strategies for CRC. Tumorigenesis and response to therapy in humans and mouse models alike are influenced by the microbial communities that colonize the gut. Differences in the composition of the gut microbiota can confound experimental findings and reduce the replicability and translatability of the resulting data. Despite this, the contribution of resident microbiota to preclinical tumor models is often underappreciated. This review does the following: (1) summarizes evidence that the gut microbiota influence CRC disease phenotypes; (2) outlines factors that can influence the composition of the gut microbiota; and (3) provides strategies that can be incorporated into the experimental design, to account for the influence of the microbiota on intestinal phenotypes in mouse models of CRC. Through careful experimental design and documentation, mouse models can continue to rapidly advance efforts to prevent and treat colon cancer.
Keywords:
colorectal cancer; mouse models; microbiota; antitumor immunity
Author Contributions
A.A.L., writing—original draft preparation, writing—review and editing; M.L.C., supervision, writing—review and editing.
Funding
This publication was supported by grant number P30 CA006927 from the National Cancer Institute. Its contents are solely the responsibility of the authors and does not necessarily represent the official views of the National Cancer Institute or the National Institutes of Health.
Acknowledgments
The authors wish to thank Wen-Chi Chang and Mariana Fragoso for invaluable comments and Darlene Curran for assistance in preparing this article for publication.
Conflicts of Interest
The authors declare no conflict of interest.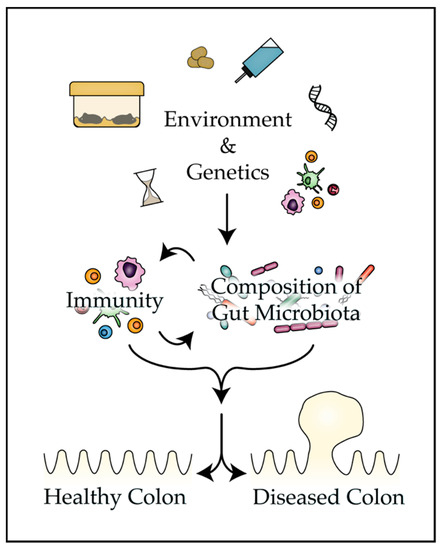 Figure 1. Many aspects of the murine environment can impact the composition of the gut microbiota, activity of the immune system, and ultimately the penetrance of disease phenotypes in mouse models of colon tumorigenesis.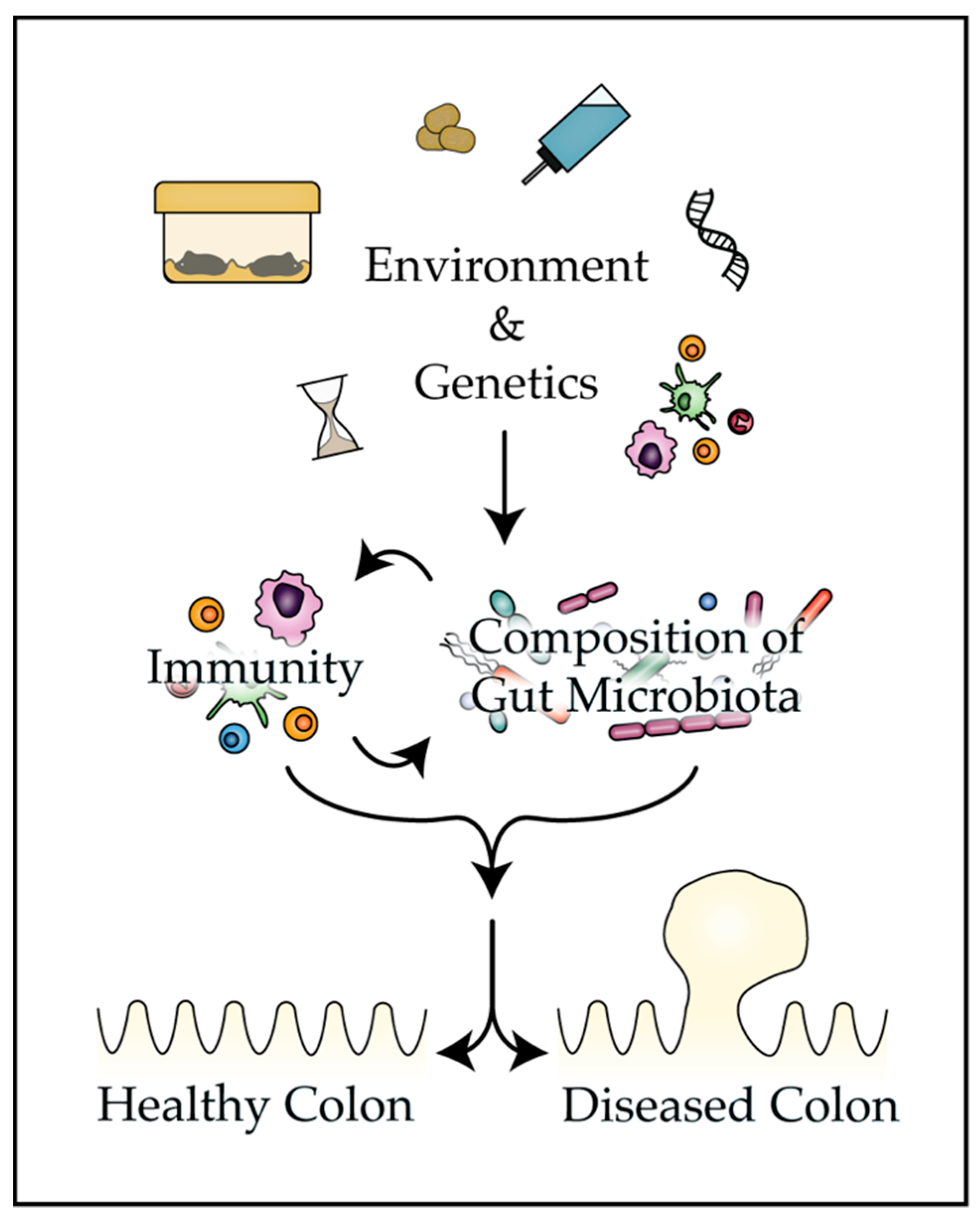 Table 1. Influence of microbiota on disease phenotype in common mouse models of CRC (colorectal cancer).
Tumor Induction
Mouse Model
Impact of Microbiota on Colon Phenotype
References
Sporadic Familial Adenomatous Polyposis

Apc

Min/+

Apc

MinΔ716/+

Cdx2-Cre Apc

flox/+
Mice administered continuous broad-spectrum antibiotics develop fewer colon tumors, whereas mice administered intermittent antibiotics develop more tumors. Infection of

Apc

Min/+ mice by

Fusobacterium nucleatum,

or

Apc

Min716/+ mice by enterotoxigenic

Bacteroides fragilis

and/or

pks+ Escherichia coli

increases tumor multiplicity.
[5,6,7,8,9]
Inflammation

Il10

−/−
Germ-free mice do not develop intestinal inflammation. Differences in the composition of microbiota influence severity of sporadic colitis in mice housed at different institutions. Infection with

E. coli

increases tumorigenesis following azoxymethane (AOM) treatment.
[10,11,12,13]
DNA mismatch repair deficiency

Msh2

−/−
Germ-free and antibiotic (broad-spectrum)-treated

Apc

Min/+

Msh2

−/− mice develop fewer colon tumors than 'conventional' untreated mice (bearing natural microbiota).
[14]
Chemical induction
AOM/DSS
Treatment with either AOM or dextran sodium sulfate (DSS) changes the composition of the gut microbiota. Germ-free mice exhibit delayed tissue repair and develop more tumors than conventional mice. Conventional C57BL/6 mice develop more tumors than the genetically identical mice colonized with microbiota from wild-caught mice.
[15,16,17]
Transplantation
CT26 MC38

E. coli

modifies the response of tumors to chemotherapy. Depletion of microbiota by broad-spectrum antibiotics attenuates the response of tumors to immunotherapeutics.
[18,19,20]

© 2019 by the authors. Licensee MDPI, Basel, Switzerland. This article is an open access article distributed under the terms and conditions of the Creative Commons Attribution (CC BY) license (http://creativecommons.org/licenses/by/4.0/).