Genetics and Genomic Regions Affecting Response to Newcastle Disease Virus Infection under Heat Stress in Layer Chickens
1
Integrative Genetics and Genomics Graduate Group, University of California, Davis, CA 95616, USA
2
Genomics to Improve Poultry Innovation Lab, University of California, Davis, CA 95616, USA
3
Department of Animal Science, University of California, Davis, CA 95616, USA
4
School of Veterinary Medicine, University of California, Davis, CA 95616, USA
5
Department of Animal Science, Iowa State University, Ames, IA 50011, USA
6
Hy-Line International, Dallas Center, IA 50063, USA
*
Author to whom correspondence should be addressed.
Received: 8 December 2018 / Revised: 8 January 2019 / Accepted: 14 January 2019 / Published: 18 January 2019
Abstract
Newcastle disease virus (NDV) is a highly contagious avian pathogen that poses a tremendous threat to poultry producers in endemic zones due to its epidemic potential. To investigate host genetic resistance to NDV while under the effects of heat stress, a genome-wide association study (GWAS) was performed on Hy-Line Brown layer chickens that were challenged with NDV while under high ambient temperature to identify regions associated with host viral titer, circulating anti-NDV antibody titer, and body weight change. A single nucleotide polymorphism (SNP) on chromosome 1 was associated with viral titer at two days post-infection (dpi), while 30 SNPs spanning a quantitative trait loci (QTL) on chromosome 24 were associated with viral titer at 6 dpi. Immune related genes, such as CAMK1d and CCDC3 on chromosome 1, associated with viral titer at 2 dpi, and TIRAP, ETS1, and KIRREL3, associated with viral titer at 6 dpi, were located in two QTL regions for viral titer that were identified in this study. This study identified genomic regions and candidate genes that are associated with response to NDV during heat stress in Hy-Line Brown layer chickens. Regions identified for viral titer on chromosome 1 and 24, at 2 and 6 dpi, respectively, included several genes that have key roles in regulating the immune response.
View Full-Text
►

▼

Figures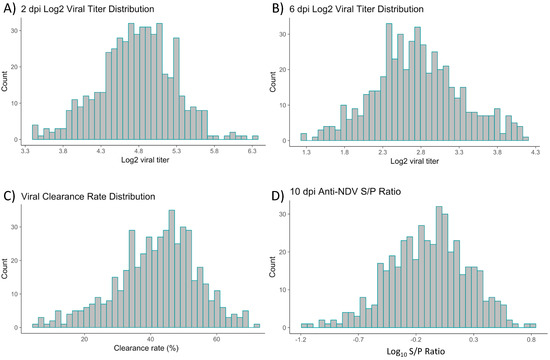 Figure 1
This is an open access article distributed under the
Creative Commons Attribution License
which permits unrestricted use, distribution, and reproduction in any medium, provided the original work is properly cited (CC BY 4.0).

Share & Cite This Article
MDPI and ACS Style
Saelao, P.; Wang, Y.; Chanthavixay, G.; Gallardo, R.A.; Wolc, A.; Dekkers, J.C.M.; Lamont, S.J.; Kelly, T.; Zhou, H. Genetics and Genomic Regions Affecting Response to Newcastle Disease Virus Infection under Heat Stress in Layer Chickens. Genes 2019, 10, 61.
Note that from the first issue of 2016, MDPI journals use article numbers instead of page numbers. See further details here.
Related Articles
Comments
[Return to top]