Modulation of Bacterial sRNAs Activity by Epigenetic Modifications: Inputs from the Eukaryotic miRNAs
1
University of Rennes 1, Inserm, BRM (Bacterial Regulatory RNAs and Medicine), UMR_S 1230, F-35043 Rennes, France
2
CNRS UMR 6290, IGDR, University of Rennes 1, F-35043 Rennes, France
*
Authors to whom correspondence should be addressed.
Received: 23 November 2018 / Revised: 18 December 2018 / Accepted: 21 December 2018 / Published: 31 December 2018
Abstract
Trans-encoded bacterial regulatory RNAs (sRNAs) are functional analogues of eukaryotic microRNAs (miRNAs). These RNA classes act by base-pairing complementarity with their RNA targets to modulate gene expression (transcription, half-life and/or translation). Based on base-pairing, algorithms predict binding and the impact of small RNAs on targeted-RNAs expression and fate. However, other actors are involved such as RNA binding proteins and epigenetic modifications of the targeted and small RNAs. Post-transcriptional base modifications are widespread in all living organisms where they lower undesired RNA folds through conformation adjustments and influence RNA pairing and stability, especially if remodeling their ends. In bacteria, sRNAs possess RNA modifications either internally (methylation, pseudouridinylation) or at their ends. Nicotinamide adenine dinucleotide were detected at 5′-ends, and polyadenylation can occur at 3′-ends. Eukaryotic miRNAs possess
N
6
-methyladenosine (m
6
A), A editing into I, and non-templated addition of uridines at their 3′-ends. Biological functions and enzymes involved in those sRNA and micro RNA epigenetic modifications, when known, are presented and challenged.
View Full-Text
►

▼

Figures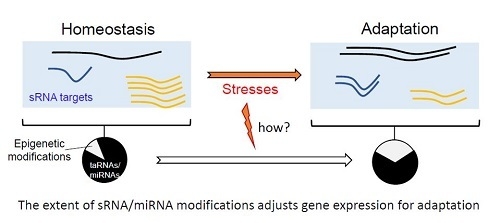 Graphical abstract
This is an open access article distributed under the
Creative Commons Attribution License
which permits unrestricted use, distribution, and reproduction in any medium, provided the original work is properly cited (CC BY 4.0).

Share & Cite This Article
MDPI and ACS Style
Felden, B.; Gilot, D. Modulation of Bacterial sRNAs Activity by Epigenetic Modifications: Inputs from the Eukaryotic miRNAs. Genes 2019, 10, 22.
Note that from the first issue of 2016, MDPI journals use article numbers instead of page numbers. See further details here.
Related Articles
Comments
[Return to top]