Open Access This article is
freely available
re-usable
Review
Modulation of Bacterial sRNAs Activity by Epigenetic Modifications: Inputs from the Eukaryotic miRNAs
1
University of Rennes 1, Inserm, BRM (Bacterial Regulatory RNAs and Medicine), UMR_S 1230, F-35043 Rennes, France
2
CNRS UMR 6290, IGDR, University of Rennes 1, F-35043 Rennes, France
*
Authors to whom correspondence should be addressed.
Received: 23 November 2018 / Accepted: 21 December 2018 / Published: 31 December 2018
Abstract
:
Trans-encoded bacterial regulatory RNAs (sRNAs) are functional analogues of eukaryotic microRNAs (miRNAs). These RNA classes act by base-pairing complementarity with their RNA targets to modulate gene expression (transcription, half-life and/or translation). Based on base-pairing, algorithms predict binding and the impact of small RNAs on targeted-RNAs expression and fate. However, other actors are involved such as RNA binding proteins and epigenetic modifications of the targeted and small RNAs. Post-transcriptional base modifications are widespread in all living organisms where they lower undesired RNA folds through conformation adjustments and influence RNA pairing and stability, especially if remodeling their ends. In bacteria, sRNAs possess RNA modifications either internally (methylation, pseudouridinylation) or at their ends. Nicotinamide adenine dinucleotide were detected at 5′-ends, and polyadenylation can occur at 3′-ends. Eukaryotic miRNAs possess
N
6
-methyladenosine (m
6
A), A editing into I, and non-templated addition of uridines at their 3′-ends. Biological functions and enzymes involved in those sRNA and micro RNA epigenetic modifications, when known, are presented and challenged.
Keywords:
RNA modifications; epigenetics; bacterial regulatory RNAs; miRNAs; editing; methylation; biogenesis; trans-acting RNA
1. Introduction
All living organisms require regulation of gene expression to survive, grow, and spread in their dynamic and precarious environments, e.g., the survival of the fittest. A large portion of the eukaryotic genomes is expressed as regulatory RNAs [
1
], and bacterial/archaeal genomes produce hundreds of them [
2
]. The complexity of higher organisms correlates well with their extent of riboregulators rather than by the number of protein genes. For incessant and fast transcriptomic and metabolic adaptations to the cell needs set by the environment, RNA-based regulation of gene expression is widely used. It may be advantageous to use regulatory RNAs when immediate and reversible responses to external conditions are required. To make an analogy, RNA-based RNA regulations look like to the sympathetic nervous system, which assumes immediate responses to stimuli. In contrast, neo-transcription imitates the hormonal system that is time- and energy-consuming and usually involved in long-term effects.
In bacteria, regulatory RNAs (sRNAs) are also essential players in many physiological and adaptive responses and are central components of networks controlling bacterial responses to stress [
3
]. A large subset of riboregulators act through base pairing with target RNAs to modulate gene expression. A major paradigm for RNA-based regulation in both eukaryotes and prokaryotes are the sRNAs that pair with messenger RNAs (mRNAs), leading to changes in target mRNA stability and/or translation [
4
]. They can be categorized in cis-acting (antisense RNAs) and trans-acting RNAs (sRNAs). Cis-acting RNAs are transcribed from the complementary strand of their targeted gene [
5
] and will not be discussed here. In bacteria and archaea, the most studied riboregulators are the sRNAs. Downregulation of target RNA expression can occur when a sRNA pairs to, or close to the ribosome binding site (RBS), efficiently preventing translation initiation. This interaction often leads to cleavage of the mRNA target through endoribonucleases, to ensure irreversible regulation. Conversely, sRNA-target mRNA interactions can destabilize mRNA structures that sequester RBS, in turn enhancing translation initiation. Since the eukaryotic ribosomes do not interact, via the small-subunit ribosomal RNA (rRNA), with the mRNAs to be translated, such sRNA-mediated regulatory mechanisms are lacking for the microRNAs (miRNAs) that usually interact elsewhere onto their target mRNAs (mainly on 3′-UTRs [3′-untranslated regions]). Nonetheless, rare exceptions have been described for miRNA promoting translation. Promotion of protein synthesis can result from conformational change of the target mRNA following sRNA or miRNA pairings, but, in prokaryotes, sRNAs usually trigger translation initiation silencing.
Epitranscriptomics correspond to RNA chemical modifications and post-transcriptional nucleotide additions that are involved in gene expression regulation, including pre-mRNA splicing, degradation and translation. Post-transcriptional RNA modifications provide another layer of gene expression monitoring. More than 160 chemical modifications can be detected on RNAs [
6
]. They can impact RNA structure, conformation dynamics, function and interactions with their macromolecular targets, including mRNAs for the sRNAs and miRNAs. The main purpose of this review is to provide parallels and differences between the bacterial/archaeal sRNA post-transcriptional modifications, and the eukaryotic miRNA modifications. Both the bacterial/archaeal sRNAs and the miRNAs act by base pairing with target mRNAs, and both interact with their RNA targets by imperfect, interrupted pairings (
Figure 1
). We will not present and discuss the numerous RNA modifications in rRNA and transfer RNA (tRNA). Shared properties of trans-acting bacterial regulatory RNAs and eukaryotic miRNAs, focusing on their similarities and differences about their RNA modifications, are discussed.
2. Biogenesis and Functions of Bacterial Trans-Acting RNAs and Eukaryotic micro RNAs
Figure 2
schematically outlines similarities between miRNA and sRNA biogenesis, mechanisms, and functions in pro and eukaryotes. RNases are required for biogenesis and maturation at both instances and are required during target gene regulation. Dedicated chaperones can also be at play to assist recognition and pairing.
2.1. sRNA Biogenesis
sRNA is a heterogeneous category in terms of size, ranging from ~50 to ~600 nt in lengths. sRNA biogenesis initiates with promoter-based transcription, with primary transcripts that can be processed to shorter sRNAs, by ribonuclease processing [
7
]. Thus, their expression patterns during bacterial growth can be complex and variable in terms of lengths and RNA forms.
2.2. sRNA Functions
sRNA expression usually reshapes bacterial transcriptomes and metabolisms, especially in response to specific environmental cues. sRNAs can be implicated in changes in carbon source availability, membrane stress, stationary-phase growth, bacterial virulence [
8
], and antibiotic resistance [
9
]. Single sRNAs can target multiple RNAs (both mRNAs and other sRNAs), and single mRNAs can be targeted by multiple sRNAs. They exert their regulatory functions by interacting with their mRNA or sRNA targets through binding sites extending from several to a dozen nucleotides with partial, interrupted, or complete complementarity to their targets [
10
]. Co-degradations between sRNAs and their RNA targets can occur, to favor timely and reversible regulations. sRNA function can rely on RNA chaperones to increase their stability and assist them during target regulation [
11
].
2.3. Micro RNA Genesis
MicroRNAs are short (~22 nucleotides) non-coding RNAs involved in gene expression regulation (Bartel, 2018). miRNA biogenesis involves several steps [
12
]. As miRNA sequences are localized in a local hairpin in a nascent transcript (primary miRNA, pri-miRNA), endonucleolytic reactions are required to generate functional miRNAs. The RNase III Drosha first cleaves the pri-miRNA to release an approximatively 70 nt hairpin-shaped RNA (pre-miRNA) [
13
]. The Drosha cofactor DGCR8 (also known as Pasha) promotes the generation of hairpin by Drosha. The resulting hairpin displays a 2 nt overhang at the 3′ terminus. Next, the pre-miRNA is exported to the cytoplasm by exportin 5 protein. Dicer, a cytoplasmic RNase III, converts the pre-miRNA into a small RNA duplex. To generate such miRNA duplexes, human Dicer binds the 2 nt 3′ overhang of hairpin resulting from Drosha. Then, the resulting miRNA duplex is loaded on to Argonaute. At this step, only one strand is conserved into Argonaute to form an active RNA-induced silencing complex (RISC) [
14
].
In recent years, next-generation sequencing analysis has revealed variability in the individual mature miRNA sequences derived from the same precursor (pre-miRNA), giving rise to the term "isomiRs" [
15
]. IsomiRs differ by the exact nature of their ends influencing the length. Nevertheless, isomiRs share a common core sequence (~18 nucleotides). The sequence diversification in mature miRNAs can be produced through a variety of mechanisms, including imprecise or alternative cropping of the precursor or non-canonical miRNA biogenesis. In the latter case, the canonical cascade Drosha-Exportin5-Dicer is not fully required for the miRNA biogenesis.
2.4. Micro RNA Functions
To date, the in silico predicted RNA-targets of miRNAs are not all validated experimentally, suggesting that other critical events are involved in miRNA activity regulation or that some of the predictions are false positive. Among them, the post-transcriptional modifications of miRNAs add another level of fine-tuning gene expression.
3. The Set of RNA Modifications among Bacterial Trans-Acting Small RNAs and Eukaryotic Micro RNAs
3.1. Internal RNA Mods
3.1.1. sRNAs: Pseudouridine, Uracil to Thymidine (C5-Methylation, m5C)
Some regulatory RNAs ubiquitously present in bacteria, such as transfer messenger RNA (tmRNA), contain RNA modifications. In bacteria three ribosome rescue systems have been identified, including ubiquitous
trans
-translation system mediated by tmRNA and small protein B (SmpB). Ribosome rescue systems recycle ribosomes that stall at the 3′ end of truncated or non-stop mRNAs continuously arising in cells due to premature transcription termination or mRNA damage [
25
]. Two post-transcriptional modifications, 5-methyluridine and pseudouridine (φ), were detected in the tRNA-like portion of the RNA in
Escherichia coli
[
26
]. φ is referred to as the fifth ribonucleoside [
27
]. They enhance structural mimicry with native tRNA acceptor branches that all possess φ at similar locations, "rigidifying" the nearby sugar-phosphate backbone and enhancing base stacking in RNAs. Those two RNA modifications may facilitate alanylation by the alanyl-ARNt synthetase, recognition, and cargo to the stalled ribosomes by Elongation factor-Tu (EF-Tu) for ribosome rescue. They are probably added by tRNA-specific methyl transferase and pseudouridine synthase acting on canonical tRNAs, respectively. 5-methylcytidine (m
5
C) can change the coding sequence, alter splicing patterns or change RNA stability. m
5
C sites were detected within archaeal and bacterial mRNAs by bisulfite treatment of RNAs combined with high-throughput sequencing [
28
]. Investigations focusing on the putative presence of m
5
C within sRNAs should be performed.
3.1.2. Micro RNAs: A to I Editing,
N

6-methyladenosine
3.1.3. Adenosines (m6A) and Uridines (m5U) Methylations
3.1.4. 3′-Terminal Untemplated Nucleotide Addition
3.2. Mods at RNA Ends
3.2.1. sRNAs: 5′-NAD-capped RNA
Whereas miRNAs do not carry specific RNA modifications at their 5′-ends, some sRNAs do. Although many eukaryotic transcripts contain cap structures, it has been long thought that bacterial RNAs do not carry any special modifications on their 5′-ends. In bacteria, primary transcripts are produced by transcription initiated with a nucleoside triphosphate and are triphosphorylated on 5′-ends. In addition to mono- and triphosphorylated moieties, some mRNAs and sRNAs contain cap-like structures and diphosphates on their 5′-ends. Bacterial RNA polymerase can initiate transcription with adenosine-containing cofactor NAD
+
(nicotinamide adenine dinucleotide), resulting in a portion of cellular RNAs (up to 25% in specific RNAs) being 'capped' at their 5′ ends with NAD
+
[
60
,
61
], reminiscent of the 7-methylguanylate eukaryotic cap. 5′-CoA can also occur instead of the characteristic 5′-triphosphate or 5′-monophosphate groups [
62
]. 5′-NAD-capped RNAs are detected in sRNAs and mRNAs, but not in rRNAs or tRNAs. The NAD cap is incorporated into RNA transcripts by the RNA polymerase and later removed by the Nudix family hydrolase NudC. The physiological significance of these modifications, however, remains unclear.
3.2.2. Micro RNAs: 3′-Uridinylation
RNA uridylation is a widespread posttranscriptional regulator of gene expression in eukaryotes [
63
] but is not reported in prokaryotic sRNAs. RNA uridylation is catalyzed by the terminal uridylyltransferases (TUTases) by adding uridines at the 3′ end of target transcripts. TUTases belong to the DNA polymerase β (Pol β)-like nucleotidyltransferase superfamily, which include RNA-specific nucleotidyltransferases divided in three subgroups. The TUTases, members of subgroup 2, can recognize a diversity of RNA substrates, such as mitochondria and noncoding and mRNAs. RNA uridylation were detected in a range of eukaryotes, including, animals, plants, and fungi [
64
]. Virtually all classes of eukaryotic RNAs can be uridylated. The addition of a few uridines at the 3′ end of an RNA influences its stability. The usual consequence of uridylation on RNAs or their precursors is to accelerate decay by facilitating the recruitment of exonucleases via U tails [
65
]. Even if the role of uridylation on mRNA is clearly established, the impact of uridylation on pri-miRNA or miRNA is less studied.
3.2.2.1. Micro RNA and Mono-Uridylation
Monouridylation can occur during miRNA biogenesis. Unlike prototypic pre-miRNAs (group 1), group 2 pre-miRNAs acquire a shorter (1nt) 3′ overhang from Drosha processing and therefore require a 3′ end mono-uridylation, for Dicer processing [
12
]. TUT7/ZCCHC6, TUT4/ZCCHC11, and TUT2/PAPD4/GLD2 as the terminal uridylyl transferases are responsible for pre-miRNA mono-uridylation. The TUTs act specifically on dsRNAs with a 1nt 3′ overhang, thereby creating a 2 nt 3′ overhang.
This mono-uridylation seems to be specific to some miRNAs. The majority of let-7 and miR-105 miRNA per cell seems to be mono-uridylated [
66
]. Mono-uridylation could protect the pre-miRNA (1nt 3′ overhang) generated by Drosha from 3′-exonuclease-mediated trimming and enhances Dicer processing. However, the exact number of pre-miRNAs needing mono-uridylation on 3′ overhang is still unknown. In addition, TUT2 have been described to mono-adenylate and stabilize mature miR-122 in mammalian liver cells and fibroblasts [
67
,
68
], suggesting that this 1nt addition is not restricted to rare pre-miRNAs or low-expressed miRNAs.
However, in vivo gene knockout studies coupled with deep sequencing have revealed that the TUT ZCCHC11 uridylates the 3′ ends of many mature miRNAs [
69
]. The addition of a single uridine to miR-126-5p or miR-379 reduced their silencing activity against insulin-like growth factor-1 (IGF-1) mRNAs and had a cumulative effect when multiple uridylated miRNAs targeted a single transcript [
69
]. Similar results have been recently published in human lymphocytes [
70
]. TUT4 is essential to catalyze 3′ non-templated nucleotide addition (3′NTA) to miRNAs in the steady state of T lymphocytes. Upon T-cell activation, miRNA sequences bearing terminal uridines are specifically decreased, concomitantly with down-regulation of TUT4 and TUT7 enzymes. Convincingly, analysis of synthetic uridylated miRNAs shows that 3′ addition of uridines promotes degradation of these uridylated miRNAs after T-cell activation.
Altogether, these data underline post-transcriptional uridylation as a mechanism to fine-tune miRNA levels.
3.2.2.2. Pre-Micro RNA and Oligo-Uridylation
Several miRNAs are mono-uridylated but TUTases also target pre-miRNA. let-7 maturation is inhibited by an RNA-binding protein Lin28 [
66
,
71
]. Lin28A (one human homolog of lin28) is expressed in embryonic cells and cancer cells. Lin28A binds to the terminal loop of let-7 precursors through a conserved motif GGAG to interfere with Drosha and Dicer processing [
72
]. Lin28 also interacts with TUT4 to induce oligo-uridylation (10–30 nt) of pre-let-7 [
73
]. Since oligo-uridylated miRNA are less processed by Dicer, the oligo(U) tail serves as a decay signal for the Perlman syndrome exonuclease DIS3L2 in order to suppress let-7 maturation [
74
].
3.2.3. sRNA Stabilization by 3′ Polyadenylation in Prokaryotes
The transient addition of poly(A) tails to bacterial RNAs is essential for the 3′ exonucleolytic degradation of stem-loop structures in decay intermediates [
75
]. This holds true for the 3′ adenylation of antisense RNAs that regulate plasmid replication in
E. coli
that greatly accelerates their decay [
76
]. More generally, recent evidences suggest that poly(A) polymerase which promotes RNA degradation by exoribonucleases through the addition of poly(A) tails, has essential roles in the regulation of gene expression by Hfq-dependent sRNAs in
E. coli
[
77
]. Poly(A) polymerase stabilizes some sRNAs in
E. coli
by blocking their RNase E-mediated decays, but it is currently unknown if this observation can be extended to other bacterial sRNAs, especially those expressed by Gram-positive bacteria.
4. Concluding Remarks and Outlook
Author Contributions
B.F. and D.G. jointly wrote the manuscript.
Funding
This research was funded by 'la Ligue Contre le Cancer and l'ARC to D.G., l'Agence Nationale pour la Recherche (ANR-15-CE12-0003-01 'sRNA-Fit') to B.F., and la 'Fondation pour la Recherche Médicale' (DBF20160635724 'Bactéries et champignons face aux antibiotiques et antifongiques') to B.F.
Acknowledgments
CNRS, INSERM and the Rennes University for support.
Conflicts of Interest
The authors declare no conflict of interest.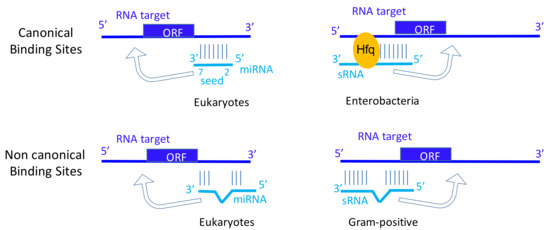 Figure 1. Canonical and non-canonical binding sites for micro RNA (miRNA) and regulatory RNA (sRNA). Target RNAs can be messenger RNAs (mRNAs) (as shown) or other non-coding RNAs (ncRNAs). The miRNA-Induced Silencing Complex (miRISC), containing at least Argonaute proteins, is required for base pairing between seed sequence of the miRNA and the targeted-RNA. For non-canonical binding sites, the nature of the miRISC is poorly studied. In Enterobacteria, Hfq is involved in the base pairing between sRNA and targeted-RNA, in contrast to sRNAs acting in Gram-positive bacteria that usually possess extended pairing domains. miRNAs and sRNAs bind to their target mRNAs at the 3′-UTR (3′-untranslated regions) or translation initiation sites, respectively. However, miRNAs can also bind at 5′UTRs, sRNAs at 3′UTRs, and both miRNAs and sRNAs within coding sequence regions (arrows). ORF: open reading frame.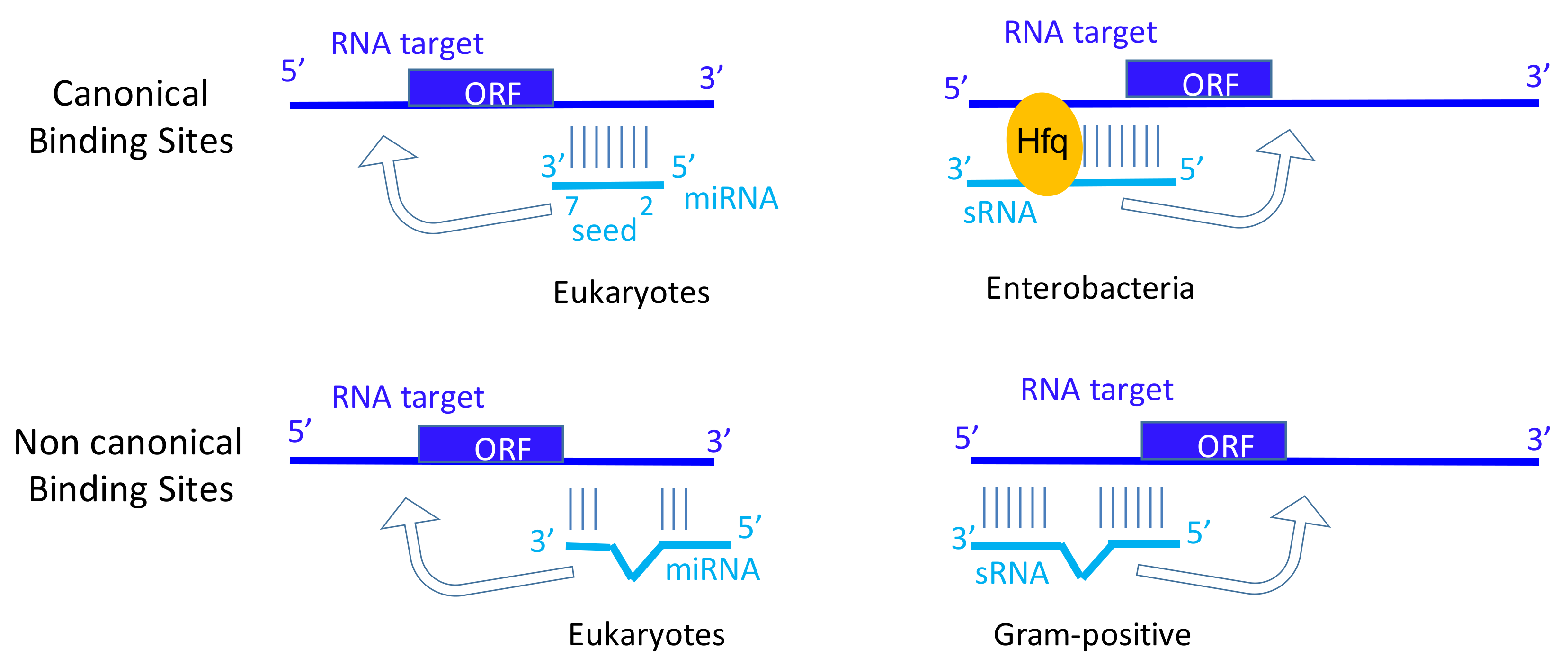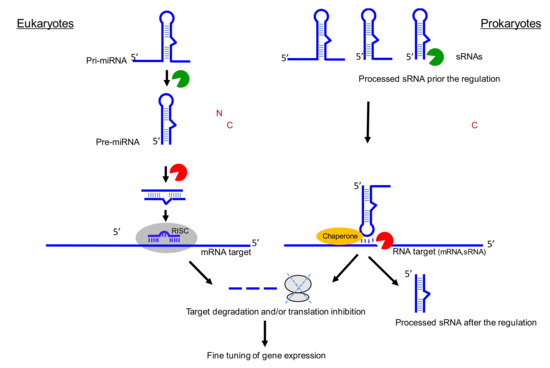 Figure 2. Parallels between miRNA and sRNA biogenesis and functions. For miRNA, two enzymes (Drosha and Dicer) are usually required for the biogenesis of a double strand RNA. Only one RNA strand is associated with argonaute protein. The RISC (RNA-induced silencing complex) allows the base pairing with the target (here mRNA) and the recruitment of other proteins involved in translation inhibition and mRNA decay. 'N' for nucleus and 'C' for cytosol. For sRNA, various RNases (green) can cleave triphosphorylated primary transcripts, and each matured RNA can hold their own functions in stress, metabolism, or virulence. Base-pairing with the target(s) (here mRNA) can be facilitated by dedicated chaperones (orange) than can be followed by target RNA cleavage (red) and/or by modifying translation initiation onto the target mRNA. Both miRNA and sRNA fine-tune gene expression. Note that the sRNA processing steps are not well-examined in many cases and can occur either prior and/or after binding onto their RNA targets.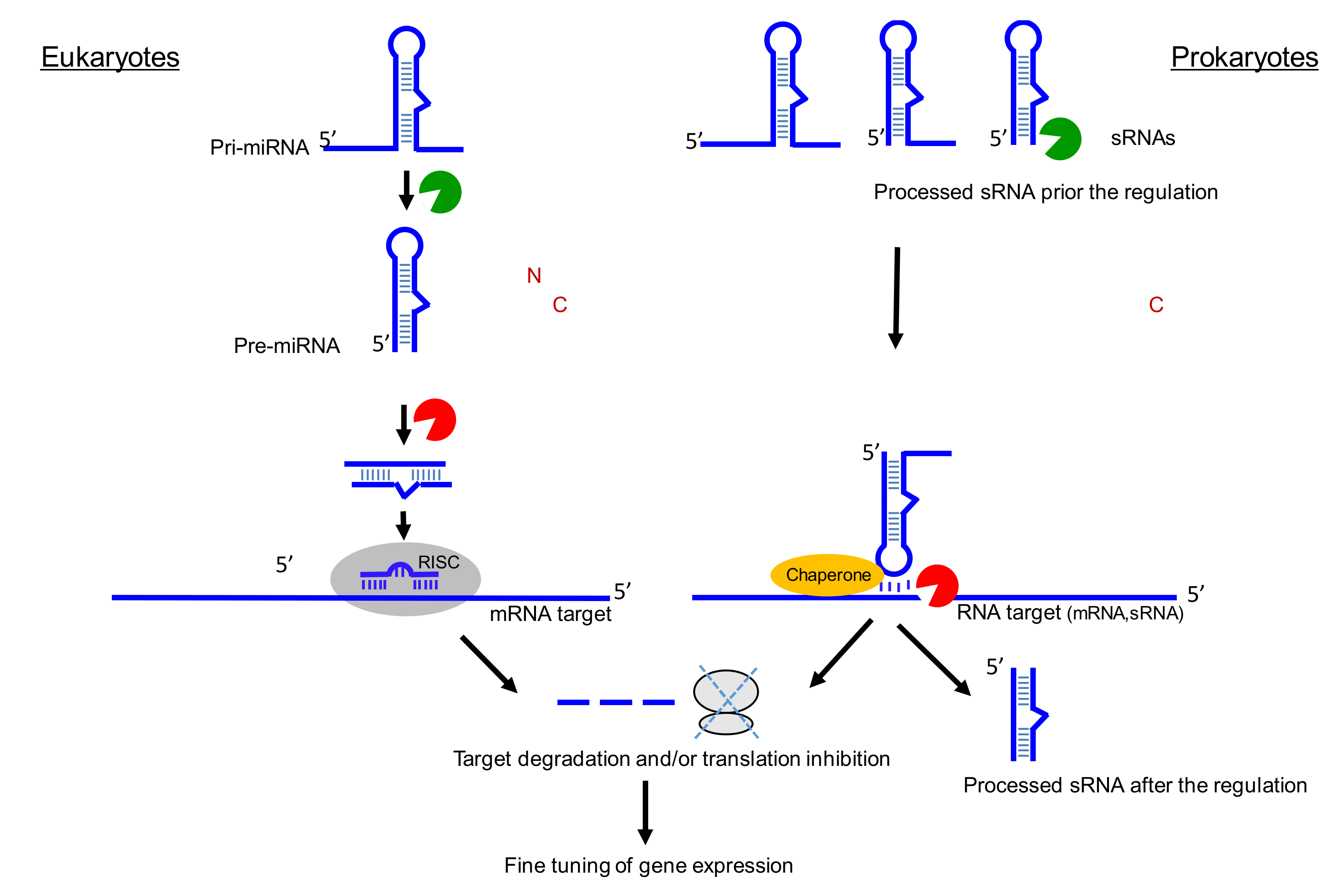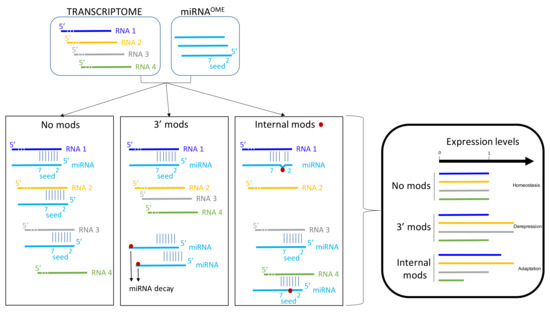 Figure 3. Epigenetic modifications and functional outcomes for miRNA and sRNA. Several epigenetic modifications might affect miRNA and sRNA functions. The majority of these RNAs are not modified. 3′ mods may promote miRNA decay. Internal mods, especially in the seed region of miRNA, may modify the pairing between miRNA and its targets (RNAs). In basal condition (homeostasis), a miRNA (here in blue) can bind to RNA 1–3. RNA 4 is not targeted by this miRNA. Expression levels of these four RNAs is arbitrarily estimated to 1 in basal condition. The decrease of miRNA amount per cell is associated with a loss or a decrease of miRNA effect on the targets. In other words, a transient upregulation (or de-repression) of the targets could occur in response to 3′ end modifications of miRNAs. This effect is supposed to be transient since usually miRNA are constitutively expressed. In contrast, internal modifications of miRNAs can modify the base-pairing with their targets. Consequently, several targets are regulated by these modified miRNAs and others are no more targeted. These internal modifications might promote the recognition of new targets. Altogether, these modifications alter the canonical repertoire of miRNAs. This type of modifications might favor the adaptation to the environment variations.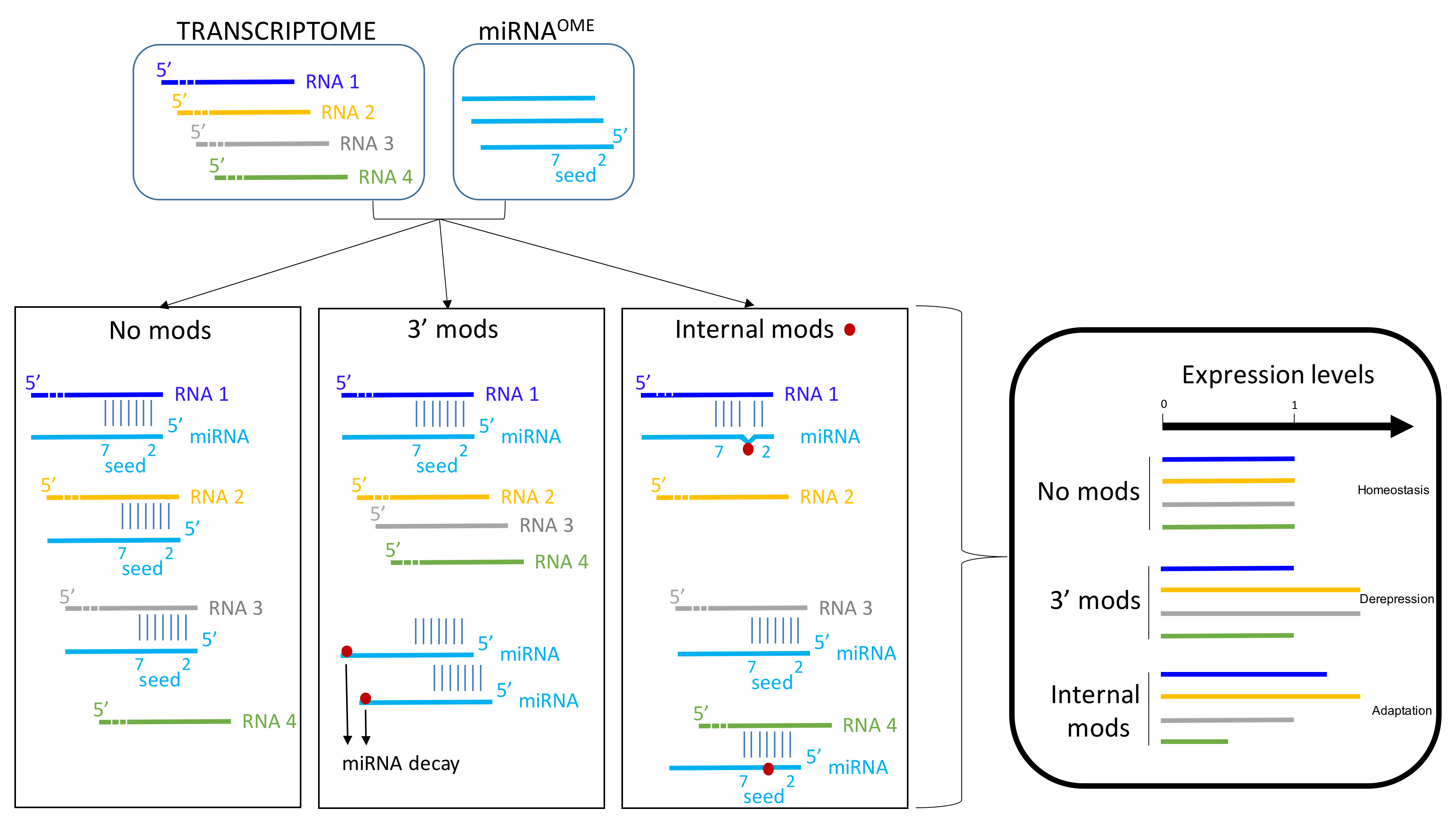 © 2018 by the authors. Licensee MDPI, Basel, Switzerland. This article is an open access article distributed under the terms and conditions of the Creative Commons Attribution (CC BY) license (http://creativecommons.org/licenses/by/4.0/).