Open Access This article is
freely available
re-usable
Review
Interplay between Intrinsic and Innate Immunity during HIV Infection
Laboratoire de Biologie et Pharmacologie Appliquée, Ecole Normale Supérieure Paris-Saclay, CNRS UMR8113, IDA FR3242, Université Paris-Saclay, F-94235 Cachan, France
*
Author to whom correspondence should be addressed.
Received: 29 July 2019 / Accepted: 15 August 2019 / Published: 17 August 2019
Abstract
:
Restriction factors are antiviral components of intrinsic immunity which constitute a first line of defense by blocking different steps of the human immunodeficiency virus (HIV) replication cycle. In immune cells, HIV infection is also sensed by several pattern recognition receptors (PRRs), leading to type I interferon (IFN-I) and inflammatory cytokines production that upregulate antiviral interferon-stimulated genes (ISGs). Several studies suggest a link between these two types of immunity. Indeed, restriction factors, that are generally interferon-inducible, are able to modulate immune responses. This review highlights recent knowledge of the interplay between restriction factors and immunity inducing antiviral defenses. Counteraction of this intrinsic and innate immunity by HIV viral proteins will also be discussed.
Keywords:
HIV-1; host restriction factors; innate immune sensing; immune responses; interferon; viral counteraction
Author Contributions
C.R. and O.D conceptualized the review; L.B and C.R designed figures, tables and wrote the manuscript; F.S., E.D and O.D. contributed partial literature study and discussion.
Funding
This research received no external funding
Acknowledgments
We thank CNRS and Ecole Normale Supérieure Paris-Saclay for their continuous support.
Conflicts of Interest
The authors declare no conflicts of interest.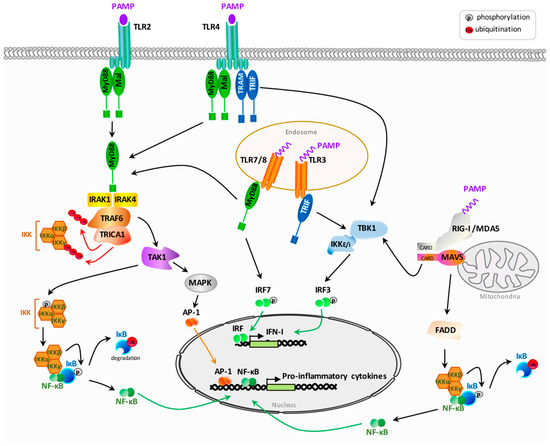 Figure 1. Simplified overview of several pattern recognition receptors (PRRs) signaling after pathogen-associated-molecular patterns (PAMPs) recognition. Signal transduction cascades leading to the production of type I interferon (IFN-I) and pro-inflammatory cytokines after Toll-like-receptors (TLRs) and retinoic acid-inducible gene I (RIG-I)-like receptors (RLRs) activation are described. See the text for more details. MyD88: myeloid differentiation factor 88, MAL: MyD88-adaptor-like, TRIF: TIR domain-containing adaptor-inducing IFN-β, TRAM: TRIF-related adaptor molecule, IRAK: interleukin-1 receptor-associated kinase, TRAF6: TNF receptor associated factor 6, TAK1: transforming growth factor beta-activated kinase 1, MAPK: mitogen-activated protein kinase, IKK: IκB kinase, NF-κB: nuclear factor-kappa B, IRF: IFN-regulatory factor, TBK1: tank-binding kinase 1, MAVS: mitochondrial antiviral-signaling, FADD: Fas-associated protein with death domain.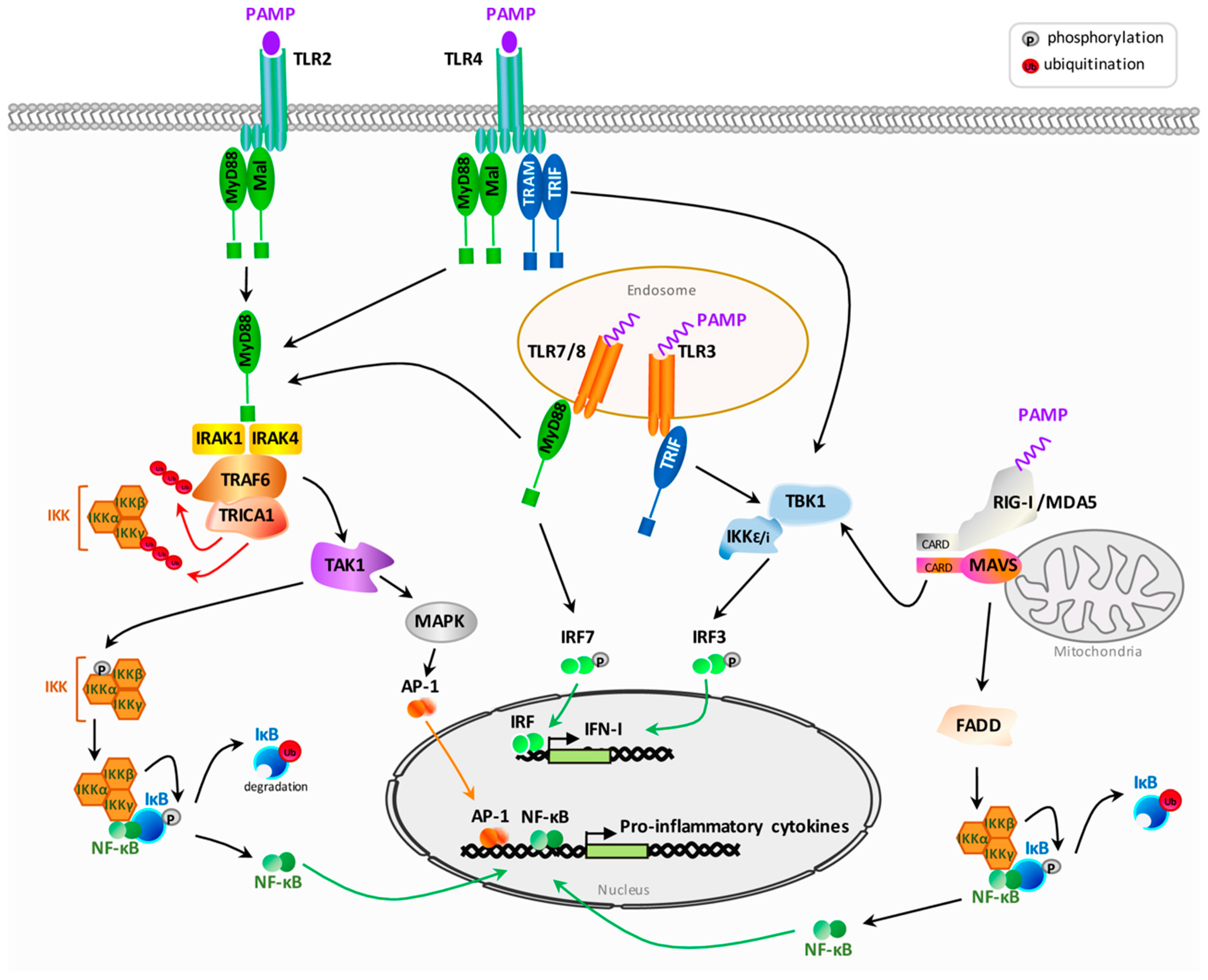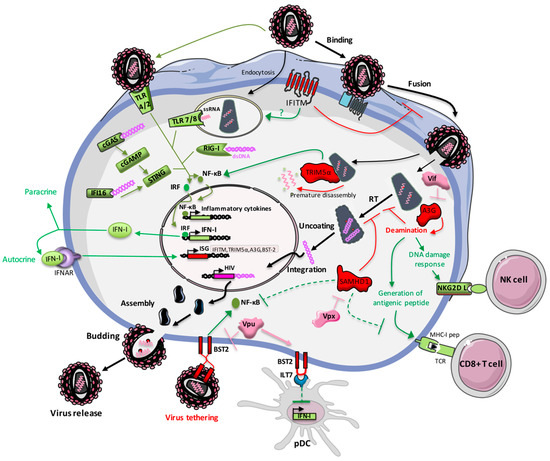 Figure 2. Schematic representation of HIV sensing by PRRs leading to the expression of antiviral restriction factors and shaping of immunity by restriction factors. Detection of HIV PAMPs by PRRs leads to activation of the transcription factors IRF and NF-κB driving the expression of IFN-I and inflammatory cytokines, respectively. IFN-I binds to IFNAR (IFN-α/β receptor chain) and activates transcription of interferon-stimulated genes (ISGs) including the restriction factors interferon-inducible transmembrane (IFITM) proteins, tripartite motif (TRIM)5α, apolipoprotein B mRNA-editing enzyme catalytic subunit-like 3G (APOBEC3G/A3G) and bone marrow stromal antigen 2 (BST-2). Antiviral functions of restriction factors are indicated by red arrows. Feedback of restriction factors on immunity are depicted by green arrows (induction: solid lines, inhibition: dotted lines). Counteractions by viral proteins are depicted in pink. Only restriction factors that are both induced by immunity and have an effect on immunity are illustrated. pDC: plasmacytoid dendritic cells, NK: natural killer cells, RT: reverse transcription, TLR: Toll-like receptors, RIG-I: retinoic acid-inducible gene I, cGAS: cyclic guanosine monophosphate (GMP)-adenosine monophosphate (AMP) synthase, cGAMP: cyclic GMP-AMP, STING: stimulator of interferon genes, IFI16: interferon gamma inducible protein 16, IRF: IFN-regulatory factor, ssRNA: single-stranded RNA, dsDNA: double-stranded DNA, TCR: T cell receptor, MHC-I pep: major histocompatibility complex I associated with a peptide.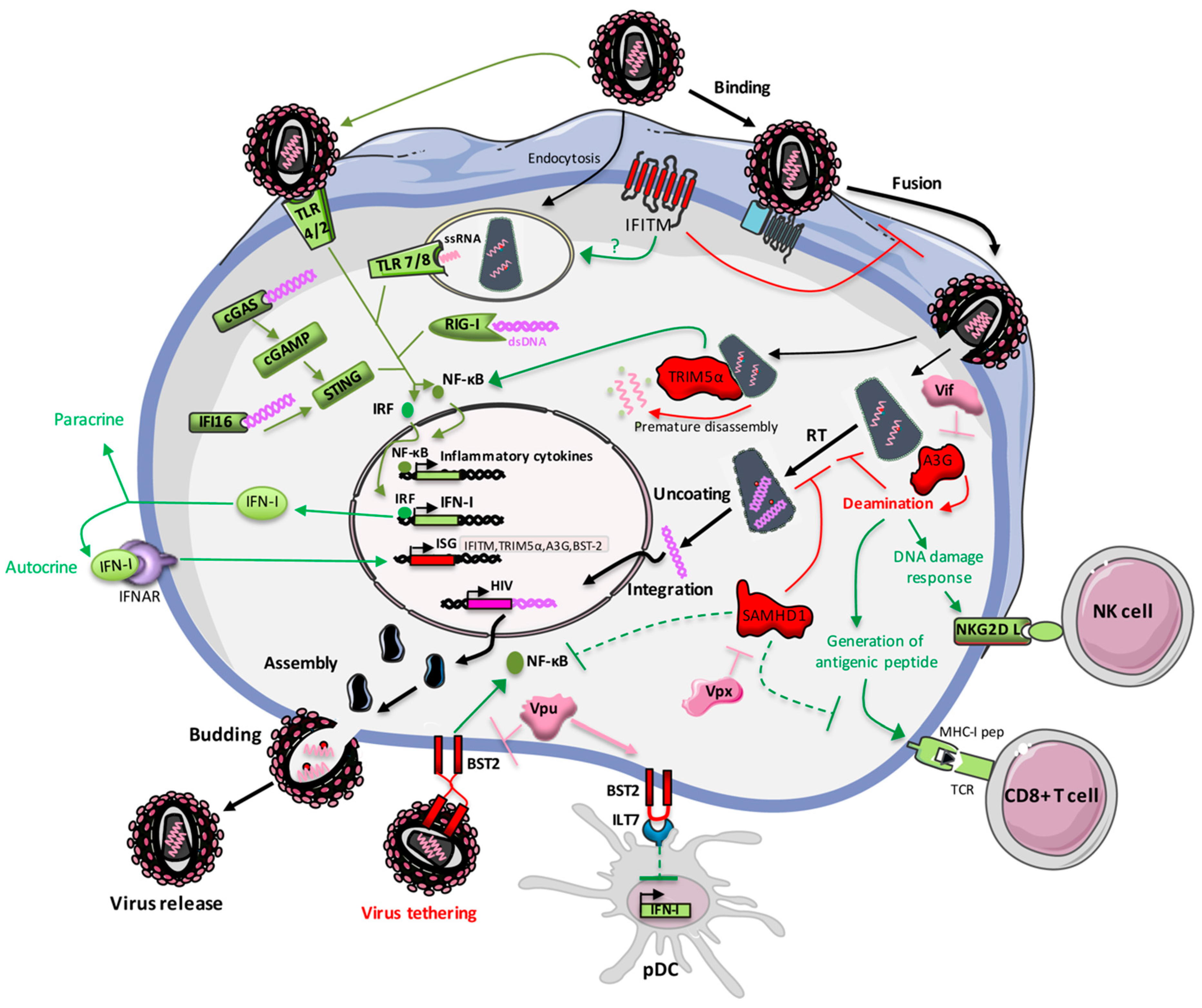 Restriction Factor
Induction by Innate Immunity
Antiviral Function
Feedback on Immunity
HIV Counteraction
IFITM1/2/3
IFN-α
IFN-γ
- Inhibit viral entry by reducing membrane fluidity
- Negative imprinting of virions
- Involved in Th1/Th2 polarization of CD4+ T cells
- Targeting of virus in endosomes for TLRs sensing?
TRIM5α
IFN-I
- Premature uncoating
- Targets viral capsid for proteasomal degradation
- Activation of NF-κB after sensing the viral capsid
Viral capsids with reduced affinity for TRIM5α
APOBEC3G
IFN-α
IFN-γ
IL-2, IL17, IL15
- Deamination of cytidines to uracils during RT creating hypermutated proviral DNA
- Induction of NKG2D ligand expression leading to the recognition of infected cells by NK cells
- Generation of antigenic peptides presented on MHC-I allowing the recognition of infected cells by CD8 T cells
HIV-1 Vif
SAMHD1
TLR3, RIG-I and MDA5 activation (in HeLa, HEK293 and MARC-145 cells)
IFN-α (liver cells)
IL-12, IL18
- Inhibits RT by decreasing the cellular pool of dNTPs
- Degradation of HIV genomic RNA
- Inhibition of NF-κB
- Decreases antigen presentation
HIV-2 Vpx
Mx2
IFN-α, IFN-β
IFN-γ
- Inhibits HIV nuclear import
- Impairs uncoating?
Not described
BST-2/Tetherin
IFN-α
IFN-γ
IL27
- HIV budding (viral entrapment)
- Internalization and degradation of virions by the endosomal pathway
- Activation of NF-κB
- Delivery of PAMPs on endosomal TLRs?
- Sensitizes infected cells to ADCC
- Sensitizes infected cells to NK cells
- Binds to ILT7 on pDCs and inhibits IFN-I production
- Inhibits RIG-I signaling (leads to the autophagic degradation of MAVS)
HIV-1 Vpu
CH25
IFN-α, IFN-β
IFN-γ
TLR4/TLR3 activation
- Inhibits viral entry by affecting membrane fluidity
- Inhibits inflammation
- Blocks Ig class switch recombination in B cells
ZAP
IFN-α
- Degradation of viral mRNA
- Inhibition of translation
- ZAP-S promotes RIG-I activity
HIV-Rev via Matrin3
SLFN11
IFN-I
- Inhibits HIV translation by preventing the change of tRNA pool composition
Not described
ISG15
IFN-α, IFN-β
NF-κB
- Inhibits HIV-1 release (ISGylation of Gag)
Not described
GBP5
IFN-I
- Decreases viral progeny infectivity by impairing incorporation of gp120 in budding viruses
- Activates NLRP3 and AIM2 inflammasomes
- Stimulation of NF-κB

© 2019 by the authors. Licensee MDPI, Basel, Switzerland. This article is an open access article distributed under the terms and conditions of the Creative Commons Attribution (CC BY) license (http://creativecommons.org/licenses/by/4.0/).