Clinical and Genetic Analysis of Children with Kartagener Syndrome
1
Laboratory of Cell Biology, Department of Microscopy, Institute of Biomedical Sciences Abel Salazar (ICBAS), University of Porto (UP), Rua Jorge Viterbo Ferreira, 228, 4050-313 Porto, Portugal
2
Multidisciplinary Unit for Biomedical Research (UMIB), ICBAS-UP, 4050-313 Porto, Portugal
3
Department of Pediatrics, Maternal Child Center of the North (CMIN), University Hospital Center of Porto (CHUP), Largo da Maternidade de Júlio Dinis, 4050-651 Porto, Portugal
4
Department of Molecular Biology, Institute of Biomedical Sciences Abel Salazar (ICBAS), University of Porto (UP), Rua Jorge Viterbo Ferreira, 228, 4050-313 Porto, Portugal
5
Bioengineering and Synthetic Microbiology Group, Institute of Health Research and Innovation (IBMC/i3S), University of Porto (UP), Rua Alfredo Allen, 208, 4200-135 Porto, Portugal
6
Center of Medical Genetics Dr. Jacinto de Magalhães (IGMJM), University Hospital Centre of Porto (CHUP), Praça Pedro Nunes 88, 4050-106 Porto, Portugal
7
Center for Predictive and Preventive Genetics, Institute for Molecular and Cell Biology (IBMC), Institute of Health Research and Innovation (i3S)-UP, Rua Júlio Amaral de Carvalho 45, 4200-135 Porto, Portugal
8
UniGene- IBMC/i3S, UP, Rua Alfredo Allen, 208, 4200-135 Porto, Portugal
*
Author to whom correspondence should be addressed.
Received: 25 June 2019 / Revised: 5 August 2019 / Accepted: 13 August 2019 / Published: 15 August 2019
Abstract
Primary ciliary dyskinesia (PCD) is a rare autosomal recessive disorder characterized by dysfunction of motile cilia causing ineffective mucus clearance and organ laterality defects. In this study, two unrelated Portuguese children with strong PCD suspicion underwent extensive clinical and genetic assessments by whole-exome sequencing (WES), as well as ultrastructural analysis of cilia by transmission electron microscopy (TEM) to identify their genetic etiology. These analyses confirmed the diagnostic of Kartagener syndrome (KS) (PCD with
situs inversus
). Patient-1 showed a predominance of the absence of the inner dynein arms with two disease-causing variants in the
CCDC40
gene. Patient-2 showed the absence of both dynein arms and WES disclosed two novel high impact variants in the
DNAH5
gene and two missense variants in the
DNAH7
gene, all possibly deleterious. Moreover, in Patient-2, functional data revealed a reduction of gene expression and protein mislocalization in both genes' products. Our work calls the researcher's attention to the complexity of the PCD and to the possibility of gene interactions modelling the PCD phenotype. Further, it is demonstrated that even for well-known PCD genes, novel pathogenic variants could have importance for a PCD/KS diagnosis, reinforcing the difficulty of providing genetic counselling and prenatal diagnosis to families.
View Full-Text
►

▼

Figures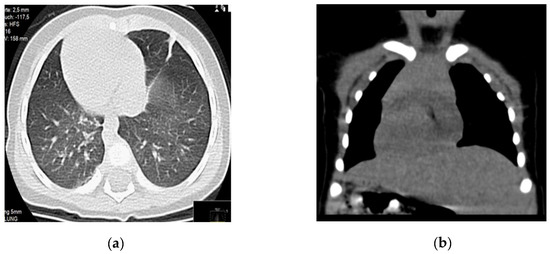 Figure 1
This is an open access article distributed under the
Creative Commons Attribution License
which permits unrestricted use, distribution, and reproduction in any medium, provided the original work is properly cited (CC BY 4.0).

Share & Cite This Article
MDPI and ACS Style
Pereira, R.; Barbosa, T.; Gales, L.; Oliveira, E.; Santos, R.; Oliveira, J.; Sousa, M. Clinical and Genetic Analysis of Children with Kartagener Syndrome. Cells 2019, 8, 900.
Note that from the first issue of 2016, MDPI journals use article numbers instead of page numbers. See further details here.
Related Articles
Comments
[Return to top]