Parkin-Dependent Mitophagy is Required for the Inhibition of ATF4 on NLRP3 Inflammasome Activation in Cerebral Ischemia-Reperfusion Injury in Rats
1
Department of Pathophysiology, Chongqing Medical University, Chongqing 400010, China
2
Institute of Neuroscience, Chongqing Medical University, Chongqing 400010, China
3
Department of Pathology, Chongqing Medical University, Chongqing 400010, China
*
Authors to whom correspondence should be addressed.
†
These authors contributed equally to this work.
Received: 23 July 2019 / Revised: 9 August 2019 / Accepted: 13 August 2019 / Published: 14 August 2019
Abstract
Background: Nod-like receptor protein 3 (NLRP3) inflammasome is a crucial contributor in the inflammatory process during cerebral ischemia/reperfusion (I/R) injury. ATF4 plays a pivotal role in the pathogenesis of cerebral I/R injury, however, its function and underlying mechanism are not fully characterized yet. In the current study, we examined whether ATF4 ameliorates cerebral I/R injury by inhibiting NLRP3 inflammasome activation and whether mitophagy is involved in this process. In addition, we explored the role of parkin in ATF4-mediated protective effects. Method: To address these issues, healthy male adult Sprague-Dawley rats were exposed to middle cerebral artery occlusion for 1 h followed by 24 h reperfusion. Adeno-associated virus (AAV) and siRNA were injected into rats to overexpress and knockdown ATF4 expression, respectively. After pretreatment with AAV, mdivi-1(mitochondrial division inhibitor-1) was injected into rats to block mitophagy activity. Parkin expression was knockdown using specific siRNA after AAV pretreatment. Result: Data showed that ATF4 overexpression induced by AAV was protective against cerebral I/R injury, as evidenced by reduced cerebral infraction volume, decreased neurological scores and improved outcomes of HE and Nissl staining. In addition, overexpression of ATF4 gene was able to up-regulate Parkin expression, enhance mitophagy activity and inhibit NLRP3 inflammasome-mediated inflammatory response. ATF4 knockdown induced by siRNA resulted in the opposite effects. Furthermore, ATF4-mediated inhibition of NLRP3 inflammasome activation was strongly affected by mitophagy blockage upon mdivi-1 injection. Besides, ATF4-mediated increase of mitophagy activity and inhibition of NLRP3 inflammasome activation were effectively reversed by Parkin knockdown using siRNA. Conclusion: Our study demonstrated that ATF4 is able to alleviate cerebral I/R injury by suppressing NLRP3 inflammasome activation through parkin-dependent mitophagy activity. These results may provide a new strategy to relieve cerebral I/R injury by modulating mitophagy-NLRP3 inflammasome axis.

►

▼

Figures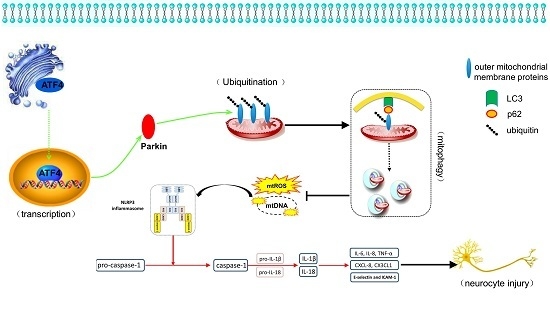 Graphical abstract
This is an open access article distributed under the
Creative Commons Attribution License
which permits unrestricted use, distribution, and reproduction in any medium, provided the original work is properly cited (CC BY 4.0).

Share & Cite This Article
MDPI and ACS Style
He, Q.; Li, Z.; Meng, C.; Wu, J.; Zhao, Y.; Zhao, J. Parkin-Dependent Mitophagy is Required for the Inhibition of ATF4 on NLRP3 Inflammasome Activation in Cerebral Ischemia-Reperfusion Injury in Rats. Cells 2019, 8, 897.
Note that from the first issue of 2016, MDPI journals use article numbers instead of page numbers. See further details here.
Related Articles
Comments
[Return to top]