Paraimmunobiotic Bifidobacteria Modulate the Expression Patterns of Peptidoglycan Recognition Proteins in Porcine Intestinal Epitheliocytes and Antigen Presenting Cells
1
Food and Feed Immunology Group, Laboratory of Animal Products Chemistry, Graduate School of Agricultural Science, Tohoku University, Sendai 980-8572, Japan
2
Livestock Immunology Unit, International Education and Research Center for Food Agricultural Immunology (CFAI), Graduate School of Agricultural Science, Tohoku University, Sendai 980-8572, Japan
3
Central Region Agricultural Research Centre, National Agriculture and Food Research Organization, Nasushiobara 29-2793, Japan
4
Department of Medicine, Faculty of Veterinary Science, Bangladesh Agricultural University, Mymensingh 2202, Bangladesh
5
Laboratory of Immunobiotechnology, Reference Centre for Lactobacilli, (CERELA-CONICET), Tucuman 4000, Argentina
6
Department of Food, Agriculture and Environment, Miyagi University, Sendai 980-8572, Japan
7
Cell Biology Laboratory, Graduate School of Agricultural Science, Tohoku University, Sendai 980-8572, Japan
8
Infection Immunology Unit, International Education and Research Center for Food Agricultural Immunology (CFAI), Graduate School of Agricultural Science, Tohoku University, Sendai 980-8572, Japan
9
Viral Diseases and Epidemiology Research Division, National Institute of Animal Health, NARO, Tsukuba 305-0853, Japan
10
Animal Bioregulation Unit, Division of Animal Sciences, Institute of Agrobiological Sciences, National Agriculture and Food Research Organization (NARO), Tsukuba, Ibaraki 305-8634, Japan
11
Food Science and Technology Institute, Morinaga Milk Industry Co. Ltd., Zama, Kanagawa 252-8583, Japan
12
Next Generation Science Institute, Morinaga Milk Industry Co. Ltd., Zama, Kanagawa 252-8583, Japan
*
Authors to whom correspondence should be addressed.
†
These authors have contributed equally to this work.
‡
JSPS Postdoctoral Fellow.
Received: 7 June 2019 / Revised: 7 August 2019 / Accepted: 9 August 2019 / Published: 14 August 2019
Abstract
Peptidoglycan recognition proteins (PGLYRPs) are a family of pattern recognition receptors (PRRs) that are able to induce innate immune responses through their binding to peptidoglycan (PGN), lipopolysaccharide, or lipoteichoic acid, or by interacting with other PRR-ligands. Recently, progress has been made in understanding the immunobiology of PGLYRPs in human and mice, however, their functions in livestock animals have been less explored. In this study, we characterized the expression patterns of PGLYRPs in porcine intestinal epithelial (PIE) cells and antigen-presenting cells (APCs) and their modulation by the interactions of host cells with PRR-ligands and non-viable immunomodulatory probiotics referred to as paraimmunobiotics. We demonstrated that PGLYRP-1, -2, -3, and -4 are expressed in PIE cells and APCs from Peyer's patches, being PGLYPR-3 and -4 levels higher than PGLYRP-1 and -2. We also showed that PGLYRPs expression in APCs and PIE cells can be modulated by different PRR agonists. By using knockdown PIE cells for TLR2, TLR4, NOD1, and NOD2, or the four PGLYRPs, we demonstrated that PGLYRPs expressions would be required for activation and functioning of TLR2, TLR4, NOD1, and NOD2 in porcine epitheliocytes, but PGLYRPs activation would be independent of those PRR expressions. Importantly, we reported for the first time that PGLYRPs expression can be differentially modulated by paraimmunobiotic bifidobacteria in a strain-dependent manner. These results provide evidence for the use of paraimmunobiotic bifidobacteria as an alternative for the improvement of resistance to intestinal infections or as therapeutic tools for the reduction of the severity of inflammatory damage in diseases in which a role of PGLYRPs-microbe interaction has been demonstrated.
View Full-Text
►

▼

Figures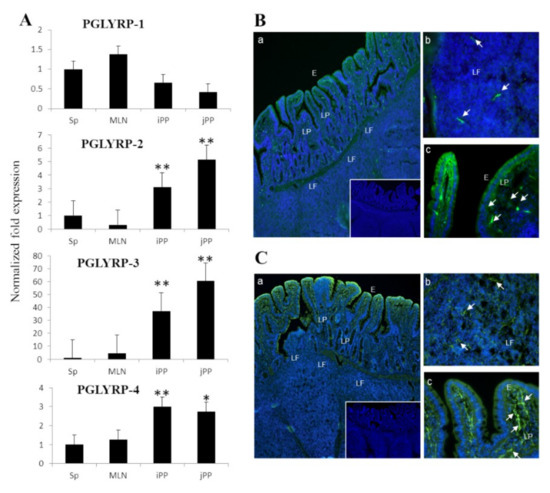 Figure 1
This is an open access article distributed under the
Creative Commons Attribution License
which permits unrestricted use, distribution, and reproduction in any medium, provided the original work is properly cited (CC BY 4.0).

Share & Cite This Article
MDPI and ACS Style
Iida, H.; Tohno, M.; Islam, M.A.; Sato, N.; Kobayashi, H.; Albarracin, L.; Kober, A.H.; Ikeda-Ohtsubo, W.; Suda, Y.; Aso, H.; Nochi, T.; Miyazaki, A.; Uenishi, H.; Iwabuchi, N.; Xiao, J.-Z.; Villena, J.; Kitazawa, H. Paraimmunobiotic Bifidobacteria Modulate the Expression Patterns of Peptidoglycan Recognition Proteins in Porcine Intestinal Epitheliocytes and Antigen Presenting Cells. Cells 2019, 8, 891.
Note that from the first issue of 2016, MDPI journals use article numbers instead of page numbers. See further details here.
Related Articles
Comments
[Return to top]