IGFs Potentiate TAC3-induced SLα Expression via Upregulation of TACR3 Expression in Grass Carp Pituitary Cells
1
College of Fisheries, Huazhong Agricultural University, Wuhan 430070, China
2
School of Biological Sciences, University of Hong Kong, Hong Kong, China
*
Authors to whom correspondence should be addressed.
Received: 15 July 2019 / Revised: 6 August 2019 / Accepted: 10 August 2019 / Published: 13 August 2019
Abstract
In mammals, the tachykinin 3 (TAC3)/tachykinin receptor 3 (TACR3) systems have been confirmed to play an important role in the regulation of puberty onset. Using grass carp pituitary cells as the model, our recent study found that the TAC3 gene products could significantly induce somatolactin α (SLα) synthesis and secretion via TACR3 activation. In the present study, we seek to examine if pituitary TACR3 can serve as a regulatory target and contribute to TAC3 interactions with other SLα regulators. Firstly, grass carp TACR3 was cloned and tissue distribution showed that it could be highly detected in grass carp pituitary. Using HEK293 cells as the model, functional expression also revealed that grass carp TACR3 exhibited ligand binding selectivity and post-receptor signaling highly comparable to its mammalian counterpart. Using grass carp pituitary cells as the model, TACR3 mRNA expression could be stimulated by insulin-like growth factor (IGF)-I and -II via the IGF-I receptor coupled to phosphatidylinositol-3-kinase (PI
3
K)/protein kinase B (Akt) and mitogen-activated protein kinase (MAPK) pathways. Interestingly, IGF-I/-II cotreatment could also significantly enhance TAC3-induced SLα mRNA expression and the potentiating effect was dependent on TACR3 expression and activation of adenylate cyclase (AC)/cAMP/protein kinase A (PKA), phospholipase C (PLC)/inositol 1,4,5-triphosphate (IP
3
)/protein kinase C (PKC), and Ca
2+
/calmodulin (CaM)/calmodulin-dependent protein kinase II (CaMK-II) cascades. Besides, IGF-I-induced Akt phosphorylation but not MEK, extracellular signal-regulated kinase (ERK
1/2
), and P
38
MAPK phosphorylation was notably enhanced by TACR3 activation. These results, as a whole, suggest that the potentiating effect of IGFs on TAC3 gene products-induced SLα mRNA expression was mediated by TACR3 upregulation and functional crosstalk of post-receptor signaling in the pituitary.
View Full-Text
►

▼

Figures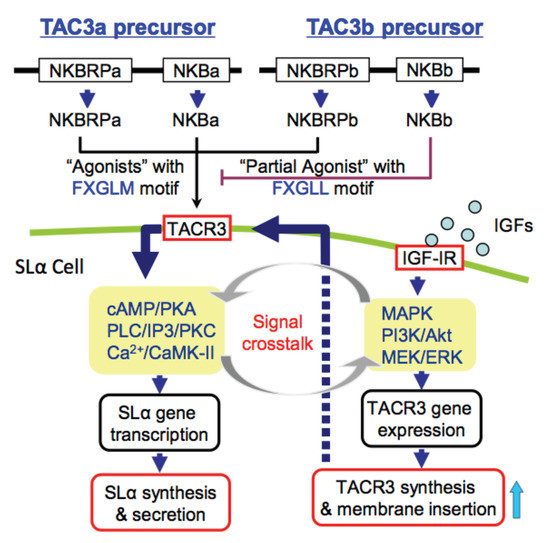 Graphical abstract
This is an open access article distributed under the
Creative Commons Attribution License
which permits unrestricted use, distribution, and reproduction in any medium, provided the original work is properly cited (CC BY 4.0).

Share & Cite This Article
MDPI and ACS Style
Hu, G.; He, M.; Ko, W.K.W.; Ye, C.; Hu, Q.; Wong, A.O.L. IGFs Potentiate TAC3-induced SLα Expression via Upregulation of TACR3 Expression in Grass Carp Pituitary Cells. Cells 2019, 8, 887.
Note that from the first issue of 2016, MDPI journals use article numbers instead of page numbers. See further details here.
Related Articles
Comments
[Return to top]