EGFR/ErbB Inhibition Promotes OPC Maturation up to Axon Engagement by Co-Regulating PIP2 and MBP
1
NeurotechIT Laboratory, Department of Biology, University of Rome "Tor Vergata", 00133 Rome, Italy
2
Advanced Microscopy Center, Department of Biology, University of Rome "Tor Vergata", 00133 Rome, Italy
3
Department of Engineering, Università Campus Bio-Medico di Roma, 00128 Rome, Italy
4
School of Materials and Energy, University of Electronic Science and Technology of China, Chengdu 611731, China
*
Author to whom correspondence should be addressed.
†
These authors contributed equally to this work.
‡
Department of Microbiology, Immunology and Genetics, Max F. Perutz Laboratories, Dr. Bohr-Gasse 9, 1030 Wien, Austria.
§
Laboratory of Synaptic Immunology, University of Rome "Tor Vergata", 00133 Rome, Italy.
Received: 5 June 2019 / Revised: 4 August 2019 / Accepted: 5 August 2019 / Published: 6 August 2019
Abstract
Remyelination in the adult brain relies on the reactivation of the Neuronal Precursor Cell (NPC) niche and differentiation into Oligodendrocyte Precursor Cells (OPCs) as well as on OPC maturation into myelinating oligodendrocytes (OLs). These two distinct phases in OL development are defined by transcriptional and morphological changes. How this differentiation program is controlled remains unclear. We used two drugs that stimulate myelin basic protein (MBP) expression (Clobetasol and Gefitinib) alone or combined with epidermal growth factor receptor (EGFR) or Retinoid X Receptor gamma (RXRγ) gene silencing to decode the receptor signaling required for OPC differentiation in myelinating OLs. Electrospun polystyrene (PS) microfibers were used as synthetic axons to study drug efficacy on fiber engagement. We show that EGFR inhibition per se stimulates MBP expression and increases Clobetasol efficacy in OPC differentiation. Consistent with this, Clobetasol and Gefitinib co-treatment, by co-regulating RXRγ, MBP and phosphatidylinositol 4,5-bisphosphate (PIP2) levels, maximizes synthetic axon engagement. Conversely, RXRγ gene silencing reduces the ability of the drugs to promote MBP expression. This work provides a view of how EGFR/ErbB inhibition controls OPC differentiation and indicates the combination of Clobetasol and Gefitinib as a potent remyelination-enhancing treatment.
View Full-Text
►

▼

Figures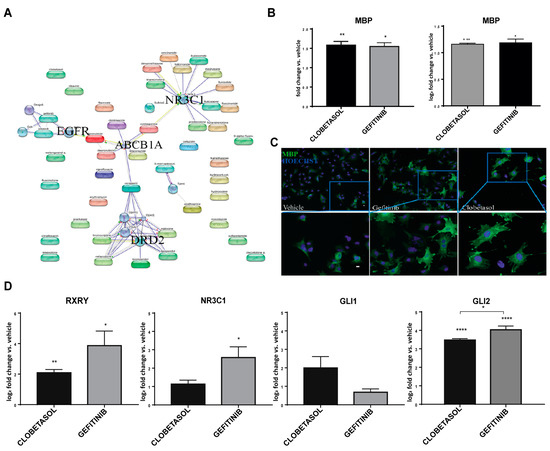 Figure 1
This is an open access article distributed under the
Creative Commons Attribution License
which permits unrestricted use, distribution, and reproduction in any medium, provided the original work is properly cited (CC BY 4.0).

Share & Cite This Article
MDPI and ACS Style
Nocita, E.; Del Giovane, A.; Tiberi, M.; Boccuni, L.; Fiorelli, D.; Sposato, C.; Romano, E.; Basoli, F.; Trombetta, M.; Rainer, A.; Traversa, E.; Ragnini-Wilson, A. EGFR/ErbB Inhibition Promotes OPC Maturation up to Axon Engagement by Co-Regulating PIP2 and MBP. Cells 2019, 8, 844.
Note that from the first issue of 2016, MDPI journals use article numbers instead of page numbers. See further details here.
Related Articles
Comments
[Return to top]