Lasting DNA Damage and Aberrant DNA Repair Gene Expression Profile Are Associated with Post-Chronic Cadmium Exposure in Human Bronchial Epithelial Cells
1
Laboratory of Cancer Biology and Epigenetics, Department of Cell Biology and Genetics, Shantou University Medical College, Shantou 515041, Guangdong, China
2
Department of Pathology and Medical Biology, University Medical Center Groningen, University of Groningen, 9713 GZ Groningen, The Netherlands
3
GRIAC Research Institute, University Medical Center Groningen, University of Groningen, 9713 GZ Groningen, The Netherlands
4
Provincial Key Laboratory of Infectious Diseases and Molecular Pathology, Shantou University Medical College, Shantou 515041, Guangdong, China
5
Collaborative and Creative Center of Molecular Pathology and Personalized Medicine, Shantou University Medical College, Shantou 515041, Guangdong, China
6
Department of Pathology and Pathophysiology, Shantou University Medical College, Shantou 515041, Guangdong, China
7
School of Biomedical Sciences, LKS Faculty of Medicine, University of Hong Kong, Hong Kong, China
*
Authors to whom correspondence should be addressed.
Received: 27 June 2019 / Revised: 28 July 2019 / Accepted: 2 August 2019 / Published: 6 August 2019
Abstract
Cadmium (Cd) is a widespread environmental pollutant and carcinogen. Although the exact mechanisms of Cd-induced carcinogenesis remain unclear, previous acute/chronic Cd exposure studies have shown that Cd exerts its cytotoxic and carcinogenic effects through multiple mechanisms, including interference with the DNA repair system. However, the effects of post-chronic Cd exposure remain unknown. Here, we establish a unique post-chronic Cd-exposed human lung cell model (the "CR0" cells) and investigate the effects of post-chronic Cd exposure on the DNA repair system. We found that the CR0 cells retained Cd-resistant property even though it was grown in Cd-free culture medium for over a year. The CR0 cells had lasting DNA damage due to reduced DNA repair capacity and an aberrant DNA repair gene expression profile. A total of 12 DNA repair genes associated with post-chronic Cd exposure were identified, and they could be potential biomarkers for identifying post-chronic Cd exposure. Clinical database analysis suggests that some of the DNA repair genes play a role in lung cancer patients with different smoking histories. Generally, CR0 cells were more sensitive to chemotherapeutic (cisplatin, gemcitabine, and vinorelbine tartrate) and DNA damaging (H
2
O
2
) agents, which may represent a double-edged sword for cancer prevention and treatment. Overall, we demonstrated for the first time that the effects of post-chronic Cd exposure on human lung cells are long-lasting and different from that of acute and chronic exposures. Findings from our study unveiled a new perspective on Cd-induced carcinogenesis—the post-chronic exposure of Cd. This study encourages the field of post-exposure research which is crucial but has long been ignored.
View Full-Text
►

▼

Figures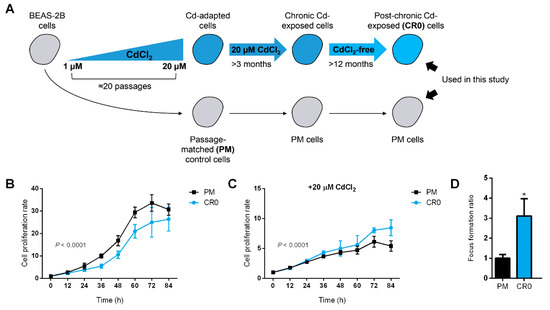 Figure 1
This is an open access article distributed under the
Creative Commons Attribution License
which permits unrestricted use, distribution, and reproduction in any medium, provided the original work is properly cited (CC BY 4.0).

Share & Cite This Article
MDPI and ACS Style
Tan, H.W.; Liang, Z.-L.; Yao, Y.; Wu, D.-D.; Mo, H.-Y.; Gu, J.; Chiu, J.-F.; Xu, Y.-M.; Lau, A.T.Y. Lasting DNA Damage and Aberrant DNA Repair Gene Expression Profile Are Associated with Post-Chronic Cadmium Exposure in Human Bronchial Epithelial Cells. Cells 2019, 8, 842.
Note that from the first issue of 2016, MDPI journals use article numbers instead of page numbers. See further details here.
Related Articles
Comments
[Return to top]