Analysis of Tks4 Knockout Mice Suggests a Role for Tks4 in Adipose Tissue Homeostasis in the Context of Beigeing
1
Institute of Enzymology, Research Centre for Natural Sciences, Hungarian Academy of Sciences, 1117 Budapest, Hungary
2
Institute of Physiology, Medical School University of Pécs, 7622 Pécs, Hungary
3
Department of Pharmaceutical Biotechnology, Faculty of Pharmacy and Szentagothai Research Center University of Pécs, 7622 Pécs, Hungary
4
Laboratory of Molecular Neuroendocrinology, Institute of Experimental Medicine, 1083 Budapest, Hungary
5
Department of Experimental Pharmacology, National Institute of Oncology, 1122 Budapest, Hungary
6
Department of Medical Chemistry, Semmelweis University Medical School, 1094 Budapest, Hungary
*
Author to whom correspondence should be addressed.
Received: 17 May 2019 / Revised: 22 July 2019 / Accepted: 30 July 2019 / Published: 5 August 2019
Abstract
Obesity and adipocyte malfunction are related to and arise as consequences of disturbances in signaling pathways. Tyrosine kinase substrate with four Src homology 3 domains (Tks4) is a scaffold protein that establishes a platform for signaling cascade molecules during podosome formation and epidermal growth factor receptor (EGFR) signaling. Several lines of evidence have also suggested that Tks4 has a role in adipocyte biology; however, its roles in the various types of adipocytes at the cellular level and in transcriptional regulation have not been studied. Therefore, we hypothesized that Tks4 functions as an organizing molecule in signaling networks that regulate adipocyte homeostasis. Our aims were to study the white and brown adipose depots of Tks4 knockout (KO) mice using immunohistology and western blotting and to analyze gene expression changes regulated by the white, brown, and beige adipocyte-related transcription factors via a PCR array. Based on morphological differences in the Tks4-KO adipocytes and increased uncoupling protein 1 (UCP1) expression in the white adipose tissue (WAT) of Tks4-KO mice, we concluded that the beigeing process was more robust in the WAT of Tks4-KO mice compared to the wild-type animals. Furthermore, in the Tks4-KO WAT, the expression profile of peroxisome proliferator-activated receptor gamma (PPARγ)-regulated adipogenesis-related genes was shifted in favor of the appearance of beige-like cells. These results suggest that Tks4 and its downstream signaling partners are novel regulators of adipocyte functions and PPARγ-directed white to beige adipose tissue conversion.
View Full-Text
►

▼

Figures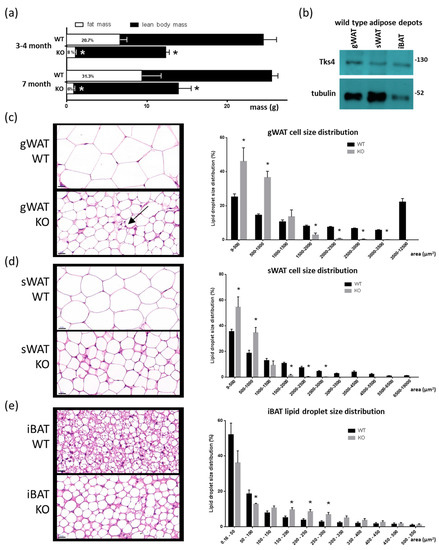 Figure 1
This is an open access article distributed under the
Creative Commons Attribution License
which permits unrestricted use, distribution, and reproduction in any medium, provided the original work is properly cited (CC BY 4.0).

Share & Cite This Article
MDPI and ACS Style
Vas, V.; Háhner, T.; Kudlik, G.; Ernszt, D.; Kvell, K.; Kuti, D.; Kovács, K.J.; Tóvári, J.; Trexler, M.; Merő, B.L.; Szeder, B.; Koprivanacz, K.; Buday, L. Analysis of Tks4 Knockout Mice Suggests a Role for Tks4 in Adipose Tissue Homeostasis in the Context of Beigeing. Cells 2019, 8, 831.
Note that from the first issue of 2016, MDPI journals use article numbers instead of page numbers. See further details here.
Related Articles
Comments
[Return to top]