Human Platelet Lysate as a Functional Substitute for Fetal Bovine Serum in the Culture of Human Adipose Derived Stromal/Stem Cells
1
School of Medicine, Tulane University, New Orleans, LA 70112, USA
2
LaCell LLC, New Orleans, LA 70148, USA
3
Obatala Sciences Inc., New Orleans, LA 70148, USA
4
Axosim Inc., New Orleans, LA 70112, USA
5
Louisiana State University School of Veterinary Medicine, Baton Rouge, LA 70803, USA
6
Institute for Animal Reproduction and Food Research, Polish Academy of Science, 10-748 Olsztyn, Poland
*
Author to whom correspondence should be addressed.
†
Current Affiliations: Department of Urology, Bowman Gray School of Medicine, Wake Forest University, Winston Salem, NC 27101, USA.
Received: 15 May 2019 / Revised: 8 July 2019 / Accepted: 9 July 2019 / Published: 15 July 2019
Abstract
Introduction: Adipose derived stromal/stem cells (ASCs) hold potential as cell therapeutics for a wide range of disease states; however, many expansion protocols rely on the use of fetal bovine serum (FBS) as a cell culture nutrient supplement. The current study explores the substitution of lysates from expired human platelets (HPLs) as an FBS substitute. Methods: Expired human platelets from an authorized blood center were lysed by freeze/thawing and used to examine human ASCs with respect to proliferation using hematocytometer cell counts, colony forming unit-fibroblast (CFU-F) frequency, surface immunophenotype by flow cytometry, and tri-lineage (adipocyte, chondrocyte, osteoblast) differentiation potential by histochemical staining. Results: The proliferation assays demonstrated that HPLs supported ASC proliferation in a concentration dependent manner, reaching levels that exceeded that observed in the presence of 10% FBS. The concentration of 0.75% HPLs was equivalent to 10% FBS when utilized in cell culture media with respect to proliferation, immunophenotype, and CFU-F frequency. When added to osteogenic, adipogenic, and chondrogenic differentiation media, both supplements showed appropriate differentiation by staining. Conclusion: HPLs is an effective substitute for FBS in the culture, expansion and differentiation of human ASCs suitable for pre-clinical studies; however, additional assays and analyses will be necessary to validate HPLs for clinical applications and regulatory approval.
View Full-Text
►

▼

Figures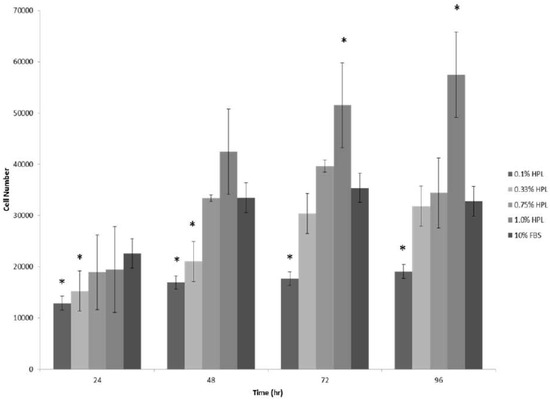 Figure 1
This is an open access article distributed under the
Creative Commons Attribution License
which permits unrestricted use, distribution, and reproduction in any medium, provided the original work is properly cited (CC BY 4.0).

Share & Cite This Article
MDPI and ACS Style
Cowper, M.; Frazier, T.; Wu, X.; Curley, J.L.; Ma, M.H.; Mohiuddin, O.A.; Dietrich, M.; McCarthy, M.; Bukowska, J.; Gimble, J.M. Human Platelet Lysate as a Functional Substitute for Fetal Bovine Serum in the Culture of Human Adipose Derived Stromal/Stem Cells. Cells 2019, 8, 724.
Note that from the first issue of 2016, MDPI journals use article numbers instead of page numbers. See further details here.
Related Articles
Comments
[Return to top]