The Multifunctional Sorting Protein PACS-2 Controls Mitophagosome Formation in Human Vascular Smooth Muscle Cells through Mitochondria-ER Contact Sites
1
INSERM, UMR 1048, Institute of Metabolic and Cardiovascular Diseases/I2MC, F-31342 Toulouse, France
2
University of Toulouse III, F-31342 Toulouse, France
3
Center for Psychiatric Neuroscience, Department of Psychiatry, Lausanne University Hospital, 1005 Lausanne, Switzerland
4
Department of Microbiology and Molecular Genetics, University of Pittsburgh School of Medicine, Pittsburgh, PA 15219, USA
5
Hillman Cancer Center, University of Pittsburgh School of Medicine, Pittsburgh, PA 15213, USA
*
Author to whom correspondence should be addressed.
†
These authors contributed equally to this work.
Received: 18 April 2019 / Revised: 20 June 2019 / Accepted: 22 June 2019 / Published: 25 June 2019
Abstract
Mitochondria-associated ER membranes (MAMs) are crucial for lipid transport and synthesis, calcium exchange, and mitochondrial functions, and they also act as signaling platforms. These contact sites also play a critical role in the decision between autophagy and apoptosis with far reaching implications for cell fate. Vascular smooth muscle cell (VSMC) apoptosis accelerates atherogenesis and the progression of advanced lesions, leading to atherosclerotic plaque vulnerability and medial degeneration. Though the successful autophagy of damaged mitochondria promotes VSMC survival against pro-apoptotic atherogenic stressors, it is unknown whether MAMs are involved in VSMC mitophagy processes. Here, we investigated the role of the multifunctional MAM protein phosphofurin acidic cluster sorting protein 2 (PACS-2) in regulating VSMC survival following a challenge by atherogenic lipids. Using high-resolution confocal microscopy and proximity ligation assays, we found an increase in MAM contacts as in PACS-2-associated MAMs upon stimulation with atherogenic lipids. Correspondingly, the disruption of MAM contacts by PACS-2 knockdown impaired mitophagosome formation and mitophagy, thus potentiating VSMC apoptosis. In conclusion, our data shed new light on the significance of the MAM modulatory protein PACS-2 in vascular cell physiopathology and suggest MAMs may be a new target to modulate VSMC fate and favor atherosclerotic plaque stability.
View Full-Text
►

▼

Figures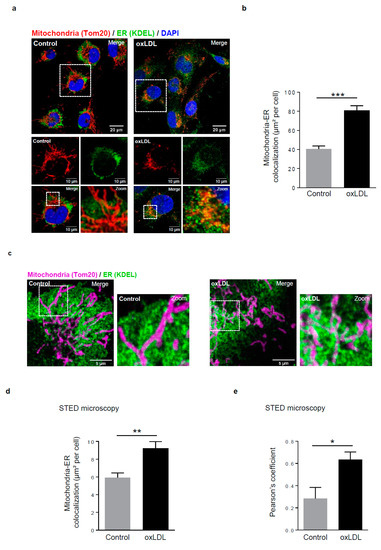 Figure 1
This is an open access article distributed under the
Creative Commons Attribution License
which permits unrestricted use, distribution, and reproduction in any medium, provided the original work is properly cited (CC BY 4.0).

Share & Cite This Article
MDPI and ACS Style
Moulis, M.; Grousset, E.; Faccini, J.; Richetin, K.; Thomas, G.; Vindis, C. The Multifunctional Sorting Protein PACS-2 Controls Mitophagosome Formation in Human Vascular Smooth Muscle Cells through Mitochondria-ER Contact Sites. Cells 2019, 8, 638.
Note that from the first issue of 2016, MDPI journals use article numbers instead of page numbers. See further details here.
Related Articles
Comments
[Return to top]