Open Access This article is
freely available
re-usable
Review
Molecular Profiling of Inflammatory Bowel Disease: Is It Ready for Use in Clinical Decision-Making?
1
Laboratory of Complex Genetics, Department of Human Genetics, KU Leuven, Herestraat 49 – box 610, 3000 Leuven, Belgium
2
Department of Biochemistry and Molecular Biology, University of Ulsan College of Medicine, Seoul 05505, Korea
*
Author to whom correspondence should be addressed.
Received: 17 April 2019 / Accepted: 30 May 2019 / Published: 4 June 2019
Abstract
:
Inflammatory bowel disease (IBD) is a heterogeneous disorder in terms of age at onset, clinical phenotypes, severity, disease course, and response to therapy. This underlines the need for predictive and precision medicine that can optimize diagnosis and disease management, provide more cost-effective strategies, and minimize the risk of adverse events. Ideally, we can leverage molecular profiling to predict the risk to develop IBD and disease progression. Despite substantial successes of genome-wide association studies in the identification of genetic variants affecting IBD susceptibility, molecular profiling of disease onset and progression as well as of treatment responses has lagged behind. Still, thanks to technological advances and good study designs, predicting phenotypes using genomics and transcriptomics in IBD has been rapidly evolving. In this review, we summarize the current status of prediction of disease risk, clinical course, and response to therapy based on clinical case presentations. We also discuss the potential and limitations of the currently used approaches.
Keywords:
inflammatory bowel disease; genetics; transcriptomics; molecular profiling
Funding
H.-S. Lee was supported by a National Research Foundation of Korea (NRF) MRC grant funded by the Korean government (MSIT), 2018R1A5A2020732.
Conflicts of Interest
H.-S. Lee and I. Cleynen declare no conflict of interest.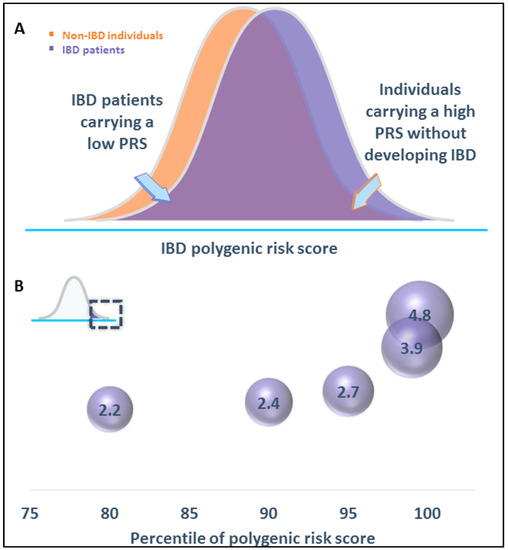 Figure 1.
The prediction of IBD risk based on the polygenic risk score (PRS). (
A
) Histogram of IBD PRS distribution in controls and patients with IBD. Patients tend to have larger risk scores than controls, as seen by the shift to the right of the patient distribution (purple) compared to the control distribution (salmon), although the distributions of patients and controls tend to overlap for the most part. Also, it is equally possible to see patients with IBD but with a low IBD PRS (blue arrow on the left), as there are controls with high IBD PRS that do not develop IBD (orange arrow on the right). Thus, calculating someone's PRS is only able to tell something about that persons' risk to get the disease (compared to the general population), but not whether he/she will get the disease. (
B
) Risk gradient for IBD in the high polygenic risk score area (20% highest scores, dashed box). The ascertainment of individuals with high polygenic risk score in a population may provide an opportunity to identify the individuals with the highest genetic risk. On this figure, the increased fold-risk is indicated for individuals in the top 20%, 10%, 5%, 1%, and 0.5% of the distribution based on estimates from Khera et al. [
20
]. The size of the circles and the numbers inside indicate the odds ratios. The top 1% of PRS thus has 3.9-fold risk (compared with the remainder 99% of the population), which represents an increase of IBD risk to 5.1% (with a lifetime IBD risk of 1.3%). The utility of polygenic risk score-based risk estimations is thus currently limited by the relatively small effect sizes.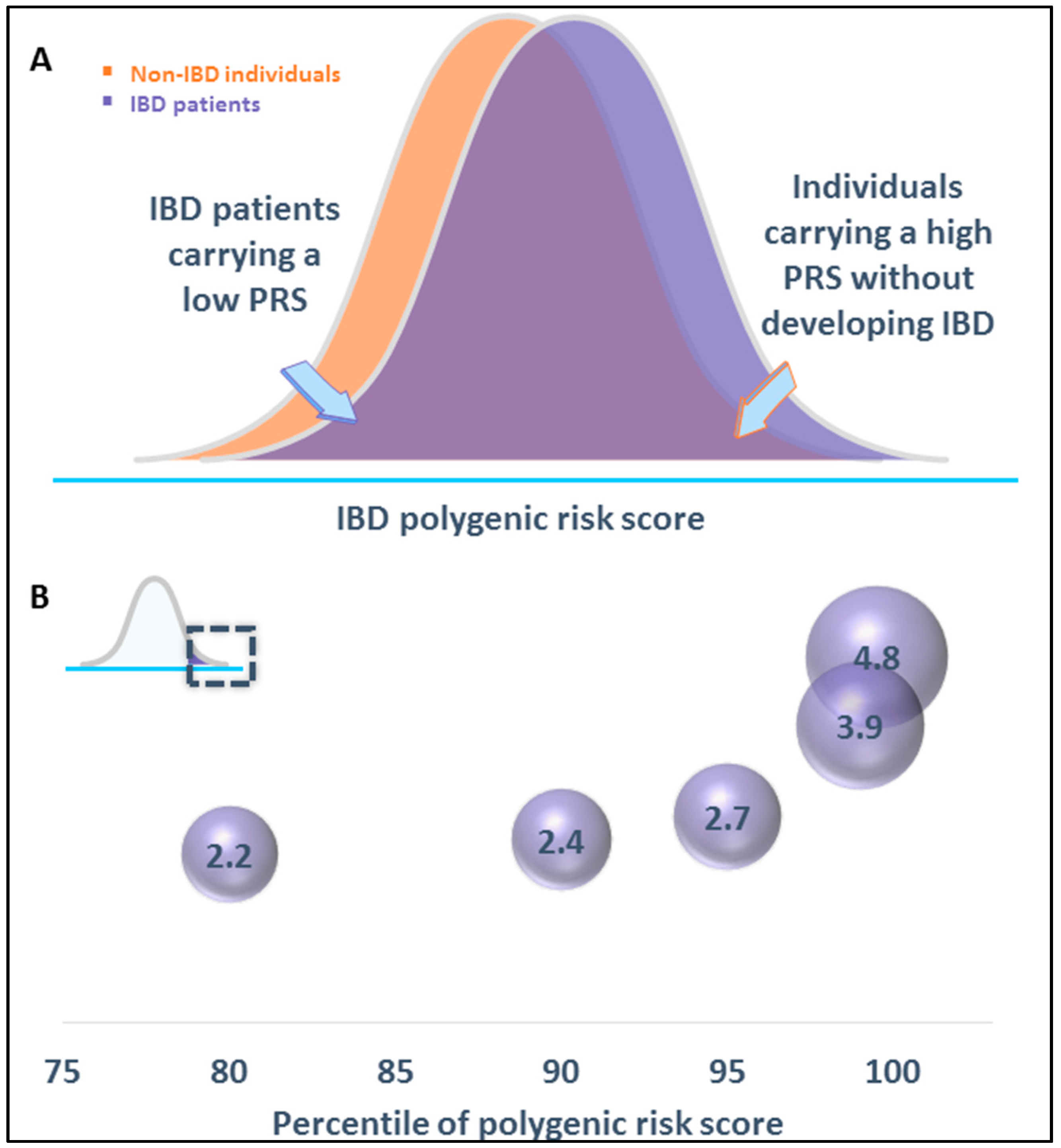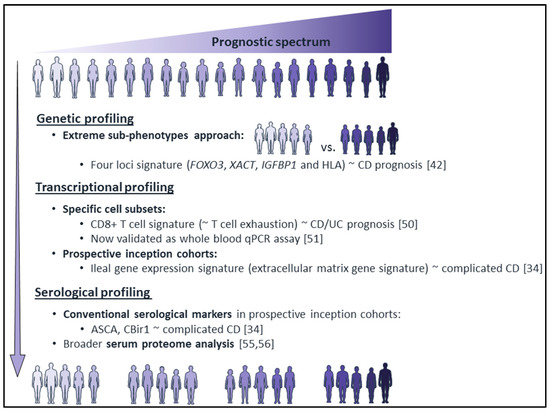 Figure 2.
Prediction of IBD disease progression based on molecular profiling. Molecular profiling of disease prognosis using genetics, transcriptomics, and serology has been rapidly evolving. The most promising studies in the IBD filed and their general study designs are shown with references. CD: Crohn's disease, UC: ulcerative colitis, ASCA: anti-
Saccharomyces cerevisiae
antibodies, Cbir1: anti-flagellin antibodies.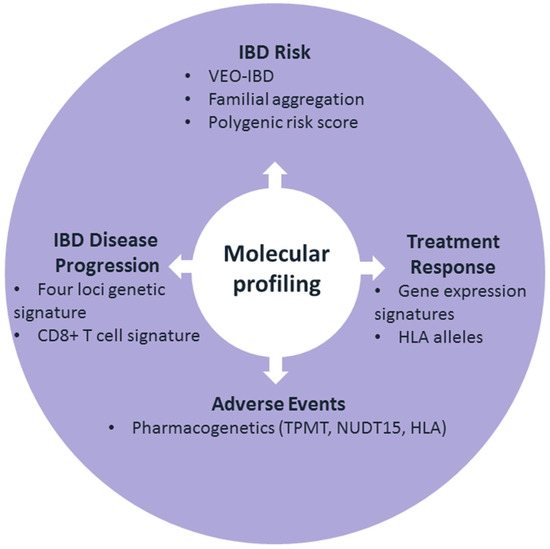 Figure 3.
Schematic diagram of the currently most promising use of molecular profiling in inflammatory bowel disease. Some further details can be found in
Table 2
. VEO-IBD: very early onset IBD.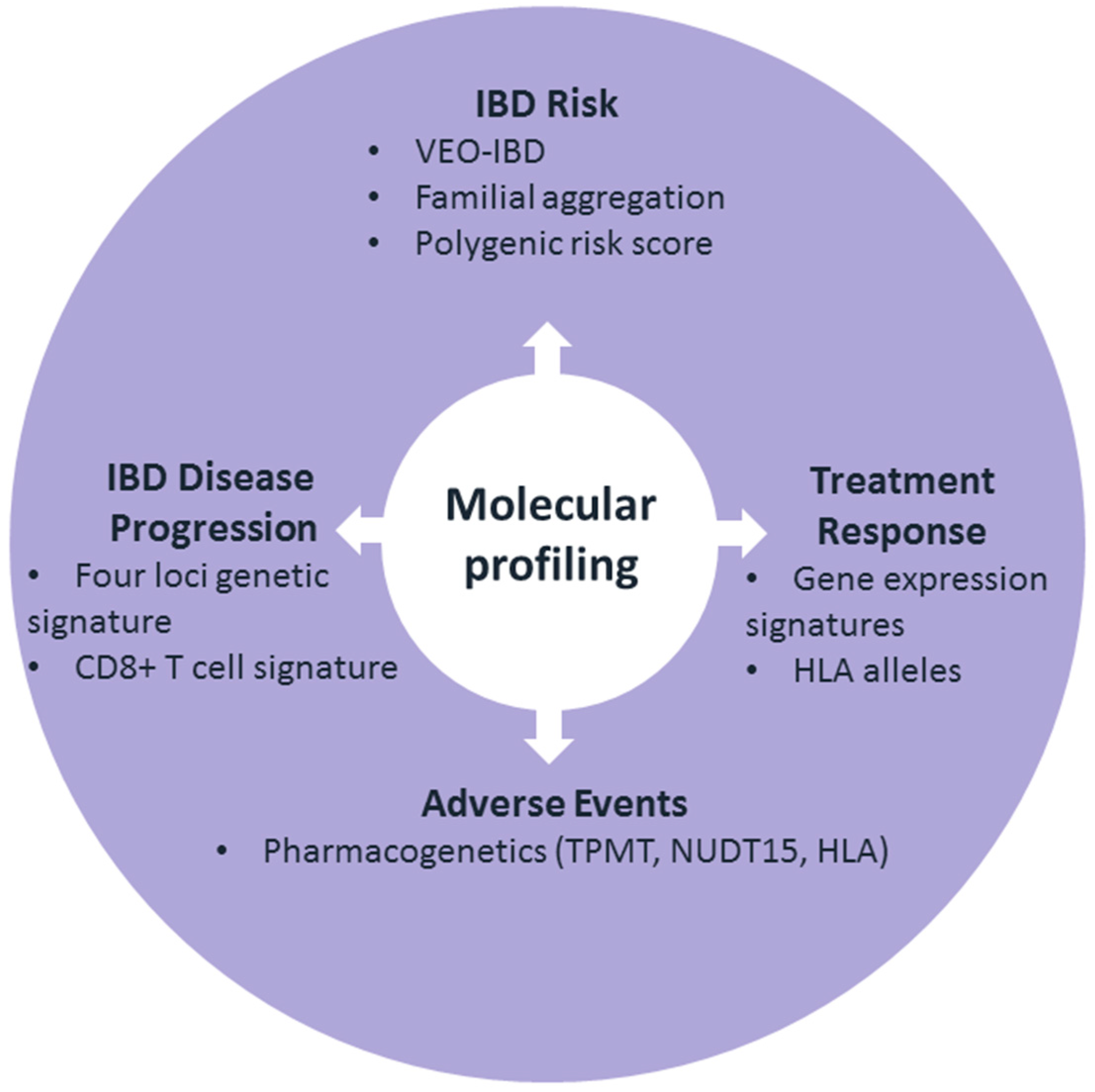 Relative Risk
Absolute Risk
Lifetime risk for IBD
1×
1.3%
Familial aggregation
 IBD in first-degree relatives
4–15×
5.2–19.5%
 Both parents affected
20–25×
30%
Genetic factors
 

NOD2

variant 1
2.1–3.0×
2.7–3.9%
 Typical susceptibility variants
1.1–1.5×
1.4–2.0%
 PRS—Individuals in the top 1%
3.9×
5.1%
Environmental factor
 Current smoking 1
1.8×
2.3%
PRS, polygenic risk score. 1 Risk factor for Crohn's disease.

Table 2. Current status of the prediction of several aspects of inflammatory bowel disease based on molecular profiling.
Category
Application
Usability 1
Risk/diagnosis
VEO-IBD: application of (targeted) next-generation sequencing

✔

Familial IBD: risk of IBD is increased 4–15-fold in first-degree relatives of patients

✔

Sporadic/familial IBD: individual risk variants

✘

Sporadic/familial IBD: polygenic risk scores

✔

Disease progression
Genetic testing: individual susceptibility variants

✘

Genetic testing: polygenic risk scores

✘

Genetic testing: variants from extreme sub-phenotype approaches [42,43,45]

✔

Transcriptional profiling: CD8+ T cell transcription signature [50,51]

✔

Treatment response
Genetic testing: polygenic risk scores

✘

Genetic testing: Immunogenicity (HLA-DQA1*05) [79]

✔

Transcriptional profiling:

OSM

,

TREM1

, gene signature including

IL13RA2

[80,81,82,86,88,89,90]

✔

Adverse events
Thiopurine-induced myelotoxicity:

TPMT

,

NUDT15

genetic testing

✔

Thiopurine-induced pancreatitis: HLA genetic testing [105,106]

✔

Skin lesions under anti-TNF therapy:

IL23R

rs11209026 genetic testing [109]

✔
1 Green: established; blue: promising/clinical trial ongoing; orange: promising/replication needed; red: currently unaccepted as predictors for the indicated category.

© 2019 by the authors. Licensee MDPI, Basel, Switzerland. This article is an open access article distributed under the terms and conditions of the Creative Commons Attribution (CC BY) license (http://creativecommons.org/licenses/by/4.0/).