Protective Effects of Licochalcone A Ameliorates Obesity and Non-Alcoholic Fatty Liver Disease Via Promotion of the Sirt-1/AMPK Pathway in Mice Fed a High-Fat Diet
1
Department of Nursing, Division of Basic Medical Sciences, Research Center for Chinese Herbal Medicine, Chang Gung University of Science and Technology, No.261, Wenhua 1st Rd., Guishan Dist., Taoyuan City 33303, Taiwan
2
Division of Allergy, Asthma, and Rheumatology, Department of Pediatrics, Chang Gung Memorial Hospital, Linkou, Guishan Dist., Taoyuan City 33303, Taiwan
3
Graduate Institute of Health Industry Technology, Research Center for Food and Cosmetic Safety, College of Human Ecology, Chang Gung University of Science and Technology, No.261, Wenhua 1st Rd., Guishan Dist., Taoyuan City 33303, Taiwan
4
Graduate Institute of Clinical Medical Sciences, Chang Gung University, No.259, Wenhua 1st Rd., Guishan Dist., Taoyuan City 33303, Taiwan
5
Department of Nutrition and Health Sciences, Research Center for Chinese Herbal Medicine, College of Human Ecology, Chang Gung University of Science and Technology, No.261, Wenhua 1st Rd., Guishan Dist., Taoyuan City 33303, Taiwan
6
School of Nutrition and Health Sciences, Taipei Medical University, 250 Wu-Hsing Street, Taipei City 11031, Taiwan
7
Graduate Program of Nutrition Science, National Taiwan Normal University, 88 Ting-Chow Rd, Sec 4, Taipei City 11677, Taiwan
8
Aesthetic Medical Center, Department of Dermatology, Chang Gung Memorial Hospital, Linkou, Guishan Dist., Taoyuan 33303, Taiwan
*
Authors to whom correspondence should be addressed.
†
These authors contributed equally to this work.
Received: 29 March 2019 / Revised: 8 May 2019 / Accepted: 9 May 2019 / Published: 11 May 2019
Abstract
Licochalcone A is a chalcone isolated from
Glycyrrhiza uralensis
. It showed anti-tumor and anti-inflammatory properties in mice with acute lung injuries and regulated lipid metabolism through the activation of AMP-activated protein kinase (AMPK) in hepatocytes. However, the effects of licochalcone A on reducing weight gain and improving nonalcoholic fatty liver disease (NAFLD) are unclear. Thus, the present study investigated whether licochalcone A ameliorated weight loss and lipid metabolism in the liver of high-fat diet (HFD)-induced obese mice. Male C57BL/6 mice were fed an HFD to induce obesity and NAFLD, and then were injected intraperitoneally with licochalcone A. In another experiment, a fatty liver cell model was established by incubating HepG2 hepatocytes with oleic acid and treating the cells with licochalcone A to evaluate lipid metabolism. Our results demonstrated that HFD-induced obese mice treated with licochalcone A had decreased body weight as well as inguinal and epididymal adipose tissue weights compared with HFD-treated mice. Licochalcone A also ameliorated hepatocyte steatosis and decreased liver tissue weight and lipid droplet accumulation in liver tissue. We also found that licochalcone A significantly regulated serum triglycerides, low-density lipoprotein, and free fatty acids, and decreased the fasting blood glucose value. Furthermore, in vivo and in vitro, licochalcone A significantly decreased expression of the transcription factor of lipogenesis and fatty acid synthase. Licochalcone A activated the sirt-1/AMPK pathway to reduce fatty acid chain synthesis and increased lipolysis and β-oxidation in hepatocytes. Licochalcone A can potentially ameliorate obesity and NAFLD in mice via activation of the sirt1/AMPK pathway.
View Full-Text
►

▼

Figures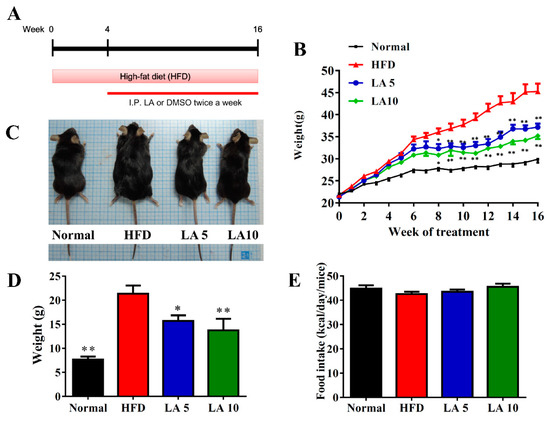 Figure 1
This is an open access article distributed under the
Creative Commons Attribution License
which permits unrestricted use, distribution, and reproduction in any medium, provided the original work is properly cited (CC BY 4.0).

Share & Cite This Article
MDPI and ACS Style
Liou, C.-J.; Lee, Y.-K.; Ting, N.-C.; Chen, Y.-L.; Shen, S.-C.; Wu, S.-J.; Huang, W.-C. Protective Effects of Licochalcone A Ameliorates Obesity and Non-Alcoholic Fatty Liver Disease Via Promotion of the Sirt-1/AMPK Pathway in Mice Fed a High-Fat Diet. Cells 2019, 8, 447.
Note that from the first issue of 2016, MDPI journals use article numbers instead of page numbers. See further details here.
Related Articles
Comments
[Return to top]