Skeletal Muscle Response to Deflazacort, Dexamethasone and Methylprednisolone
Department of Neurology, Faculdade de Medicina FMUSP, Universidade de Sao Paulo, São Paulo, SP 01246-904, Brazil
*
Author to whom correspondence should be addressed.
Received: 7 March 2019 / Revised: 7 April 2019 / Accepted: 23 April 2019 / Published: 1 May 2019
Abstract
Glucocorticoids represent some of the most prescribed drugs that are widely used in the treatment of neuromuscular diseases, but their usage leads to side effects such as muscle atrophy. However, different synthetic glucocorticoids can lead to different muscle effects, depending upon its chemical formulation. Here, we intended to demonstrate the muscle histologic and molecular effects of administering different glucocorticoids in equivalency and different dosages.
Methods
: Seventy male Wistar rats distributed into seven groups received different glucocorticoids in equivalency for ten days or saline solution. The study groups were: Control group (CT) saline solution; dexamethasone (DX) 1.25 or 2.5 mg/kg/day; methylprednisolone (MP) 6.7 or 13.3mg/kg/day; and deflazacort (DC) 10 or 20 mg/kg/day. At the end of the study, the animals were euthanized, and the tibialis anterior and gastrocnemius muscles were collected for metachromatic ATPase (Cross-sectional area (CSA) measurement), Western blotting (protein expression of IGF-1 and Ras/Raf/MEK/ERK pathways) and RT-PCR (
MYOSTATIN, MuRF-1
,
Atrogin-1, REDD-1, REDD-2, MYOD, MYOG
and
IRS1/2
genes expression) experiments.
Results
: Muscle atrophy occurred preferentially in type 2B fibers in all glucocorticoid treated groups. DC on 10 mg/kg/day was less harmful to type 2B fibers CSA than other doses and types of synthetic glucocorticoids. In type 1 fibers CSA, lower doses of DC and DX were more harmful than high doses. DX had a greater effect on the IGF-1 pathway than other glucocorticoids. MP more significantly affected P-ERK1/2 expression, muscle fiber switching (fast-to-slow), and expression of
REDD1
and
MyoD
genes than other glucocorticoids. Compared to DX and MP, DC had less of an effect on the expression of atrogenes (
MURF-1
and
Atrogin-1
) despite increased
MYOSTATIN
and decreased
IRS-2
genes expression.
Conclusions
: Different glucocorticoids appears to cause muscle atrophy affecting secondarily different signaling mechanisms. MP is more likely to affect body/muscles mass, MEK/ERK pathway and fiber type transition, DX the IGF-1 pathway and
IRS1/2
expression. DC had the smallest effect on muscle atrophic response possibly due a delayed timing on atrogenes response.
View Full-Text
►

▼

Figures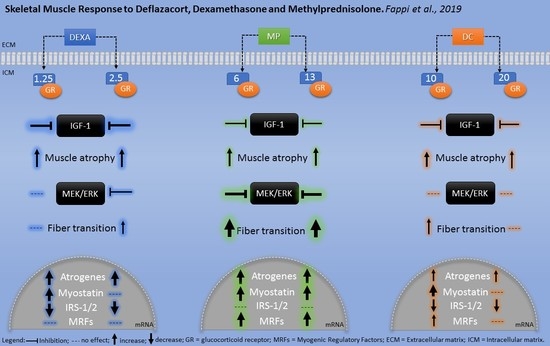 Graphical abstract
This is an open access article distributed under the
Creative Commons Attribution License
which permits unrestricted use, distribution, and reproduction in any medium, provided the original work is properly cited (CC BY 4.0).

Share & Cite This Article
MDPI and ACS Style
Fappi, A.; Neves, J.C.; Sanches, L.N.; Massaroto e Silva, P.V.; Sikusawa, G.Y.; Brandão, T.P.C.; Chadi, G.; Zanoteli, E. Skeletal Muscle Response to Deflazacort, Dexamethasone and Methylprednisolone. Cells 2019, 8, 406.
Note that from the first issue of 2016, MDPI journals use article numbers instead of page numbers. See further details here.
Related Articles
Comments
[Return to top]