Open Access This article is
freely available
re-usable
Review
Mitochondrial DNA: Distribution, Mutations, and Elimination
Hubei Key Laboratory of Cell Homeostasis, College of Life Sciences, Wuhan University, Wuhan 430072, China
*
Author to whom correspondence should be addressed.
Received: 1 April 2019 / Accepted: 20 April 2019 / Published: 25 April 2019
Abstract
:
Mitochondrion harbors its own DNA (mtDNA), which encodes many critical proteins for the assembly and activity of mitochondrial respiratory complexes. mtDNA is packed by many proteins to form a nucleoid that uniformly distributes within the mitochondrial matrix, which is essential for mitochondrial functions. Defects or mutations of mtDNA result in a range of diseases. Damaged mtDNA could be eliminated by mitophagy, and all paternal mtDNA are degraded by endonuclease G or mitophagy during fertilization. In this review, we describe the role and mechanism of mtDNA distribution and elimination. In particular, we focus on the regulation of paternal mtDNA elimination in the process of fertilization.
Keywords:
mitochondria; mtDNA; mitophagy; mtDNA distribution; mitochondrial dynamics
Funding
This work is supported by National Natural Science Foundation of China (31671393, and 91854107), and the Fundamental Research Funds for the Central Universities (2042017kf0197 and 2042017kf0242).
Conflicts of Interest
The authors declare no competing interests.

Figure 1. Regulation of the distribution of mitochondria DNA (mtDNA). (A) Mitochondrial dynamics regulate mtDNA. Mitochondrial fission and mtDNA segregation happened synchronously, and occur at the ER and mitochondrial contact site. Upon fission, the endoplasmic reticulum (ER) wraps the mitochondria, and then the cytosolic dynamic protein Drp1 is recruited to mediated mitochondria division. Blocking the fission leads to enlarged mitochondria and an mtDNA cluster. Mitochondrial fusion allows for two mitochondrial exchange substances, including mtDNA. The dysfunction of fusion leads to mtDNA deletion. (B) The mitochondrial inner membrane is involved in mtDNA distribution. Certain mitochondrial inner membrane proteins such as prohibitins and ATPase family AAA domain-containing protein 3 (ATAD3) are mtDNA-binding proteins. In addition, mtDNA nucleoid contacts with the mitochondrial cristae junction, and MICOS complex and Sam50, which are involved in the maintenance of the cristae structure, regulate mtDNA distribution.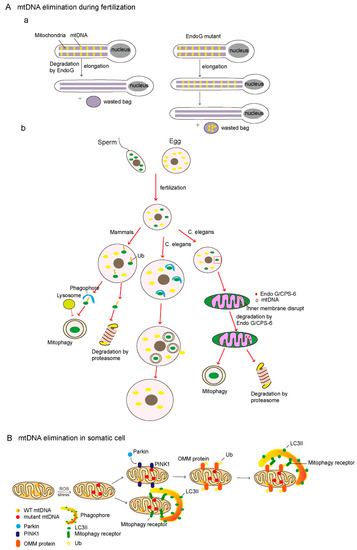 Figure 2.
Mechanisms of mtDNA elimination. (
A
) MtDNA elimination during fertilization. (
a
) Mechanism of mtDNA elimination in
Drosophila melanogaster
. Pre-fertilization, the mtDNA of sperm in flies are deleted by endonuclease G (EndoG) during sperm elongation, as shown on the left. In the right panel, mtDNA could not clear in EndoG mutant cells during sperm elongation, but it will be deleted by another mechanism, in which mtDNA is sequestered into a waste bag and then is excluded in vitro from sperm cells. (
b
) Paternal mtDNA clearance after fertilization. In mammals (left panel), the paternal mitochondria are labeled with ubiquitination and then degraded by the lysosome or proteasome after fertilization. In
C. elegans
(middle panel), after fertilization, the paternal mitochondria are quickly wrapped by autophagic vacuoles after fertilization and degraded by the lysosome; or the mitochondrial inner membrane of paternal mitochondria loses their integrity and EndoG/CPS-6 (CED-3 protease suppressor-6) relocates from the intermembrane space to the matrix to degrade paternal mtDNA (right panel), and the paternal mitochondria are then degraded by autophagy or the proteasome machine. (
B
) The putative mechanism of degradation mtDNA in somatic cells. Mitochondrial DNA is damaged by exogenous stimulation or reactive oxygen species (ROS). Upon reaching a certain threshold, damaged mitochondria are recognized and selectively degraded by mitophagy depending on the PINK1 (PTEN induced kinase 1)–Parkin pathway or not.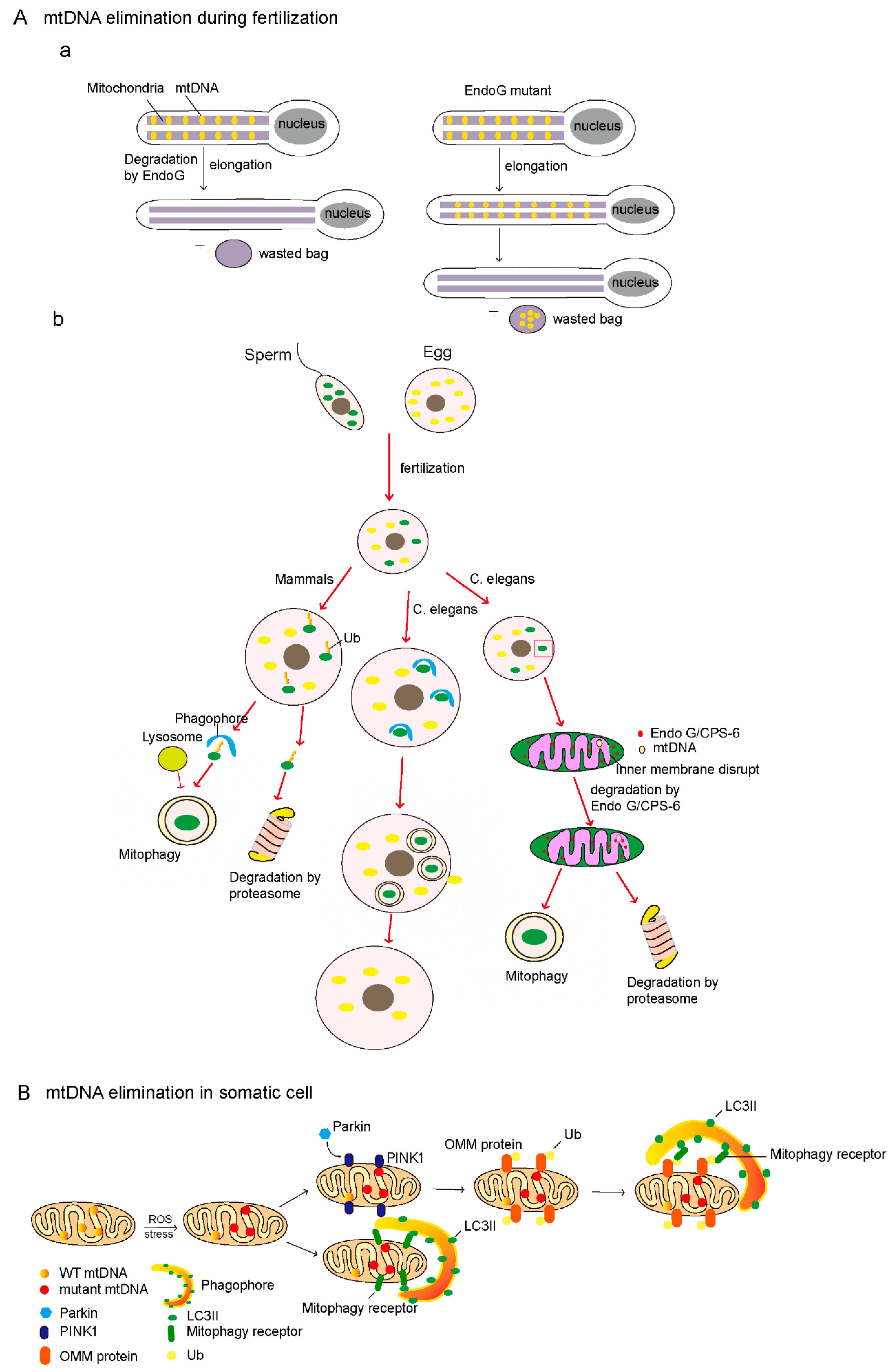 © 2019 by the authors. Licensee MDPI, Basel, Switzerland. This article is an open access article distributed under the terms and conditions of the Creative Commons Attribution (CC BY) license (http://creativecommons.org/licenses/by/4.0/).