Therapeutic Application of Micellar Solubilized Xanthohumol in a Western-Type Diet-Induced Mouse Model of Obesity, Diabetes and Non-Alcoholic Fatty Liver Disease
1
Institute of Biochemistry (Emil-Fischer Zentrum), Friedrich-Alexander University Erlangen-Nürnberg, Fahrstr. 17, D-91054 Erlangen, Germany
2
Institute of Nutritional Sciences, University of Hohenheim, Garbenstr. 28, D-70599 Stuttgart, Germany
3
Institute of Molecular Pathobiochemistry, Experimental Gene Therapy and Clinical Chemistry (IFMPEGKC), RWTH University Hospital Aachen, D-52074 Aachen, Germany
4
Central Laboratory of German Pharmacists, Carl-Mannich-Str. 20, D-65760 Eschborn, Germany
5
AQUANOVA AG, Birkenweg 8-10, D-64295 Darmstadt, Germany
*
Author to whom correspondence should be addressed.
Received: 5 April 2019 / Revised: 15 April 2019 / Accepted: 16 April 2019 / Published: 17 April 2019
Abstract
Xanthohumol (XN), a prenylated chalcone from hops, has been reported to exhibit a variety of health-beneficial effects. However, poor bioavailability may limit its application in the prevention and therapy of diseases. The objective of this study was to determine whether a micellar solubilization of xanthohumol could enhance the bioavailability and biological efficacy of xanthohumol in a Western-type diet (WTD) induced model of obesity, diabetes and non-alcoholic fatty liver disease (NAFLD). After 3 weeks feeding with WTD, XN was additionally applied per oral gavage as micellar solubilizate (s-XN) or native extract (n-XN) at a daily dose of 2.5 mg/kg body weight for a further 8 weeks. Control mice received vehicle only in addition to the WTD. WTD-induced body weight-gain and glucose intolerance were significantly inhibited by s-XN application. Furthermore, WTD-induced hepatic steatosis, pro-inflammatory gene expression (MCP-1 and CXCL1) and immune cell infiltration as well as activation of hepatic stellate cells (HSC) and expression of collagen alpha I were significantly reduced in the livers of s-XN-treated mice compared to WTD controls. In contrast, application of n-XN had no or only slight effects on the WTD-induced pathological effects. In line with this, plasma XN concentration ranged between 100–330 nmol/L in the s-XN group while XN was not detectable in the serum samples of n-XN-treated mice. In conclusion, micellar solubilization enhanced the bioavailability and beneficial effects of xanthohumol on different components of the metabolic syndrome including all pathological steps of NAFLD. Notably, this was achieved in a dose more than 10-fold lower than effective beneficial doses of native xanthohumol reported in previous in vivo studies.
View Full-Text
►

▼

Figures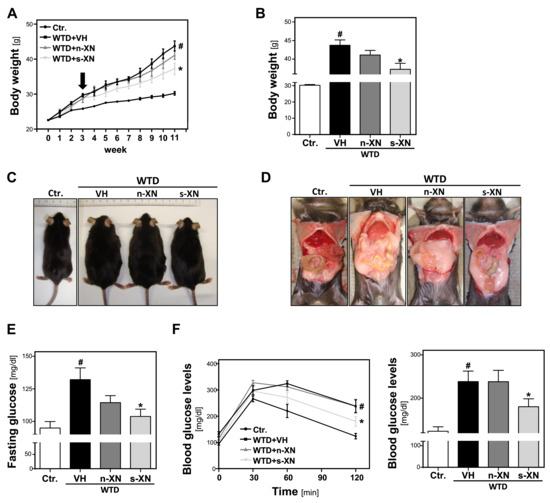 Figure 1
This is an open access article distributed under the
Creative Commons Attribution License
which permits unrestricted use, distribution, and reproduction in any medium, provided the original work is properly cited (CC BY 4.0).

Share & Cite This Article
MDPI and ACS Style
Mahli, A.; Seitz, T.; Freese, K.; Frank, J.; Weiskirchen, R.; Abdel-Tawab, M.; Behnam, D.; Hellerbrand, C. Therapeutic Application of Micellar Solubilized Xanthohumol in a Western-Type Diet-Induced Mouse Model of Obesity, Diabetes and Non-Alcoholic Fatty Liver Disease. Cells 2019, 8, 359.
Note that from the first issue of 2016, MDPI journals use article numbers instead of page numbers. See further details here.
Related Articles
Comments
[Return to top]