Open Access This article is
freely available
re-usable
Review
Lipid Droplets: A Significant but Understudied Contributor of Host–Bacterial Interactions
Division of Biomedical Sciences, College of Osteopathic Medicine, Marian University, 318e Michael A. Evans Center for Health Sciences, 3200 Cold Spring Road, Indianapolis, IN 46222, USA
*
Author to whom correspondence should be addressed.
Received: 10 March 2019 / Accepted: 12 April 2019 / Published: 15 April 2019
Abstract
:
Lipid droplets (LDs) are cytosolic lipid storage organelles that are important for cellular lipid metabolism, energy homeostasis, cell signaling, and inflammation. Several bacterial, viral and protozoal pathogens exploit host LDs to promote infection, thus emphasizing the importance of LDs at the host–pathogen interface. In this review, we discuss the thus far reported relation between host LDs and bacterial pathogens including obligate and facultative intracellular bacteria, and extracellular bacteria. Although there is less evidence for a LD–extracellular bacterial interaction compared to interactions with intracellular bacteria, in this review, we attempt to compare the bacterial mechanisms that target LDs, the host signaling pathways involved and the utilization of LDs by these bacteria. Many intracellular bacteria employ unique mechanisms to target host LDs and potentially obtain nutrients and lipids for vacuolar biogenesis and/or immune evasion. However, extracellular bacteria utilize LDs to either promote host tissue damage or induce host death. We also identify several areas that require further investigation. Along with identifying LD interactions with bacteria besides the ones reported, the precise mechanisms of LD targeting and how LDs benefit pathogens should be explored for the bacteria discussed in the review. Elucidating LD–bacterial interactions promises critical insight into a novel host–pathogen interaction.
Keywords:
obligate intracellular bacteria; facultative intracellular bacteria; extracellular bacteria; lipid droplets; PGE2; microbiota
1. Introduction
Lipid droplets (LDs) are lipid storage organelles comprising a phospholipid monolayer surrounding a hydrophobic core of neutral lipids: cholesterol esters (CEs) and triacylglycerols (TAGs). LD biogenesis occurs in the endoplasmic reticulum (ER) when the enzymes Acyl-CoA:cholesterol acyltransferase (ACAT) and Acyl-CoA:diacylglycerol acyltransferase (DGAT) esterify excess cholesterol and free fatty acids [
1
,
2
,
3
]. The newly formed LDs carry several proteins in the phospholipid monolayer including the perilipin (Plin) family and, lipid biosynthetic and lipolytic enzymes [
4
]. Plin1 and Plin2 are important LD coat proteins which regulate LD formation and breakdown [
5
]. During cell starvation, two lipolytic enzymes mediate LD breakdown: adipose triacylglycerol lipase (ATGL) converts TAG to diacylglycerol (DAG) [
6
], and hormone-sensitive lipase (HSL) converts DAG to monoacylglycerol (MAG) [
7
]. The enzyme phospholipase A (PLA), important for LD homeostasis, also hydrolyzes fatty acids. PLA2 particularly mobilizes arachidonic acids (AA) from the cellular phospholipid bilayer as well as the LD phospholipid monolayer to produce eicosanoid lipid immune mediators, such as leukotrienes, lipoxins, and prostaglandins [
8
]. LDs are important for many cellular processes including but not limited to lipid metabolism, membrane trafficking and cell signaling [
9
]. They are involved in the pathogenesis of metabolic diseases such as diabetes, obesity, atherosclerosis [
10
], as well as cancer development [
11
] and neurodegenerative diseases [
12
,
13
]. They also play an important role in leukocytic inflammatory responses [
14
,
15
] and are emerging as key players during host–pathogen interactions. Numerous studies in the past decade increasingly support the notion that various parasites, fungi, viruses and bacteria target host LDs to enhance both immune evasion and microbial proliferation [
16
,
17
,
18
,
19
]. Thus far, several reviews have comprehensively described the importance of LDs during host–pathogen interactions [
16
,
17
,
18
,
20
,
21
,
22
,
23
,
24
]. A recent review on parasite–LD interactions outlines that host and parasite LDs serve as a source of lipids and energy, maintain parasite homeostasis through heme detoxification and provide eicosanoids to promote immune evasion, thereby supporting parasite survival [
24
]. Various other reviews discuss the importance of host LDs for viral replication, assembly, and infection [
16
,
25
,
26
,
27
]. While several bacteria target host LDs to facilitate infection and survival, most reviews thus far predominantly focus on the role of LDs in intracellular pathogen
Mycobacterium species pluralis (spp.)
and
Chlamydia spp
. pathogenesis [
16
,
17
,
18
,
22
,
28
,
29
]. Since Rudolf Virchow's description in 1863 of LD-laden foam cells in lepromatous lesion biopsies from
Mycobacterium leprae
-infected patients [
28
,
30
], many bacteria have been reported to interact with host LDs. However, their importance and specific roles in bacterial pathogenesis is still being elucidated. Our review comprehensively discusses the role of LDs during infection with (1) intracellular bacteria which reside within the host cell (
Chlamydia spp, Coxiella burnetii, Anaplasma phagocytophilum, Rickettsia spp., Mycobacterium spp
.,
Salmonella spp.
) and, (2) extracellular bacteria which do not invade host cells and reside in the extracellular matrix (
Pseudomonas aeruginosa, Streptococcus pyogenes
and
Vibrio cholerae
) [
31
]. Although many bacteria share mechanisms to target host LDs, differences in their infectious cycle and lifestyle do allow for unique host LD–bacterial interactions.
2. Intracellular Bacteria
Intracellular bacteria establish contact with a susceptible host and multiply within the cells [
32
], a strategy employed to escape the humoral immune components (complement proteins and antibodies), as well as antibiotics to facilitate survival [
33
]. Intracellular bacterial pathogens infect a wide range of host cells, professional phagocytes like macrophages and non-professional phagocytes including epithelial cells, endothelial cells, and hepatocytes [
32
,
34
]. Classically, intracellular pathogens are further categorized as facultative intracellular or obligate intracellular [
32
] based on their ability or inability, respectively, to multiply in a cell-free environment. Some examples of obligate intracellular bacteria include
Chlamydia spp.
and
Rickettsia spp.
, whereas
Francisella tularensis, Listeria monocytogenes, Salmonella spp.
and
Mycobacterium spp.
are examples of facultative intracellular bacteria [
31
,
32
]. In this section, we will discuss the currently reported LD–pathogen interactions of obligate and facultative intracellular bacteria while also assessing the mechanisms and physiologic role of LD manipulation during their distinct lifecycles.
2.1. Obligate Intracellular Bacteria
Similar to viruses, obligate intracellular bacteria lack the ability to live outside the host cells. On host cell entry, each intracellular bacterium follows a different lifestyle; while some modify the phagosome to form a pathogen-containing vacuole (vacuolar pathogens, e.g.,
Chlamydia spp., Coxiella burnetii
and
Legionella pneumophila
), some escape the vacuole and multiply in the cytoplasm (cytoplasmic pathogens, e.g.,
Listeria monocytogenes
,
Shigella flexneri, Burkholderia spp, Rickettsia spp.
etc.) [
35
]. Despite differences in multiplication sites, these bacteria depend on the host cell for energy and nutrients owing to the lack of many biosynthetic pathways and inability to perform energy metabolism. Many intracellular bacteria manipulate host cell lipids for entry, avoidance of phagosome formation, vacuolar biogenesis, and intracellular multiplication [
23
,
36
]. As LDs are lipid storage organelles and a crucial component of cellular lipid metabolism, understanding the role of LDs in vacuolar and cytoplasmic intracellular bacterial pathogenesis is imperative.
2.2. Facultative Intracellular Bacteria
Several pathogens including
Mycobacterium spp.
,
Legionella pneumophila
,
Listeria monocytogenes
,
Burkholderia spp.
,
Francisella tularensis
and
Salmonella spp.
possess the ability to survive and replicate intracellularly as well as extracellularly. Like obligate intracellular bacteria, these pathogens are present extracellularly before invading the host cells, followed by an intracellular phase which provides a shield from the host humoral immune response and facilitates bacterial replication. However, facultative intracellular bacteria possess an additional extracellular phase in the host which represents a particular disease stage. For example,
Salmonella's
escape from its initial intracellular niche back into the gut lumen occurs during this stage of its infectious cycle [
112
]. This extracellular phase within the host uses additional virulence factors to produce specific disease pathologies and provides the pathogen with a survival advantage. Classically, sepsis is a common outcome of a facultative intracellular bacterial dissemination [
113
]. Thus, both the replicative intracellular and disseminative extracellular phase are crucial for pathogenesis [
113
,
114
]. Although facultative intracellular bacteria are studied quite extensively, only
Mycobacterium spp.
and
Salmonella
have been reported to interact with host LDs.
2.2.1.
Mycobacterium spp.
Mycobacterium spp
. cause diseases of global importance such as tuberculosis and leprosy.
M. tuberculosis
,
M. leprae
, and
M. bovis
infections all characteristically result in the formation of foamy, LD-filled macrophages [
115
,
116
,
117
]. This section focuses on the three
Mycobacterium spp
. and their interaction with LDs.
M.
bovis
M. bovis
is the causative agent of bovine tuberculosis and infects humans who consume undercooked meat. It is also the progenitor of the
M. bovis
bacillus Calmette-Guerin (BCG) strain used in the tuberculosis vaccine.
M. bovis
infection induced LD accumulation in murine peritoneal [
136
] and bone marrow-derived macrophages [
124
], the newly established
Galleria mellonella
infection model [
137
], and C57BL/6 mice [
138
]. In murine infection,
M. bovis
BCG induced early neutrophil recruitment to the site of inflammation followed by neutrophil apoptosis. Phagocytosis of apoptotic neutrophils resulted in LD formation and the subsequent production of the anti-inflammatory mediators PGE2 and TGFβ, which facilitated bacterial survival [
138
]. In
M. bovis
-infected murine peritoneal macrophages, the increase in LDs and PGE2 production required PPARγ activation via a TLR-2 dependent pathway [
136
]. Independently, IL-6 promoted
M. bovis
BCG-induced LD formation and bacterial survival [
139
]. Although PPARγ activation inhibits the production of IL-6 [
140
], the involvement of TLR2-mediated PPARγ activation in IL-6 production specifically in BCG-infected macrophages should be investigated. Interestingly, PPARα activation in
M. bovis
-infected macrophages induced LD catabolism and promoted an antimicrobial response [
124
]. Similar to
Mtb
, each PPAR family member exhibits a distinct role during
M. bovis
infection based on the tissue, cell type, experimental conditions. Thus, LDs are essential for
M. bovis
infection, but their contribution to pathogenesis remains elusive.
M.
leprae
Although
M. leprae
appears to have evolved from the common
M. tuberculosis
ancestor, it preferentially invades the Schwann and glial (macrophage) cells of the peripheral nervous system to cause nerve damage and leprosy. Two major manifestations of the disease include tuberculoid leprosy, resulting in granuloma formation, and Schwann cell death, and lepromatous leprosy characterized by LD-rich foam cell-containing lesions. Elamin et al. [
30
] have extensively reviewed the long-standing LD-
M. leprae
association Rudolf Virchow first described in 1863 [
28
,
30
]. LDs were observed in skin [
141
] and nerve [
142
] biopsies from lepromatous leprosy patients as well as in vitro in infected murine peritoneal macrophages [
141
], human PBMC-derived macrophages [
141
], human macrophage-like THP-1 cell line [
143
] and Schwann cells [
142
,
144
]. Further,
M. leprae
infection induced
plin1
and
plin2
upregulation in murine and human macrophages [
141
,
143
] in vitro and in lepromatous leprosy skin biopsies [
141
]. In THP-1 cells, this upregulation required TLR2 receptor signaling [
143
]. Usually, the TLR2 ligand peptidoglycan attenuates
plin2
expression. However, in THP-1 cells,
M. leprae
infection appeared to override this blockage, causing LD accumulation [
143
]. Notably, TLR2 and TLR6 deletion only partially affected LD formation in human and murine peritoneal macrophages, suggesting involvement of alternative receptors [
141
]. In infected Schwann cells, the deletion of TLR6 and not TLR2, completely abolished LD accumulation. The difference in macrophage and Schwann cell TLR2 dependence could be attributed to their different immune capabilities. In Schwann cells, LD localization to
M. leprae
-containing phagosomes also relied on cytoskeletal rearrangement and PI3K signaling [
142
]. Infection of Schwann cells with recombinant
M. bovis
BCG that expresses a
M. leprae
phenolic glycolipid I (PGLI), important for bacterial entry into host cell induced expression of a PPARγ-dependent endocytic mannose receptor (MR/CD206) required for LD accumulation. Blocking MR/CD206 decreased bacterial entry and survival suggesting the importance of the mannose receptor in infected Schwann cell LD accumulation [
145
]. These studies highlight the differences in receptor signaling required for LD accumulation in
M. leprae
-infected macrophages and Schwann cells.
Reduced bacterial growth in Schwann cells [
142
] and macrophages devoid of LDs demonstrated the importance of LD accumulation for
M. leprae
pathogenesis [
30
]. However, the specific mechanisms LDs employ to assist
M. leprae
growth have not been elucidated. Besides contributing to the foamy appearance of lepromatous leprosy lesions, LDs provide nutrients and substrates for innate immune response mediators [reviewed extensively in [
28
]]. Notably, while
M. leprae
infection increased
plin2
expression in macrophages, it downregulated the LD lipolysis enzyme
hsl
to facilitate LD accumulation. Treatment of macrophages with clofazimine, an antibiotic used to treat leprosy, attenuated
plin2
mRNA and protein levels while increasing
hsl
in THP-1 cells and clinical samples. This correlated with reduced LD accumulation and
M. leprae
growth [
146
], suggesting that HSL inhibition and LD accumulation is important for
M. leprae
survival.
Bacterial infection significantly increased PGE2 in human and murine macrophages [
141
] and Schwann cells [
147
]. Additionally, in Schwann cells, LD biogenesis is correlated with increased PGE2 and IL-10 secretion, as well as reduced IL-12 and NO production, all together, downregulating the immune response [
147
]. Nerve biopsies from lepromatous leprosy patients demonstrated the colocalization of
M. leprae
, LDs, and COX-2 in Schwann cells, pointing to LDs as possible PGE2 synthesis sites in vivo [
147
]. Moreover, LD formation and PGE2 production was also induced in Schwann cells infected with the recombinant
M. bovis
BCG expressing the
M. leprae
PGLI. This CD206-PPARγ crosstalk-mediated effect favored intracellular bacterial persistence with concomitant secretion of inflammatory mediators such as IL-8, a possible inducer of neuroinflammation [
145
]. Thus, in macrophages and Schwann cells,
M. leprae
-induced LDs favor inhibition of bactericidal activities and downregulation of the immune response along with providing nutrients. PGE2 production requires free fatty acids derived from LD breakdown. The
M. leprae
genome codes for two lipases and one phospholipase which could potentially promote LD lipolysis [
148
]. In addition, overexpression of host lipases and phospholipases in lepromatous leprosy lesions suggested that host enzymes may complement these bacterial genes [
149
]. Beside free fatty acids for PGE2 production, LDs could also provide nutrients for bacterial growth. However, the time of LD lipolysis post-infection would identify the precise use of LDs.
Albeit with differences in mechanisms of accumulation, LDs interact with the three mycobacterial species at the interphase of nutrient acquisition and/or the host immune response evasion. Notably, LDs also contribute to foam cell formation and hence the disease pathology of the discussed mycobacterial species infections.
2.2.2.
Salmonella spp.
Salmonella
, a Gram-negative, facultative intracellular enteric bacterial pathogen can infect a variety of hosts including birds, reptiles and mammals.
Salmonella enterica
serovar Typhimurium (
S.
Typhimurium) causes human gastroenteritis and a murine typhoid-like disease associated with systemic infection. The closely related
Salmonella enterica
serovar Typhi (
S.
Typhi) causes human typhoid fever, a frequently fatal systemic disease. Altogether,
Salmonella
causes more than one billion new human infections each year, with a significant mortality rate [
150
]. Of note, the emergence of multi-drug resistant strains renders
Salmonella spp.
as a major public health concern [
151
].
Salmonella spp
. can infect and survive in non-phagocytic cells as well as professional phagocytes, preferentially macrophages [
152
]. Once inside the cell, the bacterium multiplies in a
Salmonella
-containing vacuole (SCV) and, similar to
C. trachomatis
, employs its Type 3 secretion systems (T3SS) to translocate bacterial effectors into the cell cytoplasm to manipulate host processes [
152
,
153
]. The
S. typhimurium
T3SS effector SseJ, with acyltransferase activity [
154
,
155
,
156
,
157
], assisted in membrane lipid modification and vesicular fusion during SCV biogenesis [
157
]. Infection of HeLa epithelial cells and the murine RAW 264.7 macrophage cell line with the SseJ mutant resulted in reduced cholesterol esterification and LD accumulation [
156
], suggesting the importance of LDs during SCV biogenesis. As SseJ is important for SCV membrane dynamics [
157
], it is thought to esterify cholesterol in order to maintain SCV membrane fluidity, signaling, and vesicular transport. Additionally, reduced virulence of SseJ mutants in murine infection models [
157
,
158
,
159
] suggested that SseJ-mediated host cholesterol esterification and LD accumulation might play an important role in bacterial virulence. Contrary to SseJ, infection with the T3SS effector SseL mutant accumulated large amounts of LDs in the in vivo murine gall bladder infection model, an effect restored with complementation [
160
]. The SseL-mediated reduction in LD accumulation was dependent on its deubiquitinase activity [
160
], suggesting that
Salmonella
directly modifies cellular ubiquitination patterns to manipulate host lipid homeostasis. Although, SseL deficiency rendered the bacterium elongated and filamentous, it did not alter bacterial intracellular growth [
160
]. As the alteration of host lipid metabolism was essential for
Salmonella
infection in the intestinal tract and liver [
161
], SseL may provide access to the host lipid stores and/or may prevent cellular LD buildup to avoid host inflammatory or stress responses. The two studies discussed provide evidence of
Salmonella
–LD interactions. However, the benefits of their association remain unclear. Although
Salmonella
actively targets host LDs via its T3SS, the role of LDs could be variable depending on the effector and the infection model.
Intracellular bacteria represent a pathogen group that displays many diverse interactions with LDs. These bacteria manipulate LDs for immune modulation and/or to obtain energy and nutrients required to propagate infection. The diverse mechanisms of LD accumulation and utilization emphasize the common theme of incomplete understanding. Due to the large disease burden of intracellular bacteria, further elucidation of the LD–intracellular pathogen interaction could help explore novel pathways and proteins that could be targeted in future.
3. Extracellular Bacteria
Unlike intracellular bacteria, extracellular bacteria can move within the body and organs but do not invade cells. While they can proliferate in the host extracellular environment, they lack the ability to either facilitate their own cellular uptake or to survive the intracellular environment. Some extracellular bacteria like
Vibrio cholerae
[
162
] and
Bordetella pertussis
[
163
] adhere to epithelial surfaces and secrete toxins to cause disease. Alternatively,
Escherichia coli
and
Pseudomonas aeruginosa
spread rapidly to various interstitial spaces in the body after entering the host [
164
]. Even though extracellular bacteria have a significantly different lifestyle compared to intracellular bacteria, they also utilize host cell lipids during infection [reviewed in [
23
]]. For example,
B. burgdorferi,
the causative agent of Lyme disease, cannot synthesize cholesterol and requires host cholesterol to support its growth and multiplication [
165
]. Similarly,
Helicobacter pylori,
the causative agent of chronic atrophic gastritis and stomach and duodenal ulceration, destroys host lipid rafts to liberate host cholesterol [
166
]. Several extracellular bacteria incorporate host lipids into their membrane to maintain structural integrity. However, the mechanism extracellular bacteria employ to acquire host cell lipids remains elusive. As LDs are a significant source of lipids for intracellular bacteria, it is imperative to discuss LD–extracellular bacterial relationship and identify LD importance. Thus far, only
P. aeruginosa
and
V. cholerae
have shown direct evidence suggesting a potential role of LDs during their pathogenesis. We will also explore the putative LD–
Streptococcus pyogenes
interaction.
3.1. Pseudomonas aeruginosa
P. aeruginosa
is a Gram-negative, rod-shaped, opportunistic pathogen which causes chronic infections in cystic fibrosis patients, diabetics, and burn patients [
167
]. It is responsible for an estimated 51,000 nosocomial infections in the United States each year. Additionally, the emerging multidrug resistance of
P. aeruginosa
increases the burden to the healthcare industry [
168
], emphasizing the need to understand its pathogenesis. To successfully invade the host,
P. aeruginosa
utilizes an array of virulence factors including flagella, pili and lipopolysaccharide. The bacterium releases effector proteins via its T3SS to manipulate the host and establish infection [
169
]. The effector proteins identified so far include ExoS, ExoT, ExoY, and ExoU. While ExoS and ExoT inhibit actin polymerization, prevent phagocytosis, and promote apoptosis [
170
], ExoY increases cell membrane permeability [
171
] and ExoU is reported to possess cytosolic PLA2 activity [
172
,
173
] and interact with host cell LDs. In infected airway epithelial cells, ExoU PLA2 induced PGE2 production which then interfered with neutrophil migration [
174
,
175
], thereby enhancing bacterial survival within the host suggesting the importance of ExoU-dependent PGE2 in
P. aeruginosa
pathogenesis [
107
,
108
,
109
]. Furthermore, when compared to uninfected and ExoU mutant-infected airway epithelial cells, wild-type bacterium-infected cells showed decreased LD numbers, suggesting an ExoU-dependent decrease in cellular LD numbers [
176
]. This is unlike the increased LD accumulation observed in most intracellular pathogen-infected cells. Additionally, the deleterious effect of blocking PLA2 activity on the bacterium indicated that
P. aeruginosa
infection reduces LD accumulation via the ExoU PLA2 activity [
176
]. Overall, these studies suggest that
P. aeruginosa
secretes the T3SS protein ExoU in order to hydrolyze host LDs to increase PGE2 levels, thereby preventing neutrophil infiltration and supporting bacterial growth [
177
].
Along with ExoU, a
P. aeruginosa
quorum sensing-associated molecule,
N
-(3-oxododecanoyl)-l-homoserine lactone (AHL-12), also interacted with host cell LDs [
178
]. AHL-12 activated mammalian cells, induced chemotaxis, up-regulated the leukocyte receptor CD11b expression, and enhanced polymorphonuclear neutrophil phagocytosis [
179
,
180
,
181
]. Interestingly, AHL-12 colocalized with the bitter receptor T2R38 present on neutrophil LD membranes [
178
], suggesting T2R38 is a receptor for
P. aeruginosa
AHL-12. It was proposed that this interaction may influence neutrophil activation in a way that sustains bacterial pathogenesis [
178
]. Additionally, because LDs contain several proteins within their phospholipid monolayer [
182
], they may act as a hub of receptors for bacterial virulence proteins to bind to, a currently unique role of LDs that requires further elucidation.
3.2. Streptococcus pyogenes
S. pyogenes
is a Gram-positive bacterium that can cause superficial infections (pharyngitis and pyoderma), invasive infections (necrotizing fasciitis and streptococcal toxic shock syndrome), and post-infectious diseases (rheumatic fever) [
183
].
S. pyogenes
is reported to express the protein SlaA, which exhibited PLA2-like activity, similar to the
P. aeruginosa
ExoU protein. Although the presence of SlaA increased the severity of
S. pyogenes
infection [
184
], its mechanism for bolstering bacterial virulence remains unknown. Interestingly, bacterial infection induced upregulation of PGE2 synthesis enzyme cyclooxygenase-2 (
cox-2
) which correlated with increased severity of infection in patients as well as murine experimental models [
185
,
186
]. Further, COX-2-mediated PGE2 production suppressed host cell phagocytic capacity and prevented
S. pyogenes
clearance similar to
P. aeruginosa
[
186
], suggesting an anti-inflammatory role of PGE2. Although SlaA exhibits PLA2 activity similar to
P. aeruginosa
ExoU, whether SlaA contributes to PGE2 production during
S. pyogenes
infection is not known. Based on the known contribution of PLA2 activity exhibiting bacterial virulence factors in LD-derived PGE2 production, the role of LDs in
S. pyogenes
infection is worth investigating.
3.3. Vibrio cholerae
Infection with the Gram-negative, facultative anaerobe,
V. cholerae
, results in a potentially life-threatening diarrhea most often seen in the developing world. During infection, the bacterium secretes cholera toxin, which continually stimulates adenylate cyclase within enterocytes, thus resulting in a characteristically profuse, watery diarrhea [
187
]. Along with the most well-known cholera toxin, the bacterium's virulence also depends on its ability to acquire fatty acids from the environment and assimilate them into the cell membrane. The bacterium uses these fatty acids to endure the toxic reactive oxygen species it encounters while entering a host and initiating infection. As
V. cholerae
is an extracellular pathogen present in contaminated water, it utilizes the polyunsaturated fatty acids from the aquatic organisms to maintain membrane structural integrity [
188
].
Vibrio spp.
possess machinery to accumulate either host or environmental fatty acids in order to alter their fatty acid composition and minimize bacterial membrane disturbances [
188
,
189
]. The presence of these protective mechanisms emphasizes the importance of fatty acids in
Vibrio spp.
pathogenesis. However, whether the bacteria manipulate host LDs to acquire fatty acids remains elusive. LDs accumulated in
V. cholerae
-infected
Drosophila melanogaster
[
187
,
190
] as well as in human embryonic kidney (HEK 293) cells, both commonly used models to mimic human infection [
187
]. In infected
Drosophila
, LD accumulation in enterocytes directly correlated with host death [
190
] and was dependent upon the bacterial two-component system CrbRS (carboxylic acid regulator and sensor). CrbRS activates acetyl-CoA synthase (
acs-1
) transcription to facilitate bacterial transition from host acetate excretion to assimilation [
190
]. As acetate contributes significantly to host intestinal and systemic health [
191
], bacterial CrbRS-mediated sequestration of acetate deactivated host insulin signaling, resulting in altered lipid accumulation within the enterocytes, which caused intestinal steatosis and ultimately host death [
190
]. The accumulated large-sized LDs could be due to TAG accumulation within the enterocyte or LD coalescence to compensate for the limited supply of short chain phospholipids. Although LC–MS/MS lipidomic analysis revealed no change in TAGs in the
V. cholerae
-infected
Drosophila
intestine, it detected a significant decrease in both phosphatidylcholine (PC) and phosphatidylethanolamine (PE) species with total fatty acid carbons totaling less than or equal to 30. This suggested that phospholipid catabolism results in LD coalescence contributing to their large appearance [
187
]. Whether
V. cholerae
utilizes these short chain fatty acids for bacterial membrane remodeling remains unknown. LD coalescence resulted from
V. cholerae
consumption of dietary methionine sulfoxide (MetO) in the
Drosophila
intestinal lumen [
187
]. The lack of dietary MetO activated host methionine sulfoxide reductase A (MsrA) to reduce protein-associated MetO and activated host proteins involved in phospholipid degradation; lipid depletion thus caused LD coalescence and ultimately host death. Besides acetate supplementation [
190
], knockdown of MsrA expression in enterocytes or infection with
V. cholerae
unable to consume dietary MetO increased host survival [
187
]. When less MsrA is available for host protein repair, the phospholipid degradation cascade is blocked, and the host survives. These studies indicated that
V
.
cholerae
consumption of dietary MetO promotes host protein functions essential for bacterial virulence [
187
]. Thus, LDs play a unique role during
V. cholerae
infection of
Drosophila
, where the accumulation of large LDs in the enterocytes indicates host death. However, LDs have not been reported in
V. cholerae
human infection. Future studies should investigate whether
V. cholerae
utilizes the catabolized host phospholipids to maintain their membrane structural integrity.
LDs play a distinct role in extracellular bacterial infections compared to intracellular bacteria. Similar to certain intracellular bacteria,
P. aeruginosa
utilizes LDs to induce PGE2 production. However, it reduces cellular LD accumulation via its effector protein, contrary to other intracellular bacteria such as
Chlamydia spp
.,
C. burnetii
and
Mycobacterium spp.
Moreover, in
P. aeruginosa
-infected cells, proteins present on LDs serve as potential receptors for bacterial ligands; this role has not yet been studied in intracellular bacterial pathogenesis. Uniquely in
V. cholerae
pathogenesis, LD accumulation is deleterious to the infected host, rather than a gauge of bacterial infectivity observed for several intracellular bacteria. Thus, LDs serve distinct roles during extracellular bacterial pathogenesis compared to intracellular bacteria which could be attributed to the differences in their lifestyles and infection cycle.
4. Gut Microbiota
The gut microbiota is comprised of several commensal bacteria which maintain energy homeostasis and contribute significantly to nutrient absorption and enterocyte lipid metabolism to maintain overall host health. Thus, while not pathogenic, it is important to discuss gut microbiota influence on the host LD homeostasis. In zebrafish (
Danio rerio
) intestinal epithelium, LD accumulation decreased in germ-free and antibiotic-treated larvae compared to conventional larvae [
192
,
193
]. This observation indicated that zebrafish intestinal microbiota has a significant influence on LD accumulation. Furthermore, in
Caenorhabditis elegans,
the foodborne microbiota influenced LD accumulation [
194
].
C. elegans
fed with lactic acid bacteria (LAB) obtained from Mozzarella di Bufala Campana (MBC), a traditional Italian cheese, showed higher LD accumulation compared to commercial probiotic strain,
L. rhamnosus
GG (LGG)-fed worms. In contrast to the LGG-fed worms, the
Lactobacillus delbrueckii, L. fermentum
, and
Leuconostoc lactis
-containing LAB displayed larger LDs and reduced C. elegans longevity [
194
]. This suggests that foodborne microbial consortium impacts host fat metabolism and subsequent LD accumulation. However, the specific contribution of LDs to C. elegans life span remains unknown [
194
]. Similarly, in mice and cellular models, different commensals influence enterocyte lipid absorption in the small intestine under normal diet conditions. While Escherichia coli colonization was associated with reduced enterocyte LD size,
Lactobacillus paracasei
induced a shift toward larger-sized LDs [
195
]. It is speculated that
E. coli
colonization may cause the host to derive less energy from carbohydrates, instead utilizing dietary fat absorption and subsequent fatty acid β-oxidation to fuel metabolic processes. Conversely,
L. paracasei
gut colonization could result in a higher level of energy extraction from complex polysaccharides and, consequently, lower level of fat absorption [
195
]. Therefore,
E. coli
and
L. paracasei
might have distinct effects on lipid metabolism, resulting in enhanced lipid catabolism and increased lipid storage in cytosolic LDs, respectively [
195
]. As the gut microbiota influences LDs in the intestine, it is important to investigate the gut microbiota–LD relationship at the interphase of host gastrointestinal health maintenance and obesity as well as intestinal pathogen infections.
5. Conclusions
Besides identifying new bacteria–LD interactions, better understanding of how the currently reported bacteria associate with LDs is essential. Although LDs play an important role in bacterial pathogenesis, even after so many years of research, the findings discussed here only scratch the surface of LD–bacterial interaction. Several questions still remain unanswered; (1) Are there significant differences in LD interactions between intracellular and extracellular bacteria? (2) Is LD alteration a host-driven, a bacterium-driven or a dynamic phenomenon? (3) Which host and bacterial proteins are involved and what is their mechanism of action? and (4) At what stage of bacterial growth are LDs important? Answering these questions for each bacterium will provide critical insight into the importance of LDs during bacterial infections, thus elucidating a novel host–bacterial pathogen interaction pathway.
Funding
This research received no external funding.
Acknowledgments
We thank Samina Akbar and David Raskin for critical reading of this manuscript.
Conflicts of Interest
The authors declare no conflicts of interest.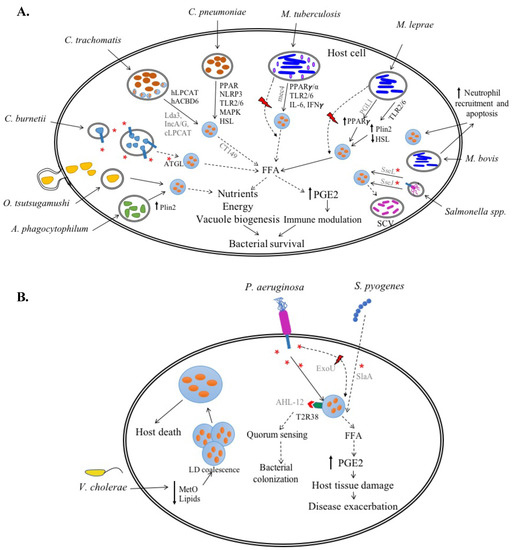 Figure 1.
Overview of host LD–bacterial interactions. (
A
) Intracellular bacteria employ different host (black) and bacterial proteins (grey) to induce LD accumulation or LD lipolysis to generate free fatty acids (FFA) as a source of energy, nutrients or prostaglandin E2 (PGE2). However, the function of LDs is still unclear for most pathogens as indicated by the dotted arrows.
Salmonella
is hypothesized to utilize LDs for
Salmonella
-containing vacuole (SCV) biogenesis and host LDs translocate to the
C. tachomatis
vacuole.
Mtb
is the only bacterium known thus far to synthesize bacterial LD. (
B
) Extracellular pathogen
P. aeruginosa
utilizes LDs to either increase PGE2 production or uses receptors on LDs for bacterial protein binding. LD coalescence in
V. cholerae
-infected host enterocyte is an indicator of host death.
S. pyogenes
is hypothesized to target LDs.
*
secretion system effector,

—bacterial phospholipases.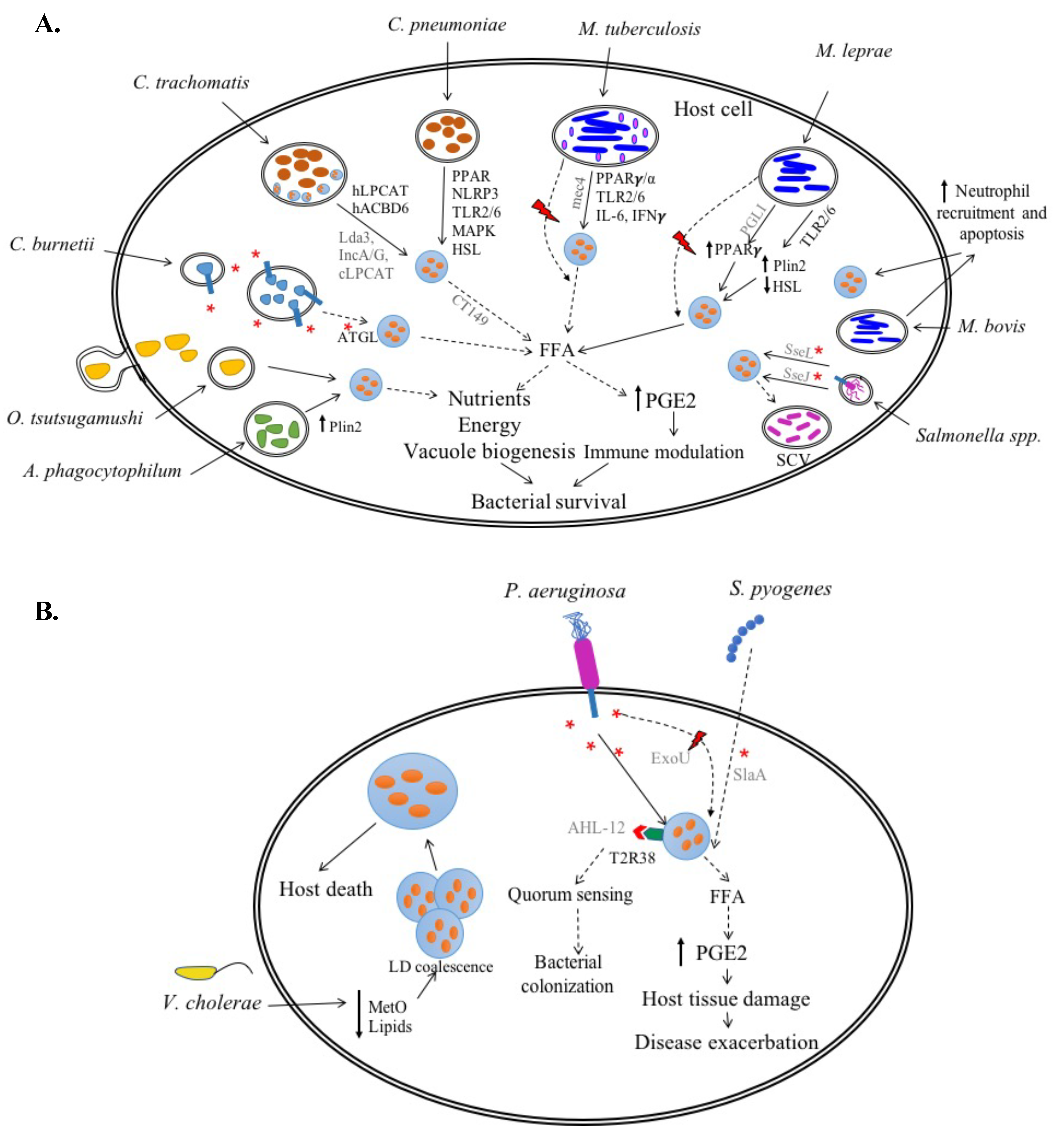 Obligate Intracellular Bacteria (Vacuolar)

Chlamydia trachomatis

LD formation required for optimal growth

Chlamydia pneumoniae

LD formation required for growth

Coxiella burnetii

LD breakdown essential for growth

Anaplasma phagocytophilum

LD formation increases growth
Obligate Intracellular Bacteria (Cytoplasmic)

Orientia tsutsugamushi

LD formation increases growth
Facultative Intracellular Bacteria

Mycobacterium tuberculosis

Contrasting roles

Mycobacterium bovis

Contrasting roles

Mycobacterium leprae

LD formation essential for growth

Salmonella spp.

Unknown
Extracellular Bacteria

Pseudomonas aeruginosa

Unknown

Vibrio cholerae

Unknown

© 2019 by the authors. Licensee MDPI, Basel, Switzerland. This article is an open access article distributed under the terms and conditions of the Creative Commons Attribution (CC BY) license (http://creativecommons.org/licenses/by/4.0/).