Microbiome—Microbial Metabolome—Cancer Cell Interactions in Breast Cancer—Familiar, but Unexplored
1
Department of Medical Chemistry, University of Debrecen, 4032 Debrecen, Hungary
2
Department of Microbiology, Faculty of Medicine, University of Debrecen, 4032 Debrecen, Hungary
3
Kenézy Breast Center, Kenézy Gyula County Hospital, 4032 Debrecen, Hungary
4
Department of Pathology, Faculty of Medicine, University of Debrecen, 4032 Debrecen, Hungary
5
MTA-DE Lendület Laboratory of Cellular Metabolism, 4032 Debrecen, Hungary
6
Research Center for Molecular Medicine, Faculty of Medicine, University of Debrecen, 4032 Debrecen, Hungary
*
Author to whom correspondence should be addressed.
†
These authors contributed equally to this work.
Received: 28 February 2019 / Revised: 22 March 2019 / Accepted: 26 March 2019 / Published: 29 March 2019
Abstract
Breast cancer is a leading cause of death among women worldwide. Dysbiosis, an aberrant composition of the microbiome, characterizes breast cancer. In this review we discuss the changes to the metabolism of breast cancer cells, as well as the composition of the breast and gut microbiome in breast cancer. The role of the breast microbiome in breast cancer is unresolved, nevertheless it seems that the gut microbiome does have a role in the pathology of the disease. The gut microbiome secretes bioactive metabolites (reactivated estrogens, short chain fatty acids, amino acid metabolites, or secondary bile acids) that modulate breast cancer. We highlight the bacterial species or taxonomical units that generate these metabolites, we show their mode of action, and discuss how the metabolites affect mitochondrial metabolism and other molecular events in breast cancer. These metabolites resemble human hormones, as they are produced in a "gland" (in this case, the microbiome) and they are subsequently transferred to distant sites of action through the circulation. These metabolites appear to be important constituents of the tumor microenvironment. Finally, we discuss how bacterial dysbiosis interferes with breast cancer treatment through interfering with chemotherapeutic drug metabolism and availability.
View Full-Text
►

▼

Figures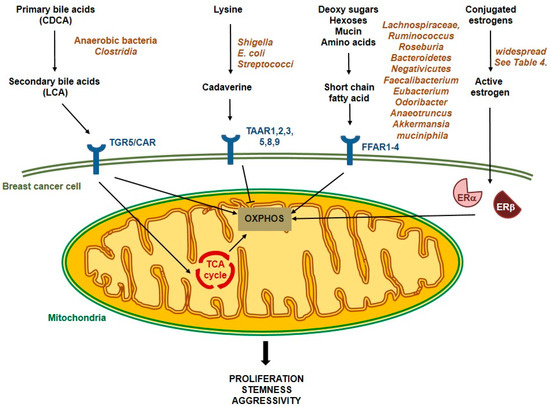 Figure 1
This is an open access article distributed under the
Creative Commons Attribution License
which permits unrestricted use, distribution, and reproduction in any medium, provided the original work is properly cited (CC BY 4.0).

Share & Cite This Article
MDPI and ACS Style
Mikó, E.; Kovács, T.; Sebő, É.; Tóth, J.; Csonka, T.; Ujlaki, G.; Sipos, A.; Szabó, J.; Méhes, G.; Bai, P. Microbiome—Microbial Metabolome—Cancer Cell Interactions in Breast Cancer—Familiar, but Unexplored. Cells 2019, 8, 293.
Note that from the first issue of 2016, MDPI journals use article numbers instead of page numbers. See further details here.
Related Articles
Comments
[Return to top]